Carlton supporters may be forgiven for prematurely celebrating the maiden Coleman medal win of Charlie Curnow, after news that Jeremy Cameron has left training early with a slight hamstring scare on the eve of finals.
It marks the first time in history that the same team has produced two consecutive and entirely separate Coleman medal winners, after Harry McKay's 2021 win. It also presents the possibility of Curnow's current tally of 62 goals (with a game against the Magpies on Sunday to come) representing one of the lowest winning tallies ever seen in a completed season (Turkey Tom Carroll with 54 goals in 1961 looks safe, for those playing along at home).
It wasn't always like this. Century-winning Coleman tallies used to be par up until the retirement of Tony Lockett in 1999 (the real one, let's pretend 2002 never happened).
But where did it all go wrong? Surely we didn't just lose talented full forwards overnight? The crowds didn't get tired of their heroes kicking huge bags week after week did they?
Unfortunately, teams just got smarter at how they defended against full forwards and what ended up being fairly predictable delivery inside 50. Do we underplay the retirements of Stephen Silvagni, Chris Langford, Mick Martyn around the same time as Ablett, Dunstall and Lockett here? Absolutely. Did the arm-chop rule changes render it practically impossible to man up on a key forward one out for four quarters? Absolutely.
But I reckon I've found one game in the archives that was just tactically brilliant. A coaching masterpiece that saw a team of perennial underdogs hold one of the absolute greatest full forwards of the game goalless, and from my perspective, I reckon it's the one that made the rest of the league sit up and take notice about what was going to be required moving forward to kick a winning score.
Even better, I sat down with the coach who masterminded this cunning plan, and was able to get some great memories of the day like it was yesterday.
As Eamon from The Chats might politely request, let me set the scene….
It's Round 13, 1994. A miserable cold overcast day out at Waverley. Rain threatened throughout but never really occurred. Standard Melbourne winter fare. The Hawks are sitting comfortably in third spot, Fitzroy a less comfortable third-last position, having lost their last five in a row after a promising start to the year that saw them win three of their first five games.
Robert Shaw (former Fitzroy and Adelaide senior coach, long time senior assistant coach to Kevin Sheedy at Essendon and contributor to SEN's football coverage): "Dunstall's previous four games were 9, 6, 10 and 11 goals. We are coming off the bye after three losses to the Saints, Richmond and the Blues. So we had a good look at them the week before…Our forward scout, Steve McCrystal – who later went onto have a great career under Malcolm Blight at Adelaide and then became Senior Recruiting Manager at the club, came back with the match report from the Hawthorn game and said "if we don't do something he might kick 18". The plan was hatched in a collaborative manner, we were all in on this, the match committee and all.
So we went to work at training, we brought out the whiteboard and brought Roosy, Ross Lyon and Matthew Armstrong into the discussion and went through it at training.
We decided to play a seven-man defence with one player (Mark Zanotti) 10m behind Dunstall and having one in front, so in effect, Dunstall didn't have a man, so to speak, as we instead decided to protect his leading zones, which we had gone over and over again on the video. I think the Hawks opposition scout was still asleep in the car park…or they probably didn't care."
To say this was a huge task is still understating the facts of the matter. Allow me to put it in perspective. Coming into this game, his 198th at the time, Jason Dunstall had been held goalless only eight times in his career to that point (to further clarify – by that stage of his career, Tony Lockett had been kept goalless 13 times).
If we can extend a benefit of the doubt and exclude the game against Melbourne in 1990 where Dunstall suffered an horrific fractured skull after running into Earl Spalding's knee early in the game, Dunstall had only been held goalless in a completed game once since Round 8 1987 (against his great mate, the late Danny Frawley in a flogging out at Waverley in 1992 – a game that perhaps cost him the record of the most goals kicked in a season, having ended up on 145, five short of the record held by Bob Pratt and Peter Hudson).
Shaw's recollection of Dunstall's previous four weeks leading into the game almost undersells his dominance. 64 goals in the first 12 games of the season (i.e that Charlie Curnow Coleman Medal tally we were talking about earlier). A further bag of 10 against Brisbane a month earlier. The 9 goals against the Crows was an uncharacteristically wayward 9.6.
5.3 against the Eagles at Subiaco seems chump change without the appropriate context. Let's not forget that statistically the 1994 West Coast Eagles were one of the greatest defensive units of all time. No one got a kick on Glen Jakovich, or Michael Brennan that year. Ashley McIntosh got pushed out to the forward line, Mitchell White couldn't get a game. 5 goals 3 behinds from Jason Dunstall proved to be the third highest score anyone would kick against the Eagles that year – and it came in the only loss they suffered at home in a premiership winning year (75 point drubbing on a Friday night if you don't mind). It's also as good a time to point out that one of the few to exceed this was Andrew Tranquilli, and I'd love to write an article on Andrew Tranquilli. What on earth happened to that guy? Kicks a bag against the reigning premiers in just his third game when absolutely no-one did it. Delisted a year later. Anyway, we're getting off topic. Let's ramble on.
The Lions manage to maintain the damage heading into quarter time with heads held high. A solitary goal separates the two teams at the first break (2.2.14 to 1.2.8). But it's the second quarter where the game truly becomes alive, with the Roys kicking four goals to one to take a 14-point lead into the main break.
I remember listening to this game rugged up in bed on the wireless, which sounds 30 years earlier than it was. The 3AW broadcast was set up at Princes Park as the Blues romped to an 80-point victory over the Saints. As can happen with the broadcast of one-sided games, the around-the-grounds coverage became more and more featured as the day went on. My memories of Al Martello as an around-the-grounds reporter was to let us know in as blunt and gruff a tone as possible how cold/wet/rainy it was, and the margin before sending it back to Rex and the team. Today, it seemed Al sensed something – and really enjoyed the obvious sense of frustration that Jason Dunstall was showing as the ball just seemed to evade him time and time again. That sense of theatre perked up my attention.
The Hawks came back with a flurry in the third quarter to take a five-point lead into the final change, and it appeared all hope was lost. Meanwhile, Richmond and North Melbourne exchanged blow for blow at the MCG – the margin never going out beyond two kicks all day and beginning to syphon the radio coverage from the impossible at Waverley. Despite Dunstall still holding a duck egg in the goals column and the Lions being just a kick down themselves, the focus remained purely on the two up-and-coming sides battling it out without their future superstars in Wayne Carey and Matthew Richardson.
Surely the experience of the Hawks (who took the field with no less than 14 premiership players) would see them over the line on their home deck against a Fitzroy side that was beginning to see the financial strain of the club result in senior players leaving for greener pastures? Surely Dunstall would get a few cheapies over the top in the last quarter and send Hawks fans home happy via a two-hour wait in the Waverley car park?
As you might have guessed, yeah nah. A five-goal to one final quarter – Jeff Hogg taking full advantage of a hamstring injury to Chris Langford and combining with exciting rookie Chris Johnson to send the Fitzroy fans delirious with joy. It would prove to be their third-last win in Melbourne as Fitzroy. And yes, Jason Dunstall went home with 0 goals, 2 behinds to his name.
How did they do it Shawry?
Shaw: "Jarrod Molloy made this work as he was selfless. His job was to play centre half forward and round up the loose players that Hawthorn would have, Remember that the Hawks midfield consisted of John Platten, Darrin Pritchard, Ben Allan, Shane Crawford, Anthony Condon and Paul Hudson, while they still had a backline of Langford, Jencke and Collins, as well. Jarrod had one kick (12 handballs) for the game.
It was a tight, tough game played in good conditions, so we weren't assisted by the Waverley shower. The players were great, they bought in and made it work"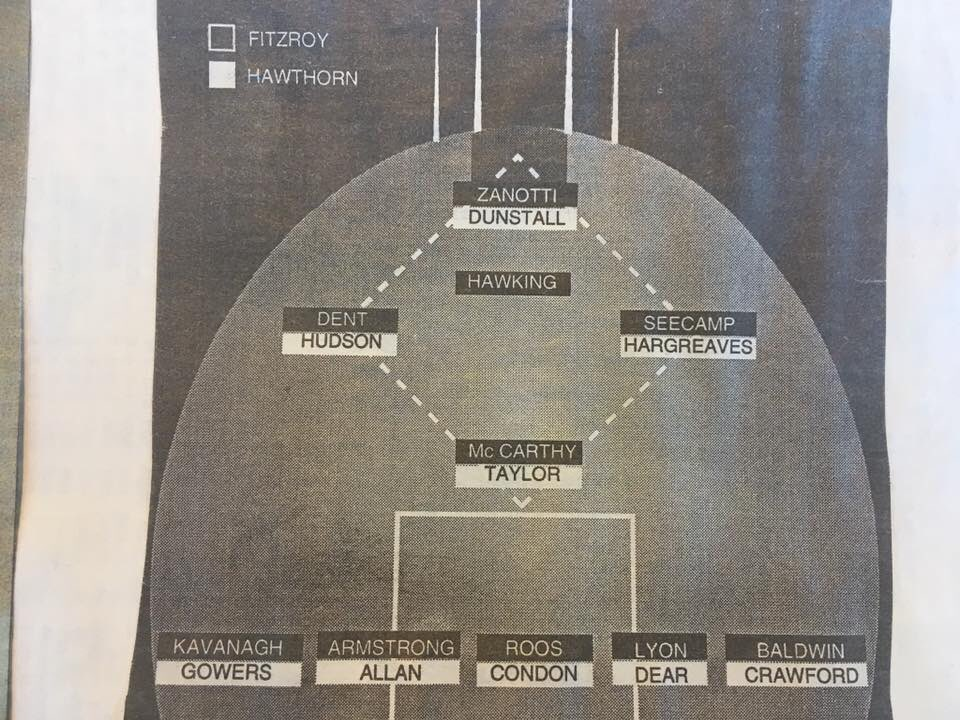 The Herald Sun's legendary reporter, the late Trevor Grant summed this up the week after using this diagram to illustrate the plan. I remember reading this article as an eight year old fascinated with the tactics of the game, and it still stuck with me in my mind to this day. The simplicity of it all, but this rag tag band of rookies and journeymen who got given this ridiculous fools' errand to take down one of the greats of the game.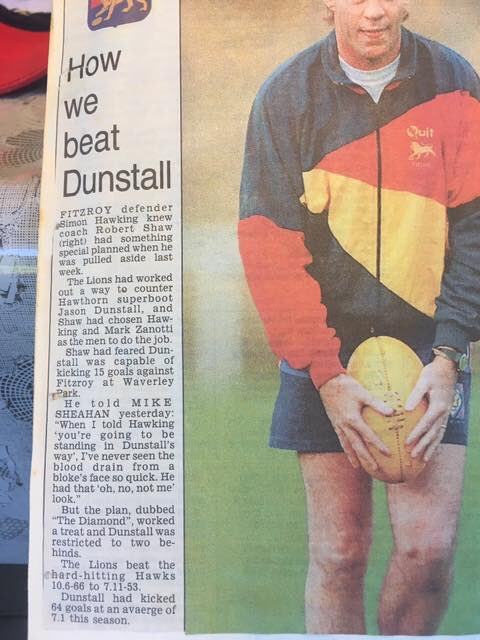 A far more talented and committed journalist than I could see ESPN 30 for 30 potential in this group and their shared story.
The revolutionary tactic was not a catch-all scenario. The week after, the Lions went down to Footscray by 104 points. Chris Grant kicking six goals. The tactic that proved very effective for players like Dunstall who lead out of the square, not so much for the traditional roaming centre half forward.
The players themselves, however?
This game marked the end of Jason Dunstall's dominance at the top of the game. He never played in a winning final after this game. The year after saw the Hawks miss the finals for the first time since 1981, a haul of 66 goals for the season his lowest tally since his rookie season and saw the removal of Peter Knights as Hawthorn coach. The installation of Ken Judge as his replacement saw a revival in Dunstall's fortunes as he kicked his final ton in 1996 with 102 goals, before two serious injuries in consecutive years saw him retire from the game a legend with the third highest goal tally in the history of the game.
The Wild Man From Borneo, Mark Zanotti who only played 27 games more after this highlight to a fan favourite career due to a back injury. Do I know what he's up to now? Not particularly, no. I asked around for his whereabouts, whether he'd want to add his memories to this and the fans' memories of him. I had two respondents inform he that he was hung like a horse. It's good to know.
Simon Hawking's career was equally short-lived from here. A further 42 games played before he too succumbed to injury. Attempts to re-kindle his career up north as one of the eight players chosen from Fitzroy's list to join the new merged team followed by a trade to Sydney resulted in 0 appearances for either side. I see he's now a prominent activist on Twitter against the Andrews government in Victoria for their logging practices and the subsequent destruction of nearby animal habitats. I love it when players find something better to do with their time post-footy.
Jarrod Molloy remains an enigma to me. Once one of the best special comments men on ABC Radio's coverage, he appears done with the game and the media alike. His LinkedIn profile reflects an old pub job from over a decade ago. His niece, Chloe is one of the most consistent performers of the AFLW competition playing for Collingwood.
Ross Lyon became one of the most successful coaches in modern history. When Robert Shaw talks about a brains trust of Lyon and Roos being behind this plan to hold one of the greats goalless, it's hardly surprising. We've left the final comment on this piece to him: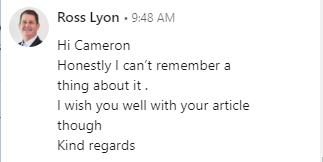 The Mongrel Punt would love to thank Robert Shaw for his generous time, memories and photos of the occasion. Thank you for supporting independent media.