And we're off with AFLW Round Two.
Here's our wrap up of the weekend – hope you enjoy, and if you don't… well, I can't help if you have terrible taste in reviews.
We've got a heap to get through, and a podcast to record, so let's jump straight in.
MELBOURNE 4.8.32 DEFEAT THE WESTERN BULLDOGS 2.0.12 – ALEX DOCHERTY
The latest instalment of the prestigious cup played between both Melbourne and the Western Bulldogs every year didn't quite deliver on its past two matches, but the Demons have shown plenty in its first two weeks why they should be considered a premiership fancy in season 2020. On the other end, I like to think of it as a nice read to see where the Dogs are truly at against a side that is established and well-experienced in Melbourne.
On what was a rainy day in around the Melbourne area, the 20-point win to Melbourne was somewhat flattering for the Bulldogs. Given the amount of inside 50 entries and scoring shots that the Demons had in comparison to their rivals. Overall, Melbourne's class around the footy and ability to adapt to the wet conditions better in the early stages proved to be the deciding factor. A lot of talk was about the uncontested possession count and at the end of it all, the Demons had way too much of it as opposed to their counterparts.
I thought Aisling McCarthy was the standout Dog for mine. In conditions where the tough thrive on the contested footy, she was in her element, doing everything in her power to make a contest of things in the middle. I was really impressed with Naomi Ferres' game for the second straight week. She did not shirk from any contest and I liked Lauren Spark's efforts down back as well.
Whenever Melbourne come up against the Bulldogs, I shudder at the thought of Karen Paxman giving out a vintage performance in the middle. She's done it every game since the league came into existence and on Friday, she did it again. She handled the footy like she was in dry conditions. Daisy Pearce also showcased her experience in the wet across half-back. You wouldn't have thought she'd missed a whole season the way she read it and used it.
Up forward, it was the considered the Shelley Scott and Kate Hore show, despite the fact neither managed to score a goal. As a matter of fact, the pair combined for four behinds. But the fact remains that both were so completely dangerous up forward, got plenty of the ball and the Dogs just no answers for either. Libby Birch, in her first game against her old club was solid across half back, whilst enduring some aggressive attention.
Also spare a thought for Ainslie Kemp, who looked to have ruptured her ACL in the final 10 seconds of the contest. The look on her face at the final siren told the story – she was fighting back tears. As a fan of football in general, seeing stuff like that happen that late in the game is genuinely heartbreaking.
For more from Alex, you can check out his Western Bulldogs site here – https://docherz93.wixsite.com/adbulldogscentre
DEES V DOGS – AN ALTERNATE VIEW – HB MEYERS
Daisy Pearce and Karen Paxman – what a luxury to have the capacity to throw these two behind the ball. As many players double-grabbed and missed targets, this combination off half back attacked the contest, displayed clean hands and were able to do what just about every player on the park themselves unable to do; have composure with the wet footy.
Pearce's pick up below her knees early in the piece was an indication that her skill is returning rapidly, and her decision-making with the footy in hand, to pull a kick and hit up a target instead of bombing away was a cut above.
Paxman had her second excellent outing in a row, and her ability to collect and go with purpose was one of the highlights in what was a pretty dour contest.
Shelley Scott – I'd be very tempted to give her best on ground for her evening's work, and I reckon her best passage of play went completely unmentioned by the experts on commentary.
Cast your mind back to the third quarter – a long ball inside 50 sees the pack converge, but the quick-thinking Scott sees her mids streaming forward and into the space behind her. She jumps at slaps the ball over the back and Maddison Gay is dragged down without the footy. She takes the free kick and slots the goal.
At that point, if there was any doubt about the result, Gay put it to bed, but it was the quick thinking and team play by Scott that set it all up.
Kate Hore – Really prominent early, and looked like the most dangerous forward on the ground in the first half. Looks super-fit this season, and not in an Inbetweeners "oh, look at her she's so fit" kind of way although I do like that show and even tried to get the missus to watch it. She didn't.
The Aliesha Newman chase down – This was a beauty, and it was a shame there was some remonstration, because Newman made the hard yards when it looked as though she was out of the contest – she must have been twenty metres away from Bailey Hunt when she took off. She got her, held on and drew a free kick as Hunt tried to push her off as they went over the line… by the face.
A teammate ran in and knocked Hunt onto her backside and the decision was reversed (pretty soft) but footage of Newman's chase should be shown to all kids coming through – it was borderline maniacal.
What you probably don't want to show kids is how Hunt attempted to pick up the ball. Seriously, it was like someone looking for their underwear in the dark room they're not familiar with.
Eden Zanker – She doesn't do a hell of a lot, but moving into the ruck in this game, her versatility really troubled the Dogs. As a matter of fact, everything troubled the Dogs tonight. Zanker just looks dangerous when she is around the ball. At 20, she has plenty of room to develop, but right now she has a bit of x-factor about her.
The Bulldog handball game – Nathan Burke… what are you doing? Wet ball, slippery conditions, lots of fumbling and they are handballing it as though it was dry weather footy. Surely one release handball and then a kick to gain ground was the preferred option in this one, and with a team structure set up to create contests after the release, the Dogs could have been much closer.
This was actually quite sad to watch. You could see the Dees relishing the Bulldogs' game plan, and feasting on their errors. Their pressure was fantastic, and I reckon they could not believe their luck as Bulldog after Bulldog simply transferred the pressure to the next in line, with sloppy handballs that missed the mark as often as they hit it.
Third quarter again – Elisabeth Georgiastathos (who had a real crack, it must be said, and is still a baby) had possession at half back. A teammate was trotting past on the boundary side. Under no pressure, she went to hand off to her, and either she missed the target or the teammate fluffed the receive, and the ball went straight out of bounds.
It was the Dogs' night in a nutshell, and really made me wonder what the hell Burke's instructions where to his team.
Not a great night for Tegan Cunningham – looks like she has a bit of the Dustin Fletchers about her. All arms, legs and elbows.
Hard to find a winner for the Dogs. Maybe Kirsty Lamb? I was a bit disappointed with the efforts of Mongrel favourite, Hannah Scott tonight. Knocked no one over. Boooo! Lauren Spark took the chocolates against Cunningham pretty convincingly. And Aisling McCarthy was good as well.
Gotta do a little better in ensuring the Irish girls know the rules before handing them a jumper. I reckon Sinead Goldrick was a real go-er in this one, but her infraction for not handing the ball back to the opponent cost the Dees a goal. Given how few games there are, and how much percentage could play in determining finals chances, errors like that could be more costly than just a goal.
Finally, was sorry to see Ainslie Kemp go down with another knee injury. Was then amazed to hear that she was playing with an ACL injury already. This is just something you don't see anywhere else. I was amazed when Randy Savage wrestled a cage match with a torn ACL once… but that doesn't mean it was wise. Hope she heals properly this time. Oooooh yeah!
NORTH MELBOURNE 6.1.37 DEFEATS GWS 2.7.19 – HB MEYERS
Putting it out there – from what I have seen through the first two games, I reckon this Kangaroos team can win the flag.
Loved the game of Ash Riddell again this week. Not just what she did with the ball, but her intent when tackling was excellent, and it was her vision, spotting Jas Garner in the corridor that led to the Roos' first goal.
You can laud the Roos' accuracy all you like, but GWS shot themselves in the foot in this one. Costly misses to Hadeen Zreika (I'll get to that) and Erin McKinnon from a combined 18 metres out in the second quarter was an absolute disaster.
Another absolute disaster – Pepa Randall's hairstyle. Whoever gave her that advice… shame on you. Whoever cut her hair like that… don't use it as an advertisement for your salon. It looked as though Mr Burns had started coaching and ordered her to trim those sideburns, hippie!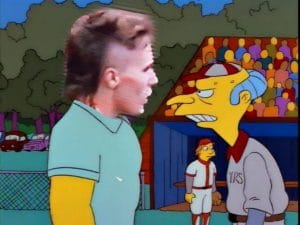 I know there's a bit of a love affair between the media and Emma Kearney, but she has really started playing for free kicks. Or that's what I am noticing, anyway. Leaning into tackles and dropping at the knees – saw it three times in this game. Not a great look. Anyway, she looks great when she collects the footy at half back. Her vision can open the game up for the Roos at times, and whilst I pointed out a negative above, her ability to influence a game simply cannot be denied.
Wonderful start to the telecast by Bob Murphy, getting the dual All-Australian ruck's name wrong. Mia King, is it? No Bob… it's Emma.
Now, the good and bad of Haneen Zreika – her contested mark to kick the Giants' first goal was wonderful. She should have been easily beaten in that contest, but she read the ball better, out-positioned her opponent and took a nice one grab.
But the miss in the second quarter conjured memories of Tayla Harris fluffing one from the top of the square last season. If you have the opportunity to run all the way to the line and slam it through, do it.
It'd be interesting to see if her teammates are talking to her, because she could have walked to the goal line and toe-poked it over.
Quality work around the ground from Jenna Bruton. She looked a little out of sorts last week, and to see her perform collect 20 touches was a nice return to form.
Kaitlyn Ashmore went off the ground with a whack on the nose (accidental) but I reckon it did the team a favour. She just could not get a handle on the footy all game. Two touches in her time on the ground is probably a good representation of her impact.
Jas Garner was close to best on in this one, but when I watch her, I always get the feeling she is in third gear. I really want to see her open it up one day.
Vivien Saad looked much improved in the ruck and around the ground, and Emma King was a threat up forward, but I didn't like seeing her try to play from behind.
Alicia Eva can hold her head high – she fought it out, and the emergence of Lisa Steane would be something for GWS fans to take out of the contest.
Kate Gillespie-Jones – Mrs Mongrel's  favourite player at the moment. "She has the best arms in AFLW."
She then added "Maybe the best physique". Praise, from Caesar.
A couple of others whose I enjoyed this weekend were Elle Bennetts, Rebecca Privitelli and Ellie Gavalas.
GOLD COAST 5.3.33 DEFEATED RICHMOND 2.10.22 – HB MEYERS
Sometimes I barrack for the underdogs, and in this case the underdogs, as they always are, were the Gold Coast Suns.
I don't know what made me think that – these are both expansion teams and both looking for their first win in the competition, but when you look at one team and they have managed to lure Sabrina Frederick, Katie Brennan and Mon Conti, and the other has Leah Kaslar, you could be excused for thinking the Tigers had the star power to carry them to a win.
But it wasn't to be.
Gold Coast got a significant lift from Hannah Dunn and Kate Surman, who were desperate at the footy in the hot conditions but remained cool in whatever crisis came their way. Dunn, in particular, was a continual thorn in the Tigers' paws as she intercepted their forays forward and used the ball well.
Kaslar was tremendous, and was in the top handful of players in the game. Her desperation in the last quarter was inspirational as the Tigers pushed forward and the Suns defended.
Christina Bernardi looked as though she could pinch the game for the Tigers. Their stars up forward didn't really shine, but she was consistently looking dangerous. She finished with 1.3 from 15 touches but always seemed to look as though she could get into scoring position.
From Katie Brennan, the Tigers got 14 touches and six tackles, yet she did nothing impressive enough to stand out. They got less from Sabrina Frederick – her seven touches and two marks were well below par and her second ordinary outing in a row, but Mon Conti was excellent. Her 17 touches, and ability to win her own footy helped the Tigers stay in the game.
Phoebe Monahan was good for the second week in a row, and debutant, Grace Campbell certainly made an impact, but also made a habit of running straight into tackles. Still, I like the cut of her job. Tayla Stahl also had nice moments.
The Suns' short-kicking game was excellent in the first half, as they were able to work the ball along the wing, and make effective switches. The game was actually quite free-flowing in stages.
Kalinda Howarth was absolutely robbed of a free kick in front in the third quarter when there was an obvious push in the back by Phoebe Monahan that was let go by the umpires. Even the commentators made mention of that one, and you could hear some pretty annoyed Suns supporters in the crowd. It would have resulted in a shot from 30 metres out and it was either a terrible miss from the ump, or a gutless no-call.
Jacqui Yorsten's goal in the late stages of the third quarter was huge. Once again it was Hannah Dunn with the penetrating ball inside 50 on the end of a really nice chain of possessions on a well-executed switch. I reckon that piece of play made coach, David Lake smile more than any other on the day.
The last quarter got messy. The girls were really fatigued and a lot of kicking off the deck and paddling forward saw the Tigers back in with a chance, but they just couldn't convert. Relatively easy shots from Bernardi, Wakefield and Bailey all missed the mark.
An absolutely horrid kick in from Sam Virgo, who had been pretty damn good up until that point – up the guts to 40m out saw the Tigers botch a golden opportunity. Courtney Wakefield intercepted, dished to Christina Bernardi and she missed from 25 out right in front. I have no idea why anyone, with a lead and with time on your side, would bother to go up the guts, particularly as the Tigers had a bit of a sniff at this point. The only thing I can think of is fatigue, and given Virgo was good up until that point, let's give her the benefit of the doubt.
Finally, when the GCS girls wear zinc on their noses in these guernseys, they look like lifeguards. That was a Mrs Mongrel special, right there.
THE DERBY – FREMANTLE 9.6.60 DEFEATS WEST COAST 2.3.15 – DANIEL JON KERSHAW
In a landmark game, the Dockers faced their state rivalries in AFLW Derby #1. The first derby was played 25 years ago, where a fresh-faced Fremantle outfit was dismantled by the reigning premiers by 85 points.
Coming into the week, it was ironically looking as though it was going to go the opposite way, especially when Gabby O'Sullivan converted in the first few minutes in front of a 35,000 strong crowd that would have been a great turn out for a Saints home game.
From the first bounce, the Eagles were blindsided by the ferocious Docker's team that not only displayed incredible forward pressure, but were able to transition into space with slick-ball movement that cut through West Coast's set up like steak knives from Tim Shaw.
At the end of the first quarter, the tackle count was 32-13 Dockers way, demonstrating exactly which wind was blowing – the Freo Doctor.
As prophesised, it didn't get any better for the Eagles as the Dockers continued to dominate all parts of the ground for the remaining 3 quarters. Whether it was in defence with intercept-queen Evie Gooch being not just a proverbial brick wall, but an immovable mountain, or in the forward half, where someone needed to call The Police on Roxanne Roux, who is currently wanted for kicking 2 goals and taking a bag of great contested grabs.
To no one's surprise, Kiara Bowers was the recipient of the Derby medal, with the little turbo racking up a monstrous 18 tackles, 11 of those coming in the first quarter alone. She was also instrumental for negating Dana Hooker's influence in a run-with role that saw Dana get pummelled anytime she came close to the ball – and once or twice when she was not.
The effort was there from the Eagles, but they were outclassed in all areas by the rampaging Dockers, who early on in the season, are making a strong claim to win the club's first premiership.
The only sour note to the historic win was the ugly off-ball hit from Katy-Jayne Grieve on Ashlee Atkins that deserves at least a week. In fact, there was several deckings and tackles that needed better officiating to keep the players safe, and you know … follow the rulebook.
For the West Coast fans, it's going to be a bleak season. With a very apparent lack of experience in their list, particular down back (except for the amazing talent of Chantella Perera), I don't see them winning a single hit-out this season. Even a superstar like Dana Hooker looks unlikely to make an impact, as she is lacking the support she needs to shine.
This game also emphasised the disparity of skill level between established and expansion clubs. While the development of AFLW over the past few years has been terrific, it's coming at a great cost to new clubs who are struggling to field a competitive team because there's simply not enough experience out there just yet.
AN ALTERNATE VIEW – HB MEYERS
You couldn't watch this game and come to any other conclusion than the Dockers wanted to rub the Eagles' noses in it. From the first quarter, every single tackle had a bit more on it, every opportunity to sit an Eagle down was taken, and if there was the potential to clean up one of the players in blue and gold, the seasoned Docker line up took it
Katie-Jayne Grieve got the unsuspecting Ashlee Atkins early in the game with a hit off the ball that will probably be looked at. Yeah, I'm a bit of a heathen, and I like this stuff, but even I was looking at that and thinking she might get a week. I say a week because Atkins did get up and play out the game.
While I am on Grieve, I thought she had a fantastic game, and a ripper first half in particular. Her tackling was matched only by that of Kiara Bowers, and she was able to sneak forward and hit the scoreboard twice. In the top few players on the ground.
I mentioned above that I reckon North could win the flag this season. I don't see any reason the Dockers shouldn't be contending either. Their forward half is stacked, and the way Gemma Houghton goes about it gets me thinking she could be the best forward in the game very soon. She only kicked one, but had two direct goal assists and could have had three but for an O'Sullivan miss.
She still allows too many chest marking opportunities to hit the turf, but her gather and go style is wonderful, and she attacks the contest hard.
I'm going to miss some of the Dockers in this review, and I'm sure you'll point them out, but Roxanne Roux gave another glimpse into what is on the horizon for Freo. Her ability to leap into a pack and actually get some elevation is something that is rare in AFLW, and she can take the pack to ground with her if she chooses.
I had Gabby O'Sullivan as best on ground in the first half and could not believe more wasn't made of her gut-run to hit Ebony Antonio with a nice pass, only to keep running, showing her opponent what is required at this level. And her set shot – perfect.
The Evie Gooch v Ashlee Atkins battle was a good one. You'd give the points to Gooch, but Atkins was able to have some influence in a team badly lacking influence at all.
Made the point with my fellow Mongrels that Dana Hooker is probably suffering from being the only "star" on the Eagles to have made the jump, and is therefore easily targeted. Comparing to Richmond, where Katie Brennan, Sabrina Frederick and Mon Conti all signed, and Hooker is a bit of a lone hand. That's no sleight on Emma Swanson, but I don't think she is top tier, realistically.
Some nice work from Chantella Perera (great name!) particularly when the heat was well and truly on early in the game. I thought she looked like one of the few Eagles who was prepared to take the game on.
Niamh Kelly was another, but someone needs to whisper in her ear that she should stop trying to beat every tackle – it is one of the strongest aspects of the women's game, and they're bloody good at it!
Too many calls for dangerous tackles in this one, with the umps getting trigger happy with that rule. Good tackling should not be punished yet there were quite a few free kicks paid in this one.
And Kiara Bowers… she looked like she meant business, didn't she? For a little while there it looked as though Eb Marinoff's record for tackles in a game was under serious threat.
Not much else positive from an Eagles point of view. Maybe the Imahra Cameron, who will be much better once they have a more-rounded forward set up.
BRISBANE 6.3.39 DEFEATS GEELONG 3.2.20 – MATTHEW PASSMORE
This was an intriguing battle. From the outside, it was clear both sides had opposing strategies. Brisbane looked to their impressive skills to use short kicks and marks in an attempt to control possession and move the ball with composure. The Cats went quick, usually seeking the corridor but did so with equal skill and composure.
It is clear that these are two of the better AFLW sides. Their pressure and tackling was immense and the skill level was vastly superior to that of the newer sides and what we have seen in previous years.
By half time Geelong's pressure and defensive structures had proven too much for the Lions. The Lions won plenty of the ball and moved it well from the backline to half forward, but their connection into the forward line was lacking and the Cats managed to rebound and by moving the ball faster were able to capitalise into an open forward line. For all of the Lions' skill by foot, they were undone by ball movement that was occasionally too slow, allowing the Cats ample time to set up defensively behind the ball. The Cats were more willing to run, carry and handball, and had a lot more of the ball statistically (122-83) despite the Lions seeming to actually have possession for longer periods of time.
The 19 to 8 half time score line seemed unfair on Brisbane who probably deserved to be in front- at least when it came to general play.
At half time the Lions got themselves organised both behind the ball and in their forward 50. Suddenly Geelong's plan of using the corridor became predictable and the Lions were able to intercept regularly and then link well with the forward line. Constant surging from the Queenslanders saw them score enough goals to sneak a lead 27-19 at ¾ time before running out strong in the last. Geelong had no answers in the second half and remained goalless for the entire second half.
Despite winning all of the important stats, the Cats weren't able to manage a mark in their forward 50. The Lions' pressure (74 tackles) and control of the ball were hallmarks of the game.
After a fade out last week against Fremantle, and again this week, questions need to be asked about the level of the Cats' fitness. They seem to start well but not be able to run out games.
Millie Brown, Nina Morrison, Renee Garing and Richelle Cranston put up a good fight for the Cats, they were impressive and controlled much of the first half. I really enjoyed the game of Ally Anderson (16) and Emily Bates (22) from the Lions as they won control of the midfield and changed the momentum of the game back into the Lions' favour. Jesse Tawhiao-Wardlaw was the standout up forward with three goals as well as pinch hitting in the ruck.
Overall it was a very good display of football. The girls showed great composure early, but their decision making is sometimes a display of their inexperience. The tackling is impressive and the ball movement at times was as effective as you could see. Brisbane must be among the flag favourite and Geelong certainly have the potential if they can fix their second half fadeouts.
ADDITIONAL NOTES – HB MEYERS
I really liked the third quarter of Orla O'Dwyer. She was involved in everything as the Lions really started to stamp their authority on the game.
Much of the credit for this win will go to Jess Wardlaw, and rightfully so, but in the third, O'Dwyer's work in contesting in the air and on the deck was game-changing. I'm putting it out there – she was the fittest player on the park, today. Her run to position, creating space and options flew under the radar of the commentators, but her importance was not lost here at The Mongrel.
Now, Wardlaw – I'm not sure why any team would allow her any space whatsoever. She is 20 years old and is still very slight of build. Any body-to-body work sees her bustled out of position, but credit to her – she managed to find space to operate.
Richelle Cranston has been reduced to the role of pinch-hitter at the moment, particularly in the middle. I wonder about how fit she is, but when she gets her hands on the footy, it is always clean, and she is quick to recognise where her teammates are and fire off a handball.
The Geelong kids were very good. Nina Morrison is 12 months removed from a knee reco, but is already rounding into excellent form, and how could you not like what you saw from Olivia Purcell. She doesn't muck around with the ball when she gets it, as evidenced by her two goals from stoppages.
Kate Lutkins was excellent for the second week, and her efforts, combined with the ineffectiveness of Phoebe McWilliams allowed for the Lions to get plenty of rebound from defensive 50.
Plenty of talk about Becky Webster – another Cats teenager. She knows how to find it, but found herself wandering into trouble often as well in this one.
COLLINGWOOD 6.3.39 DEFEATED CARLTON 3.6.24 – HB MEYERS
You know what I like about a Collingwood v Carlton game? One of them has to lose.
Just kidding – I don't really hate either of these teams, but what I really loved about this game was the spirit it was played in. the first quarter was an absolute belter, and might be the best quarter of AFLW footy this year to date.
The Pies' ball use was excellent, particularly their short game, but when Tayla Harris marked against Stacey Livingstone minutes into the game, you could have been forgiven for thinking the Blues had the key to the game set up inside their forward line.
But that wasn't the case. Livingstone was very impressive against Harris, using her body to thwart the efforts of the Carlton star. I'd award her best on ground for her role today, as I often find it is useful to judge a player on the quality of those they beat, and I rate Harris very highly.
But apparently, Livingstone doesn't calling her "useless" once the ball hits the deck. Livingstone may claim it was taken out of contest, but I am already looking forward to the next time these two line up on each other.
Also loved the game of Ash Brazzill, who had Darcy Vescio moved off her in the last quarter. If Livingstone beat Harris, then Brazzill completely obliterated Vescio.
I kept waiting for Vescio to do something… anything, but given she is one of the big guns of the competition, you might want to check that she's not firing blanks after that performance. Didn't look like getting involved.
I liked the ruck work of Sharni Layton, and her tap and follow up work at the opening bounce was the catalyst for the opening goal of the game for the Blues.
Maddy Prespakis looked frustrated, and rightfully so. She takes a fair bit of treatment out there, and often finds herself under collapsing packs. If she were in the fire department, I reckon she'd be the one rushing into burning buildings with things falling all around her. There really was no space for her to operate today. She still managed 17 touches – good enough for the equal-third highest possession tally on the park, but her influence was minimal due to the pressure applied.
Jordan Membrey had a ripping game, and she had plenty of mates, with Mikala Cann, Sarah D'Arcy and Aishling Sheridan all playing vital roles as the Pies got up and running. Membrey finished with two, and I would have loved to have her feature in the votes, but I can't put her ahead of Livingstone, Brazzill and the next one in line – Jaimee Lambert.
Lambert wins her own ball. She makes 30-70 contests into 50-50, and she makes 50-50 contests her own. Simply put, if you go half-hearted against Lambert, she will make you pay.
Throw in some great work by Chloe Molloy, who has the potential to be a top five player in the league, and you have a pretty impressive outfit in black and white.
Was it a goal to Brooke Walker in the second quarter? The tap back into play by Tayla Harris was wonderful, and the Blues looked ready to celebrate… but that oval ball just doesn't cooperate sometimes. It must have been incredibly close to being over the goal line, but the goal umpire decided it wasn't, and given the AFL can't get decent goal line tech, what hope does AFLW have of a good system to determine these close calls? I guess we just back the umpire?
No, I hear you think.
Overall, this was a very nice performance by the Pies. Hard at it – matched the Blues first quarter intensity and then ramped up their own, and as I said above, the first quarter was the best footy in AFLW this season.
ADELAIDE 6.4.40 DEFEATS ST KILDA 4.3.27 – HB MEYERS
I was a bit AFLW-ed out by the time this one rolled around, but this contest had plenty to keep me interested.
0-2 is incredibly tough to come back from in an eight game season, and going into the last quarter, the Crows were staring down the barrel of a loss to the Saints, who rode an excellent game at half back from Tarni White and rookie star, Georgia Patrikios.
But when the going gets tough, the under-manned (under-ladied? Under-womaned?) Premiers got going, and they did it via the toughness of the old stager, Courtney Gum, and first-gamer, Caitlin Gould.
Gould pulled down a big pack mark in the last quarter to drag the Crows back to level with the Saints, and they kicked it into gear from there, but if you're looking for inspiration, check out Gum's one-hander with the flight in the last quarter – she could've been smashed.
One who did get smashed was Clara Fitzpatrick, who looked to have taken a wonderful mark with the flight in defence, and was crunched in the process and stretchered off. The mark was not paid, and with the benefit of Mongrel hindsight, she was robbed.
After an AFLW-record 35 touches last week, Anne Hatchard started like a train and had four touches in as many minutes, but it was Eb Marinoff who got the bulk of the touches, with 12 in the first stanza. Between them, they ended up with 50 disposals.
St Kilda put together some really nice passages of play, and although Patrikios will get all the press for her work, and justifiably so, I want to point out the work of Nicola Xenos again. She was deployed in a very different role this week, off half back, and was vital in one of the most impressive St Kilda plays of the day.
As the Saints took off from half back, she laid a great shepherd at half back that allowed her teammate to run. It was a good, old-fashioned hip and shoulder, and one of my favourite aspects of the game when applied properly. The result was a string of possession that saw Caitlin Greiser kick her second goal. So yeah… Nicola – we saw that, it was fantastic.
Eloise Jones was having another shocker, but lifted her work rate in the second half and was instrumental in the Adelaide comeback.
That was the best four quarter performance I have seen from Justine Mules. She does a lot of hard run for the Crows, and picked up plenty of the ball as a result today.
Sarah Allan, playing as captain, was fantastic in defence, and so important to the Crows structure late in the game.
Lastly, Molly McDonald was good again, and with a nucleus of her, Patrikios, Darcy Guttridge, Xenos and Tarni White, the Saints are a team built for success in the future.
The Crows may have got out of jail, but they were big when it counted in this one.
And that's it for this week. Big thank to Alex Docherty, Daniel Jon Kershaw and Matthew Passmore for their input this weekend – really, I'm in your debt.
Hope you enjoyed.