In an off-season where Geelong kicked just as many goals as they did on the field en route to capturing the 2022 premiership cup, there were a couple of moves that raised eyebrows back at Mongrel HQ.
You see, we often hear about players getting homesick and wanting to head back to WA/SA/Vic/Elsewhere, but this year, it seemed as though little mind was paid to the former Geelong Falcon players – Tanner Bruhn and Ollie Henry heading back to the club closest to where they played their junior footy. At least compared to some other moves.
Let's face it – when Tanner Bruhn was drafted to the Greater Western Sydney Giants, you could have been mistaken for thinking he'd been sucking on a lemon. Seriously, had he attempted a smile, his whole head may have split open. He had a face like a cat's bum… you know the moment I am talking about, right?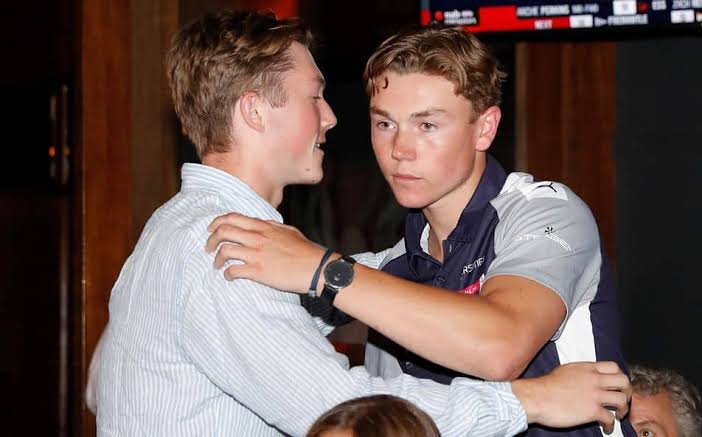 He was always going to leave GWS – it was just a matter of when. As it turns out, "as soon as possible" was the option he preferred, and with his rookie deal expiring after the 2022 season, his request for a trade "home" made sense.
The trade request from Ollie Henry was both surprising and unsurprising at the same time.
Another from the Geelong Falcons, Henry had big brother, Jack on the Cats' team already, and after being overlooked in favour of Ash Johnson in the second half of the season, decided to head home and play with his brother.
Mind you – not a peep out of the media for this effort, despite them absolutely smashing Jason Horne-Francis for something relatively similar in leaving North Melbourne, but anyway…
In picking up Henry and Bruhn, the Cats list heading into the 2023 season boasts no fewer than 11 former Falcons players. They also have another two listed players (Tom Stewart and Mark Blicavs) that have come through their VFL team. That makes for just over 40% of their currently listed players coming through either the Falcons, or their VFL team. That will obviously change post-draft.
Now I know some will point out that other teams have a huge base from their own state – West Coast have a large number of their list hailing from WA, That's a bit different, as you're looking at a whole state and not just one feeder team. With Geelong, the pull of heading back to play with in familiar surroundings, or staying with them, seems to be a strong one.
But how strong is it, and who could be the next former Falcon that could be lured "home" to Kardinia Park?
Geelong have already procured Patrick Dangerfield, Shaun Higgins, Luke Dahlhaus, and Gary Rohan in moves to bring former Falcons back to the Geelong family. Who could be next?
Uh oh… the rest of this one is behind the Mongrel Paywall. Don't you hate that? This is where I try to provide value to our Mongrel Members. They will receive access to five or so exclusive columns per week during the off-season detailing trades, free agency, player profiles, drafts, statistical analysis, and then into the pre-season previews. Wanna join them and support the best damn independent footy site you'll find?