There are social media sites that make me chuckle at times. I am sure people feel the same way about this site, so I am not entirely self-unaware, but sometimes you read comments from people on a site like Facebook, Reddit or Twitter and you wonder whether people are genuinely taking the piss.
And then it hits you (the realisation, not the piss) that they are being dead serious and you don't quite know how to feel about it.
A little while back, the point someone was clumsily attempting to make a while back centred around the man assessed by many as the greatest to ever play the game – Lethal Leigh Matthews, and the accolades he'd received over the journey. It was the person's contention that given Matthews played in an era that was more physical and actually quite dangerous, and that he was so… good at that aspect of the game, that any accolade named after him should be erased and renamed to honour someone a little fairer and less, well… violent.
I took a moment after reading this effort to think about how to respond. In the end, I couldn't. I didn't. How can you tell someone who wasn't around at the time that MOST of what Matthews did on the footy field was deemed legal at the time. Sure, some things were against the rules of the game, and one thing was against the rule of law, but Matthews was not reported anywhere near as often as other players in this series.
By today's standards, he would have been suspended 20 times. By the standards through the 1970s and early 1980s… not so much.
"When I played, if you punched someone, you would get reported. If you 'coat-hangered' someone, it depended if the umpire was quick enough and you might be reported. But it was completely legal to ram your shoulder into the other bloke's head and how ridiculous is that now, when you look back on it? Your shoulder is as much of a weapon as your knee is, your fist is and your foot is."
But for all he got away with in that time, the most famous incident of all remains the behind-the-play punch to the face of Neville Bruns.
An altercation in the back pocket earlier in the game where Bruns was reported for striking Michael Tuck seemed to be the catalyst for what was about to transpire.
"It was 23 years ago (when quoted) but I can visualise the five seconds because this particular opponent had been sniping a few of our blokes early in the game." – Matthews."
With the ball 50 metres away, Matthews took matters into his own hands, clocking Bruns right in the jaw as he jogged past him in the middle of the ground. Bruns collapsed to the turf a bloody mess. He suffered a compound fracture of his jaw and had to have it wired up to heal. Current Geelong CEO, Stephen Hocking was first on the scene to even things up, dropping Matthews with a punch of his own as the game spiralled into chaos.
The result saw Matthews de-registered by the V/AFL for four weeks and charged with assault by Victoria Police. He was fined $1000. This was later reduced on appeal to a good behaviour bond.
It was a moment of madness in a career filled with genuine highlights. Yet for all that Lethal achieved, when you hear his name, the punch of Bruns is one of the first things that comes to mind.
"To my great regret, when control was desperately needed, I totally failed the self-discipline challenge. It was a moment I would love to take back." – Matthews.
Of course, you don't have to search too far to find that there was so much more to Leigh Matthews than just one moment, and to focus entirely on it would be unfair. The man did things on a footy field that have not been replicated.
Despite his relatively diminutive stature, Matthews played the game at a level that was hitherto unseen. His attack on the contest and ability to play midfield and drift forward made him the most dangerous player in the game, in more ways than one. And when combined with his legendary, almost obsessive drive, Matthews became a weapon that many had no answer for.
"I wasn't a great athlete; I wouldn't have got drafted out of draft camp, I had nothing special athletically. So I had to play really aggressively." – Matthews
The man played footy like it was a war. He used his body as a battering ram, as former AFL CEO, Andrew Demetriou can attest. In the incident depicted below, DEmetriou's mother was in attendance. She would never attend another game of footy to watch her son. You can see why.
Heavy work by Matthews, indeed. In those days, that would have been deemed a perfect hip and shoulder.
But the physicality of Matthews' game too often becomes the focus when we look back at his career. And as our friend from the beginning of this article captures, many fail to see beyond it. Leigh Matthews was a star amongst stars. He was playing at a level others hoped to one day approach. He was the game changer at a time when the game was changing fast. He was driven like no other, relentless in his pursuit of glory, and remorseless when it came to collateral damage.
Statistically, Lethal was the Wilt Chamberlain of football in terms of what he did, individually, on the ground.
Matthews had 30 disposals and five or more goals 11 times during his career. Over the history of the V/AFL, the next best was Kevin Bartlett, with four. For all the talk of the modern great midfielders and how they get forward to hit the scoreboard, Matthews leaves them for dead.
The great Gary Ablett Senior managed it three times, as did Greg Williams, but everyone else is back in the distance. Matthews stands head and shoulders above them.
His 1977 season saw him average 27.4 disposals and 3.79 goals as he switched between the midfield and the forward line, finishing with 91 goals for the season. Can you imagine a midfielder with that type of scoreboard impact these days? He'd be hailed as the greatest player ever. Hell, can you imagine a forward with it?
He would win four flags with the Hawks, take home eight best and fairest awards, has a Coleman Medal to his name (again, splitting time between forward and midfield in 1975), and has the AFL Players' Association Most Valuable Player Award named after him, after winning it in its inaugural year – 1982.
To those who think he was simply a thug, you're missing the big picture. Yes, Leigh Matthews played the game hard in an era that permitted it. Yes, he ran afoul of the V/AFL and the law at one point, but if ever there was a man who drank the tears of those who hated him, it was Lethal. His success didn't care much for your emotion.
As a coach, Matthews continued to build his legend, adding a premiership at Collingwood and then three consecutive flags with the Brisbane Lions to his CV, putting to rest the fallacy that great players cannot make great coaches. The Pies placed their faith in him and he rewarded them with the 32-year drought being broken. The Lions' successive flags enshrined them as one of the greatest teams in history, and many of the players in that team adopted a ruthlessness that would have made Matthews smile. Their attack on Nick Riewoldt in 2005 after he refused to go off the ground with a damaged shoulder had Matthews' fingerprints all over it.
Whilst I am sure that some will simply refuse to acknowledge the greatness of Leigh Matthews, choosing to instead look at incidents that reflect poorly on him as both a player and a person – sadly, it is the nature of society currently – numbers don't lie and nor does success. As a footballer, he did just about everything you could imagine, sans winning a Brownlow – mind you, how could he NOT win it in '77 with the numbers quoted above?
Outside the MCG, the Avenue of Legends houses statues of the great athletes to have graced the ground with their presence.
Shirley Strickland is there, as are Shane Warne, Dennis Lillee, Don Bradman, Betty Cuthbert, and Keith Miller. The AFL has their Hall of Fame Legends wing, and whilst being part of that is a huge honour, the statues outside the 'G is where it's at if you want to look at true V/AFL royalty.
When it comes to footy, Norm Smith gets a nod, as does John Coleman, Haydn Bunton, Dick Reynolds, Kevin Bartlett, Jim Stynes, and Ron Barrassi. And then there is Leigh Matthews.
They don't give statues at the MCG to nobodies.
Enjoy this free article? You could…
[kofi]
Or sign up to become a member below and get all our articles regardless of whether they're free or members-only. Cheers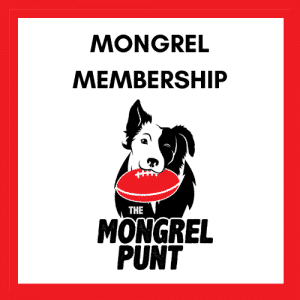 Quotes in this article are taken from both Matthews' biography Lethal in 1986, and a Herald-Sun interview at the time of the release of his autobiography, Accept the Challenge in 2013. Both are great reads for different reasons.