There was no forward who struck fear into the hearts of defenders quite like Wayne Carey did throughout the nineties. Yes, we had Lockett, Dunstall, Ablett and Modra all patrolling the forward line for parts of the decade, but the nineties belonged to Carey. Nobody else had the ability to take a game by the scruff of the neck and shake the life out of it in one concentrated burst of brilliance quite like The King.
However, there was one man who refused to be shaken by the spectre of Carey. Glen Jakovich was a defender unlike any other in the nineties. Attacking, powerful, and almost impossible to beat one-on-one, the Eagles' defender was one of the very few able to lower Carey's colours. Fewer still were the defenders who could lower Carey's colours repeatedly, with perhaps Stephen Silvagni the only other to consistently give Carey problems.
In modern football we still have the occasional classic one-on-one matchups, albeit fleetingly. Recent seasons have seen Darcy Moore, as Collingwood's premier defender, take on Tom Hawkins in some great one-on-one tussles. Phil Davis against Lance Franklin has always provided plenty ot keep you entertaining, and if you've missed that clash, you have genuinely missed out on some good one-on-one games.
The truly consistent one-on-one match-up might realistically be a thing of the past, and though we may get glimpses here and there, none will compare to what has come before. We've written about the classic Peter Knights versus Paul Vander Haar match up at Windy Hill in the eighties – any who saw it have such fond, vivid memories of the two blondes flying for marks against each other all day long. There were no third men up, no forwards blocking on the lead for Vander, and no one dropping in the hole to help Knights out. It was a true one-out contest but it was over as quickly as it began. Injuries and circumstance prevented any further classic clashes between the two. There have been others a little less spectacular, with a bit more longevity.
The West Coast Eagles were the team of the early 90s, collecting flags in 1992 and 1994. Their 1991 season was electrifying as well, but they fell at the final hurdle as the Hawthorn dynasty gave one last yelp. The Kangaroos hit their straps around the same time, with a group of young, talented and dangerous players elevating them to become the best team of the second half of the nineties.  Between the two teams, they played in six grand finals and collected four premierships.
Through it all, two names emerged as the barometers for their teams.
Wayne Carey and Glen Jakovich were two players who helped define 90s football. Carey was the brash young captain of the on-the-rise Kangaroos, and Jakovich was the no-nonsense powerhouse of the dominant West Coast backline. Carey arrived a couple of seasons before Jakovich broke into the West Coast side, and was well on the way to establishing himself as a star of the game. Jakovich became every bit as important to West Coast as Carey was to the Kangaroos. Once they matched up, they waged a series of battles that made many question whether Carey was indeed the King, or whether the big man from the West had usurped his throne.
Whilst numbers don't lie, it would be completely unfair to put the two side by side and compare stats. Playing vastly different roles, the measures for success for each player were markedly different. A five-disposal game for Jakovich would look poor until you consider that he held Carey goalless. Likewise, six possessions for the King would look poor unless he played one of those crucial five-minute stretches and kicked three vital goals. It is really a game-by-game affair with these two, so that is how we'll look at it.
Carey was not present when Jakovich tackled the Kangaroos for the first time in 1991. The first clash between the two would have to wait until 1992.
CLASH ONE
ROUND 12, 1992 @ MCG. West Coast win by 44 points
It didn't take Jakovich long to cement his place in the Eagles' back line, holding down the centre half back position by the end of 1991. This would be the first time he encountered Carey. Though Carey dragged in 11 marks and had 18 touches, he was restricted to one goal. Jakovich spent plenty of time roaming far and wide, and even spent a little bit of time in the ruck, however when your key forward snatches 11 marks, it's hard to look past.
VERDICT – CAREY WINS

R12 1992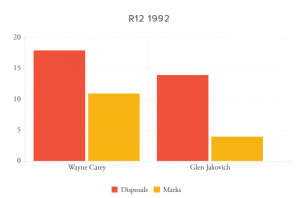 CLASH TWO
ROUND 12 1993 @ THE WACA. North Melbourne by 6 points
Twelve months removed from his first look at Carey, Jakovich needed to provide his coach, Mick Malthouse, with a better effort. By this stage, Jakovich was one of the premier defenders in the game, and Carey was… well, Carey was Carey.
The King slotted three goals, had 21 touches and took 11 marks as the Kangaroos got over the line. To best sum up this game, it's probably best we hand over to Mick Malthouse, who had the following to say to Jakovich.
Ouch.
Jakovich was challenged that day, not only by Carey, but by his coach. It was a challenge he embraced.
VERDICT – CAREY WINS

R12 1993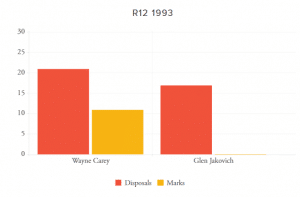 CLASH THREE
ELIMINATION FINAL 1993 @  WAVERLY. West Coast by 51 points
After being "embarrassed in front of his family and friends" in their previous meeting at Subiaco, Jakovich hit back in the best possible way. His defensive efforts against Carey before the Kangaroos centre half forward left the ground with a hamstring injury were excellent, and they only got better once Carey took his seat on the bench.
The Eagles steamrolled the Roos by 51 points, eliminating them from the finals and setting up a date of their own with the Bombers in the Semi Final.
VERDICT – JAKOVICH WINS

Elimination Final 1993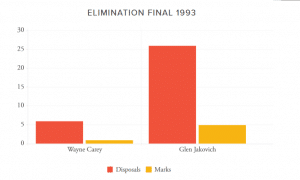 CLASH FOUR
ROUND 6 1994 @ MCG. West Coast by 37 points
Determined to re-establish his dominance, Carey came to play in this one. If Jako thought he had the answer, Carey changed the questions and booted five goals 3 behinds whilst taking 15 marks against his new nemesis.
Jakovich couldn't stay with Carey, and managed 13 touches and two marks. Reports of Carey's demise had been greatly exaggerated. The King still wore the crown
VERDICT – CAREY WINS

R6 1994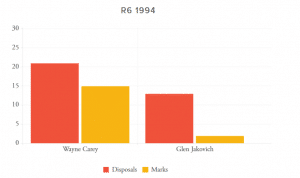 CLASH FIVE
ROUND 21 1994 @ THE WACA. West Coast by 9 points
Like a see-saw to this point, these two traded personal wins in their rivalry. Jakovich saw his team get home over North Melbourne and took the points in his individual match up on Carey as well. Whenever you can hold a forward the calibre of Carey to 10 touches and a goal, you've more than done your job, particularly if your team wins.
Jakovich outdid himself, collecting 29 touches of his own, running off Carey at every chance and having some welcome aid from his West Coast defensive unit.
VERDICT – JAKOVICH WINS

R21 1994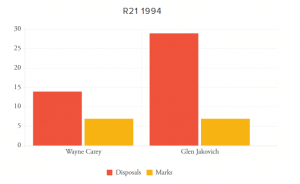 CLASH SIX
ROUND 3 1995 @ THE WACA. West Coast by 48 points.
Jakovich held Carey goalless here – the second time he'd done it personally. Carey's meagre stats of 10 disposals were his lowest of the year.
It was becoming apparent that Jakovich was not to be treated like other defenders by Carey. More to the point, he could not be treated that way. Jakovich simply wouldn't allow it.
VERDICT – JAKOVICH WINS

R3 1995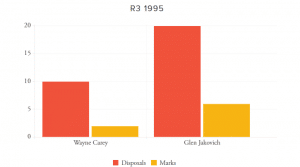 CLASH SEVEN
ROUND 18 1995 @ PRINCES PARK. North Melbourne by 62 points
Though the Kangaroos got their first win in five tries against the Eagles, they did it without a lot of influence from Carey. Again Jakovich took the chocolates against him.
Carey may have kicked two goals, but his 12 disposals and 2 marks were well below his best again and only marginally better than his output earlier in the season.
VERDICT – JAKOVICH WINS

R18 1995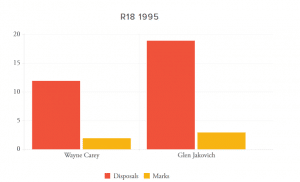 CLASH EIGHT
SEMI-FINAL 1995 @MCG. North Melbourne by 58 points.
Another game where Jakovich held The King goalless. People were now really starting to take notice of how Jakovich handled Carey, and many coaches wanted to employ similar tactics against him.
Sadly for those coaches, they didn't have a defender that could do what Jakovich could. More concerning for North was that Jako was stopping Carey in the finals. This was his second resounding personal win over Carey on the big stage.
VERDICT – JAKOVICH WINS

Semi Final 1995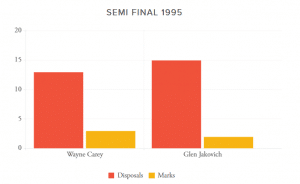 CLASH NINE
ROUND 7 1996 @ SUBIACO. West Coast by 67 points.
Whilst Carey took the points in this one, kicking 3.4 and amassing 10 marks to go with his 19 touches, Jakovich had the last laugh, with the Eagles running out winners. The two played wide of each other in the first half, with Carey starting at centre half back.
By the time I did move down in attack to play on Glen, it well into the second quarter.We were playing a bit of cat-and-mouse. I was playing between full forward and centre half forward, and I don't think he's that comfortable there. He wanted to pick me up, but I was playing in an unfamiliar part of the ground for him and he wasn't too sure. Eventually their runner came out and asked him to move up the ground a little bit, dragging me with him. – Wayne Carey
It would be the only time they met this year, with Jakovich seriously injuring his knee in Round 12 against St Kilda. It would be almost 12 months until he returned to the game.
VERDICT – CAREY WINS

R7 1996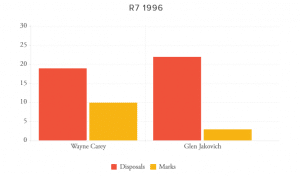 CLASH TEN
SEMI FINAL 1997 @ MCG. North Melbourne by 13 points.
Due to injury to both players, there were no home and away meetings between the two in '97. Instead, they got to ply their trade in the finals.
I was back and forward in the first half at the MCG. Centre half forward to centre half back, so it's hard to gauge our match up over four quarters in the way people have been able to do in the past. – Wayne Carey.
Our contest changed a bit in the second half. Denis Pagan had moved Wayne around a bit, into their backline on occasions, but after half time he was back at centre half forward and taking me out of the play to the flanks, away from the corridor where the footy is most of the time. It's something I was aware of and had to try and counter, and a shrewd piece of thinking by them. – Glen Jakovich
Playing to a personal draw, North managed to edge the Eagles out and move on to face the Saints in the Preliminary Final.
VERDICT – A DRAW
Semi Final 1997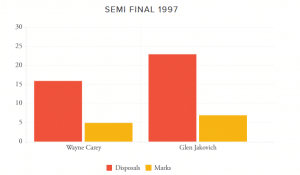 CLASH 11
ROUND 1 1998 @ MCG. North Melbourne by 2 points
With neither man stamping his authority on the game, another head-to-head draw between the two seems a logical outcome. Carey hit the scoreboard with a goal, but Jakovich's rebound and ability to thwart Carey in the air kept the game close.
VERDICT – A DRAW
R1 1998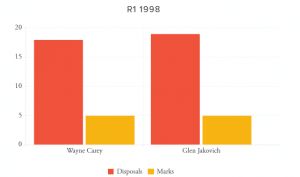 CLASH 12
ROUND 16 1998 @ SUBIACO. North Melbourne by 14 points.
Jakovich struggled against Carey in this one. Hampered by floating bone chips in his ankle, he could not compete with his opponent. The King bagged five goals and dragged in 11 marks as he managed to use his mobility to turn Jako inside out at times.
VERDICT – CAREY WINS

R16 1998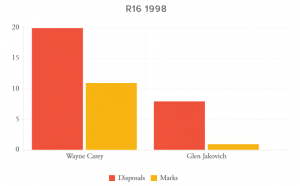 CLASH 13
ROUND 11 1999 @ MCG. North Melbourne by 20 points.
It was the Kangaroos' fourth straight win against the Eagles, and they did it without much input from Carey. Though Jakovich had little say on proceedings, he and Carey wrestled each other out of the game.
Carey's stats of 12 disposals and one mark, combined with no goals against Jakovich again combined for his worst statistical output of the year. Jakovich had only eight touches and two marks. He played only one worse statistical game of the year.
Still, the defender's job is to stop the forward. Jakovich did just that.
VERDICT – JAKOVICH WINS, BUT THIS OPENS UP MANY QUESTIONS ABOUT 'WINNING' A CONTEST.
CLASH 14
ROUND 1 2000 @ MCG. West Coast by 43 points.
The Eagles stopped the rot against the Kangaroos here, and once again, Carey and Jakovich nullified each other's influence. Carey kicked 2.2 but was not a large factor in the game.
VERDICT – A DRAW
R1 2000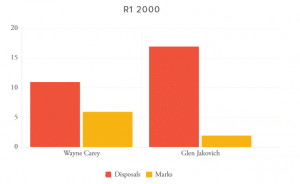 CLASH 15
ROUND 16 2000. @ SUBIACO. North Melbourne by 61 points.
Despite North Melbourne's dominance, Carey was unable to contribute significantly. He added 2 goals, but finished the game with only six touches – a season low, again against Jakovich.
Jako got on his bike in this one, totalling 25 touches and 6 marks to get the nod in this contest.
VERDICT – JAKOVICH WINS

R16 2000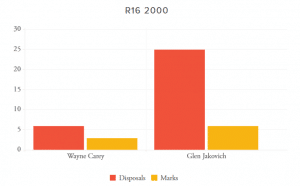 CLASH 16
ROUND 15 2001 @ SUBIACO. North Melbourne by 44 points.
In his final game as a Kangaroo against Jakovich, Carey turned it on, kicking five goals and collecting 18 touches. It was Carey's third five-goal haul against the Eagle.
VERDICT – CAREY WINS

R15 2001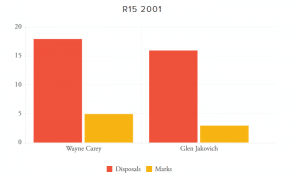 And with the Kangaroo-Carey versus Jakovich rivalry prematurely ending when Carey sat out a year before joining the Crows, the final score in their battles stands at Jakovich with 7 wins, Carey with 6, and 4 draws between them.
The only thing missing from the rivalry was a Grand Final showdown. It came closest to happening in 1994 when North Melbourne took on Geelong in the Preliminary Final. Mick Martin had done a sterling job on Gary Ablett all game, only to see an errant kick sail into Ablett's hands as time wound down. Ablett kicked truly and North missed the Grand Final.
There was no doubt it was a chapter that Jakovich wanted to see come to fruition.
Perhaps the best way to look at the effect Jakovich had on Carey's game is to compare the output Carey had against the competition during the same period.
Against Jakovich, from 1992 until the end of 2001, Carey averaged 14.68 disposals and 6.12 marks and 2.0 goals per game over their 16 encounters.
Against the competition over the same period, Carey averaged 17.94 disposals, 7.39 marks and 2.95 goals per game.
Carey against Jakovich/rest of AFL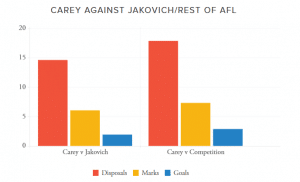 In another amazing fact, Carey was held goalless in this period 19 times. Four of those were against Jakovich. When Jakovich got on top of Carey, he was like a wet blanket- the King could not shake him.
Former Eagles CEO, Trevor Nisbett remembers the duels fondly.
"You had the best centre half forward for so many years against the best centre half back for so many years. I don't think there is any doubt about that, and the Jakovich-Carey clashes will go down as the match-up of the 90's."
He goes on to make an interesting point. "The strange thing was that, if Wayne got on top of Glen, the Kangaroos didn't necessarily win the game. Wayne kicked five goals a couple of times on Glen, but they didn't win. If Glen blanketed Carey, we didn't necessarily win the game…"
Carey did kick five against the Eagles in one loss, whilst the Kangaroos won two games where he went goalless.
Carey is non-committal on who won the majority of their clashes.
"I never really kept score on the record between the two of us and there were occasions where one of us was crook, as well. I remember at Subiaco oval, when Glen had his ankle injury and obviously wasn't feeling the best and I had a pretty good day."
Jakovich speaks on Carey.
"He drove me to levels that other players couldn't. Mick (Malthouse) could get the best out of me, but Wayne got the super best out of me. He beat me a few times, and each time I decided 'That's not going to happen again'. I worked on myself harder than I worked on him."
So who won the duels? Both men are regarded as champions of the game. Carey will one day be elevated to Legend Status in the AFL Hall of Fame, but it won't be due to his dominance of Jakovich – far from it. Between them, there are four premierships, nine All-Australian berths and eight club best and fairest awards. On any given day one man could have the upper hand on the other.
At The Mongrel Punt, our jury is out. Jakovich did claim a 7-6 advantage in the head-to-head matches analysed, but is negating a forward an easier job than that of the forward himself? Carey had to create whilst Jako had to negate.
Or perhaps more credit should be given to Jakovich here? Carey was more nimble, and when he went on long, searching leads, he would more often than not get the ball. What was it about this matchup against Jako that made Carey so determined to beat him body to body? Was it ego-driven, and did Carey fall into a well-laid trap against the powerful Jakovich?
Whilst we believe Carey had the more difficult job – to outright win a contest and not just break even, we're happy to call this match up to remember a draw – let the debate rage on.