When I started The Mongrel Punt, I decided we would report on and cover AFLW as close to the way I wanted to cover the men's league. As a man with four daughters… yes four, I thought it was important to take the league seriously as it was established and as it grew. And I thought it was important as a footy fan, as well.
For our men's coverage, we have been able to access the plethora of statistical information the AFL and other sites provide for each game and we were hoping to do the same for the women.
Sadly, that has been a hurdle we've been unable to clear thus far. Let me tell you why.
We do a lot of what I'd like to think is in-depth coverage of individual games and as such reflect on statistics at times to back up what we do. After last night's Bulldogs v Saints AFLW game, I decided to see if I could find a few stats that would tell me some of the things that are rammed down our throats during an AFL game. You know, simple things like who picked up the most contested possessions, intercept possessions, metres gained… the stats that can back up or debunk what you're thinking as the game ticks by.
So, after a rather fruitless search of the AFL website and their AFLW off-shoot, I decided to download the AFLW app. And what a joy that was!
Firstly, the good stuff – they had the scores correct, the score worm was at its wormy-best and I could verify that St Kilda did in fact beat the Bulldogs in a close game. I could also see how many disposals each player got, how many marks they took and how many goals they kicked. Throw in tackles as well as their ultra-important AFL-Fantasy score, and that's about all the info I was able to find from the official app of the league.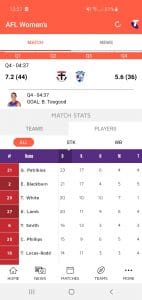 But hang on – what if I clicked on an individual player? Surely that would yield a more detailed result, right?
Oh, I was not wrong. There were details aplenty.
Firstly, I learnt that Brooke Lochland had somehow managed to play 21 games thus far in 2021 and kick 14 goals. This, despite the fact the game I'd just watched was the Western Bulldogs' first official outing of the season. It seems she's a busy girl, huh? I wonder where she's been playing?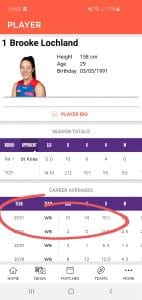 For context, I then went and had a look at the St Kilda v Western Bulldogs clash from 2020 on the AFL app. There, I could see 25 different statistical areas for each player. Hell, if they trained a camera on one bloke, I reckon they'd be happy to provide you with how many times he pulled his shorts out of his crack during the game.
After clicking on a few players in the AFLW app and experiencing the same result of outdated and incorrect info, I decided to go a different direction and have a look at the ladder. That's an easy one, right – they've been publishing ladders since before apps were invented – surely they couldn't cock this up.
Oh, you're not giving those running the AFLW app enough credit. They can cock anything up!
Here's how the ladder looked after two games of the 2021 season.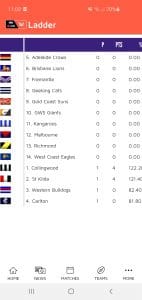 Maybe the Crows should petition the league to stop the season because… you know, Covid or something.
Now, here is where we ask the questions, and I want you to answer honestly.
If you do, I already know the answer, but you get to humour me, here.
Would this kind of second rate effort be tolerated in covering the AFL men's competition? How long would these errors be permitted to remain online on either their website or app? How long would the person in charge of this kind of thing last if it were not rectified immediately?
This is such a disappointment. The way I look at it, if you're going to be an organisation that sits upon a high horse and tacitly give lectures to the people who support your sport, take the bloody thing seriously and give AFLW more than just a watered-down, broken version of the app you use for the AFL. If you truly want people to take it seriously, try taking it seriously yourself.
Here's another suggestion you can take onboard – allow the people supporting your growing product to access things that make the sport more interesting to them – don't allow a private company to lock away the statistics that actually add to the experience of enjoying a game, occasionally drip-feeding us a stat or two during the coverage if we're lucky.
The AFL have been great at preaching equality. They've been great at jumping on board and backing causes, but there are tokenistic backings that are great for PR, and there is actually giving a shit and putting effort into aspects of supporting women's footy that matter. Half-arsing the app for the official women's league does not do a lot to aid the competition. The app and its accompanying stats have been broken for three years and as we start the new AFLW season, there seems no end in sight to this ineptitude.
The AFL's efforts to provide access to AFLW news and results is appalling. It makes the competition seem bush-league when in actual fact the attendances for Round One indicate it is heading anywhere but that direction.
So, in conclusion, here are a couple of questions.
Are this app and the AFLW website created and maintained by the same people who run the AFL website? If not, why not? If so, why are they unable to replicate anything even remotely as detailed as the men's competition gets? Are there enough people employed to do it? Are they supported to do it? Or are they too forced to be a watered-down version of the team that looks after the men's side?
If you want equality and are happy to preach it, actually back your words up and don't settle for a "near enough is good enough" attitude for the people following your women's league. It's disrespectful to the fans, and it's disrespectful to the footballers.
Before I sign off to go yell at some clouds, a big shout out to Mongrel favourite, Nicola Xenos, who suffered an ACL injury during the week. During the broadcast, one of the commentators stated it was Nat Exon… who'd just finished playing. All the best, Nicola – hope you have a speedy recovery.
As always, if you'd like to support us to grow and produce more of this great (?) content, you could become a member by clicking the image below. I'd really appreciate it.
Come on… click the image below and help an old mongrel out.