Well, the Tigers played like an expansion team, and Carlton took advantage. The Blues played at a standard far above that which Richmond could conjure, running out easy winners.
Here are a few things that stood out from the season opener of the fourth season of AFLW.
THE THIRD QUARTER OF MADDY PRESPAKIS
So, that tag kind of fell away rather abruptly, didn't it? Alana Woodward was pretty effective in subduing Prespakis in the first quarter, and probably also a fair way into the second, but the third quarter was owned by Maddy Prespakis.
This competition is still at the stage where a very good player will be a long way above the average players in terms of skill, reading the play and having poise – far more than the AFL. Prespakis is a natural, and despite a head knock and what looked to be cramp late in the game, she was the best player on the park.
In the third, she was responsible for one goal off her own boot, and her vision and willingness to take her time, assess and deliver set up two more.
THE GOOD AND BAD OF TAYLA HARRIS
She's a wild woman, this Tayla Harris, and we saw some of her best, and a little of her worst tonight.
I'm trying to look for some detailed stats (pretty bloody difficult) but I reckon her contested marks and free kicks against were probably around the same number.
I get that she is physical. I get that she is making a statement with the way she goes about it, but she doesn't have to knock over players every time she goes near it. Sure, it's fun, and basically there was no one on the Richmond team that could stop her even if they wanted, but 5-6 free kicks against is almost Mumford-like and might cost her team against opposition of a higher calibre.
Still, she got away with it tonight, and was the most dominant player on the field when it came to plucking a grab.
Whilst I am on Harris, where was the help against her in the air? She got way too many one-on-one contests inside 50 and no one came in to be third up. Other teams should be taking note of that.
THE TIGER ROAR
With 15K in the house, the roar that came from the crowd when Sabrina Frederick kicked the Tigers' first goal in the third quarter made it sound like there was plenty more in attendance.
It was a token goal in the grand scheme of it all, but you wouldn't know it given the reception. Sabrina goes down in the history books as the first woman to kick a goal for their AFLW team, and those in attendance had two and a bit quarters to warm the vocal chords to celebrate.
For mine, the last quarter goal from Courtney Wakefield, after selling a little candy was more worthy of the roar. That was a nice goal.
Also, Mrs Mongrel said I am not allowed to say anything nasty about Wakefield at all, given her story and the farm and all that shit. So, I won't mention that first shot at goal, okay?
OTHER BITS
Really liked the game of Chloe Dalton. Her ability to gather cleanly and offload without the double-grabs that plague so many in the AFLW was refreshing. She's also an Olympic Gold Medallist, so you know… good on her.
Christina Bernardi didn't want to be known as a three-team player, she probably should have stuck with one of the teams she was with, huh? Nice run from her down the wing in the third quarter.
Sabrina Frederick will have moments where she dominates games in 2020, but watching her in this one, she cannot effectively chase, and is way too slow. That's about as nice as I can be about it.
I wonder if there is someone at Richmond willing to donate an ACL to Lauren Tesorerio? Come on… someone in the front office, maybe? Penny What's-her-name? Benny Gale? I love Tesorerio's mongrel. She may be there for a good time and not a long time (aren't we all?) but I hope she gets a decent run at it.
Was it just me, or did Jason Bennett and Abbey Holmes seem as though they were trying to speak Darcy Vescio's good form into existence? Average game from her.
Speaking of Abbey Holmes, she was looking at Bennett before the game as though she wanted to eat him. Check out the pic below – scary.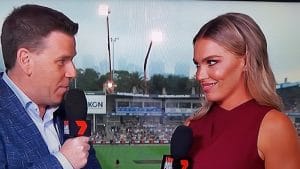 Forgettable night at the office for Katie Brennan. Was she off the ground in the last quarter? I didn't see her. Maybe her and Woodward both spent time on the bench late?
Best eyebrows on the field? Grace Egan. I am an eyebrow aficionado and will happily debate anyone who thinks her eyebrows weren't the absolute second best in this review. Mine are better.
Liked what I saw from Lucy McEvoy, and can understand why so many have tipped her for this season's rising star – that mark she took with Tesorerio bearing down on her was excellent.
Sorry to see Andy Maher do a calf muscle… us old blokes gotta stick together. I did both calves in successive weeks. At least walking with two limps made it seem like I was walking normally.
Way too much directionless football from the Tigers coming out of defence, and on the rare occasion they did get it past halfway, the skills weren't there to allow them to hold up play, chip sideways and wait for the troops. Turnovers hurt so much, particularly when Carlton rebounded so quickly.
A few people talking up the game of Akec Makur Chuot – got her hands to plenty of intercept possibilities, but didn't glove them. Two marks for the game, but should have had six. Reads the play pretty well, however.
Without Phoebe Monahan in the team, the Tigers would have been in even more trouble.
And that'll do me. I'm going to post a wrap up of the weekend's AFLW action probably around Monday. Not sure how in-depth it will be, but there is certain to be some talk of eyebrows, and Mrs Mongrel will have no doubt chosen some of her favourite players by then (usually ones with names she can giggle at).
Cheers