As players recover from the euphoria/heartbreak of the Grand Final, the AFL News Cycle is in full swing, attempting to re-engage those footy fans that have switched off after the final siren sounded last Saturday.
Hell, I know quite a few of you disengaged as soon as your team was shown the door in 2023, right?
So, given the media will now trot out a story – any story – to keep you on the hook, I thought it'd be remiss of me not to trot out one of my own.
I call this article Bullshit, or Not Bullshit.
You see, if you keep your ear to the ground and follow any number of AFL accounts across social media, you're bound to hear rumours of players changing clubs and looking for a fresh beginning. My job, as appointed by me, is to sift through these things to find not those that could have a smidge of truth to them, but ones that either seem pretty believable or seem like a complete fabrication.
The line can be a bit blurry…
ESSENDON WANT A FIRST-ROUND PICK FOR BRANDON ZERK-THATCHER
CALL – NOT BULLSHIT
The suggestion they'll get it is bullshit. The fact that Essendon will ask for it is not bullshit, sadly. This is called highly overvaluing one of your own, and Essendon tend to do that, whilst attempting to squeeze other teams in the process.
Zerk-Thatcher is a good young defender. He showed excellent signs this season against everyone except a switched-on Tom Hawkins, but we are still talking about a bloke who won the reverse Coleman (not that I buy into that, but you can use it to prove a point, if you like) and is out of contract, leaving the Bombers with bugger all in terms of leverage.
Oh, they'll ask, and I suggest Port will smile back at them before offering a counter worth far less. The posturing will continue until Essendon feel like they have a win (BZerk leaving is not a win) and the bloke will end up at Port for far less than a first-round pick.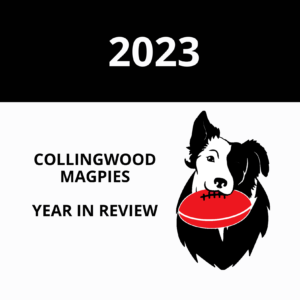 NORTH MELBOURNE WILL HAVE PICKS TWO AND THREE IN THE DRAFT
CALL – NOT BULLSHIT
The wheels are turning and North are looking more and more like they will pick up pick three as compensation for the loss of Ben McKay, giving them picks two and three in the upcoming AFL Draft.
So, what does that mean?
It means that a play for pick one is on the table – a pick North could have had if they just knew how to lose properly, instead of picking up a late-season win. Lose properly, damn it!
Harley Reid will be the number one pick, but with young star, Daniel Curtin being from WA and expected to go in the top three, West Coast may be willing to deal the number one pick to improve their overall position and recruit another hometown boy.
Whilst I doubt it would be anything like picks two and three for pick one, especially with North perhaps willing to bid on Gold Coast Academy prospect, Jed Walter, a three-team trade of picks could see North end up with the number one pick, and a chance at another pick in the top ten.
And anyway, as much as people rated Ben McKay, I thought he was a bit of a ball-stopper whenever he took a mark. Played within his limitations, which is great, but not the type of player to command whatever he is likely to get at Tullamarine.
ESAVA RATUGOLEA IS WORTH A FIRST-ROUND PICK
CALL – COMPLETE BULLSHIT
Chris Scott is a bit of a joker, isn't he? A laugh-a-minute type of guy…
Imagine, if you will, a player that has proven inept as a forward and now plies his trade in defence, having spent one year and managed 16 games of a possible 23 back there in a team that was not great defensively warranting a first-round pick.
Forget the fact that there were times when he still managed to look completely lost, was ranked 61st in the league in average intercepts (101st if we're looking at totals) and 30th in average one percenters (32nd in totals).
Guys, this is Chris Scott posturing.
There is no chance this bloke is worth a first rounder and it is the Cats attempting to squeeze every drop of value they can from Port Adelaide if they want Sav. The funny thing is, Ratugolea is out of contract. He can walk into the pre-season draft if the Cats want to act like idiots about it, so they have no real leverage.
He'll get to Port one way, or another. However, if there is a first-round pick involved, seriously, I reckon Geelong should give it to Port for taking Ratugolea off their hands. Nice try, though, Scotty – you're an entertainer.
CLAYTON OLIVER IS GOING TO PLAY SOMEWHERE ELSE NEXT YEAR
CALL – ANYONE'S GUESS
This one came through today.
Clayton Oliver, after suffering the first real injury he's ever had, is now on the table according to Riley Beveridge and Cal Twomey, on whatever show they're hosting. I read someone say they may have indulged in a beverage or twomey before going on…
Great line, so I stole it.
This is one of those instances that seem to come out of nowhere and it is going to take time before the story is either further developed or discredited. Right now, it seems ludicrous that the Dees could look to offload a player of Oliver's calibre, but what happens behind the scenes is always a bit of a mystery to us all, and journalists seem to love the ambiguity of it all. It means they can.add snippets, alluding to something but not quite stating it.
Some love that stuff. I think it's trash, personally.
If i am in charge of the Dees, Oliver being back on the park at 100% would be my ideal, and I would not even entertain the notion of trading him… unless they offered a King's Ransom.
Until the club makes an announcement, there are just too many people trying to drum up interest in their own work for my liking. Wait for facts, disregard 90% of what you hear, and be respectful when talking or posting about it.
ESSENDON AND ST KILDA WILL RORT THE SYSTEM
CALL – NOT BULLSHIT
They'll try!
We've heard stories of a deal that will send Jade Gresham to Essendon via free agency (great pickup, by the way), which will trigger a compensation pick for the Saints. It might be in the first round or at the end of the first round. The Bombers then trade Dylan Shiel to St Kilda (I don't know why they want him) and they trade a pick back (not the same one… that's not permitted).
So, in the end, the Bombers get Shiel off the books, pay a bit of his salary, get Gresham, and a pick back. The Saints get Dylan Shiel, with a bit of his wage paid, and a pick back.
And everyone will be pissed off and call for the system to be changed.
Me, I think systems are there to be rorted. If the AFL sets things up this way and teams take advantage, I don't blame the teams.
DEV ROBERSTON WILL RE-SIGN WITH THE LIONS AFTER THE TEAM WENT SO CLOSE
CALL – POSSIBLE BULLSHIT
I like Dev and I think he is a ten-year player in the league. He goes hard, stands up in contests, and does not back down from a challenge.
Unless that challenge has been to re-sign with the Brisbane Lions.
There's a bit of chatter around that Dev will be reconsidering his future now that the Lions are obviously in the premiership window, but they've been in that window for a few years – he knows where they are in the AFL pecking order. That he hasn't re-signed to this point indicates that he is genuinely looking back home, or at least considering the move.
Yes, the Lions are in the window – four points away from jumping on through that window, in fact, but the lure of home is a strong one and if he hasn't signed yet, it's probably a very, very close call as to whether he does, or opts out.
I'm sure you guys will let me know if I get any of these dead wrong. It's all part of the fun, right? But we can all keep an eye on the next bunch of rumours that hit the air so we can all call "bullshit" or "not bullshit" together.
Like this content? You could buy me a coffee – I do like coffee, but there is no guarantee I won't use it to buy a doughnut… I like them more. And I am not brought to you by Sportsbet or Ladbrokes… or Bet365, or any of them.