TEN THINGS WE LEARNT AFTER SEASON 2023
1. Craig McRae is a brilliant coach
Coming into Round 8 of the 2021 AFL season, Collingwood were languishing in 17th place with just a single win on the board. Nathan Buckley announced he'd be stepping down and that their Round 8 clash would be his final match as Collingwood coach after taking over from Mick Malthouse following the 2011 season. Robert Harvey would take over the role for the remainder of the season, and it turned out to be a tough year as they ended the season with just 6 wins and in 17th place.
Although Craig McRae had served a sizeable apprenticeship as assistant coach over a 14 year period at four different AFL clubs, nobody had huge expectations from the first time senior coach in 2022 with a side coming off a disappointing season.
Last year started with some promise, but they did find themselves with four wins from the first nine games and were staring down the barrel of another season without playing finals. An upset win on the road against the Dockers followed by a narrow win against the in-form Carlton in Rounds 10 and 11 was the spark they needed to go on a winning streak of 11, which included some of the most ridiculous come from behind wins at the death.
It was happening all too often for it to be pure luck, and from finishing the previous year in 17th place with just 6 wins, the new coach had instilled so much self-belief in the group that it got them into the finals with that much coveted double-chance. They fell just one point shy of the Swans in the preliminary final and almost snatched that one too after trailing by 23 points at the final break. It was clear they were loving the direction of the new coach, and many were wondering if they could back it up in 2023. Well, we all know how that story ended.
In just his second year in the senior coaching ranks, McRae is now a premiership coach. His team were the best side all year and the result was fitting, although a bit of wayward kicking nearly cost them. Collingwood's final five rounds of the season had many wondering if they'd peaked too early. A loss to the Blues in Round 20 seemed to set off a sequence of mediocre games where they finished the season losing three of their final five matches. In spite of this they still finished on top of the ladder, and you could be forgiven for thinking that McRae wasn't all that concerned and he was happy to limp into the finals and let it all happen there. Even the way they managed the return of injured gun Nick Daicos seemed perfect with limited game time in the first half of the preliminary final which saw him come out and have a strong 29 possession game in the Grand Final.
Sure, the wins in the finals were hard fought and very close. In fact, all three margins in their three wins add up to just 12 points in total. But he got the result that counts, and in just his second year at the helm, we may be talking about this guy in years to come. I might be calling it a little early, but he does seem to be a bit of a genius.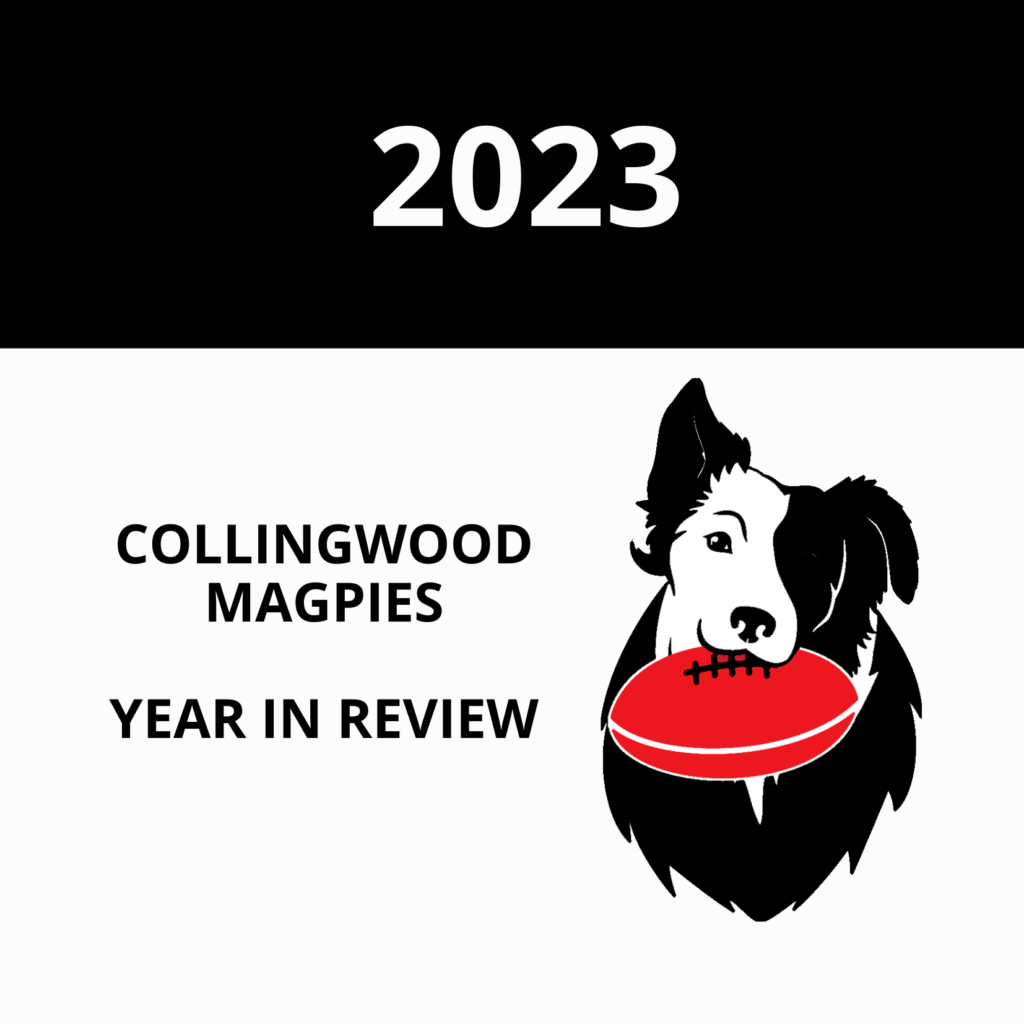 2. Carlton and GWS may be to sides to watch next year
If you were to take the ladder from beyond Round 13 only this year you would have had Carlton on top with nine wins from ten games followed by the Giants with 8 wins. Now I'm well aware seasons go for 22 games, or in the case of this season 23, so it may be a moot point to discuss how a side is going based on roughly half a season, but both of these sides did threaten to go all the way only just falling short in the end. They definitely leapfrogged the third and fourth placed teams during the finals.
Both of these sides were not looking good after Round 13, particularly the Blues who were coming off six straight losses. The Giants seemed a little luckless as they lost a few close ones and were getting used to Adam Kingsley's directions in his first year at the club, so the pressure wasn't too intense for the Giants after a poor 2022.
The same could not be said at Carlton where they started the previous year on fire, winning eight of the first ten games only to lose the final four matches of the year to miss finals by 0.6 of a percentage point in the end.
Expectations were huge at Ikon Park this year, and after that dreadful loss to Essendon, many were calling for the head of Michael Voss. Nobody saw nine straight wins coming, nor would they have believed that a preliminary final was a possibility, but they made it that far, and that says a lot for the resilience of the coach and players.
These two teams had a mediocre half and a great half of the season. Carlton have now done that two years in a row. Both clubs will be hoping for two solid halves that may see them entering the finals in 2024 with a double-chance. The recent form of both teams suggest it's possible, but of course a few other teams will have a say in all that. Whatever the case, both sides can rightfully enter next season with a huge amount of confidence. Their resurrections were impressive and they certainly made a mark in the finals series. Here's hoping they can both back it up, and I am fairly confident that they will.
3. They must fix the Score Review next year
I'm a fan of using technology. Don't get me wrong. But if we ever see a repeat of what happened in the Ben Keays' instance, we may as well scrap the whole thing altogether. The Adelaide Football Club would've almost certainly played finals had that decision been adjudicated correctly, and I know there's plenty at the club who recognise that we all need to move on from these things, but boy am I incensed by it, and I'm not even a Crows supporter, so I can't help but wonder how some of them must be feeling.
The glaring error in this particular case was the lack of a review. It seems that some bright spark within AFL ranks forgot to consider the ramifications of an actual goal that was adjudged a behind, and where play was allowed to go on from a kick-in, it seemed all too hard to figure out the wrong call was made and we had to stop the play, bring the ball to the centre for a post-goal bounce and restore any time that may have been lost in the process. And surely that's what will happen moving forward if such a scenario was to occur again.
And I would hate to think if twenty seconds were used up in the process that they would not add that time back in. It wouldn't surprise me if they went down that path, because usually two to three seconds get used up when a centre bounce goes awry and is recalled. I'm baffled as to why that time is not restored. We all the difference two the three seconds can make to the end of a game, let alone in a quarter where three or four bounces go astray.
4. Bobby Hill was the trade of the year
Bobby Hill debuted at the Giants in 2019. He played 41 games with a modest return of 34 goals as a small forward, but there was no doubting his talent. In his 24 games this season with Collingwood he has kicked 33 goals from 24 games played, and has definitely cemented his spot in the premiership club's best 22. Not only has he got a premiership medallion around his neck in his first year at the club, but he also has the Norm Smith Medal after being voted the best player in the Grand Final.
The last small forward to achieve that feat was none other than fellow indigenous gun Cyril Rioli back in 2015. Whilst Bobby has quite a way to go to reach the heights that Cyril hit in his heyday, the similarities are there and there's plenty to be excited about.
He finished with four goals for the game from 18 touches and had opportunities to add to his first half tally of four with a couple of misses in the second half being the only real blight on his game. Hill was also instrumental in getting his team across the line in their qualifying final against the Demons where he kicked three goals. He was a little quieter against his old side in the preliminary where he only had the nine touches for a goal, but I imagine Bobby will be pretty pleased with his finals series and may even find himself being the recipient of the club's best finals player at their presentation night. It was a clever trade by the Pies which involved future picks and not much else, so right now, the architect of this trade would be feeling pretty chuffed with himself.
5. Do we need to look at how the Brownlow is voted on?
Before anyone suggests I'm about to launch into some sort of tirade about how Lachie Neale was undeserving of this year's award, think again. Of all those guys near the lead, I would've been fine with any of them taking out the award, including Neale himself. The thing is, we've all probably heard by now the so-called controversy surrounding a particular game where Neale was awarded three votes after getting, by his standards, a modest return of twenty touches for the match.
Some who recall the game say his influence wasn't in line with a best afield performance and there were other more deserving players. I'm not privy to the details of the game in question, and for all we know his 20 possessions might've been crucial in getting the Lions across the line. My mind only has to go back to a week ago where Coleman from the Lions was clearly the best player on the ground against Carlton with 21 possessions. So it's definitely possible.
With all that said, here's where things get interesting. Listening to radio commentary, I was astounded to learn that the field umpires do not have access to the statistics of the games they're officiating in. If this is so, and I can't imagine they'd be saying as such on air if it wasn't, that's bordering on crazy. Umpires have a lot to take in when officiating on match day, so it would be understandable if they get to the end of the game wondering just who the best players on the ground were. One would think that such an important award as the Brownlow should have a pretty thorough vetting process, but it would appear not. I imagine it would be helpful following a game where there were several players who could arguably deserve votes, that it could come down to a statistical analysis to help decide who the best three were.
We all go to games sometimes wondering who our team's best players were, and once we look at the stats it often becomes clearer. My understanding is the new CEO will be looking into this. I hope they do. Taking nothing away from Lachie Neale, but it's the Brownlow! We have to nail that one.
6. Looking forward to seeing Pendles hit 400
Scott Pendlebury played his 383rd game in the Grand Final, and everybody in the football world is excited by the fact he's playing on next year, and who knows how far beyond. He'll be 36 in January in what will be his 19th year at the club after debuting way back in 2006 would you believe?
So how's the old man travelling?
24 possessions and a goal with enough run left in him to start in the middle isn't too shabby for any onballer, let alone one a few months shy of 36 years of age. His body seems OK. The goal he kicked was his first in a Grand Final after five appearances. He now has two premiership medallions, and Collingwood's window is still wide open as can be. So why would you retire now? He only missed two games this year so there seems absolutely no reason. Hopefully, he avoids injury and becomes just the sixth player to achieve the milestone of 400 games.
Pendlebury managed to play 24 out of a possible 26 games in 2023. He certainly looks fit enough to reel in Brent Harvey's 432 game record. It could be achieved if he plays finals over the next two seasons, provided he doesn't miss more than a game or two. The reality is, most likely, he'd have to go into the 2026 season as a 38 year old. Judging by his output and apparent level of fitness, it's certainly not beyond him. Even at 35, I still marvel at his ability to find space despite not being blessed with explosive pace. Good players like him seem to have all the time in the world with ball in hand.
At his age, some may argue that time is running out. And who knows? This premiership might even make him think that he's had his fun and it could be a good way to go out, although all indications are he is going on. And I hope he does. I like seeing records broken.
7. The Lions MCG curse lingers on
The Lions had a terrific year and were unbeaten at home on the 13 occasions they played there. Sadly for the Lions this season, they lost all games that they played at the MCG. There were only two occasions during the home and away season that the Lions ventured to the MCG, and they was against Hawthorn in Round 11 and Melbourne in Round 18.
Hawthorn defeated the Lions in an upset win by 25 points, and Melbourne pipped the Lions at the post kicking the last four goals of the match in the final eight minutes to win by a solitary point. There was even a game against the Tigers in 2022 where the Lions lead the Tigers at the MCG by as much as 43 points before eventually going down by 7 points. In fact, Brisbane has lost their last 12 games at the MCG during the regular season, and they've just had the one win against the Demons in the finals last year. But still, the ground seems to pose a problem for the Lions for some strange reason. And as long as they keep losing there, people will talk about it.
I imagine the discussion would be very different if the Lions got home, and they had every chance. It's kind of silly to conclude there's a curse when they only lost by four points, but it just keeps happening. They played four games at Marvel Stadium and won three of them, so the city of Melbourne isn't the issue.
I know I'm being facetious. I'm a little superstitious. What can I say? The reality is they have a very poor record at the MCG and you simply have to win there to win a premiership.
Fagan is right when he says they're still well and truly in the premiership window. He's absolutely correct. They are hardly an aging side. They'll be battling it out for top four honours for at least the next three years in my humble opinion. Their pace is deadly, and that forward line can score big. This one will hurt, but it was the year of the Pies I'm afraid. And the game was played at the G…
8. We're about to find out how good a coach Hardwick is
OK, you don't have to prove anything if you've coached a club to three premierships. And it's fair to say that the Tigers weren't world beaters when he arrived. So yes, we already know he's a top coach.
With all that in mind, we are talking about a club that is still in its infancy and is yet to play finals. They have a list which is not devoid of talent, and their best is very keen on the eye, and yet they've never even been able to achieve a positive win-loss record, let alone make finals in their 13 seasons in the AFL.
You do have to feel for Stuart Dew. He definitely stopped them from being a perennial basket case, but he was given six years to get them into September, and as hard as he tried, it seemed that it might not happen under his tutelage.
So along comes Hardwick.
He shouldn't start next year feeling any pressure. As I said, he's already proven himself. I heard rumours of Dustin Martin being lured, but it seems that's not going to happen. I actually reckon that would've been an amazing fit for the club, and could've almost proven to be the missing ingredient. But there's enough on that list to work with. Rowell and Anderson get better each year. You've got King up forward due to explode at any moment. And Jack Lukosius looks to be reaching his potential.
I think Hardwick can see the future and inject some winning culture into a group who do have a tendency to fold when the opposition go up a gear. I feel they're close to being good, and they did need a coach who can turn good ino great, and Hardwick did that for the Tigers from the middle of the 2016 season. If he can't get the Suns to rise (pun intended), perhaps the AFL may need to cut its losses and join the long list of sporting entities that went to the Gold Coast and died.
9. Can Charlie go for a hat-trick of Colemans?
Charlie Curnow in full flight is a sight to behold. He's a genuine athlete, a booming kick, and very hard to beat one-on-one in a marking contest. That said, against some of the better defenders in the competition, he has struggled at times. He had a finals series he'd rather forget, probably masked by the fact Carlton were winning some games. But one goal from each of his finals has got many suggesting that if reputations are won or lost in finals games, Charlie's cred has taken a bit of a beating.
I'd say over the summer months Curnow will do some work to rectify this. After spending two years on the sidelines with injury issues, he'd be well aware how easily this could all be taken away. I expect Charlie to give the 90-goal mark next year a bit of a nudge as I see the navy blue unit having a decent season after another year together and, hopefully, a better understanding of each other which should translate to better connection.
Charlie did achieve the rare feat of having played 26 games in a season while scoring at least one goal in every game. In fact it was the first time it had been done at all. There were probably a few too many occasions where he scored single goals, namely in the finals, but the concern was his form against the sides towards the top of the ladder. It's my belief he's good enough to remedy that, but there were some games where he did his best work further up the ground, such as the Port Adelaide game where he made Aliir Aliir play out of position to great effect.
Perhaps a fit and in-form Harry McKay could fulfil that kind of role, and with so many opposition defences double-teaming Charlie at various stages, do they go for another high marking forward to try and alleviate this? Who knows? And I'll declare, of course, that I am a Blues fan. I am optimistic about 2024, and also feel pretty strongly that we still haven't seen Curnow's absolute best just yet. Not on a more consistent basis at least. I think we might next year, as long as he stays fit.
10. 173 days until Round 1. 2024
How much do we hate this time of year? We all look forward to the Grand Final no matter which two teams are playing, but then comes that long emptiness that leads into summer, and having this Spring Racing Carnival period does literally nothing for me.
I've quoted the figure of 173 days based on the start of the season being Thursday March 21. I don't have any inside information on if that's going to be when Round 1 starts, but it'll be thereabouts. And I hope they start it with Carlton and Richmond on that Thursday night at the G. For years we were their whipping boy, then we won the 2022 opener.
The draw this year was a bit annoying. Richmond are never easybeats these days, but they do strike me as a team that may be on the way down, so if I'm right about that, it might be nice to start with a solid win and hopefully Charlie kicks a bag.
For some strange reason, after announcing they'd open the season with a Grand Final replay, the AFL didn't do that until Round 6 this year. I like the idea of a Round 1 replay, so hopefully we see Collingwood and the Lions at the start of the year. Whatever the case, it's going to be a long summer without football.
Trade period is always interesting. The draft will also be one to watch. I'm hoping the Kangaroos and Eagles can lift themselves up off the bottom somehow and even up the competition a little. But for now, I'll be working on my golf handicap. It's currently sitting on 6.9. I feel much better when I get it back to 4 or thereabouts.
But I'm getting older. Walking 18 holes isn't as easy as it used to be…