Hmmm, what have the Mongrel writers been doing with all these player ratings every game of the finals?
Good question.
Under the guidance of Trent Adam Shields, who moonlights as the guitarist for Hunters and Collectors, apparently, we have been compiling these scores every game to find our 2023 Player of the Finals.
Pretty sneaky, huh? That's the way we roll.
We'll announce the winner later, but for now, Jimmy Day and Trent Adam Shields have the player ratings for all in the 2023 AFL Grand Final
Collingwood (Jimmy D)
[28] Nathan Murphy – 3
Hard to score as he was subbed out in the first quarter with yet another concussion. Looked composed when on the field, but was a victim to lack of game time score wise.
[30] Darcy Moore – 6
The skipper was solid, but probably lowered his colours to Joe Daniher. Was solid, if unspectacular. Had some big moments, and was willing to take the game on. Had one of the great footy moments post-game, receiving the Premiership Cup from his father.
[38] Jeremy Howe – 7.5
Gets an extra .5 for the post-game revelation that he played the game out with three broken ribs. Howe is tough, plays his role, and is adaptable. With Murphy going down early, Howe had to spend some time as a key defender. He impacted the game many times, and showed his composure. One of the good guys, and I'm glad he now has a Premiership Medal.
[4] Brayden Maynard – 7
Tried to bring the spice to the game, and flew the flag a few times. Had some good battles with all of Linc McCarthy, Cam Rayner, and Charlie Cameron throughout the game. While he did get caught out of position (opponents out the back) in transition, was rock solid, and did what he has done for most of the year. Almost kicked an all-time GF goal.
[17] Billy Frampton – 0
Heroes are made or solidified on the biggest stage, for Billy Frampton, well, things couldn't have gone much worse. Marmalade had more Grand Final kicks than Frampton, fans in the crowd more marks (especially given Frampton dropped an uncontested mark 30m out), his only score came from him tripping over his own feet and the ball inadvertently hitting his foot, and, regardless of what's BT's Collingwood bias would say, Frampton didn't curtail Andrews. He was a body at contests, sure, but in the second half Andrews ran wherever because Frampton was not a threat or effective in any way.
[3] Isaac Quaynor – 6
Similar to Maynard, floated on different players throughout the day. Is known for his one-on-one success rate, and mostly kept true to that. Was caught out a few times, however, used his speed and pressure to impact the ball carrier.
[22] Steele Sidebottom – 8
Who says it's solely a young man's game? Steele turned back the clock with a vintage performance. Spent much of the day patrolling the outer wing, the flying egg was very good. Kicked a clutch late goal that became the winner, putting the finish on a fantastic game.
[10] Scott Pendlebury – 7.5
I've jokingly heard Pendles referred to as Scott dePendelebury because he's so dependable. We saw that in spades today. With the game on the line, and his side having kicked 0.6 for the term, Pendles converted in front of goal late in the third, restoring the Pies lead. Then, in the final term, he had 11 disposals to be involved in everything positive the Pies did.
[37] Oleg Markov – 4
Threatened on a few occasions to really tear the game apart with his dash, but, ultimately, fell a little short. He battled hard, but did have a few moments of indecisiveness that could have completely derailed his side.
[23] Bobby Hill – 9
Remember the comment about heroes being made on Grand Final Day? Bobby Hill chose a great time to have a career day! The Lions had no answer to his leg speed, his evasiveness, or his decision making on when to spread. When his teammates couldn't hit the side of a barn, Bobby played a lone hand in the second quarter in keeping the Pies in the game while Brisbane fought back. 4.2, 18 disposals, 5 tackles. A worthy Norm Smith Medallist.
[41] Brody Mihocek – 3
Bit of a dirty and an almost day for Mihocek. 10 touches and a goal. Was well held by Darcy Gardiner. That said, had he clunked a couple of grabs he got hands to, we'd be reflecting on a very different Grand Final performance.
[5] Jamie Elliott – 5
Got his hands on the footy with 7 marks, but finished with only 0.1. Was often an outlet kick, or found in space going forward, Elliott took on a different role while Bobby Hill ran amok.
[31] Beau McCreery – 4
Could have a big game, but inaccuracy cost him, finishing with 0.3. Brought his trademark run and gun style, harassing the opposition, and bringing the heat. However, drifted in and out a little bit. Low on the pressure acts side of things – 12. Elliott, not as noted for pressure, had 24.
[2] Jordan De Goey – 7.5
Not quite the dominating game he played in other finals, but two goals from 18 disposals is more than solid. Regularly exited through the front of stoppages, exploding from the contest, and launching the ball forward. Came up clutch in the final quarter when he nailed a centre bounce goal, as an immediate reply to Charlie Cameron, putting the Pies back in front.
[7] Josh Daicos – 5.5
A quiet day for the older Daicos. 17 disposals at 59% isn't spectacular, however, his ability to cover the ground and get to good positions is his greatest weapon. He did that, however, ultimately, it was a middle of the road game for Josh.
[46] Mason Cox – 6
Only touched the ball 7 times, but had moments that would have had Tigers fans having flashbacks to 2018. Finished with 0.2 – two shots you'd normally back him in to kick. Took 4 marks and regularly created a contest that brought his smalls into the game.
[35] Nick Daicos – 7
Led his team for contested possessions, and all-comers for disposals. Showed he's not overawed by the big stage. There was a scary moment early where he copped a knock to his lower leg, but he played through it and showed no signs of damage. Was rewarded for dropping his knees and being caught high a few times (marked down for this) and had a few moments where his kicks were smothered or cut off. He's a bonafide star, we know that, and given his extraordinary recovery ahead of schedule, you'd take this performance every day of the week.
[25] Jack Crisp – 8
Had a really solid Grand Final. 25 disposals, 2.1, and dominated between the arcs, resulting in multiple inside 50s and intercept positions. Crisp embodies team player, and has become a serious weapon for the Pies with his consistency, and ability to impact the scoreboard in big games and big moments.
[6] Tom Mitchell – 9
Played one of the most complete games you will ever see in a final. 10+ contested possessions, 10+ tackles, and 24 disposals. He was in everything, and was great around stoppages (7 clearances). If he'd have hit the scoreboard, then it would have pretty much been the perfect game.
[14] Darcy Cameron – 7
Battled hard against the Big O for the day. Used the footy well, and registered double figure pressure acts, which is great for a big man. Has had a great season, and while his colours might have been slightly lowered, still brought his mids into the game, giving them first use on a regular basis.
[32] Will Hoskin-Elliott – 2
As harsh as this may be, how has Hoskin-Elliott played as many games as he has? I can think of big moments he's had, and some good games, but I feel like the more I watch him the more I'm underwhelmed. Pies fans, I need your takes? 12 disposals, 50% disposal efficiency, yet I feel like he had zero influence.
[33] Jack Ginnivan – 3
Had 7 touches, 0.1, and no tackles. Couldn't get into the game for much of it, and didn't do much when he had the ball. Had more impact last week as the sub, than today, playing a full game. Has all the talent in the world, just needs to find ways to get more involved and maintain his composure.
[Sub – 1] Patrick Lipinski – 5
Had some not so great moments, as he turned the ball over, and got caught, but was still a solid contributor. Had some key touches at key moments, and showed brief glimpses of why the Pies lured him from the Dogs and continued to persist with him.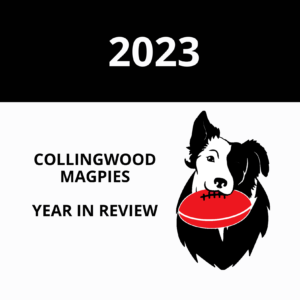 Brisbane (Trent)
[37] Brandon Starcevich – 4
Used the ball quite nicely in his 14 disposals, but was largely responsible for NSM Bobby Hill and so gets marked down as a result. Took a tremendous contested mark late in the last quarter, but then turned it over a few minutes later when the Lions had a chance to push forward.
[31] Harris Andrews – 7
Not as dominant as usual as Collingwood applied a hard tag in the form of Frampton, but stood tall in the desperate final term as he claimed multiple intercept marks. Led the game in marks, contested marks, one percenters and spoils, can hold his head high for another great season and led from the front.
[27] Darcy Gardiner – 7
The stalwart replaced the injured Jack Payne for the last two finals and more than held his own, nullifying the dangerous Mihocek. Unable to generate any offence though and only gathered nine possessions despite winning his three defensive one on ones contests.
[26] Conor McKenna – 3
Unable to impact the game in the same manner as the Preliminary final, and will be disappointed with his lack of run to link play and break lines. Had 13 touches gaining just under 500m but did not record a single score involvement, the Collingwood system stymieing an underrated weapon in Fagan's kitbag.
[35] Ryan Lester – 6
An unheralded player for the Lions, was disciplined and committed as ever. 18 disposals at just under 90% and drifted forward to deliver the ball I50 on three occasions, while also contributing 11 pressure acts.
[44] Darcy Wilmot – 4
Lacked the usual run and spark that the rookie has brought every week this campaign under the fierce spotlight of a winner takes all match. Well down on season averages for possessions and metres gained as the Collingwood small forwards looked constantly threatening.
[6] Hugh McCluggage – 8
Had the Lions won the game would have been right in the reckoning for the NSM such was his effort across the four quarters. Kicked two magnificent goals, and directly assisted three others, along with winning and equal team high 12 contested possessions and  seven score involvements. His last gasp set up for Joe Daniher with 90 seconds remaining would be bronzed if they'd won the game.
[5] Josh Dunkley – 6
Enhanced his reputation as one of the finest overhead marks for a midfielder during the game, and worked tirelessly to limit JDG's match winning capabilities, but was unfortunately less successful in this task than he was last week on Cripps.
[15] Dayne Zorko – 4
The former skipper's role has evolved from midfield star, to back half creator, to burst offence as his career moves towards the end. Had enough of the ball with seventeen touches, but only distributed at 53% well down on his season average of 70%. Just didn't take the chances he was given.
[23] Charlie Cameron – 6
Three opportunistic goals, including the first of the last term that looked like it might've been the winner. Cameron was dangerous when the ball was brought in quickly, but that wasn't regularly enough to really take the game by the scruff and Maynard performed well on him throughout. Gave away a cynical downfield free to Howe that was costly.
[30] Eric Hipwood – 2
After a great season Hipwood went missing in the biggest game of his life. Even just an average output might've created more opportunities for the prolific Lions smalls, but alas was not to be. Badly sprayed his only shot on goal, and had a gilt edged chance to set up Daniher who made incredible space, but missed the simple target.
[4] Callum Ah Chee -3
Just couldn't replicate his enormous contributions of the past few games where he brought extreme defensive pressure but also hit the scoreboard. Just six touches before being subbed off in the final term, two direct goal assists keeping his score from being even lower.
[16] Cam Rayner – 4
Played a selfless role, and did a lot of unseen grunt work, but wasn't able to add a few sprinkles of magic that he can normally call on that might've changed the momentum of the whole game. Had five tackles, but only two score involvements, and no scores of his own. 13 pressure acts talk to workrate, but it just wasn't his day.
[3] Joe Daniher – 9
A stunning game from the often maligned big man, delivering on the biggest stage and answering almost every single criticism ever directed his way. Kicked beautifully at goal, apart from a late blemish from scoring distance, ruled the airways supremely, won ground balls and clearances, and followed up his efforts on multiple occasions. Grand Finals will always throw up 'what if' questions, especially the close ones, but if he'd have kicked truly on the set shot, may have found himself wearing two medallions this morning.
[33] Zac Bailey – 6
Kicked two stunning goals in the first term, worthy of highlights reels until the end of time, but only managed five touches in the second half when his speed and flair were desperately needed to break the discipline of Collingwood's resolve.
[46] Oscar McInerney – 5
Surprisingly was the third highest possessions winner at quarter time with seven touches, including five clearances, but only managed another six for the game. Finished with a game-high ten clearances and four tackles, but only won 28 hit outs from 85 ruck contests and couldn't take a single mark that might've alleviated some of the reliance on Daniher with Andrews and Hipwood well held.
[9] Lachie Neale – 5
The Brownlow medallist was comprehensively shaded by Tom MItchell in their head to head battle, as the Magpie outworked him all game. Neale was well down on his average for possessions, tackles, score involvements and clearances as he was repeatedly beaten to the ball.
[7] Jarrod Berry – 3
Just eleven disposals for Berry who also gave away two fifty metre penalties including the goal that ultimately won the game to Sidebottom. An individual piece of brilliance to set up Cameron's last quarter go ahead goal and nineteen pressure acts notwithstanding, this was a poor game overall.
[2] Deven Robertson – 4
Has all the tools, but just doesn't do enough for long enough. Pushed hard forward to kick a valuable goal in the third term, but didn't record a single tackle and was the lowest rated Lion for pressure acts. Too good to be a role player, will be an interesting off season.
[11] Lincoln McCarthy – 6
His set shot on goal at the end of the third just faded to the left of the goal post that would've given his side the lead at the last break, and almost certainly an extra point of two to his rating. Kicked two excellent goals in open play, and was lively throughout without having the same number of touches as the previous finals.
[18] Keidean Coleman – 8
A whopping twenty-two disposals in the first half was enough to rank Coleman as second best on ground according to the official NSM voting. A re-think at the long break by McRae and his team however cut his output to just four additional disposals as they diligently removed his space and time as he was forced further afield in search of the ball. Had six tackles and nineteen pressure acts to go along with his team-high 26 touches in a classy performance.
[28] Jaspa Fletcher – 3
Just couldn't find the space he enjoyed in the first final against Port and was a fraction of a second slow in his reactions. Also appeared to wait for the ball to spill his way rather than creating the play which had been his hallmark in a fledgling career.
[Sub – 17] Jarryd Lyons – 4
Limited time to impact, and might've been better inserted much earlier to free up Neale and Dunkley to get forward of the ball instead of chasing JDG and Mitchell. Not greatly suited to the sub role, but tried valiantly to make the most of his chance when it came.