After two seasons that saw lopsided results in Grand Finals, the Magpies and Lions treated us to a cracker.
In a game with multiple momentum shifts and lead changes, that the game remained in the balance with a minute remaining was only fitting. After going ten points up on Jordan de Goey's second long goal of the game, the Pies looked home, but a piece of individual excellence on the boundary from Hugh McCluggage saw him find Joe Daniher, who marked and goaled to bring the margin back to four points.
Suddenly, the partying in the grandstands stopped and with 93 seconds remaining, the result was up in the air. The Lions pressed again, but the Magpies were able to repel the attack. A controversial advantage call had Brisbane fans tearing their hair out (except the bald ones, I suppose), but the Pies were able to crack in, keep the footy locked away and ran down the clock to run out winners and 2023 premiers.
The win elevated the Magpies to 16 V/AFL premierships, levelling both Essendon and Carlton (and wouldn't supporters of those clubs just hate that?), and was the first since the 2010 Grand Final replay, that saw the Pies get over the Saints.
It was a day out for Bobby Hill, who walked away with the Norm Smith Medal after making a huge difference in the first half. The Lions had no answer for him, as he worked up toward the wing and doubled back time, and time again to find space inside 50.
Nick Daicos was solid, Jack Crisp once again stood up, and recruit Tom Mitchell was excellent for his new team, doing with the Pies what he was unable to do with Hawthorn.
For the Lions, Joe Daniher demonstrated why he has become such a force in 2023, with three goals and plenty of the footy. Hugh McCluggage snagged a couple and assisted on three others, whilst Keidean Coleman played a blinder of a first half before a quiet third and fourth term.
It was a classic Grand Final – hard, tough, and laced with skill and highlights. As always, the Mongrel will walk you through everything worth walking through. Let's jump in.
BOBBY'S DAY OUT
Coming into this game, I was wondering whether we would get a small forward who would take over the contest and stamp his authority on the game.
Of course, I was hopeful that player was going to be Charlie Cameron, as I love watching him when he is up and about, but early in the picture, it became apparent that if there was to be one man who was going to make this game his, Bobby Hill was his name.
What a story Bobby Hill is – arriving at Collingwood after one of the most trying years of his life, battling testicular cancer in 2022 and having to sit out the second half of the year due to treatment.
Hill had tried to secure a trade back to Victoria the year prior, but with a year to run on his deal with the Giants, was unable to find a deal the club deemed acceptable. As such, he waited, and this season commenced his career in black and white. In doing so, he displaced a bloke that had kicked 40 goals for the year in 2022 and became the number one small forward in the team as a result.
I reckon he might just be pretty pleased with his decision.
I've often seen Hill start games well. He seems to jump out of the gates and if he can have an early impact, he walks a little taller. He was strong early against the Giants in the Prelim, particularly when it came to exerting physical pressure, but in this one, it was all about the footy… and once the first quarter was out of the way, the Bobby show lit up the MCG.
He kicked one in the first quarter, but that was just a taster. The second quarter saw him finding space all over the forward fifty, using his pace to beat his opponents, of which there were a few, back inside attacking fifty and into dangerous positions. He kicked three goals for the quarter, setting the MCG alight as he kicked goals around the corner and sat on the back of Brandon Starcevich to pull down a hanger inside 50.
It must be noted that for the majority of the game, the Pies struggled to convert – just check the score line for verification of that – but when the ball was in Hill's hands in the first half, he made the Lions pay full price.
In a way, it reminded me a bit of the Cyril Rioli Norm Smith performance in 2015. He did the majority of his damage in the first half of that game, as well, but Hill continued to get out into the open in the second half, despite not hitting the scoreboard. It was his pass inboard (the result of some shocking defence from Brisbane) that handed Scott Pendlebury his first goal in a Grand Final, and his rundown tackle on Starcevich in the last quarter was an absolute ripper.
He finished the game with an equal career-high 18 disposals to go alongside his career-high four goals. An incredible story, an incredible game, and a very deserving Norm Smith Medallist. I could not be happier for Bobby Hill.
RECRUIT OF THE YEAR
There was a point in this season where the recruitment of Tom Mitchell may have seemed like a good idea that had soured.
He started the year out as he had finished up at Hawthorn – winning the footy, using quick hands to release running players… he fit into this Collingwood team like a hand into five condoms tied together. Or a glove, I suppose.
But later in the season, Mitchell started finding himself on the bench, either subbed off the ground, or subbed on. Those types f instances can sap confidence in a player, particularly one who has traditionally found the game came to them so easily.
Mitchell had been a ball magnet all his life – 50+ touches on three occasions is something no other player has ever accomplished. Hell, nobody else has even done it twice! There was a stage of his career, Mitchell could have played blindfolded and still got more touches than half the players in the league. Some players can just attract the ball.
But Collingwood didn't need him to be that player. They needed him to slot into their system and work within the structure Craig McRae had established. People started casting doubts about Mitchell… could he continue in this side in the role he was playing? Did he do enough damage with the footy? Could he be collateral damage in a premiership season?
I guess we have our answers.
I loved Tom Mitchell's game in this one – I was happy for him, almost proud, which is strange for someone who doesn't even know him, but I was!
His stat line is fantastic – 24 touches, two goal assists amongst seven score involvements, seven clearances, and a mammoth 13 tackles. He was the pressure around the footy for the Pies, throwing himself into each and every tackle like he knew how much rode on each and every one of them.
I mentioned earlier how he had a knack for finding the footy – players like that often have a feel for the game others don't. Greg Williams was similar – he knew when he needed to step it up, and would do it often. Mitchell did it in this game. He was composed, clean, and his hands in traffic were excellent.
Any who doubted him, even for a moment in 2023, would now be wise to keep those doubts to themselves. After stints at Sydney and Hawthorn that provided records for possessions and a Brownlow, Mitchell finally achieved what every footballer aspires to with his third team.
It was Collingwood that gave Tom Mitchell his flag, and I reckon Collingwood would be thrilled with what Tom Mitchell gave them en route to getting it.
JOE V DARCY
Well, I was looking forward to this one. I have fond memories of their clash from way back in 2019. Joe was playing for the Bombers at the time, on one leg, as well, and put in a fantastic effort against Moore in their one-on-one battle, despite the Pies getting the win.
That was an Anzac Day game – pretty high profile. Of course, it has nothing on a Grand Final, and I was eager to see how they would fare against one another with a bit of water under the bridge.
However, Nathan Murphy started the game picking up Joe, which kind of dashed my hopes. It was only when he went down injured, collected by Lincoln McCarthy and forced out due to concussion protocols, that the Pies' defence reshuffled, and we got Moore moving to Daniher.
From there, Joe actually go the better of Moore. His attack on the footy was excellent, and the part of his game that I had been critical of numerous times throughout his career – his second efforts – were fantastic. He was strong in the contest, worked up to the wings to rag Moore away from the defensive fifty, and took three contested grabs and a couple of 'get out of jail' marks to relieve the pressure on the Brisbane defence.
Moore was forced to attempt to cover the hole the absence of Muprhy left in defence, and it is a testament to Craig McRae's faith in his captain that he did not immediately throw Billy Frampton into defence to help out. It was as though he watched for a while, saw Darcy Moore take the responsibility of Joe Daniher, realised that Eric Hipwood wasn't going to be a threat at all, and decided to trust his structure.
And it worked.
This was one of those battles where Joe won the battle, but Darcy won the war. He was the man standing with the premiership cup at the end, having received it from his father – and how fitting was that, by the way? The son doing what his dad couldn't do in four attempts… you could see the emotion in Peter's eyes. Having watched his old man play when I was a kid… I have to admit to feeling a bit emotional about it, as well.
A TALE OF TWO HALVES
If we rewind this game to the halfway point, the race for the Norm Smith Medal would have been down to two men – Bobby Hill, and Keidean Coleman.
After a first quarter where Coleman was absolutely everywhere, he continued to pound the Pies with his work from half-back, picking up another nine touches to go with his 13 already on the board.
Just let me get out my calculator, here… that's 22 possessions in the first half. He was running riot!
And then, he ended up with 26 for the game. What happened?
I'm glad I asked.
Collingwood happened.
The easy footy dried up, the contest was hot, and Coleman started to move through the midfield more, almost as though he went away from what got him to the dance.
Brisbane really missed his run and carry. One touch in the third quarter, as the Pies swarmed around him whenever he went near the footy – they just didn't allow him the space he was finding so readily in the first half.
And when your greatest asset is taken away, if you don't immediately adapt and replace it with another, it's going to hurt. And losing what Coleman provided stung.
THE FRAMPTON ROLE
I've been reading a bit of stuff about Frampton since the conclusion of the game. And that's 2023 Premiership player, Billy Frampton to those people mocking him.
He had a very concentrated role in this game – limit the impact of Harris Andrews. Would you say that he was able to do that?
I would.
Anything additional you got from Frampton outside of those exact duties were like a bonus. When I saw the role he was playing, I thought he may have snuck a goal if he were lucky, but he was never going to outmark Andrews on a regular basis – all he could do was compete and ensure that Andrews didn't monster him and his teammates.
I reckon he did exactly that for three quarters.
Andrews stepped up his game in the last quarter – he had nine disposals and six of his eight intercepts in the last half hour of the game, but to whack Frampton for his game is to neglect the first 90 minutes of football where Andrews was nowhere near the factor he has been all season. Last week against the Blues, Andrews lept the Lions in it early in the contest. Without him in defence, the Blues may have jumped out to a seven or eight goal lead in the first quarter, such was Andrews' influence. That was what Craig McRae and Frampton were attempting to prevent, and when you look at it like that, they did…
… for 75% of the game, at least.
Of course, we can look at his dropped uncontested mark and shake our heads – yes, he should have controlled that and punished the Lions for allowing him a clean run at the footy, but that would have been the bonus.
He was asked to do a job, and he did it. Mock that all you like, but then count your premiership medals. I reckon he may just have one more than you.
THAT ADVANTAGE CALL
I expect outrage about this call and to a point, I understand why. It's contentious, and I am sure there will be much written about it. Let's see what we've got, here.
The whole premise of the advantage rule is to NOT impede a team when a free kick is paid. When Lachie Neale was dragged down in a tackle that slipped low, the umpire rightly paid a free kick. Tick – good job umpire. It was a similar situation to last week when Tom Green was tripped and the ump didn't pay a free kick. Cross – poor decision, umpire. So that was a correction that was required.
Right, so whilst being tackled, Neale fired off a handball. This was inadvertent, as it was all part of a continuous play.
The whistle blew as Zac Bailey took possession and threw the ball onto his boot under pressure – a kick over his shoulder, if anything.
At this stage, common sense could have prevailed and the umpire should have called the ball back.
Could have… should have… didn't.
Look, there are a thousand things that could have taken place from that point on. The advantage being called was by no means the be all and end all of this game, but what it did do was remove the opportunity for Brisbane to go inside 50 cleanly with Lachie Neale taking the free kick. Chances are Darcy Moore kills the next contest, or Brayden Maynard gets a fist on it and knocks it through for a behind. Who knows? People are treating it as though it was a certain score for Brisbane, and it was not the case, at all.
The issue for Lions fans is that they weren't permitted the opportunity and were called to play on with an advantage call that was clearly NOT to their advantage.
The argument against bringing it back is that Bailey took the advantage by kicking the footy when Neale handballed it to him. And you know what? Technically, that's the correct call, as the umpire will default to the player in situations the play is continuous and the player opts to take the advantage. I understand that, however, the noise was deafening and the instinct for a player under pressure is not to hold the footy, but to get rid of it with the clock ticking down.
Would I have paid advantage? Well, I am not in the heat of the action, so ti is easy for me, and you as well, to say I wouldn't have. And I'll say it – I wouldn't have. However, I understand why the umpire paid it.
Pressure does crazy things, and I am sure it impacts umpires as well. This moment was as pressure-packed as it gets, and in the biggest game of the year, this moment may have got to one of the umps. All things considered, it was not a great call – not the worst I've ever seen – but in the context of this game, it was pretty damn big.
I suppose this is destined to become one of those "what ifs…" people like to discuss, like the Maynard block from 2018. We don't know what would have happened had that been paid either – the whole game changes. But it wasn't.
And neither was this one. So, we live with it.
Maybe it was just Collingwood's turn to get the rub of the green in the big one.
Aaaaand cue the angry GWS fans telling me that they already got that rub.
THE KID
I had a few people messaging me after the game calling for Nick Daicos to be named Best on Ground. I thought it was pretty clear cut that Bobby Hill was the difference-maker, but such is the presence of this young man, that people cannot help but fall under his spell.
Well, he definitely had some great moments in this one – his mid-air handball to the running Jordan de Goey as the Pies surged forward to retake the lead in the last quarter was a thing of beauty. The reflexes and execution required to hit that handball perfectly so that de Goey did not break stride were ridiculously good. I know I would have cocked that handball up… maybe injured myself in the process… gone on workcover, or something.
But no, Nick just punched it out like he was shelling peas or cutting potatoes, or doing something else with vegetables that seems easy enough.
That said, there were a couple of aspects I didn't love about his game – actually, it was just one, and after having people screaming for free kicks to Toby Greene last week for too high, only for play to be allowed to continue, I was a bit miffed at Daicos getting the "too high" calls for basically doing the same thing Greene did – lowering his body to ensure the contact coming his way was high.
Look, I get why he did it and more power to him because it worked – it sucked the umps in – but from one week to another, seeing rules applied differently for different players… it is a little frustrating, particularly with so much riding on each and every contest.
Oh, I could have also done without the dive on some pretty minimal contact from Josh Dunkley. You're too good for that, mate. Too good for both things, actually.
The more Daicos attempts to slip down in tackles, the harsher the umps will be. That was the reason Greene wasn't paid last week – he'd been doing that most of the year and the umps simply stopped paying it. If they stop paying frees to Daicos… it opens up opportunities for players to get a little rougher with him. Not sure he wants that.
Overall, we will look back at this game in years to come and realise we were but seeing the formative years of one of the greats. Daicos' first two seasons in the league have been amazing, and leading all players in disposals is now what is expected of him. His rise has been meteoric, and I get the feeling he is nowhere near his ceiling.
And that is terrifying.
THE UNSUNG HERO
Jack Crisp received two votes from the Norm Smith judges for his work in this game, and really, I reckon that's about as much as he could rightly expect.
Not because he didn't deserve more – I had him second best on ground behind Bobby Hill – but because that is just the nature of his career in AFL Football. He just goes to work and gets things done. Others may receive the spotlight, and let's be honest, he plays in a team with players who get the bright lights shined in their direction quite often, but Crisp doesn't really seem to need any of that. H will always be one of those players who is held in the highest regard internally, but misses the accolades externally.
They don't just hand out Copland Trophies to anyone, but Crisp has two of them and watching him in this game, it was easy to see why.
Crisp did the bulk of his work pushing deep into the Magpies' defence. Just seven of his 25 touches came in the attacking half of the ground, as he retreated back inside fifty countless times to aid the back six. However, two of those seven touches forward of centre ended up in goals.
That's called efficiency.
I'm sure you see that term used quite often in footy, most likely when talking about a player's disposal ratings. Mostly, given Champion Data provide those ratings, I find them to be bollocks, and prefer to look at impact when a player gets the footy. Jack Crisp had impact in this game.
Whether it was his decisions to go inboard and open the game up, or those two big goals, he hurt the Lions with his disposals, and hurt them again with his defensive acts. Yes, the spotlight may be on others, but I reckon Craig McRae will be pulling Crisp aside at some point over the next 24 hours (when he gets a chance to see him after having a baby at 50… is he nuts?!?!? I mean, I was 49 when I had my youngest… big difference, right?). When he does get that moment with him, I reckon he will point out just how important just about everything Crisp did was to the Collingwood win.
He didn't quite have the Midas touch, as turning things to gold is pretty damn hard t do, but Jack Crisp did manage to turn a lot of his touches into something even more valuable to this club – silverware.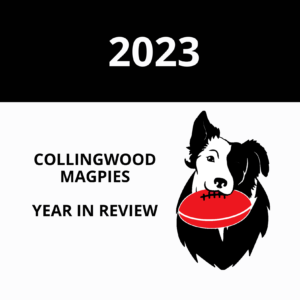 DUNKLEY V DE GOEY
After watching Jordan de Goey dismantle the GWS midfield with his strength in the contest last week, there was no question in my mind that h was going to be in the company of Josh Dunkley in this game.
Before we continue, I have to stress – Josh Dunkley is not a tagger – he is a ball-winning midfielder who can also make life very difficult for his direct opponent. A tagger sacrifices everything in his own game for the sake of shutting someone down – that is not Dunkley's role.
Dunkley's role was to prevent those ridiculous runs from stoppage that de Goey pulled off last week. He had 13 clearances against the Giants and Brisbane were determined for that not be be repeated.
So, how'd it go?
Well, it worked great in terms of stoppages, with de Goey managing just four for the entire game. Dunkley managed one more, but it was on the release that de Goey managed to hurt the Lions.
More upsetting, it was the same thing that happened with Patrick Cripps. Both he and de Goey were able to sneak forward at different stages to kick two goals. The difference between the two was that Cripps did it last week at a point when the game was over. De Goy did it in the Grand Final to retake the lead and shift the momentum that had just swung back to the Lions after the fantastic Charlie Cameron ground-level goal.
It's kind of where the plan fell down.
Dunkley is a beast at the stoppages, but the Lions needed someone to cover the spread and de Goey made them pay on that front twice.
RED TIME
Name me a thing coaches hate more than conceding red-time goals.
Press conferences? Yeah, they hate those.
Players injuring themselves on Mad Monday?
And a big hello to Callum Mills, who is making Jaidyn Stephenson look like a rocket scientist this post-season.
Okay, so there are a few things they hate more (oh, and 50-metre penalties that cost gals, Jarrod Berry), but conceding goals late in a quarter has to be up there.
In the first quarter, the Pies were able to gain the ascendancy with two goals in the last couple of minutes, including one to de Goey after the siren. The other came from Brody Mihocek after a scramble ensuing from a Dayne Zorko switch that went bloody nowhere – he should know better.
The second quarter saw Bobby Hill kick his fourth, and Nick Daicos set up Jack Crisp for a goal in the dying stages of the half.
Four red-time goals!
In response, the Lions managed one, to Joe Daniher in the second quarter.
We hear about coach killers here and there – these instances, when teams should be shutting the game down, are so costly so often. I go back to the Zorko switch in the first quarter and one question keeps popping up – why?
The clock was running down, the bench was obviously sending messages with their fancy little signs to indicate the time was becoming an issue, and Zorko just decides "screw that… I'm gonna make a slow switch" which the Magpies see coming a mile off, close down, and within 20 seconds there is a goal on the board that should have been closed down up the line.
I get that risks must be taken, and there were plenty that came off in this one, but those people on the sidelines yelling at players to kill clock, or retain possession aren't doing it for their own amusement. They are an extension of the coach, and when players willfully ignore those instructions… well, you reap what you sow, I guess.
SOME QUICKIES
Zac Bailey's goal in the first quarter to ignite the Lions was something special. Just the way he used his body after the smother, to take and deflect contact from Nathan Murphy, and the finish… Bruce McAvaney would have called it…. something or other.
Jarrod Berry… two 50-metre penalties given for the day – one resulting in that huge Steele Sidebottom goal – and he was also responsible for the high contact against Nick Daicos that resulted in the opener.
Do we give him a tuck for that great spin move late in the game that resulted in Charlie Cameron's goal to pinch the lead? Don't forget to give credit for the good when you whack him for the bad.
Speaking of Charlie, loved his work, as usual. Just such a fun player to watch, and having him matched up against Brayden Maynard added to the intrigue. His packs a punch for a little guy, too. Word is that Jeremy Howe has a couple of broken ribs from the bump Cameron laid on him early in the last quarter.
Gutsy of Howe to play on.
Eric Hipwood… far out he was ordinary. His effort meant that Joe Daniher had to work his backside off to carry the marking component of the forward line. What a letdown…
The old stagers, Pendles and Sidebottom, both had moments where they stood up in this one. Sidebottom's late goal on the Berry fifty-metre penalty was massive. Just a clutch kick in the circumstances. And Pendles slowing things down and controlling the footy, giving his teammates a sense of calm in the heat of the last quarter… invaluable.
In the end, we got a fitting game from the two best teams of the season. I had someone trying to tell me these weren't the two best teams of the year, but when one and two on the ladder make it to the Grand Final, I don't understand how you can think otherwise. They gave us a Grand Final to remember, and the Pies… well, they did things this season that had them rated as the best, and they backed it up when the time came.
Congratulations to the Collingwood Football Club, Craig McRae, and all the fans of the Pies. What a year. What a team. What a game.
Like this content? You could buy me a coffee – I do like coffee, but there is no guarantee I won't use it to buy a doughnut… I like them more. And I am not brought to you by Sportsbet or Ladbrokes… or Bet365, or any of them.