The byes are here and they're going to play absolute havoc with these ladders.
Already, we see our two leaders make a break from the third-placed man, as he sits out, and I expect this will see-saw over the next three weeks. Great for movement on the leaderboard, but it does skew how players are performing.
So, I guess, skew away…
Here at The Mongrel Punt, I've always liked keeping tabs on the recruits throughout the year. I find it is a great way to gauge who is contributing most on a consistent basis, as opposed to seeing someone play once and forming your opinion of them for the year based on that one game.
As such, every week we will be rating the performances of the players wearing new colours on a scale of 1-10 to discover who is playing the best footy most often. It's The Mongrel's Recruit of the Year, and it is as close as you are going to get in terms of having an overview of how those big off-season moves are playing out.
Let's jump into the Top 15 recruits of the year thus far, how they impacted their teams and the structure, and what they could mean going forward.
Oh, what the hell? A Mongrel paywall? Yep, I believe my work is worth twenty cents per day. If you don't, that's fine. Don't complain, though. Want to join us and access the members' game reviews, as well as columns like the Wingman of the Year, Recruit of the Year, and other nonsensical stuff HB comes up with each week?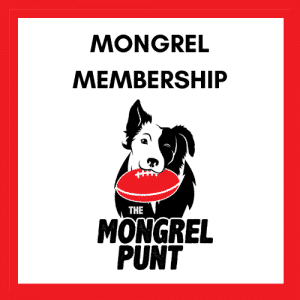 Want more of this kind of stuff? Join The Mongrel to get it