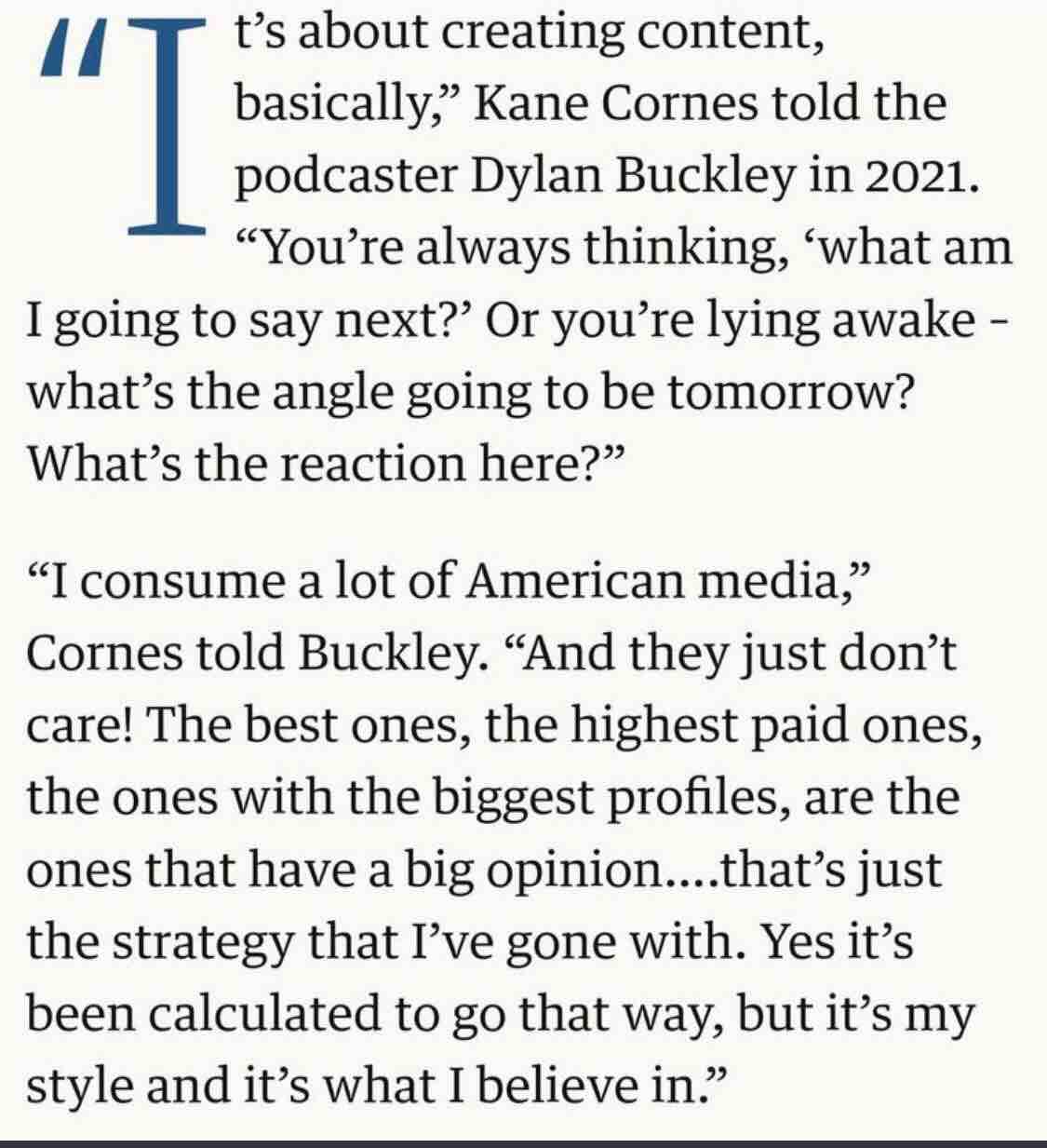 There have been moments over the last several years when we here, at The Mongrel Punt have been highly critical of the low standards of the AFL Media. And It doesn't seem to be getting any better.
In an industry that gravitates toward the sensational at the best of times, the actions of Kane Cornes in the wake of Alastair Clarkson's decision to step away from the game have hit a new low.
Using the situation to write an "opinion piece" for The Age, Cornes seemed to use the situation not only to once again flog his favourite ongoing storyline – the Jason Horne-Francis to Port Adelaide arc, which he has feasted on since last year, but he also began planting the seeds for North Melbourne's young stars to plot their own exits from the club.
In essence, he used the mental health situation of Alastair Clarkson to push an agenda.
It was low.
It was opportunistic.
It was classless.
It was poor timing.
And, sadly, it has become exactly what we expect from people in the media.
The Age used to be a pretty damn good newspaper. I have fond memories of picking up a copy on Sundays on my way to work, to peruse the stories emanating from Saturday's games. They were thorough and didn't buy into the garbage that the Herald Sun seemed to revel in.
Boy, how times have changed.
To see this publication stoop so low is a shame. To see them promoting a story that is so opportunistic and soulless, given the current situation, is sad reflection on the industry as a whole. If sensationalism sells, and my guess is that it does, then this should be a great column for The Age. However, if people had a shred of decency, they should be calling out just how shocking this type of journalism is.
And it is shocking – a shocking effort from someone whose whole act seems to be to shock. He even managed to throw in praise for his former club as he stomped on another. Shameless…
Is this what you're after? A former player basically becoming The Age's version of an ambulance chaser, trying to be both first and the most controversial with his newest hot take? If so, you may be too far gone.
I'm sure there are people who love the game that still buy newspapers or read the online ramblings of the better analysts in the game. Unfortunately, those analysts and journalists are being lumped in with those who are so desperate for notoriety that they will completely disregard common sense when it comes to a situation as serious as a man's mental health to sink the boots into a club to justify their own opinion.
There have been times where Kane Cornes has had some good takes. I admit to thinking of him as being courageous in a way at points, as he has broached topics that others have left alone for fear of backlash. However, there are some topics that need to be left, at least for a little while, before being pounced upon.
This was one of them and he completely misread the situation.
With the weight of a slapstick AFL investigation into allegations of racism made against himself, Chris Fagan, and Jason Burt resting heavily on his shoulders, it all became too much for Clarkson this morning. He has now taken steps to get himself right as the ongoing saga seems set to continue for a while.
And he is but one casualty of the entire situation. I wish him all the best.
Years ago, people walked away from the sport due to the investigation and reporting on the Essendon Supplement Saga. It is now happening again.
People have not learnt.
People have not started caring.
If this is the way of AFL journalism, I've said it before and I'll say it again – you vote with your feet. You vote with your purchases, and you vote with what you click on.
And if you vote often enough, maybe… just maybe, someone who can do something about bullshit like that which Kane Cornes churned out today, will actually listen.
Like this content? You could buy me a coffee – I do like coffee, but there is no guarantee I won't use it to buy a doughnut… I like them more. And I am not brought to you by Sportsbet or Ladbrokes… or Bet365, or any of them.