Tick tock…  we're just weeks away from the start of the 2023 AFL season. With match sims out of the way, one week of practice matches looms as the last chance to get a taste of what is on the agenda for your club this season.
One of the main topics of discussion amongst supporters always seems to involve players being trialled in new roles. Come on… we know you all get excited about trying a new position – don't be bashful. Just be open-minded and enjoy the experience, right?
The last week or so has afforded us the opportunity to see teams slot some of their players into new roles. How did they go? Will it continue? HB has a look at the ones that stood out.
TRENT COTCHIN AS A FORWARD
Has been there all preseason and could develop into a fantastic pressure/class forward if his body holds up. I say that because I just have that fear about his body holding up, no matter where he plays.
Tried to be very creative on the weekend – sometimes, a little too much – but will find the right balance as we get into the real stuff. Dangerous but didn't step on the toes of established forwards, which is a good sign.
RATING – 7/10
WILL IT CONTINUE? Yes, indeed it will. Damien Hardwick now has troops in the middle, allowing Cotchin to play somewhere more commensurate with his age. His time in the midfield will be limited, but if he can play smart, aggressive footy inside 50, this has definite potential.
NAT FYFE AS A FORWARD
Led and marked really strongly against the Crows, playing out of the goal square for long period. Slotted three goals, including a long bomb from 50 which would have warmed the hearts of Freo fans.
The only query I had when watching him in the role was that him, Matt Taberner, and Josh Treacy all looked their best when playing the same role. One or two of them are going to have to adapt to make the forward structure work.
RATING – 7.5/10
WILL IT CONTINUE? Yes, it will. Fyfe demonstrated something in this game that Justin Longmuir would have been thrilled to see – great timing of his leads. He has always been able to clunk marks, but as a leading forward, if he gets a break, his acceleration and sticky hands will make him tough to stop.
DOUGAL HOWARD AS A FORWARD
Switched forward in the second half as Ross Lyon desperately searched for an answer up forward. Funny, Ken Hinkley did the same a few years back and it resulted in Howard exploring his options elsewhere. Let's hope that's not the case again.
RATING – 2.5/10
WILL IT CONTINUE? No, not a chance. With Max King, Jack Hayes, and Tim Membrey missing, the Saints will have options to use in the role. Mattaes Phillipou emerged in this game, and Cooper Sharman waits in the twos. Dougal will be back in defence soon enough.
TOM MITCHELL SWITCHING OUT OF THE MIDDLE
I can't say I like it, but the Pies have an abundance of midfielders to rotate through the middle and all of them have to find something else to do when it's their turn.
But Mitchell just looked a bit lost. He went to half-forward and hardly sighted it. Some are adaptable and some are just best-suited to the midfield. Mitchell is the latter.
RATING – 2.5/10
WILL IT CONTINUE? It may have to, but I'd like to think Craig McRae will work out pretty quickly that Mitchell's best role is in the middle.
MAX HOLMES IN THE MIDDLE
I liked this. Was immediately in the mix, winning clearances and looking like a man ready to make up for missing the Grand Final. The hot start tapered off and he settled into a pretty serviceable role, and we have to take into account that he was playing against pretty ordinary opposition, but as the Cats transition from the old guard in the midfield to the new blood, Holmes will likely be front and centre.
RATING 6.5/10
WILL IT CONTINUE? It will, and it will be a success because the bloke is talented.
JACK BOWES AS A HALF FORWARD
Didn't see this coming, having only really viewed him as a half-back and occasional midfielder at The Suns. However, he was probably best on ground in the first quarter as the Cats asserted their authority over the Hawks.
Like Holmes, he tapered off as the game wore on, but his attack on the footy early in the game, and his quality disposal were yet another highlight for the Cats.
RATING – 7/10
WILL IT CONTINUE? Who knows? He looks the type that can play anywhere, and I reckon Chris Scott would like to try Bowes in a number of roles before settling on one. Geelong have a number of players that can slot in anywhere – Bowes gives them another one.
KYSAIAH PICKETT INTO THE MIDFIELD
The Dees are toying with the idea that their 40-goal forward could be just as damaging in the midfield as he is in front of goal… and maybe they're right!
He has s burst of speed that is rarely matched and seems to be developing a body to take the physical pressure… perhaps he could be the ultimate mid/forward in the game…
… if it all works out.
RATING 7/10
WILL IT CONTINUE? Yes, it will, but I hope it kind of doesn't. I love seeing Pickett around goal. I think he has the potential to be the best small forward in the game, usurping the position held currently by Charlie Cameron
ZAINE CORDY AS A FORWARD
It is indicative that the Saints are struggling for tall timber when both key defenders were thrown forward to fill the void.
Cordy contested well early but faded pretty quickly.
RATING – 5.5/10
WILL IT CONTINUE? Nope. Once the troops return, Cordy won't be considered as a forward target again. This was a "have to", not a "want to" for Ross Lyon.
ESAVA RATUGOLEA AS A DEFENDER
Interesting to see the Big Sav start down back. Even more interesting to see how effective he was on the long ball inside 50, taking several intercept marks and killing his share of contests.
RATING – 7/10
WILL IT CONTINUE? The Cats' back six is tough to get into, and I'd like to see Sav with a few more reps under his belt before saying this is his spot in the team. That said, when permitted an unencumbered run at the footy, he was very good.
LACHIE JONES IN THE MIDDLE
Was one of the players that went hard in the match sim, attacking the ball and opponents with an intensity few matched. Well… probably only Elliot Yeo and Sam Powell-Pepper matched it.
Was a bit slow reading the hands of the rucks, but if the ball was in dispute, it was usually Jones making it that way from Port's perspective.
RATING – 7/10
WILL IT CONTINUE? I can't see him establishing himself in there just yet, but if he gets the chance, you know he won't die wondering. Has to jump over Willem Drew and SPP to get in there. Will be tough.
JAMES SICILY IN THE MIDDLE
It was only fleeting, but Sam Mitchell wanted to see what influence his captain could have on the contest in the middle.
The answer was that as a midfielder, James Sicily makes for a damn good defender.
RATING – 1.5/10
WILL IT CONTINUE? Not a chance. Sic looked slow off the mark and reactive. Back to defence, as soon as possible, please.
WILL DAY IN THE MIDDLE
Read the ball well, looked lively, and seemed to give the Hawks something around centre stoppages. Still a little slight for my liking, which could see him knocked off the ball a little too easily, but is quick once he grabs the footy, and is able to power away.
RATING – 6/10
WILL IT CONTINUE? It'll be a project, but Mitchell is committed to the long haul, so Hawk fans should probably get used to seeing Day in the guts. Could become an excellent weapon on the quick break, delivering well to forwards.
JOSH GOATER OFF HALF-BACK
I've been on the lookout for someone to take over from Aaron Hall, as he is getting on in age and also wasted the footy too often. I was a little lost until I saw Goater on the weekend. With the right development, this is the bloke that will eventually take the reins as the runner from half-back.
A good kick of the footy and in the small sample size, seems to pick great options.
RATING – 7/10
WILL IT CONTINUE? I sure as hell hope so. He looks the goods.
CAM ZURHAAR IN THE MIDDLE
Maybe the best switch of the preseason. Cam Zurhaar at centre bounces has been highly effective, cracking in with the same intensity he does in forward contests. Matched it with the best of the Tigers, and was not found wanting at all.
Great tackling and the ability to get forward and hit the scoreboard, Zurhaar could be the next hybrid mid/forward to make waves
RATING – 8/10
WILL IT CONTINUE? Yes, it will. He has done the work to improve his tank and deserves every chance to make a name for himself in the role. I'm here for it – he looked great.
CHAD WARNER OUT OF THE GOAL SQUARE
Interesting switch-up by John Longmire, throwing his emerging star forward to see what he could conjure. Warner had a blindingly good 2022 (he's the reigning Mongrel Midfield Champion, after all) and this move could add another string to his bow.
Sadly, as per the Swans as a whole on the day, it did not work as desired, but that doesn't mean it cannot.
RATING – 3/10
WILL IT CONTINUE? I wouldn't mind seeing this tried here and there, but with what Warner adds in the middle, it is really robbing the midfield to play him in a role where others could be just as effective.
LACHLAN MCANDREW IN THE RUCK
Not exactly a switch-up, as he is yet to play a senior game, but worth mentioning, as he held his own against Oscar McInerney, who is one of the more underrated big men in the game. Got his hand to a heap of taps and competed hard all day.
RATING – 6/10
WILL IT CONTINUE? The Swans will be forward planning if they use him. With Ruck Jesus Hickey, Peter Ladhams, and an assortment of makeshift rucks in front of him, McAndrew may struggle to find opportunity.
BILLY FRAMPTON AS A DEFENDER
Probably the least heralded of the Magpie recruits, Frampton was given every opportunity as a key defender against the Blues. Had a few nice intercepts, playing against high-quality opposition, and will have to fight off the incumbent, Nathan Murphy for the role.
RATING – 5.5/10
WILL IT CONTINUE? He'll likely fight like hell to see it that it does, but it will be a battle against Murphy, who was pretty damn good in the role last season.
REEF MCINNES AS A LEADING FORWARD
If we had a look at stats for this game, I doubt you'd think he did much of anything, but the way he competed in the air and created opportunities for others at ground level belied pure numbers.
McInnes launched at the footy early and often, making him a dangerous option inside 50.
RATING – 6.5/10
WILL IT CONTINUE? It could. He has some competition in Ash Johnson for the role, but given how good he was this week, you'd think McInnes would get another crack in the practice games this coming weekend.
MITCH OWENS AS A MARKING FORWARD
Comepted really hard without reaping a heap of reward, but was one of the Saints who stood up as they were handled by the Demons.
RATING – 6/10
WILL IT CONTINUE? It may well, but it will be largely dependent on who else is available. You can see him having to move aside for Tim Membrey pretty quickly.
MATTAES PHILLIPOU AS A MARKING FORWARD
Well, hard to say it's a switch given he has no senior games to his name, but the way he flew and clunked marks when nobody else even looked like it and made a huge impression in doing so.
RATING – 6.5/10
WILL IT CONTINUE? I bloody hope so. The kid can play and if the Saints want a difference-maker inside 50, his attack on the contest has the potential to do just that.
JACK LUKOSIUS AS A FORWARD
Well, he's been tried just about everywhere else – why not forward, as well?
Whilst not his first dance in the forward line, it appears as though Luko's direction is now set and the Suns are going to persist with him in a role in the hopes he embraces it. About time, too.
Could be good as a third forward (behind King and Chol?) as he will get room to move in that setup. I like him marking about 70-80 metres from goal and being responsible for delivering inside 50.
RATING – 6.5/10 this week.
WILL IT CONTINUE? Why yes… yes, it will. I hope so, anyway. He needs a designated role.
JUDD MCVEE IN DEFENCE
Where'd this bloke come from? Melbourne have a habit of grabbing these blokes, slotting them into their defence and making it work. Harrison Petty, Jake Bowey… and here comes Judd McVee, who sounds like the kid of a Fleetwood Mac singer was visited by Chris Judd about 19 years ago.
Very handy outing (by McVee… not Juddy) and worked well with his fellow defenders. Lots of intercepts and good decisions.
RATING – 7/10
WILL IT CONTINUE? Maybe. He will likely get a go at some point in the year, but a lot will depend on the health of other Demon defenders, like Hibberd, Salem, Brayshaw, etc…
SAMSON RYAN AS KEY FORWARD
Listed as a ruckman, Ryan played a pretty effective role for the Tigers… or was I the Lions? Fox Footy were a bit confused.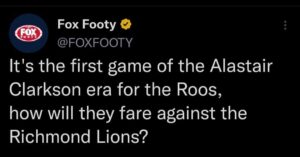 Anyway, marked well, despite being targeted seldomly, and fit in with the Richmond structure.
RATING – 6.5/10
WILL IT CONTINUE? No – not this year. Lynch will be back and Ryan will spend large amounts of time in the VFL, but it is good to know he is waiting in the wings.
CAM RAYNER IN DEFENCE
Completely undersold by whoever was doing a terrible job commentating (stuck on a cherry picker in the wind… poor buggers), Rayner spent the entire game in defence for the Lions in a move that should have been somewhat of a focus of the coverage. I mean, this is where you find things out about teams and they were gifted this one.
Was solid without being great and seemed to be more learning the caper than barking instructions. May have to play taller given the lack of genuine key defensive depth at Brisbane.
RATING 5/10
WILL IT CONTINUE? Yes… for now. With Gunston now inside 50, Fagan has more room to move with Rayner. Perhaps this is the move that completely unlocks his vast potential… but he has to buy in.
TIM KELLY PINCH-HITTING FORWARD
We saw some good work ethic from Kelly this weekend, playing opposite Connor Rozee and running off him to provide a dangerous presence inside 50. On commentary, Will Schofield hinted this is something the Eagles will be looking to exploit this season.
I liked Kelly's whole game and this gives him another weapon at his disposal when the inevitable tag comes this season.
RATING – 7/10
WILL IT CONTINUE? Likely. West Coast will be looking to spell their midfielder up forward as opposed to rotating him off, and with Kelly able to lose an opponent in the transition, he could very well be an effective option inside 50.
And yes, I may have missed one or two. I did watch every game but didn't take note of every change. If you have one or two more, please add them in the comments or on our socials. We'll get to them.
Like this free content? You could buy us a coffee – I do like coffee, but there is no guarantee I won't use it to buy a doughnut… I like them more.