Let's face it, the AFL off season is broken in a major way.
The amount of talent off the market in the draft and the "free agency compensation" are two major issues in the AFL right now. It's time changes are made, especially with the shadow of Tasmania growing over the competition..
First off, let's talk the AFL draft.
For the first time since the 2018 draft, the upcoming draft has the majority of its lottery talent intact, with Queenslander Jed Walter the only high end talent tied to a club via the academy concessions. In previous seasons, talent such as Sam Darcy, Nick Daicos, Jamarra Ugle-Hagan, and now Will Ashcroft and Jaspa Fletcher walking to the Lions, had been unavailable to the open market and, frankly, were acquired at massively discounted prices.
I'm of the opinion that the "father-son" rule should be abolished, as it's pure luck that a player of absolute quality can fall to a club purely based on some sort of "legacy reward". Not only that, but (like free agency) the bid match system is nowhere near correct value. For example, with Ashcroft, Brisbane matched a pick 2 bid, but ONLY had to give up four picks inside the 30's to acquire him. Teams get a 20% discount on the points system via the F/S rule, but if no team would hypothetically consider trading pick 2 for four 30's picks then why is considered a fair price to obtain a player that was considered the consensus "best player in the draft"? This, despite Aaron Cadman going with Pick 1?
For those that aren't already aware, I support the Gold Coast Suns (yes, we exist) but from a completely neutral standpoint I do not agree with the academy concession variances, as we should not get priority access to Walter 2 years after being able to take Mac Andrew from Melbourne… there needs to be some equality to the system. But don't worry… there is a big lack of it with free agency compensation, as well.
The F/S "discount" should be applied to academy prospects instead, as there is much more involved than having a former player get amorous with their partner 18 years in the past and by luck of the draw, produce a great football prospect-. This is particularly the case for expansion clubs, who have the deck stacked against them in a huge way. The AFL should remove the "protected threshold" and a fairer system be devised for valuation of the picks, as (again with Ashcroft) a team managed to get a guy that North wanted at pick 2 using four picks in the thirties. As an absolute minimum a bid match should have at least picks in THE SAME ROUND, but there is also another point of conjecture.
Should a bidding team be compensated for the guy they want becoming unavailable? Maybe this is something else for the AFL to consider, as I'm sure a majority of people here would expect some sort of a discount if you go shopping for a brand new car (for example) you have saved up your hard earned cash, get all the paperwork done, do your homework and due diligence to then be told "Sorry, we are out of stock and you cannot get this vehicle at all". Admittedly maybe this is a bad analogy, but hopefully you see my point.
Now, on to free agency.
First and foremost- THE AFL SHOULD NOT FOOT THE BILL.
While they are in the prime position to alter the draft via "compensation picks" not only does it compromise a system that is already faulty, but the club "buying a free agent" actually doesn't pay a thing besides the incoming contract. For example, Gold Coast received pick 3 for the departing Tom Lynch at the end of 2018, however, that came from the AFL, not the Tigers. Richmond subsequently signed Lynch to a seven year, $6 million deal yet paid nothing to make the move happen.
With deals like this occurring, the stronger clubs continue to get stronger via careful cap management but also gain potent players while not giving up a lot. It's like going out drinking with the company card.
I know there are not a lot of NHL fans around, but perhaps the AFL could take a leaf out of their book regarding free agency – don't worry, I'll cover just the basics for now..
In the NHL there is a compensation system regarding draft picks that is calculated via something called AAV (Average Annual Value) and this system also outlines draft pick compensation based on the contract in play. It gives clubs a fighting chance to retain restricted free agents, as they place a contract value on a player for them to not only consider but also a "buying team" to match. For this to be an option, the AFL would need to make contract information transparent to the public, so that pundits and supporters can understand the signature battle. AAV is simply, money x contract length, so a 4 year/$2million deal,for example, carries an AAV of $500,000. Most importantly, age is not a factor, meaning fairer compensation is viable for a young gun wanting to leave.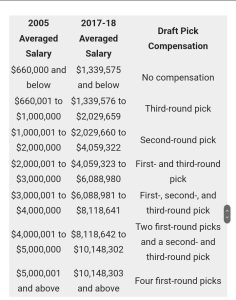 As seen in this table, the contracts have varying levels of compensation, ranging from nothing, to four first round picks. While I feel that level of compensation is highly overpriced (when transitioning to the AFL game) perhaps a scaled down version is the way to go, with possibly two-three first rounders for the highest contracts being the most acceptable compensation. Or it could be scaled down to include specific ranges (top 10, top 20, top 30) etc..
The point is that, once again, clubs should have to start footing the bill for players.
While this system is far from foolproof I know it will be an upgrade from the opinionated free agency valuations that had given us the idea that ten-gamer Mabior Chol (38th pick to Richmond) was a bigger loss than Jake Kelly (pick 42 to Adelaide) or when James Frawley netted Melbourne pick 3, but Lance Franklin was worth pick 19 to Hawthorn (despite signing a 9 year/$10 million) deal with the Swans..
Once again, this needs to be fixed, especially with a 19th buyer lurking..