Well, we're under a month from the start of the season – the off-season is just about done.
Given that, it is time to hand out the most inauspicious award on the Mongrel calendar. Yep, even less auspicious than The Doc's "Hottie of the week", which he somehow managed to award to himself a miraculous four times in the last six weeks. Seriously, Doc… you're okay, but get your hand off it, mate.
Yep, it's that time – it's the 2023 Off-Field Brownlow.
Let's have a look at the contenders.
And please, if you're the type to get offended over nothing, click off now. Too many people are uptight about whatever they can find to be uptight about at the moment. Sav yourselves the trouble.
GOLD COAST FOOTBALL CLUB
Don't give me the "oh we had to save salary cap room" stuff, please. Whose fault is that? You blokes traded Jack Bowes and Pick Seven in the 2022 National Draft to Geelong and got bugger all in return.
And you traded them to the damn reigning premiers!!!
If Jhye Clark ends up being a gun, teams can blame the Suns for helping Geelong remain a power. And blame Geelong, too… those glorious bastards!
WAYNE CAREY
Not a bad effort to be retired for 20-odd years and still be in the running to win major awards.
His ejection from a Perth casino made headlines and cost him media gigs with both Channel Seven and Triple M, despite his insistence that the bag of white powder that fell from his person was crushed anti-inflammatories.
Last week, Waye dropped a lawsuit against the casino.
TARRYN THOMAS
Yes, yes… innocent until proven guilty on the big stuff, but not a great look for the bloke.
Even with that aside, Tarryn managed to get caught driving whilst suspended over the off-season. Someone, please take his keys and his phone.
JACK GINNIVAN
A day or two after looking like he could have done his ACL, only to be cleared of damage, Jack Ginnivan celebrated a little too hard and was caught in the act of… using some "crushed anti-inflammatories" in a toilet cubicle.
Not his finest moment.
Still, a lot better than being out for 12 months, I suppose.
MAC ANDREW
Every year there is a player who gets caught drinking and driving, huh?
Didn't receive anywhere near the scrutiny Ginnivan received, and that may be due to his status in the game. Still, what Ginnivan was up to in a toilet cubicle probably wasn't putting the lives of others in danger on the road, was it?
THE ESSENDON FOOTBALL CLUB
Oh, Bombers… what have you been up to?
Board issues, CEO issues, church issues, coach issues – Essendon fans will be absolutely dying for the season to start so they can get back to worrying about things that matter… like actual football.
They seem to have recovered from their one-day CEO appointment, the Kevin Sheedy backlash from their "unanimous" selection of the coach, with Brad Scott already looking like a man in control at The Hangar.
There is only one remedy for an off-season like this.
Winning.
JAKE STRINGER
Perennial contender.
Showed up to preseason in less-than-great shape.
Got sore as a result.
Now on modified preseason program yet again
Ugh!
BRENNAN COX
Not content with Jaidyn Stephenson's efforts last season, falling off a bike at a party and breaking his hip, Cox decided it would be a good idea to jump on his skateboard and show these young whippersnappers what he used to do back in the day.
Not only did he stack it – happens to the best of us – but he managed to get his wound infected and has had to sit out of training due to the swelling around the injury.
What a professional.
HULK HOGAN
I know it is not footy-related, and I love The Hulkster, but when you're stuck in the toilet and run out of toilet paper, the wise thing to do would be to message whoever you know is close by and request they pass you some.
You probably shouldn't tweet your predicament to the entire world.
A classic "old man uses social media" moment to rival some of my own.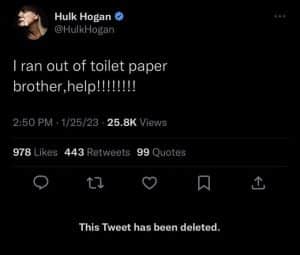 AND THE WINNER IS….
Well, that's where you come in.
Head over to The Mongrel Punt Footy Group and cast your vote. I would have just added a poll on the main page, but they don't allow polls on FB pages… yet they do on groups. Crazy…
Last year's medallist, Mr Edward McGuire patiently awaits the outcome to pass the torch to this year's winner.
Like this free content? You could buy us a coffee – I do like coffee, but there is no guarantee I won't use it to buy a doughnut… I like them more.