In an off-season that could be described as "unsettling" for the St Kilda Football Club, the news of Max King injuring his shoulder and the likelihood he would be missing for the first half of the 2023 AFL season did not really come as a surprise to many Saints fans.
Strangely, it was almost as though they expected the bad news. In many ways, they've been conditioned that way.
The return of Ross Lyon to the club was met with a mixed reaction, particularly given the circumstances surrounding the removal of Brett Ratten from the position of head coach. However, whilst there will be some ready to throw the towel in on the new season upon hearing the King news, and some in the media have fed that feeling of dread by writing the Saints off before a ball has been bounced, there could be some reasons to keep an eye on how the club fill their King-sized hole in the forward line.
Believe it or not, St Kilda, for the first time in a while, is in an advantageous position when it comes to forward stocks. Whilst they won't replace King's presence, they could hold the fort for long enough for him to return and have an impact.
After playing in attack for the final five games of the 2021 season (and averaging two goals in the process), team balance saw Cooper Sharman move into defence to aid Dougal Howard and Cal Wilkie in 2022. Playing ten games, Sharman did what was expected of a young player – he had moments. Those moments largely consisted of strong intercept grabs across half-back as he filled the hole and used his athleticism to launch. However, there were plenty of St Kilda supporters wondering why he was not persisted with as a forward.
Team balance remains the answer to that issue, as the Saints, with Nick Coffield out for the season, lacked height and reliability in defence. Both Sharman and Josh Battle were redeployed to bolster a defence that was clunky, at best. This off-season, the Saints quietly recruited Zaine Cordy to add some grunt in defence. Whilst the move, itself, is not earth-shattering, what it means for the structure of the team is important. It could allow the move of Sharman, or Battle, back into attack.
A move like this would have the Saints' forward line look as follows.
Tim Membrey as the main target, Dan Butler and Jack Higgins doing what they do best, Jack Hayes returning to provide a contest and taking on backup ruck duties, and either of Josh Battle or Sharman as the third marking option. With King due to return around the bye (at the moment), and taking back the position as the number one marking option, there remains one spot available.
And that is where we see whether Ross the Boss is really looking at this incarnation of the St Kilda team through a different lens, or the same old set of eyes that often neglected to play talented young stars in the making.
When the Saints grabbed Mattaes Phillipou with pick ten in the 2022 AFL Draft, they were elated, and for good reason. It has been a while since St Kilda had someone with a genuine presence in their team. As reliable as Tim Membrey is, as dependable as Jack Steele is, and as ruthlessly efficient as Callum Wilkie is, Phillipou brings something that none of them have – personality.
Not lacking for confidence, Phillipou speaks like a young man who knows he belongs already. Hell, prior to the draft, he likened himself to a mix of Nat Fyfe and Marcus Bontempelli. That is confidence!
When asked whether the kid should tone down the overconfidence a bit, AFL Draft guru, Cal Twomey responded by stating "That's not a front, that's his natural confidence and self-belief in himself to be really, really good. He wants to be great, he doesn't want to be a player, he wants to be a really good player and a really good player quickly"
With a father that played at the highest level only briefly, Phillipou evidently understands what a privilege has been afforded him. If he is confident, he is confident because he knows what it takes, and knows he is capable.
Most comfortable as a mid/forward, Phillipou's presence across half-forward and up into the middle of the ground could provide a dangerous link for the Saints on the rebound and could be the first step in establishing himself as a legitimate AFL force.
And then… it could not.
So much of how this unit functions in 2023, with or without King, will revolve around the expectations of the new/old coach. How adventurous will Lyon be with his new/old team? When does he expect the window to edge open? Will he attempt to force it open a bit sooner?
Looking at the Saints' list, at the time of writing, they have just one player north of 30 years of age. This group is in a situation where the majority of them have been together for a few years. They have tasted minimal success in 2020, but the last two seasons have seen them fall flat. Their inability to capitalise on a great start in 2022 was extremely disappointing.
But the nucleus is there.
The team has grunt workers (Steele, Crouch), has those who can hit the scoreboard (Membrey, Higgins, Butler, Gresham… and King), and are now looking a little more settled in defence. Yes, the loss of King to a shoulder injury is the blow the club did not need, but it I far from the death knell for the season. Foolish people make foolish statements.
The Saints may surprise a few in 2023. Most will discount them given the absence of their number one target, but crisis often breeds opportunity*. With hungry young blokes like Sharman and Phillipou looking to make a name for themselves, and with Marcus Windhager establishing himself as an excellent stopper in 2022, this team, under the right circumstances, is far from a spent force. As a matter of fact, this might just be the start of something big.
How adventurous is an older and wiser Ross the Boss?
We find out in around 100 days.
Like this free content? You could buy us a coffee – I do like coffee, but there is no guarantee I won't use it to buy a doughnut… I like them more.
Or, you could become a Mongrel Member to get all our content and help us grow, whilst keeping the site free of crap advertising from betting agencies. Oh yeah… you notice how we don't. We don't just talk the talk.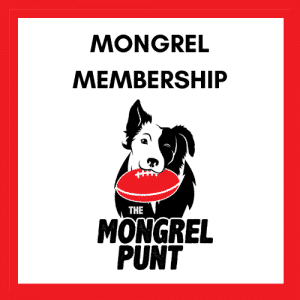 Homer Simpson knew it. Crisitunity.