The Giants showed the heart of a team that had its back against the wall and had to salvage its season. In enemy territory, they withstood the challenge of the Adelaide Crows to run out 16 point winners.
Here's The Mongrel's good, bad and ugly.
THE GOOD
Shiel and Coniglio
The Giants required leaders today; those who would put their head over the ball and win it. You're always going to get that stuff from Callan Ward and Ryan Griffen, but they needed the next generation to do it today, and they got what they needed from Coniglio and Shiel.
These two were incredible early in the year but their form, and effectiveness had fallen away in recent weeks.
Shiel was so clean in close quarters, nothing 14 contested touches amongst his 30 disposals. He slammed through a vital goal toward the end of the third quarter, but how big it was hasn't been reported. He has been horrid when kicking for goal this season, and was horrid earlier in the game when he kicked out on the full after stealing the kick in. He is kicking for goal at just 21% for the year. This goal was the most unlikely goal of the game, and maybe Shiel will take some confidence in front of goal from it.
Speaking of missing, Coniglio could've had three at quarter time, but he had none! But I'm not here to rag on his inaccuracy. He was awesome early today, and had three touches of the footy in the first minute. That's how you can tell a good player. Everyone is fresh, everyone is going 100% at the ball, and Coniglio was ending up with it. He finished with 24 touches and a couple of goals, but being involved in ten of the Giants' scores was a real highlight for him.
What a pity he couldn't even draw a free kick for the high knock that ended his night due to concussion, huh?
Bryce Gibbs
I thought in the last quarter that Gibbs was almost going to will the Crows over the line single-handedly. He was a clearance machine in the last quarter, and he had 12 touches to power Adelaide.
The Crows evidently needed a bit more than Gibbs, but to not recognise his impact on the final quarter, and the game would be negligent. When he came across from Carlton, I have to admit – I did not see him playing at this level. Injuries to star Crows have forced his hand,. And he has responded amazingly well.
Today had the potential to be THE Bryce Gibbs game in Adelaide, but you only get remembered for heroic performances like this when you win. He had 15 contested touches, nine clearances and nine tackles. Almost the complete game for Gibbs.
The red hot contest
This was as hot as it gets at some stages of the game. Players were throwing their bodies in with reckless abandon.
This was where I thought the battle-hardened Crows would gain a significant advantage on the Giants. They were winners in finals footy. They were equipped to take a hit and stand up, but it was the Giants who not only took hits, but dished them out as well.
Daniel Lloyd tackled hard, Taranto latched on to Crows and refused to let go, Zac Langdon, who we'll get to soon, applied amazing pressure, and Nick Haynes… well, Nick Haynes deserves his own write up.
Nick Haynes
I love the way Nick Haynes plays. Today he took Tom Lynch right out of the game. Yes, I know Lynch was hurt and left the field, but up until then, Lynch had zero influence on the game. None. Nada! To half time, the hard leading, and long running Lynch had compiled three touches. That is a shutdown job.
Haynes may not often get the plaudits of the key defenders, and Phil Davis was very good today while we're talking about it, but what he does do, is he does his job week in and week out. He is chugging along nicely at 18 touches per game and has almost seven intercept possessions every week., placing him top 20 in the game.
Jonathon Patton and Jeremy Cameron
Patton was good early, and it was refreshing to see him clunking marks. It's been something that has been missing from his game just about all season. One mark in particular, running at full pace on the wing and taking the ball overhead despite having his arms chopped – THIS is what Giants' fans have been waiting for.
He wheeled and went long to Himmelberg who marked and goaled. A great piece of play by the General.
And Cameron… what a great last quarter.
I thought that Kyle Hartigan had done a great job on Cameron for three quarters… then it happened.
BANG, BANG, and… BANG! Three last quarter goals from Cameron turned the game on its head, and just as I was preparing to write how great Hartigan had been, I was changing my tone just like I change my underwear. Just kidding… I don't wear underwear.
Cameron is one of the most talented forwards in the game. if he can get it together for a whole season, we'd be looking at a Coleman Medallist.
Zac Langdon
Yes, the commentators were correct. He was the best player on the ground in the first half, because every time he touched it, he hurt the Crows.
But I'd rather concentrate on that gather and goal late in the game that broke Crow hearts. Langdon had no business gathering that ball. It was hot, and he wanted it most. It almost looked to me as though he was a little surprised that he made it through the traffic with the ball. The open goal beckoned, and he slammed it through.
His emergence in the wake of the Giants' injuries this season has been a highlight, and the best highlight came today. It's nice to be good in losses, I suppose, but to be very good in a win… that's the ticket.
In case you missed it – Who missed out on the 2018 Hall of Fame?
THE BAD
Ten seconds of Perrymania
It was hard to pick out the bad in this game. Everyone was having a red hot go, and none more than Harry Perryman.
However, he was called for a completely intentional block at half back as Nick Haynes took a mark. I don't even think the Crows player could have made the contest with Haynes if he had a free run, but there was Perryman, not looking at the footy and turning the ball over.
Not content with that, Perryman ran back to the goal square and grabbed hold of Richie Douglas as well, which gave the Crow a free in front of goals. Two free kicks in a matter of seconds. That said, he was pretty good for the rest of the game.
As I said, it was hard to pick the bad. It was just a ripping game of footy.
THE UGLY
Free kick count
Now I have to preface this with a statement – I really didn't notice the severe discrepancy in the free kick count at half time. It might've been due to the fact that the Crows were playing at home and the crowd was very vocal in their support of their team. It may have been that all the free kicks were there and none were too contentious. Or it may have been that the Giants weren't all that upset about the ones that were paid against them.
BUT… a 17-4 free kick differential is ludicrous. With both teams going at it as hard as they were, surely there was more of an even spread than that?
I heard Dermott Brereton talk about the 19th man effect in Adelaide home games, and I've long been a believer in that. A big crowd reaction to a high knock, or a great tackle can influence an umpire. Surely they feel the pressure mounting with every consecutive tackle, but silence when it happens the other way can create a situation where the umpires think nothing's occurred.
I really felt for Dylan Shiel in the fourth. He had someone ride him into the ground with a tackle, and it was one of the most obvious free kicks of the night. Play on. The free kick count was 10-10 in the second half, but that missed free was a shocker. The head knock to Coniglio was another – play on. He has been listed as concussed.
Anyway, I can't blame the Crows, or the Crow fans – you use what you can to your advantage and if the umps miss them, then they miss them.
In case you missed it – Who is the 2018 All-Australian ruck after Round 10?
OTHER BITS
No more lingering effects of the hamstring for Matt Crouch. The lazy 36 touches tonight was an equal game-high with Gibbs.
Are Port Adelaide still the only team to try manning up Rory Laird?
Ryan Griffen started like a train. He may not have the tank for four quarters of hard running like he used to, but his first quarter was fantastic today. Really set the tone.
Loved Cam Ellis-Yolmen's ruckwork and perseverance to follow up and get his own clearance. Crows probably needed a little more from him today.
I know this might just be me, but I always smile when Darcy Fogarty runs into someone. There is just this small bit of intent to the Fog that I love seeing. He will hurt you if he gets the chance… wish he was on my team.
I really ebb and flow on Josh Jenkins. At times he can do some great things, and then he just half-heartedly does others. I thought he was taught a lesson in how to go for a hard ball by Callan Ward in the first quarter. You have to put that big body on the line, JJ.
How good was Seedsman's goal from 50? Just a beautiful kick of the footy, that man. Nice handball from Eddie to set him up, and that came from a strong contest by The Fog.
Great decision to take the advantage from Eddie after the Milera-Shaw mid-air collision. Eddie should ALWAYS take the advantage.
It was actually amazing that the Crows led at quarter time. I thought the Giants were playing much better, contested footy, but on the spreads the Crows hurt them. After a tackling quarter like that, to be behind… there was a danger that the Giants could drop their heads. A little bit of the "We gave it our best…" kind of attitude. To their credit, they didn't have any of that about them.
Rory Lobb looks a helluva lot like George McFly. Hello Lobb… hellooooo?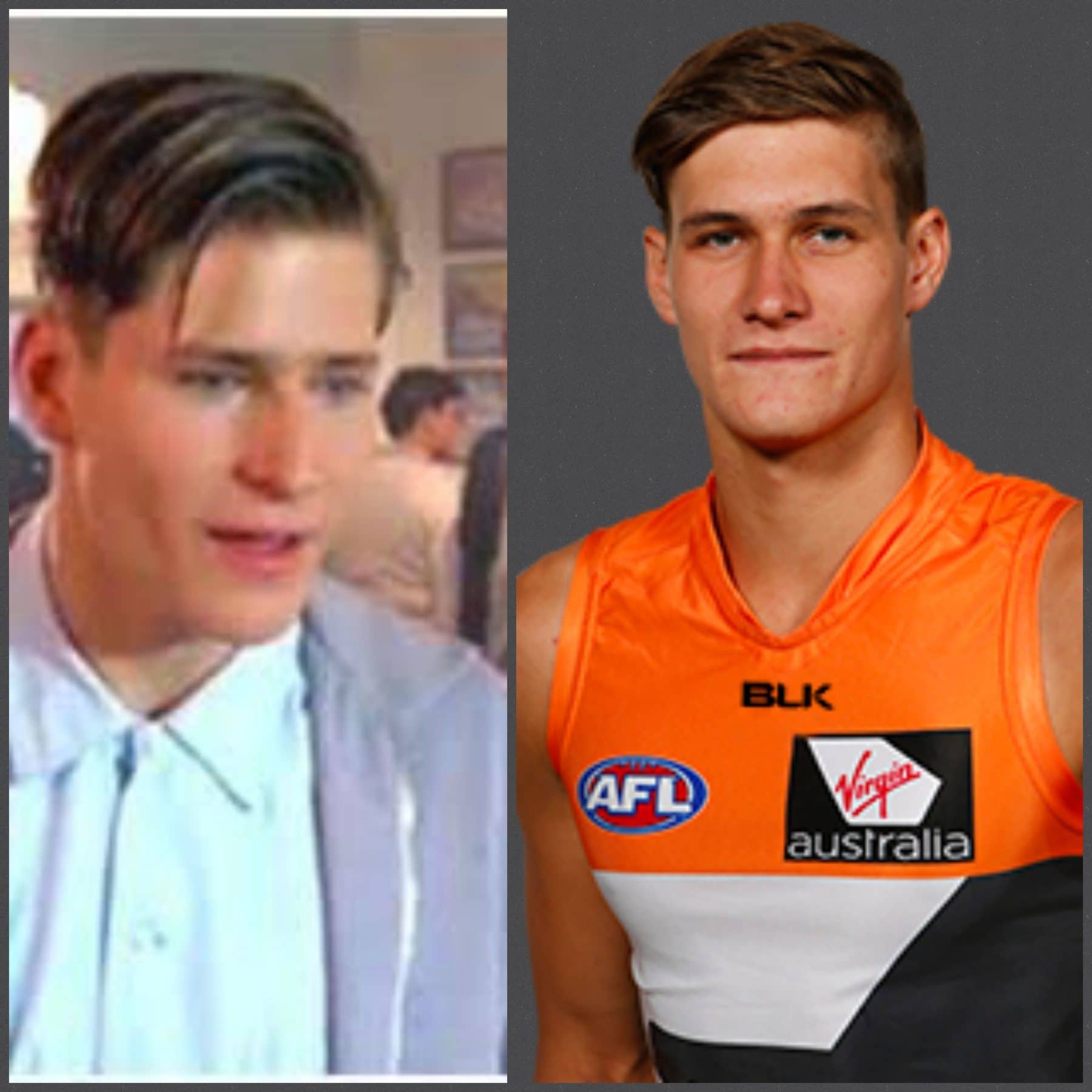 Interesting to see Jeremy Cameron called for front on contact in a marking contest. Last night Alex Rance did the same thing and it was called play on. Both blokes had their eyes on the ball the entire time… wish the AFL would make their mind up.
The right call was made when Gibbs fell into Coniglio and hit his head on him. There was nothing Coniglio could do, and play on was the right decision.
Great pack mark by Daniel Talia early in the third quarter. As long as he doesn't get caught out the back, rarely beaten. Had to be switched over to Cameron late in the last quarter, but the horse named Cameron, and the game had already bolted.
Commentators questioned why Wayne Milera was playing forward. His bombing 55 metre goal in the third quarter may have provided them the answer.
From halfway through the third quarter until the end of the game, Heath Shaw was one of the best players on the ground. The other two were Gibbs and Cameron.
Jeremy Cameron's first goal came from a spot where he hasn't missed from in his career. 17 goals straight.
What a brilliant tap on by Richie Douglas to give Eddie Betts the one on one at ground level against Patton inside forward 50. Can you guess the outcome of that one?
Crows started the last quarter on fire and it looked ominous for the Giants. Great kick by Jenkins, but that was overshadowed by a monster from Fogarty from the boundary. Both beautiful kicks.
The Fogarty dropped mark was pivotal in the last quarter. The Crows had the run of it, and I know Fog worked his butt off to make the contest, but he needed to hold that. He dropped it, the Giants cleared through Taylor, and then the Jeremy Cameron show started.
I hate the contact below the knees rule for innocuous incidents. Not every incident is Gary Rohan!
Might be a season-defining win by the Giants. They showed more heart today than many thought they were capable of/. Their big guns fired… I mean, we hardly mentioned Josh Kelly despite him having his best game of the season. This win could revitalise the Giants' season, and now, where are the Crows at? Between you and I… I still think they'll win the flag!
Like what you're getting from The Mongrel? Give us a Like on Facebook or a Follow on Twitter and I swear to you here and now, that you'll feel better about yourself when you see our little updates pop up in your news feed… or outside your window… or at your workplace.