There have been other ill-fated comeback attempts over the years.
Bjorn Borg was an 11-time Grand Slam winner before walking away from tennis at age 26. He returned a decade later to find a game that passed him by. Still using a wooden racquet, Borg was beaten in every game he played on the pro circuit.
Even the man known simply as 'The Greatest' fell flat on his comeback bid. Muhammad Ali retired with a record of 56-3 in 1979. But the pull of the limelight, and the associated dollars was too much to resist, and he returned to fight Larry Holmes. And lose. He also lost to Trevor Berbick before realising he was well and truly done.
But for the poor failures, there were some great individual comebacks.
Michael Jordan returned from a stint in baseball to pick himself up after a loss against the Orlando Magic, and lead his team to an historic second NBA three-peat. We won't mention his tenure with the Washington Wizards, however.
Tiger Woods endured years of self-doubt and physical pain before finally making it back to the top with a wonderful victory in the 2019 Masters – it was his first victory in a major in 11 years.
And then there was George Foreman, who retired from boxing in 1977, only to return ten years later. Foreman would go on to win the world title at age 45 – an amazing achievement.
In terms of the AFL, we have seen some comeback bids succeed – Tim Watson returning to Essendon to partake in the club's 1993 flag stands out. Peter Hudson's return to Hawthorn after two full seasons away to kick 110 goals in 1977 is another outstanding footy comeback.
And then, there are some that didn't go quite as planned. Sadly, this story falls into the latter category.
As Tony Lockett trudged off the ground in what we thought would be his final AFL game in 1999, you could not help but feel as though his was a story that was left incomplete.
It feels strange to say, even now 21 years later, but there was definitely a void in the career of Tony Lockett as he put his football career behind him and attempted to move to the next phase of his life.
Lockett had won the Brownlow, the Coleman was his on four occasions, and he left the game as the only man ever to amass 1300 goals, passing the legendary Gordon Coventry. Still, as he and his Sydney Swans exited another finals series –  Lockett's last – at the hands of Essendon, Plugger had failed to obtain the ultimate prize in football
The elusive premiership was still missing.
Lockett had gone close. In 1996, it was his kick after the siren that propelled the Swans into the last Saturday in September, but North Melbourne proved to be too strong on that day. Plugger snagged six goals, even with North players dropping back into his leading lanes all day, but it just wasn't enough. Runner-up was as close as Lockett would ever get.
The Swans were not terrible without Lockett as their focal point, but they did fail to make the finals in 2000. However, in 2001 a resurgent Sydney finished in seventh position, with a 12-10 record before bowing out in the first week of the finals to Hawthorn.
They were still close, yet so far from getting their hands on footy's holy grail.
Sydney have never been short on power forwards. In recent years, it has been Buddy Franklin's forward 50, but over the years, the Swans have managed to recruit several big-name spearheads to the club. Warwick Capper was their poster boy in the mid to late eighties, and they even found themselves in a little bit of strife when they pegged some hopes on the signature of Kurt Tippett.
But in 2002, it was the acquisition of big, bad, bustling Barry Hall that had tongues wagging. Hall had snagged 44 goals for the Saints in 2001, and at 24 years old, was entering his prime as he pulled on the red and white. He would go on to lead the team in goals for seven-straight seasons, more than justifying his move away from St Kilda. However, it was the rumoured return of Tony Lockett; the greatest full forward in the history of the game, that really got tongues wagging.
What was it that spurred Tony Lockett's return to the big stage in 2002? Was it that he missed the game itself? Lockett's demeanour does not seem to lend itself to sentimentality. For years after his retirement – his true retirement – he shunned AFL functions, rarely appearing to bask in the glow of a career completed. He found joy in other pursuits, training champion greyhounds and living far away from the football bubble.
Why then, would he pull on the boots again? What was left to achieve?
The premiership. It had to be the premiership.
Lockett returned as a slimmer, trimmer, and fitter version than we were used to seeing. At age 36, he was not the powerful monster that rag-dolled the opposition seemingly at will. He'd gotten older, slower and weaker… it happens to us all. And the blokes he was playing against were bigger, stronger and more agile. Lockett had lost the advantage he once held over virtually every player in the competition. His strength was now inferior to those he battled, and the old legs refused to allow him to keep up.
Lockett was up against it, at age 36. With 1357 goals to his name, there nothing left to prove to anyone.
Except for himself.
In week one of his comeback, he was faced with the daunting prospect of the reigning premiers. With a defensive duo of Mal Michael and Alastair Lynch taking turns on matching it with the all-time record holder, the Brisbane Lions restricted Plugger to just one disposal. That kick was a goal, but with a net result of one kick, one goal and a severely corked thigh suffered during the game, just how valuable Lockett's value became a concern for Sydney. Barry Hall held up his end of the bargain, returning 4.4 in the Swans' 23-point loss, but Lockett looked anything but potent.
Game two was viewed as a chance at redemption, and would not roll around until Round 10 of the AFL season. It was another disappointing display, as he managed just four disposals and one goal. If the drums were beating after his uncharacteristic return against Brisbane, his lack of presence against the Pies had the sounds echoing off the stadium walls. Hall would also fail in this game, held goalless.
Lockett would last just one more game, Round 12 against Geelong. With the Cats' nucleus of future glory forming in defence (Scarlett, Harley, Enright, and Milburn all lined up in the back six), Lockett was again subdued too easily. He returned just two disposals and a single goal. Hall would kick one, and people were now openly questioning Lockett's presence on the team. He was clearly struggling, and speculation was rife that his presence was detrimental to the development of Barry Hall, as well.
In his three games, Plugger had averaged just two disposals and one goal. The writing was on the wall, and it was written in big letters for anyone who struggled to make it out.
Tony Lockett's comeback bid was a failure.
Offered a final game against Fremantle, Lockett declined. Instead, he announced that he was pulling the pin on his second crack at footy, and walking away for good.
Almost on cue, Barry Hall took control of the Swans' forward line, kicking six goals without Plugger stepping on his toes in the Swans' first victory for seven weeks.
After stepping into retirement a second time, Lockett would move away from the Swans and football in general for an extended period, only heading back to the Swans in later years to work with the forwards and impart his knowledge.
Similar to the legacy of Ali, it is a testament to the greatness of Lockett that this comeback in no way tarnished his legacy. For so long, he was a man-mountain few could scale. He dominated games with his power and size, and then in 2002, he looked less like the man he once was.
He was the God of goal-kicking in the modern game. And in 2002, he looked a little too human.
People often speak about the game passing them by. In 2002, we got to see something we probably shouldn't have. We saw the game go past an all-time great. In many ways, it was like a car accident. You knew it was carnage, but you were compelled to look, anyway. How Plugger was faring with the new breed of defenders was something that footy fans just had to see. It's just a pity he didn't fare better.
Three years after walking away from that Tony Lockett comeback attempt, the Swans held aloft the premiership cup. It is fair to say that Lockett may have seen the oak tree in the acorn with that Sydney team. He was just a little too early.
Which was also a little too late for the big fella.
Tony Lockett's comeback is not how he'll be remembered. He was the menacing monster that bullied defenders and, yes, entire teams throughout the 80s and 90s. He was the dead-eye goal kicker with a mean streak that struck fear into the hearts and minds of players who were told to drop into the hole in front of him. He was the best the league has seen, and will be rightfully remembered as such.
But for three games in 2002, Plugger risked his legacy for one more crack at the flag. It didn't pan out, and if he had his time over again, perhaps walking off the ground after the Qualifying Final loss to Essendon may not have been such a bad way to go out, after all.
Like this content? You could buy me a coffee – I do like coffee, but there is no guarantee I won't use it to buy a doughnut… I like them more. And I am not brought to you by Sportsbet or Ladbrokes… or Bet365, or any of them.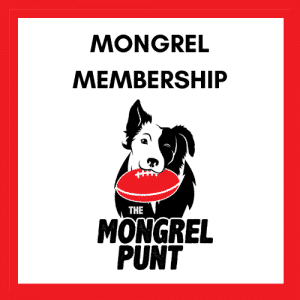 Wonderful Sydney logo designed by @whitingdesign and used with permission. Give him a follow on Instagram to check out his awesome work.