How do you explain the value of Tony Modra to someone born this side of the Sydney Olympics?
You can start by talking about how he was the last of the undersized stay at home full forwards. At 188cm, he was the same height as Jason Dunstall, but at a fighting weight of about 10kg less. He didn't have the dominant midfield supply that Dunstall had throughout the Hawthorn glory days, the size and ability to impose and intimidate on his opponents like Plugger and Carey, or the freakish talent of Ablett.
The obvious question is how that translates to today's game. Modra's aerial ability and size probably renders him a third marking tall in the Bayley Fritsch mould. The icing on the cake, rather than the cake itself that the Croweaters enjoyed most weeks at Football Park in the early to mid 90s
There's not even that much of a mythos around what could have been.  At 165 games and 588 goals, it's difficult to say that he was hard done by, or that we didn't see the best of him, especially when there's contemporaries such as Allen Jakovich and Adrian McAdam who showed just as much in a shorter period of time. To suggest that his best wasn't on display would be a disservice to his ability to get the most out of his disinterest towards the game and his second stint at the Dockers after two knee reconstructions. We can draw our own opinions on how we feel about his two missed premiership medals, doing his ACL in the 1997 preliminary final, before being dropped late in the year in 1998. It certainly gets lost in the wake of Robert Murphy's miss in 2016 if nothing else.
There's the obvious route of the Youtube highlights reel. Not one but three marks of the year. The first two both against North Melbourne, in 1993 and 1997 respectively, with a follow up against Geelong, whilst playing for Fremantle in 2000. For its time, it stands out, but not enough to really distract the kids from wanting to see what Warwick Capper did before self-parody.
To most discovering Modra, especially those outside the state of South Australia, they find him incidentally by doing just this. He's a bit player in the Matthew Pavlich origins story. He is The Hulk to Clive Waterhouse's Thor if you could compare the 2000 Western Derby to Ragnarok. Whilst Modra didn't play like Bruce Banner's alter-ego, it's perhaps an apt comparison in the context of the Marvel Universe, unable to have his own franchise due to circumstances beyond his control (https://screenrant.com/no-hulk-solo-movie-marvel-universal-rights-explained/) and now relegated to a support act. Should Marvel choose to follow through on this analogy, and offer Clive the full time role of Thor once Chris Hemsworth has enough, they can send the cheque to this publication accordingly.
For mine, Tony Modra is an underappreciated reason for the Adelaide Football Club being the financial powerhouse it is today, an underrated icon of the 1990s, and perhaps an unsung hero of the economic agency that the players of today enjoy.
To address the first point, it's simple. There was no other reason to watch the Adelaide Crows in the mid 90's than watching Tony Modra take some hangers and kick bulk snags. When the Crows burst on to the scene in 1991, they did so with 38,673 members. It is a figure that some clubs 30 years later are yet to achieve. To put this in further context, the second highest membership tally in the league at this time, was West Coast's 29,302. They continued to lead the league in membership tallies year on year until 2009. This figure continued to increase each year until 1996, despite no real reason to do so from the 1993 Preliminary Final onwards. A horrific home ground at Football Park matched only by some horrific on-field performances, consecutive finishes of 11th, 11th and 12th doesn't quite grasp how inconsistent they were at the time (perhaps only in the context of back to back flag wins with largely the nucleus of this side in the two years after).
But Modra remained.
129 goals in 1993. Bringing up the ton in just his 25th game of footy (Only John Coleman did it quicker, in 21 matches). It's like expecting one of the King twins to have done it so early. Fans of the hit podcast The Greatest Season That Was: 1993 will need no further explanation as to the quality and capacity for high scoring and high flying across the league that year. Yet this achievement goes largely unnoticed amongst the Ablett/Salmon shootout, Ablett's emergence as a stay at home full forward, the emergence of Wayne Carey, Tony Lockett's absurd return of 53 goals from just 10 games.
To speak of Modra's emergence and subsequent dominance of the competition can also double as the obituary of Scott Hodges' AFL career.
Hodges went from 153 goals in the SANFL in 1990, 12 goals against the year's runner up in Geelong in 1992, to quitting the club at the end of 1993 after being forced out due to the emergence of Modra.
You can also point to the great full backs of the era that took baths from Adelaide's high-flying number six.
The 1993 season speaks like a grave yard. He kicked six on Ashley McIntosh, seven and five on Chris Langford, ten on Mick Martyn, and seven on the late Danny Frawley.
Round 1 1994 – 13 goals on Stephen Silvagni. The most goals ever kicked in a single game against the Carlton Football Club. The majority of them on the full back of the century, Stephen Silvagni. Something Tony Lockett never accomplished.
Amongst it all, there were numerous head standing grabs. Gary Ablett's freak Hand Of God mark over Gary Pert in 1994 winning Mark Of The Year, yet to both memory and the footy card collection of the time, the runners up were all Modra.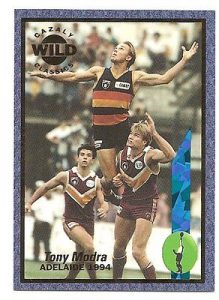 Did he even take this grab? I think so? Maybe?
Modra's decline from here can be compartmentalised. A falling out with coach Graham Cornes lead to him preferring to skip training for surfing on a couple of occasions, which caused him to be dropped. From there, to the Robert Shaw era that was ultimately as inconsistent a side as any of that era, ending both seasons on a high with bags when the season was over weeks earlier.
Even his Coleman Medal winning haul of 81 goals is a work of contrast; the lowest winning tally for 22 years prior, signalling the death of the era of the big scoring full forward, it remains a tally not yet bettered by the year's Coleman Medallist since Brendon Fevola in 2009 with 86.
Aside from the halcyon cry of "Modra!" while taking a hanger over siblings replacing that of the "Jesaulenko!" yell that their parents may have used, his lasting legacy is being able to monetise the female interest created by Warwick Capper and Trevor Barker in the era before, in his role as the face…and body of the Men For All Seasons calendar. This carries the dual distinction of both ageing far more tastefully than Warwick Capper's "I Only Take What's Mine", whilst still being available at all still-open What's New stores.
This was one of the first third party deals that proved to rival the wages earned from on-field exploits, paving the way for the likes of Dustin Martin's deal with Bonds, Buddy Franklin's clothing line and Anthony Koutoufides' line of Souvlaki Huts.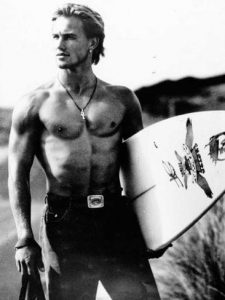 Whilst a trailblazer for the economic opportunities in the game, it shouldn't be understated either, that this calendar established Tony Modra as an early LGBTQ+ icon and helped establish a tentative and rocky pathway for fans who identified as such, to openly engage with football and the bloke who was routinely voted the Sexiest Player in the Competition most years of his career. Whilst it may not have had the influence or substance that brave stances with respect to stamping out racism, and ensuring that women and children were welcome at the footy, I suspect plenty of the origins of today's Pride games stemmed from picking up a copy of this calendar.
In conclusion, yes, get yourself some Tony Modra Youtube highlights up ya. He sits on blokes heads, he kicks bulk goals, there's Clive Waterhouse, and he has a rig that at 51 is still likely to cut your lunch today. Just very unlucky there's no premiership medal or two attached.