You'll have to humour me here, and like me as a child watching the WWF (yes, I know it's WWE now…) you'll have to make a fair effort to suspend your disbelief.
Imagine we live in an AFL world where people don't want to use the "go home" excuse to leave a club. Imagine that when a player is drafted, he has no intentions of running away to a better side when the opportunity presents. Imagine that he feels a connection to his club and wants to stick around to make sure it improves, and that he is a reason it improves. A bit of a stretch, huh? It gets better.
If you can do that, let's imagine for a moment that that Stuart Dew wakes up one morning and finds a weird device in the top drawer of his bedside table. After questioning his wife as to why she needs this strange, obscure device, claiming he is more than enough man for any woman, he finds the instructions. It has been left there for him by former AFL honcho, Andrew Demetriou, and this device has only one purpose – to send Stuart Dew back in time to ensure he doesn't inherit a Gold Coast Suns list that absolutely stinks.
Now, imagine for a second how disappointed Dew's wife would be when it's revealed that this is the device's only purpose (come on, fellas, we all need a little help at times). Let's just step back in time and, with the benefit of hindsight, help Stewie fix the Suns.
In the 2010 draft, AFL newbs, the Gold Coast Suns possessed an unprecedented eight of the top 13 draft selections. In one fell swoop, they had the opportunity to pillage and plunder the greatest junior footballers in the land, grow and develop them as a unit and become a force. It wasn't going to be a sudden impact, but with time and the right people in place, Gold Coast were in the position to start the process of building a winner.
There were many who thought that by this stage of their footballing life, the Suns would be a perennial contender for the flag. They thought the same of the Greater Western Sydney team, due to follow the Suns into the AFL the very next year, but at least the Giants have been close to cracking a Grand Final berth. The Suns have never even made the top eight. Right now, they don't even look close to it.
So, with the knowledge he now possesses, the means to influence the hierarchy on the Gold Coast, Stewie Dew now has the chance to rebuild the Suns so that in 2019, he doesn't have one of the least experienced and poorly-rated units of all time.
How would he do it?
The Suns possess picks 1, 2, 3, 7, 9, 10, 11 and 13. Whilst several of them turned out to be duds, there were some diamonds in the rough in this draft, and the Suns could really have capitalised on some intelligent drafting.
Pick One – David Swallow
Replaces – None
It's hard to argue against their decision to draft David Swallow. Brother Andrew was one of the best in-and-under performers in the game at this point, and the younger sibling was supposed to be all that, with the added bonus of leg speed.
If Dew can impart to the Suns the issues that would plague Swallow in the last few years, there's a chance that the team could nurse him through and have him playing at his optimum level by the time Dew takes the reins. A man can dream, can't he?
Plus, personally, I'd love to see Swallow retained given his recent commitment to the Suns. That's what you want from your stars.
Pick Two – Andrew Gaff
Replaces – Harley Bennell
The Suns took Harley Bennell, which looked great early on. He showed flashes of brilliance and had the potential to be a star of the game. Potential… such a double edged sword. With Stewie knowing how things would end up, he'd have to be shrewd here. West Coast were picking at #4, and seeing how we've recently witnessed that Andrew Gaff is NOT the sort to up and leave, picking up Gaff earlier than he was originally taken makes perfect sense.
Gaff took a few years to hit his stride, but since 2015, Gaff has not averaged under 29 touches per game. He is also extremely durable and would ease the burden on the Gold Coast midfield immensely.
Pick three – Dyson Heppell
Replaces – Sam Day
Look, personally, I don't rate Heppell as much as some others do. I think his disposal by foot really lets his team down at times, but the bloke is obviously a great clubman, as evidenced by his elevation to the Essendon captaincy at a time when the club was crying out for strong leadership. He'd also make for a great face for the club, and put a nice little midfield rotation together in the first three picks.
Heppell has also developed into an accumulator in recent times, averaging over 25 touches per game for the last five years. He knows how to get his hands on the ball, and having sustained the horror years at the Bombers, he is willing to stick out tough times in order to reap the rewards of the good times.
By the way – if you combine Heppell's hair with Nathan Buckley's face, they'd make an awesome lion. Just saying…
So, with the first three picks bedded down, the Suns have picked up Gaff and Heppell and lost Bennell and Sam Day. I'd say they're way out in front already, and Stewie Dew would be licking his lips at the prospect of coaching guys like Gaff and Heppell as though he were confronted with a family bucket of KFC.
Love The Mongrel but don't want to buy our merch? How about making a donation to keep us alive in 2019? Click here to make a donation. Keep The Mongrel alive in 2019
Pick Seven – Tom Lynch
Replaces – Josh Caddy
Ah yes, there may be a sour taste in the mouths of Gold Coast supporters right now when I bring it up, but Lynch was to be snapped up by the Suns later anyway and you simply cannot deny the kind of talent he possesses. With another big forward upcoming to ease the burden on the young star, Charlie Dixon on the books, and quality mids ready to stick around and develop the team, Lynch may just be able to fulfill his huge potential without eyeing a move back to Melbourne.
Caddy showed as much loyalty to the Suns as one of those women who you pay money to and get very little in return… what are they called? Ex-wives! Hahaha. Seeing him left out as a draft option would be of little consequence to the Suns, but a committed Lynch, with support, would be enormous for them.
Pick Nine – Jack Darling
Replaces – Dion Prestia
"Ouch" say the Eagles supporters, and rightfully so, as Stewie Dew swoops in and steals their future power forward just six picks after pinching Gaff. Jack Darling reinvented himself this season, after several years of being labelled an under-achiever. Dew, however, has the benefit of seeing the 2018 version of Darling, as well as the way the big man played in his first three years in the game. He knows what he can extract from Darling and has witnessed the impact he can have on a game. Pairing him with Lynch up forward has a two-fold effect. It gives both men the foil they so desperately need to perform at their best.
Darling was amazing with Josh Kennedy as his running mate, and Lynch would benefit greatly with someone who can clunk a mark or crash a pack in the same attacking 50. So by pick seven, the Suns have three good to great mids, and two very good forwards.
Remember, these blokes aren't leaving – they have a solid sense of loyalty to the club that gave them their shot… suspend that disbelief a little longer – you can do it.
Pick Ten – Isaac Smith
Replaces – Daniel Gorringe
Now, we're well aware that changing the order early has effects later on. The Suns have already drafted their core young mids who will develop into a stellar force in the guts.
Whilst not an inside mid, the outside run and carry of Isaac Smith would be something that would benefit Gold Coast enormously. Imagine having to contend with the running power of both Gaff and Smith on the same team?
The thing here is that Smith came into the AFL ready to perform – there is no reason this wouldn't be the case at Gold Coast as well. He is the player teams choose to tag at Hawthorn, knowing that 20 touches from Smith hurts them more than 30 from another player. He is an eighty metre player that breaks down defences with his pace, endurance and long kicking. Invaluable in Hawthorn's flags, Smith would be a game breaker for the Suns.
Pick 11 – Tom McDonald
Replaces – Tom Lynch (already taken)
And the hearts of Melbourne fans just break a little…
TMac is a no-nonsense, versatile defender-cum-forward and can be a tear a game open. In this Suns team, he'd be deployed down back to stem the expected torrent of opposition inside 50 possessions in the first couple of years. Whilst he'd be inundated early, the experience would hold him in great stead as the Suns improved.
McDonald has the ability to kill contests and would be a calming presence in the defensive 50 until circumstances dictated that a move forward was necessary.
In a nutshell with pick 10/11, you get McDonald in and Daniel Gorringe out. This is a huge win for the Suns.
Pick 13 – Luke Parker
Replaces – Seb Tape
Taken originally at pick 40, Parker is a bargain that would add an element of hardness to the young Suns midfield. Though he took a few years to find his feet in the league, he then put together four straight years of 25+ possessions per game before dropping to 23 this past season.
Parker has the sort of leadership qualities that a young team needs, and with a few seasoned players coming on board, would be one of the players earmarked to learn from and take over their mantle as team leaders.
Looking at these replacement players, the Suns have several with potential leadership abilities. Heppell is proven as captain of Essendon, Smith is emerging as a potential captain at Hawthorn, and Parker's on-field leadership is without question.
And so, by the end of the first round of the 2010 draft, the Suns have a solid core of young players to work with. The work ethic of Gaff, Smith and Parker are the kinds of inflyences you want on an emerging group.
Now we move onto the additions they made to complement their young stars.
Keepers – Gary Ablett, Campbell Brown, Michael Rischitelli, Jarrod Harbrow.
Thanks but no thanks – Jared Brennan, Josh Fraser, Nathan Krakouer, Nathan Bock, Karmichael Hunt.
A 50% hit rate for the first intake of veterans wasn't the worst thing that Gold Coast could've hoped for. Ablett would still be the undoubted star of the team, with Rischitelli an underrated addition that offered plenty to the team over the years.
Campbell Brown added an element of ferocity to the team that all teams needed, however, had he restricted his aggression only to opposition players, his stay may have been slightly longer. And with Harbrow the winner of the most recent Suns' Best and Fairest award, it's hard to argue against his acquisition.
Bock had issues that would never resolve; injuries, I mean, and both Brennan and Krakouer were not the kind of examples to offer a group of kids looking to learn. Fraser's body let him down, and he was more or less at the end of his AFL career at this point. His signing was basically like throwing money away.
Finally, we get to Karmichael Hunt. I so wanted to see Hunt play well for the Suns, but in life, what I wan
t isn't necessarily what happens. Hunt had a shining moment with an after the siren goal to drop Richmond, but other than that, never excelled at AFL level. It was a nice idea… a nice expensive idea, that just didn't work. In addition, the "professionalism" he was supposed to provide seemed to backfire, with Hunt being linked to several drug stories over the past few years.
Then you need to throw in the players the Suns had as 17 year olds as part of their developmental squad and/or priority selections. Steven May, Charlie Dixon, Trent McKenzie and Brandon Matera all fit the bill.
With the additions and changes made above, the Gold Coast Suns, at least on paper, look like a side that would trouble a lot of teams right now. Eight years into their existence, they could very well be the contender everyone thought they'd be. Here's how their year one line up could have looked had things gone a little differently. Whilst they would have undoubtedly suffered some heavy losses initially, the framework is there, and if they stuck together, success would be coming their way right about now.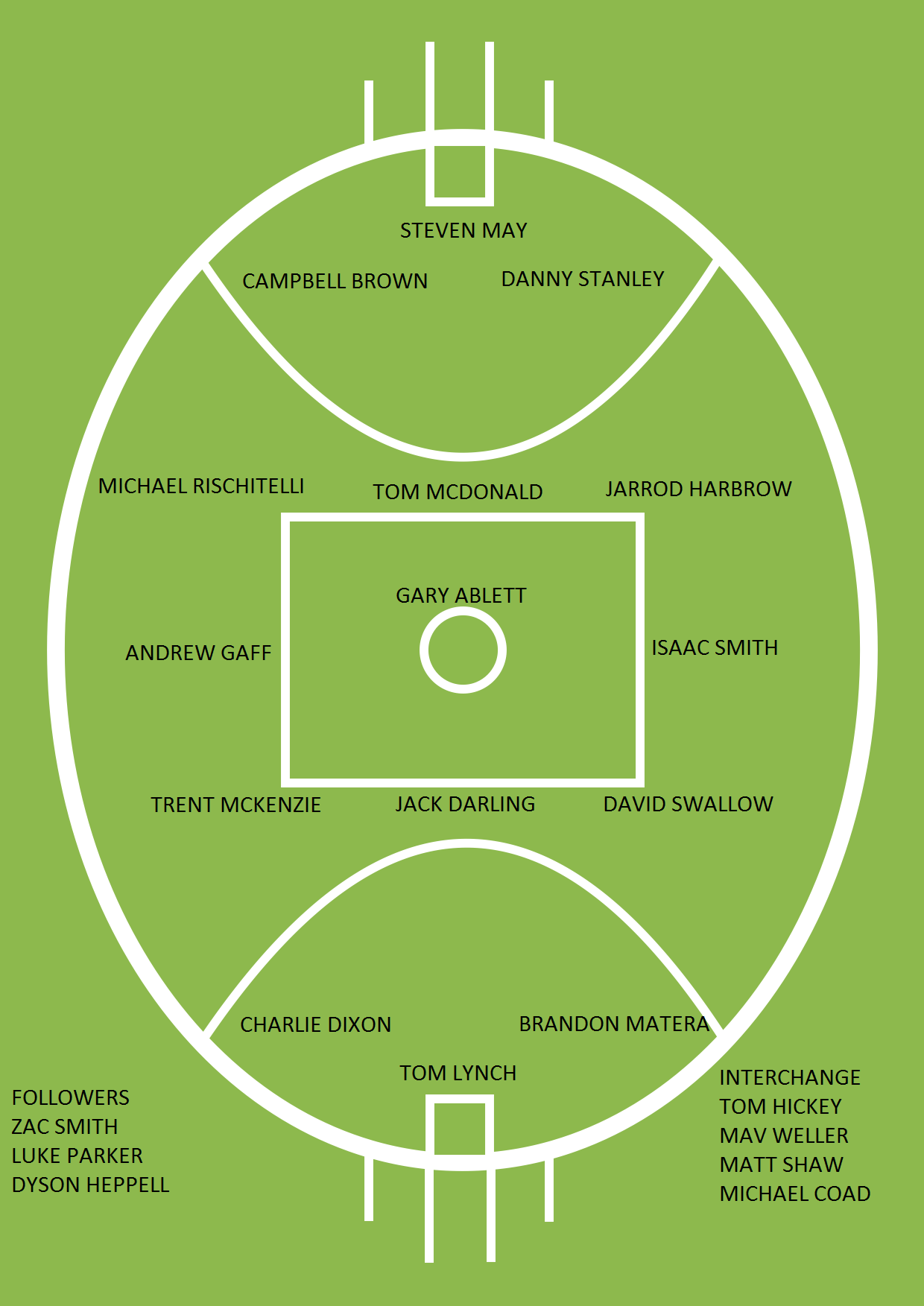 It's almost enough to have Stewie Dew rummaging around in the drawer of his bedside table, huh?
I should add, before I finish, that this is not a shot at the recruiters or the people in charge at the Suns in 2010. They weren't to know what was ahead, and plenty of other teams passed on the likes of Parker, Darling and McDonald. They're not on an island in relation to the non-selection of those guys at all. It's just interesting to wonder "what if…" and if things had played out a little differently back then, we might be seeing a very different Gold Coast Suns right now.
If you want to give us a Like on Facebook or a Follow on Twitter, we'd really appreciate it.
And hey… if you'd like to support us, you could head over to our Mongrel Shop and purchase one of our hideously overpriced hoodies or notebooks. We even have a place for donations now. ORRRRRR, get one of the more moderately priced stubby holders or bumper stickers. Click the links below. Keep The Mongrel alive in 2019