There have been drawn Grand Finals, one-point nail biters, and games that have gone down to the wire, thrilling both fans of the clubs involved, and neutral supporters alike, but the 1989 epic between the Geelong and Hawthorn Football Clubs was something to behold.
With the Hawks withstanding the torrent of aggression from the Cats early to snatch a big lead, and the Cats' superstar, Gary Ablett running rampant against anyone Hawthorn threw at him, the game is an undoubted classic.
Many games feel dated when you watch them years later. The 1989 Grand Final is not one of them. It holds up. Many think it is the day football peaked.
It was brutal, it was violent, and by Gary Ablett, it was wonderful.
PRE GAME
If there was any question about how much thought Blight had put into the attack on Brereton, his actions during half time of the reserves Grand Final dispelled them. He walked Yeates to the spot he wanted him to stand and marked a cross with his feet, indicating where Yeates would be launching from.
In the pre-match address, Jeans targeted Brereton himself.
THE FIRST QUARTER
As the Geelong coaching staff watched Andrew Bews gather the ball and boot it forward to a streaming Gary Ablett, Blight's eyes were elsewhere. Greg Wells turned to the coach.
With help, Brereton got to his feet and gingerly made his way to the forward pocket, still struggling for breath, but refusing to come off. Within minutes, the ball came in, and Brereton marked over Stephen Hocking and kicked the second Hawthorn goal of the game.
The Hawks piled on eight first-quarter goals to the Cats' two, but the injuries were mounting. Brereton was hurt, and Dipierdomenico's lung was slowly deflating thanks to Gary Ablett. The Cats were behind on the scoreboard, but had significant man power at their disposal.
SECOND QUARTER
HALF TIME
THIRD QUARTER
FOURTH QUARTER
POST GAME
ON ABLETT
 THE AFTERMATH
THE FINAL WORD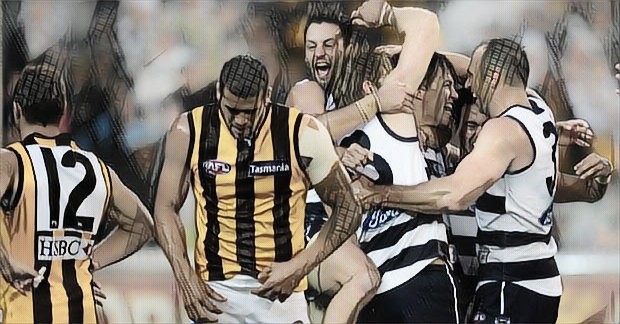 PART THREE – THE CURSE
Part Three coming soon – The Curse
If you like what you're getting from the Mongrel, have a look at our other stuff – it's not terrible. You can also give us a follow on Twitter @themongrelpunt or catch us on Facebook Page