Well, it didn't take long for the health and safety protocols to disrupt the AFLW season, with one game postponed.
Regardless, we had six games go ahead, with a couple of teams making early-seasons statements, and a comeback from the Suns that spoke of great character.
Let's jump straight into the reviews.
MELBOURNE (8. 6. 54) DEFEATED RICHMOND (6. 2. 38)
REVIEWER – HB MEYERS
The Tigers got away to a flyer and sent some ripples of concern through the Melbourne camp in the first quarter, but a second-quarter blast from the Demons gave them the ascendancy and they did not look back from that point.
Richmond's attack on the footy in the first term was admirable and it left Melbourne looking flat-footed. Forcing the Dees into hack kicks from defence, the ball often came back with interest and Richmond were probably unlucky not to capitalise further on their dominance early in the game.
As Melbourne settled and started matching the intensity – even from just over halfway through the first quarter, the ball started bouncing their way. Funny how that happens. The second term was a masterpiece, with Kate Hore, Eliza McNamara, and Karen Paxman all taking turns with the brush. Mon Conti fought on well, and Harriet Cordner was strong in defence, but Melbourne were just too good in the end.
Let's jump into some of the talking points.
HORE-SOME
Kate Hore had the ball on a string in the second quarter, and could have really compiled one of the greatest quarters in AFLW history but for inaccuracy.
There were points in this game where Hore made the game look easy. She drew free kicks by simply knowing what to do in a physical clash, and then managed to just step out of and around tackles without a second thought. She is a classy player, uses the footy well, and after two goals last week, she once again proved that she was not mucking around this season. Whilst she could have easily finished with four, her ability to remain involved in the play and head down to half-back to lose her opponent added to her all-round game.
Hore's 2020 season saw her make the AA team, and it looks as though she is heading in the right direction to make it happen again. She was the spark that lit the flame in this game, and if we're looking at the second quarter as the timeframe where the game was won and lost, Kate Hore was the most important player on the park in that period.
That would make her the matchwinner.
THE RUNNING MACHINE
When they review the footage of this game, I am sure Mick Stinear will highlight many things, but I the gut-running of Eliza McNamara is not one of the first pieces of vision shown, I'll jump off a pier.
Her efforts to get from contest to contest were huge in this game, and her ability to not only find the footy and deliver it well, but apply pressure on the opposition was one of the more decisive factors of this game.
From contest to contest, McNamara added five tackles to her 17 touches as she was one of the Dees absolute best through the first three quarters before having a bit of a quieter last stanza. For someone so small in stature, I was quite impressed with her ability to drag down larger, stronger opponents
Averaging just over ten touches per game in 2021, McNamara had a great first-up game for the Dees in 2022. if this is the new standard she sets, the Dees are already a better team because of it.
CORDNER V HARRIS
This was rudely interrupted by the efforts of Kate Hore, who commanded the attention of Cordner during the second quarter as she looked as though she was getting off the leash. The Tigers quickly shifted their best defender onto Hore, which gave Harris a bit more room to move as a result.
When Harris and Cordner did play on each other in the first quarter, it was the Tiger on top, with Harris forced to work all the way down to half-back to get involved in the play. That shouldn't be on Harris, though – she was putting in the work as the Dees struggled collectively.
The second half saw Cordner back on Harris, who attacked the contest in this game like a mad woman, knocking bodies flying at every opportunity. If you stand under the footy with Harris bearing down on you, a word of warning – she is not going to slow down and let you off the hook. She is a throwback in that regard and would have made a great centre half forward in the VFL around 1984. There would have been a few blokes laid out with the way she punishes those who dare contest against her.
Cordner was strong, however, and despite Harris finishing with a couple of goals, was definitely a Tiger that could hold her head high. I counted five one-on-one contests with Harris that she emerged as the winner.
GOLDRICK V BRENNAN
Apart from a lapse in concentration in the last quarter that permitted Brennan to attend a stoppage inside 50 all by herself (from which she kicked a goal), Sinead Goldrick played with a fair amount of mongrel in her contest with Katie Brennan, giving her a bit of what-for at points throughout the contest.
If we were assessing this as a win/loss in their personal battle, it would have to be pretty close to a draw. Prior to that moment of confusion from Goldrick, I would have had her pencilled in as the winner, but when a forward snags a couple of goals and has a few good moments elsewhere on the park, it's pretty hard to argue that case.
THE BANNAN GOAL AND THE PROFESSIONALISM OF DAISY PEARCE
This deserves praise all-round.
Firstly, whilst the goal from Alyssa Bannan was a banger, the kick to start the chain of possessions, and put the Dees in a dangerous spot, came from Eliza McNamara. I know I've sung her praises, but the gutsy 45-kick to find Lily Mithen in the guts caught the Tigers off guard and allowed the dish to the running Bannan.
At this stage, with the Richmond defence scrambling for coverage, Daisy Pearce snuck out the back and into space. Bannan could have gone over the top and gave her an easy shot at goal, but she opted to kick it herself. No probs, right – the goal was scored and the team was buzzing? Well, we're dealing with humans, and with humans come those stupid things we call emotions. Did Daisy have a right to feel somewhat slighted by Bannan ignoring her? Maybe. Did she?
Not at all.
On the very next foray forward, it was Pearce marking inside 50, right on her range. She was well within her rights to have a ping at goal, but spotting Bannan running into the pocket, Pearce unselfishly gave the footy up and set Bannan up for her second goal of the quarter.
The run that generated the first goal was exciting, and will be the goal people talk about, however, the actions of Daisy Pearce moments later, when she could have been petty, and could have had a shot, herself, were better. That's why she is the captain, and that's why the Dees are a damn good team.
THE RESPONSE
I watched Karen Paxman closely in the first quarter. If the rumours were true that she was carrying an injury following her eight-disposal start to the season, I expected the Tigers to test her out early.
They did, with Sarah Hosking looking like she wanted to make the most of contests against Paxman. But the heat from Hosking faded and there was no tag on the five-time, five-time, five-time All-Australian.
Paxman was a little shaky early, caught with the footy, and some of her early disposals were dinky little handballs, but the longer the game went, the better Paxman became. Her in-and-under work, combined with her ability to take a tackle and release to a player in better position was integral to the Dees getting on top and establishing their lead.
Second only to Conti for touches, Paxman's increased output in this game was vital – without her, I am not sure the Dees could have performed at the level they did in the second quarter.
MON-CON
Another stellar outing from Conti, capped by a running goal from a tough angle in the last quarter that looked to surprise even her.
Conti has the best change of direction in the game, zigging when everyone else is ready to zag, then reversing direction once they compensate. The Dees appeared a wake-up to her preference for the one-two play, often pressuring her after her first release, but her work around packs was first class again, and her centre break to open the game got the Tigers up and about.
I'm surprised Patrick Dangerfield wasn't tweeting about her again. Settle down, Danger.
OTHER BITS
Beth Lynch… the way she just ran out of the way instead of putting in the big strides to stay in front of Kate Hore after giving away a 50 metre penalty should tell you plenty about where she's at. Made a mistake and then didn't do the work to make up for it. It cost a goal.
Loved the work of Eliza West in this one – a few very nice plays at stoppages resulted in the Dees going forward with purpose. Stood up in tackles and despite a lower disposal total than last week, I much prefer the role she played this week.
Hated the dangerous tackle paid against Meagan Kiely in the first quarter. Just looked like a good, hard tackle. I wonder what this does to a player's psyche when they get pinged for it? Do they start to worry a little? Does it put them off their game? Even slightly? The umps seem pretty determined to pay them even if they're line-ball. I'm not a fan.
Gabby Seymour was a warrior for the Tigers, playing the whole game in the ruck to cover for the absent Poppy Kelly. Took some nice marks, and battled it out against the odds all game.
A couple of unsung heroes – Gabi Colvin and Brenna Tarrant did a great job on the dangerous Courtney Wakefield. I know Katie Brennan gets a lot of the plaudits, but Wakefield is the real danger in that Tigers forward line, and though she looked like she was a little banged up in this one, Tarrant and Colvin both put in the work on her to restrict her to just four touches and no marks. That was a huge win for the Dees.
Two shots at goal after the siren for Eden Zanker in this one. I saw her have a chuckle as the siren sounded before she had her second one. It dropped short, and she kind of knew it would judging by the smile on her face. She did not have to do too much in this one, but she has a habit of bobbing up in dangerous spots… even if those dangerous spots were five metres too far out this time around.
A solid win by the Dees, set up by one quarter of genuine power football. At 2-0 with the Saints to come next week, you could not blame the Dees if they were already starting to talk finals.
As for the Tigers, they are a vastly improved team this season and will really surprise a few over the next couple of months. They're trending upwards.
COLLINGWOOD (6. 5. 41) DEFEATED ST KILDA (2. 2. 14)
REVIEWER – HB MEYERS
So, during the week, I caught some comments from Darcy Vescio on Twitter. Appearing on a podcast, Darcy had mentioned how people need to stop talking about how the "standard has gone up" in AFLW this season.
Watching the Saints in this game, I think it is safe to say nobody is going to mention that in relation to the brand of footy they played.
The Pies put the game away in the first quarter, and continued a stranglehold on the game until the final stanza, where the Saints managed to snag two goals to add a small amount of respectability to their score. Of course, that means St Kilda failed to score a major through the first three quarters as a result of both some excellent Collingwood positioning and some inept kicking inside 50 – a lethal combination for a footy team.
The Pies were steered home by Britt Bonnici, who racked up 26 touches in a Best-On-Ground performance. She was ably supported by Jaimee Lambert and Sarah Rowe as the Collingwood defence consistently repelled the haphazard forward entries by the Saints and the mids' ball use was a polar opposite to that of the Saints.
Let's jump into some talking points.
SHOOTING THEMSELVES IN THE FOOT
I don't want to come across as negative here, but given I am not a St Kilda supporter and I was frustrated with their game, I can only imagine how disappointed Saints fans must be with what they were witnessing. They didn't just shoot themselves in the foot, they almost blew both feet off.
The Pies won the inside 50 count by just one for the game, but those numbers are a little inflated, as St Kilda simply couldn't get the footy into their forward line in the first quarter, and by the time they did, the damage was done.
It seemed as though every time the Saints went forward in the first three quarters, they kicked it directly to a loose Collingwood defender. There was no real recognition of this, very little support run from behind to break the lines, and lots of hack kicks and bombs to no one in particular. Against a lesser team, this can work – it can create chaos. Against Collingwood, even without Davey, Molloy and Chiocci, it was easily brought undone.
Prime movers, such as Olivia Vesely and Tilly Lucas-Rodd were big offenders, but really, the majority of the team couldn't hit the ocean from the beach in this game, and it cost them dearly.
CLEARANCES AND PRESSURE
A clear difference in the midfields was evident right from the beginning of this game. Collingwood stuck to structure and were able to win the footy and get quick hands off to a teammate in better position.
St Kilda, in short, could not.
The Pies were +7 for clearances in the game, with Bonnici, Lambert, and Elise O'Dea combining for 16 of their 25, but it was how hard they worked when they didn't have their hands on the footy that I liked best.
The Collingwood pressure was immense, and whenever the Saints took possession, they were immediately wrapped up in a tackle or knocked off the footy. It was an impressive setup from the Pies, who were switched on and celebrated defensive efforts just as much as they did when the offensive ones came off. While the Pies clearances were purposeful., the Saints had only quick nothing kicks that went nowhere.
Bonnici was again the leader, at times laying multiple tackles to hold up the progress of the opposition, and the way she would throw a hand in to disrupt what could have been a St Kilda clearance made a heap of difference everywhere but on the stats sheet.
Amazingly, the Saints led the tackle count with a massive 60-36 advantage, but in terms of effectiveness, I will take the 36 from the Pies. They stayed tackled when the Pies wrapped them up.
A REAL PROBLEM
The second week in a row I have seen this rule incorrectly applied – dangerous tackles.
Nicola Xenos, in her return to the side, laid a great tackle toward the end of the first half on Britt Bonnici. It was hard, fair and should have been called for holding the ball, only Bonnici opted to try and fight through it.
She almost did, too, with Xenos holding on for dear life as the helmeted Pies star fought to get her possession away. At this stage, the only options available to Xenos were to complete the tackle or break it and allow Bonnici off the hook. That's it – there was no other choice.
Off-balance due fighting through the tackle (as she should), Bonnici was caught and hit the deck. Not heavily – she was able to get up and take the ensuing free kick, but we are now at the stage where players are being pinged and the fault is as much with the offensive player as it is with the tackler.
Umps are always going to side with the player being tackled in this situation, and it just stinks.
GETTING IT A BIT BACKWARDS?
It was interesting to see Kate Shierlaw stuck so close to goal all game whilst Caitlin Greiser moved up and around the field in a relief ruck position.
With neither having a big influence on the game at all, I was left wondering why Nick Dal Santo didn't move Shierlaw up the field to get her involved in the game? Possibly because he was stuck at home on the couch – yep, that'd do it.
Shierlaw was one of the best for the Saints in 2021, and her mobility and ability to clunk a "get out of jail" mark would have been invaluable as St Kilda attempted to steady the ship, however, she remained inside forward 50 all game. Maybe it is a tank issue with her at the moment, but I felt she was rather wasted when the ball simply could not get past centre half-forward.
Running off half-back, she could have kickstarted a St Kilda run from defence is permitted to play as an interceptor in the same fashion as Ruby Schleicher at the other end, but the Saints stuck to a structure that was not working, and guess what?
It continued not working.
RIPPING GAME FROM ROWE
The Pies have received a huge boost in 2022 with the play of Sarah Rowe early on. After 21 touches and a goal in Round One, she followed up with another 18 touches in this game, looking as though she is ready to take on more responsibility as the Pies push for finals.
Her ball use and run to receive added a heap to the Pies midfield as they hurt the Saints on the run and spread. With Davey gone for the season, both her and Mikala Cann will be called on to do some heavy lifting, and thus far in the season, Rowe looks right up to the challenge.
A bit of Daniel Kerr in the way she moves around, but that may just be me being influenced by posture and the hunched shoulders.
DEFENSIVE WEAPONS
What a combination Stacey Livingstone and Ruby Schleicher make.
The stats don't tell their story, but the way they attack the footy, and their defensive positioning combine to create one of the best one-two punch in the league. Schleicher's run off half-back puts the fear of god into opposition defenders, as it creates a scramble up the field, whilst Livingstone refuses to be drawn outside defensive 50, and stays at home to be right there, ready to get in the way.
It is going to take a polished forward line to get the best of them in 2022.
OTHER BITS
Nat Exon looked short of a run. Like many of her teammates, her kicking was not up to scratch – we just didn't notice as much as she only had three of them.
Good to see Nicola Xenos get through her first game back. She looked a little lost in the first half (playing forward in this team, it's understandable) but applied good pressure to lead the Saints with six tackles. Was better as the game progressed.
Possibly the best outing for Sabrina Frederick for a while, despite finishing with no goals. Her work at ground level was combative, and she was able to clear a path to make her teammates' lives a little easier.
Nice rundown tackle by Imogen Barnett on Bianca Jakobsson in the second quarter. I am sure Bianca would have liked at least one of her teammates to tell her someone was bearing down on her, though.
Really disliked the deliberate rushed behind decision that gifted the Pies their second goal. Under pressure, with two forwards contested the ball, Alice Burke was pinged for rushing it through "outside the nine" but she really looked to be under the pump and unable to take possession. That was the second goal the Pies received from an umpiring decision in the first quarter, with the first coming via a 50m penalty to O'Dea.
And that's it for this one. Though we heard from the commentators how well St Kilda did after quarter time, if you watched the game you would have recognised them as empty words. They were soundly beaten by the Pies.
CARLTON (4. 7. 31) DEFEATED GEELONG (2. 5. 17)
REVIEWER – ALEX DOCHERTY
We weren't supposed to get this game this weekend. In an ideal world, Geelong would've played the Western Bulldogs at Kardinia Park, whilst Carlton were supposed to go up to Maroochydore to tackle the reigning premiers Brisbane.
But as we've seen in a few other sporting competitions around the country, Covid is running amok and it is proving to be no different in the AFLW in the second week of the season, as a number of players from both the Dogs and the Lions have been brought under the league's health and safety protocol banner, leaving their respective sides extremely thin for playing numbers for the weekend.
So, this is how this game was brought to bear on Saturday night at Kardinia Park, think the Blues can breathe a sigh of relief they won't be travelling interstate this weekend, right?
It was billed as the Prespakis cup from the moment the updated fixture was announced and as it so often happens in any household that has two siblings or more, the older one of the two came out on top, as the Blues atoned for their round one defeat with a hard-fought win over the Cats. Even Maddy got a freakin' trophy
I was impressed with Geelong's effort around the contest last weekend against North Melbourne, a side that they've struggled against since both teams were brought into the competition and this game was no different.
Early on, Geelong showed that they were the better of the two sides, winning the contested ball and pressed forward of the ball well, but the difference of class was on full show once Carlton were able to process the game on their terms. At times it felt more like a defensive slog than anything else, but there were a lot of good bits to take out from both sides this week.
THE SISTER ACT
Well, I mentioned it in the intro, so might as well start here.
It was interesting to note out that neither Maddy or Georgie Prespakis lined up against one another at all throughout this match, not during a stoppage, not during a centre clearance – where's the true sense of occasion?
The elder Prespakis was lined up early on against Amy McDonald, but it didn't feel much as if it was a hard tag. Credit to Maddy, because I thought her better work was throughout general play as opposed to her stoppage work, where she has been long revered as a star of the game.
She pushed hard to provide an outlet pass or provide as a spare behind the footy and helped provide several links to Carlton's outside run – which is incredibly crucial in providing the win – she finished with a game-high 29 disposals, with just nine contested possessions, four clearances and three tackles.
As for Georgie, it took her a little while for her to get into the game, but once she did, she was looking every bit of the goods as she did in week one. I think the thing that has impressed me the most about her so far in the AFLW is the time and space she gets when she has the ball on the run and the effectiveness of her disposals most of the time.
The side-step in the third quarter on Daisy Walker inside 50 before her shot on goal was something brilliant and then she copped a right whack on the nose she got as a result on being on the receiving end of friendly fire was a scary moment, but she's already proven in her draft year and even earlier that she is tougher than a two-dollar steak.
The younger Prespakis ended up with the 15 disposals for the Cats, but also led the Cats for clearances with four for the match in a very solid outing in game two.
THE CAPTAIN'S GAME
Kerryn Harrington had her hands full with Chloe Molloy last week, but this week showed that if she gets taken off the leash, Kerryn Harrington's offensive game is critically underrated.
The Cats were +5 in the inside 50 count at quarter time, but a big reason why they went into the first break goalless was because of the Carlton captain. The Blues deployed an extra behind the footy early in the game, and that allowed Harrington to play looser, which is where she thrives, simply because she's an excellent reader of the play and knows exactly where to position herself as the kick behind play.
She went into quarter time with 10 disposals, with a lot of those being direct kicks to help open up the play and transition the ball into the open spaces of Kardinia Park.
This was where Carlton was at their most damaging all throughout the evening, where a defender marks the ball in one defensive pocket and transitions it off to the other side of the ground or even through the middle of the ground and create fast transition off the defensive line.
Often there's one or two Carlton players found with metres of space between themselves and the nearest Geelong player – whether that's the Cats being slow to react or just being too slow of a football team altogether, it provided headaches all game long – the Blues recorded a whopping 75 more uncontested possessions and were +30 for marks, outlining exactly how they played the Cats.
Harrington was one of a couple of Blues who orchestrated that fluent and efficient ball movement all night. She would finish the match with 23 disposals – remarkably at 100 percent disposal efficiency – as well as nine marks and five tackles. It was a brilliant captain's game and one that she needed after a stern examination last week.
WHERE'S THE FORWARD COHESION?
Last season the Cats were among some of the worst users of the ball all around the ground, and whilst there has been improvement between last season and the first two weeks of this season around the ground in general, the thing that I've taken from this game is that they will still be their biggest enemy in 2022.
Too many times, particularly in the forward half, has the ball movement broken down or easily turned over, it's a tune that's been done to death over at Kardinia Park the past couple of seasons.
There was a particular play that caught my eye early in the third term for Geelong, call it some constructive criticism and something I hope Dan Lowther shows the Cats on Monday. For if the Cats can rectify this solution in the short term, that will go a long way towards where they want to be as a football side.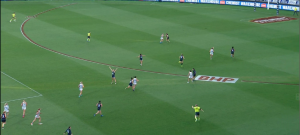 Phoebe McWilliams takes a mark outside the forward 50 for Geelong, it's clear that they're 75-80 percent of completing their forward transition. She pushes back on the mark and there's acres of space for Chloe Scheer – who is finishing up running back to goal and is preparing for another lead – to lead into.
Good teams don't waste time and look at their options on their 45-degree angle. Scheer turns and leads to this space but is quickly ignored by McWilliams, the kick instead goes down the line to a pack, which spills and is then just as quickly brought up the other end and results in a Carlton goal.
Especially from a veteran head, this was very poor footy on behalf of McWilliams, despite the fact I thought she presented well and popped up for an important goal in the last quarter, it's this kind of forward dysfunction that will crucify the Cats in these close games until they do get it right.
THE FIGHTING IRISH AND THE SMOKING GUN
Two first-year players from the Cats I was left very impressed with from this game – Rachel Kearns and Claudia Gunjaca both look as if they'll add plenty in this Geelong side in the years that follow.
Kearns backed up a solid first-up hitout at AFLW level last weekend with a five-disposal effort, but it's not the number of disposals I was amazed by, it was her attack on the football. As the F1 drivers would say, she fully sent it, throwing her body into the firing line in a number of ways she could – there could be some serious potential with how she plays.
Also that goal, how great is it to see her slot that through, she's got some power to it as well, give that another 12 months of working on the skills-side of it, we could be seeing some very good kicks come off her boot and find a mate or three.
Her five tackles for the game also suggested that her defensive pressure was pretty good too, a number of these tackles were quite bone-crunching, if it hasn't put her on the AFLW radar yet, you better watch out for her in the next week or two, this woman absolutely loves giving it a crack and doesn't mind putting her body on the line in an aerial contest either.
As for Gunjaca, last week was a game she'd rather forget, but she proved why she was brought in from their VFLW side. Her aerial work was very good as the game progressed – if she wasn't taking them clean in the air, then she was bringing them to ground and doing her bit to try and keep the Blues from playing their style of footy.
11 disposals and five marks isn't numbers that will jump off the page, especially when you take into account that she was one of a number of culprits of Geelong's ball use forward of centre, but overall, the Cats would have to be pleased with her game.
IS BREANN MOODY CLOSE TO THE BEST RUCK IN THE GAME?
Well, it would have to come close wouldn't it? As of right now, Breann Moody is setting the pace in terms of the competition's elite rucks in the AFLW.
After a strong performance first-up against the Pies, Moody backed that up with a performance that saw her dominate the ruck hitouts against Olivia Fuller and Kate Darby, recording 22 hitouts, to the combined total of 9 hitouts between the Cats pair.
It should also be pointed out here that Fuller is a ruck still developing and in her first year of AFLW and Darby – even though she had a very good game in terms of her tackling pressure and aerial presence – is not exactly what I would call a ruck option and more of a key position player.
With this, Moody was able to play her own little game across the ground, being deployed as both a spare behind the footy and also as a target to kick to out of defence. The 12 disposals brought a lot meaning as they helped the Blues try and string together some very damaging pieces of play and put on a good show aerially as well, taking four marks.
She was named in my week one rolling All-Australian side last week as one of two ruck options, but it would have to take either a season-ending injury or something massive from some of the other rucks across the competition to take her down from the number one ruck mantle.
Her ruck craft, her second and third efforts and her football IQ is what is helping her stand out from the others at the moment. I'd see to some of those kicks though, a few wobbly drop punts from her, but at least she didn't spray one from the top of the goal square, like her partner-in-crime did in the last quarter.
OTHER BITS
Big props to Becky Webster in this one, I thought in the midst of the dogfight, she was a player that was looking to move things in the right direction for the Cats – finished with 21 disposals for the match.
Carlton were playing Jess Dal Pos and Nat Plane on the wings in this one and both were a bit more prominent than they were last week. It was a much better effort from Dal Pos this week, showing a good link-up play and run, Plane was good in patches, but still quite inconsistent with her efforts.
Amy McDonald's game was peculiar. In a sense, she reminds me of how Daniel Cross used to play at the Bulldogs – would often rely on handballs because the kicking was suspect, she'd finish up with 21 disposals and was again prominent around the contest in this one.
Aside from Prespakis, Carlton's midfield group were able to get their hands on the footy and make use of their disposals. I've been very impressed with Abbie McKay's start to the year, racking up another 16 disposals, seven contested and six clearances, whilst Lucy McEvoy stepped up with significantly more midfield minutes this week, notching up 18 disposals, seven contested and 6 tackles.
Gabbi Featherston on debut looks like she'll be a very good player, featured in a couple of very good solo efforts in defence and a strong mark in the third term. Her and Meg McDonald in tandem worked together to stop Darcy Vescio from once again having any impact on this game.
Her kicking again let her down, but I thought Georgia Gee was very good in this one, pushed a little further up the ground for her touches in this one, but in the forward half, looked incredibly dangerous. Finished with 1.2 from 16 disposals, four tackles and four marks, but it could've easily have been two goals at least.
Some very positive signs from Annabel Johnson on debut, took a very strong grab early and defensively, held up very strong across the defensive half of the ground, finished up with five tackles and seven disposals.
It was probably one of the best games I've seen out of Gab Pound. A lot of her kicks came with plenty of direction and they were on point for most of the night – finished with 17 disposals, 11 of them being kicks and four marks.
And another thing, I'd like to see not just Kelli Underwood, but the entire Fox Footy commentary team step up a fair bit. I got incredibly fed up with hearing her call out 'The Irishwoman' anytime Kearns got near the ball and asking Sarah Hosking about who she played with at Carlton.
It was incredibly bad, that I muted the commentary at halftime and turned on ABC Radio and immediately, the quality of commentary was – at the bare minimum – 10 times better. The insight, the play-by-play, the synergy between commentators – all of it is streets ahead of anything Fox is producing.
GOLD COAST (7. 4. 46) DEFEATED WEST COAST (5. 3. 33)
REVIEWER – BRETT HODGSON
After 672 winless days, the Gold Coast Suns staged a remarkable comeback against the Eagles, booting five goals in a dynamic eight-minute span in the final quarter, to snatch a 13 point win, after appearing to failing to capitalise on dominant field position. The Eagles threatened to break the game open at critical points, with their slingshot attack from a rebounding defence, however, once the margin hit 16 points halfway through the last term that's when the momentum started to turn.
Let's take a look at how this played out.
GAMEPLAN
Both sides employed a physical approach at the coalface, Gold Coast- the best tackling team in the competition, laid the hammer down on multiple occasions. Led by first overall pick, Charlie Rowbottom (more on her later), Jamie Stanton, and Ellie Hampson, the Suns wore down the Eagles, with18 more tackles. Gold Coast coach, Cameron Joyce often employed Kalinda Howarth behind the ball to great effect, and she was instrumental as the 'plus one' in vital stages. Gold Coast enjoyed a bit more pace around the forward line, with the return of Tori Groves-Little, Lucy Single and debutant, Ashanti Bush
The Eagles, meanwhile, managed to spread from stoppages a bit more effectively as Parris Laurie battled greatly, despite giving up a big size advantage to Lauren Bella. With Laurie working tirelessly to the front spot, West Coast gave up 14 extra hitouts, however, the Suns only helped themselves to four more clearances. With captain Emma Swanson leading from the front, and ably supported on the inside by Dana Hooker, Belinda Smith, Aisling Mccarthy and Mikayla Bowen, West Coast worked hard all game, yet they could do nothing to thwart the comeback.
THE BASH SISTERS
Rowbottom and Hampson roughed up the Eagles ball-winners at every opportunity in this game. Hampson, in particular, laid some absolutely ferocious tackles and charged after the ball at will. Rowbottom was very impressive in the clearances, displaying very clean hands, and looking to take the game on. Last week she appeared to want to always make the team play, which at times can be ineffective, however, she backed herself in whenever she had the ball in hand this week. Hampson was reported for a dangerous tackle, however, that failed to rattle her, as she laid a crucial tackle 30 seconds later at centre half back. The size of the Suns midfield could cause some problems later on, especially against a pacey side that lack the bigger bodies. The pair combined for 33 disposals, 19 tackles and many bruised Eagles.
WHAT THE RUCK
As mentioned before, Laurie battled hard all game against the Suns duo of Bella and Jacqui Dupoy. The key was Laurie using her strength advantage to keep Bella at the back of the contest, making her taps more effective, but also limiting the efficiency of the Suns work at the stoppages. Bella will be one of the gun rucks in the competition, however, she needs a bit of coaching in terms of her ruck craft around the ground, as all too often she tried to make something work from back position, rather than fight to get to the front. With preseasons and some coaching, that will change quickly though.
COUNTER ATTACKS
The Eagles were able to catch the Suns napping at crucial stages. With Belinda Smith rebounding off half-back, Bowen, in particular, was damaging in open space upfield, shaking the tag of Lucy Single, creating several opportunities, and getting on the scoreboard herself. To her credit, Single never gave in, stopping Bowen with a crucial tackle late in the game, with Gold Coast holding a slender lead. For Gold Coast, defenders Jade Predeji and Lauren Ahrens came up with some crucial stops, Predeji especially early was vital in the air.
HOT POTATO
Kate Surman is the heart of this Suns team. She gives 110% and never takes a backward step. In her best game for the club, Spud was a constant ball of energy. Despite standing 160cm, she attacked the ground ball ferociously like a much bigger player, her pressure kept the Suns in striking distance. When the opportunities presented themselves, she stood up, kicking two crucial goals in the final quarter, and with the passion she showed in the post-game interview in particular, you can just see what being a part of the team means to her.
SWANSON VS STANTON
There was not much more Emma Swanson could have done for the Eagles in this contest. Battling with Jamie Stanton all day, with the game in the balance after halftime, it was Swanson who had a few telling possessions, managing to get a step on Stanton who was in hot pursuit all day. Her clearance work was the catalyst in helping her side build a 16 point lead after halftime, and also freed up Dana Hooker, to give the Eagles back their handy one-two punch in midfield. With the game slipping, going into the last quarter Stanton changed up her positioning from defensive to offensive, and gave the Suns a spark through the midfield.
MAKING THE MOST OF IT
In the final stanza, once Surman got the Suns within striking distance, mature-age recruit Tara Bohanna wrestled the game away from the Eagles. Bohanna was an absolute colossus in the final term, kicking three goals and taking two big contested marks. Cameron Joyce showed a very tactile hand by putting her behind the ball in the closing stages, and she was able to help run down the clock and then win a free kick on the final siren, before slotting truly from the boundary line. I will admit, I haven't looked into her back story, but considering this performance, I'm flabbergasted she was left in the VFLW until a short time ago.
QUICK TAKES
High on the list for next season, the Eagles desperately need a bigger-bodied midfielder to ease the pressure on the undersized insiders they have currently.
Sarah Perkins had some telling touches up the ground, however her biggest strength I believe e is close to goal, especially if teams decide to play a rebounding defender on her. The movement Bohanna was able to generate as a true Centre Half Forward combined really well with Perkins being the deep target.
West Coast missed the creativity of Imahra Cameron in this contest, while they were able to catch the Suns on the counter, having Cameron down there offers another avenue into attack that does not rely on structure.
The defensive intensity from the forwards was brilliant in crucial stages, with Perkins and Niamh Kelly smothering crucial defensive 50 clearance attempts, both leading to goals for their respective sides, also the rundown tackle of Dupoy was impressive in the second quarter to keep the pressure on.
The vision of Maddy Collier does not get discussed as much as it should, she has a knack of seeing play open up and making the right decision, her centring pass to set up Bowen in the last term was all class.
VOTES
3) Charlie Rowbottom
2) Kate Surman
1) Emma Swanson
Long story short, a dynamic final quarter saved a scrappy game from being overlooked in the AFLW world. As a Suns supporter, I couldn't help but have a friendly wager with fellow Mongrel Writer (and Eagles supporter) Daniel Kershaw, and I shall thoroughly enjoy my Mango Bubble Tea when it arrives…
I love this game!
ADELAIDE (5. 7. 37) DEFEATED NORTH MELBOURNE (3. 6. 24)
REVIEWER – ALEX DOCHERTY
After bumping off the reigning premiers last week, the Adelaide Crows took care of business of another side expected to make the top six this year in North Melbourne, making it a very impressive two wins from two starts to kick off the 2022 year.
Whilst it is still in the early goings of 2022, there is plenty to suggest that Adelaide are going to be right up there at the business end again this season. They've looked the fittest and the hungriest that they've ever been, and when you consider that they've won two premierships in their first five seasons, that's saying something.
North have been a bit of an odd team to watch coming out of the blocks this season. They did what they needed to do against Geelong but looked far from convincing with their use of the ball in the forward half quite diabolical at times.
We got more of the same from the Roos in this one. For they got their fair share contested ball, clearances, inside 50 entries and even out-tackled them. But their connection towards their forwards remain their biggest issue. Too many times was their opportunities forward of the ball wasted and it ended up in the lap of Sarah Allan, Chelsea Randall or Marijana Rajcic.
But we'll see where the Roos are at a few weeks from now, but they've got to start showing some improvement forward of the ball soon if those around them are to consider them a dangerous threat.
OUT OF THE WOODS
For the second week in a row, Ashleigh Woodland has bagged herself four goals and as of right now, is firming as a strong contender for this year's leading goalkicker across the competition.
Last year, she kicked 9.10 across 11 matches and in the span of two weeks in 2022, she's kicked eight goals without blemish. More accurate and more consistent with her attack of the footy, her positioning and her skill set and in kind, has nearly eclipsed her 2021 season total.
But I found more to this game than being the focal point and making the best of her opportunities. Her first goal came out of the back of staying proactive and was the beneficiary of Adelaide's forward pressure with her intercept and quick snap on goal.
Her vision further from goal is something that I thought was incredible to watch unfold. She set up Stevie-Lee Thompson for her first and only major of the game in the second quarter. Followed up with another passage of play at the start of the fourth quarter where she was running on the wing and turned on the 45-degree angle to hit Erin Phillips on her own at centre-half forward, who then went inside 50 to find Justine Mules.
It's tough enough in the AFLW for it being so contested, to find key forwards who not only can hit the scoreboard consistently, but also present themselves as a forward target further up the ground and help break the game open with these line-breaking kicks are worth their weight in both gold and goals.
An extremely good start to the year from Woodland in her second season in Crows colours, but the Crows must heed the warning of not being too over-reliant on her to kick a winning score – Adelaide have kicked 10 goals so far this season and Woodland makes up eight of them.
SHE'S QUITE THE HATCH
Last week, Anne Hatchard gained the maximum coaches votes in the win against Brisbane and it won't shock me at least if she gets the maximum votes in this one as well, because she was just everywhere.
There was a lot of noise around Ash Riddell after quarter-time, recording 11 disposals in the opening term, with many experts wondering if this will be the week that the league record for disposals will be smashed. Riddell went missing in the second term and then worked her way back in it in the second half when the Roos started to mount challenges.
Riddell was solid and probably North's best player again, but Hatchard was the more consistent midfielder across the four quarters and key to Adelaide's win. Didn't give an inch in the contested spaces, with 17 of her 29 disposals coming directly from contested ball.
But it was also her spread when the Crows were off and running off the transition, she amassed an incredible 14 marks in this game and also took a couple of very strong overhead marks as the game wore on.
She only had the two tackles as well, but you can sense anytime a North player got hands to the ball, that Hatchard was somewhere nearby and ready to make a bone-crunching tackle, there was a moment in the second term where a North defender received the ball at half-back and Hatchard was storming through about 10 metres away, but intent to really make an impact defensively.
Her third quarter was huge, taking big grabs around the ground, getting hands on the ball plenty. The evolution of Anne Hatchard from just a pure inside midfielder to an elite two-way running player is going to be one of many things I'll enjoy watching from the Crows this year.
YOU GOT TO HAVE AN SLT
Adelaide's wingers have been causing some serious problems so far in 2022 for the opposition – they take game on, they're clinical by foot and they slice open the opposition defences.
Eloise Jones had a lot of fantastic moments in this game, but I'd like to talk about Stevie-Lee Thompson's game. We talk a lot about versatility in the modern game – both in the men's and women's – being extremely key in a successful side and the Crows have a few of them that slot into different positions.
Chelsea Randall has played both as a key forward and as a key defender over the past 12 months, Erin Phillips splits time between the midfield and the forward line and there are others who play a couple of roles, but Stevie-Lee is the ultimate versatile player.
Her quickness, poise and precision with the ball in her hands make her an extremely damaging player and one that opposition coaches must try and find a way to nullify her game, otherwise she plays such a key role in carving up the better sides.
But the hardest thing about that is you can run alongside her on the wing, she'll take you forward where the chances of beating her in a one-on-one decrease by some margin. Or in a defensive-minded game, she can go in defence, and you can do your best to try and make her accountable.
She was a handful for Brisbane last week, and this week against one of the more experienced wingers of the game in Kaitlyn Ashmore, Thompson arguably had the better of the two. Ashmore was solid, but Thompson's ball use was gold class often finding someone in the middle of the ground or inside 50, she finished up with 16 disposals, three marks and one goal.
LACKING SYNCHRONICITY
Allow me to indulge you in a play that happened in the second term, that I think sums up how North Melbourne played for the most part of this game.
Ellie Gavalas wasn't the worst player on the ground in this game, but she had plenty of moments where her lack of poise or composure completely let her and the team down and this was one of them, now that I think about it, I'll indulge you in two plays.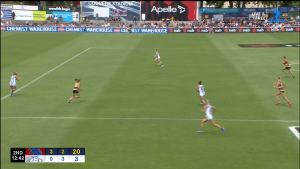 She receives the ball in the middle, just forward of the centre square and immediately proceeds to pump the ball inside 50 without a second thought. Now she had Kaitlyn Ashmore running to her left and she had no Crows player near her and there was another North Melbourne player to her right with no one near her.
Now, in this case, she gets away with it, because Sophie Abbatangelo made this kick look acceptable by taking the contested mark about 35 metres out and kicked the corresponding set shot. If she had kicked it out to her team mate to the right, she could waltz it inside 50, or find the time to honour the right lead and it would most likely result in a much better opportunity to goal.
The other example from Gavalas happens in the fourth term, the game is in the balance and North have forced a contest with Adelaide and the ball spills, Gavalas receives the ball about 40 metres out and immediately there's space on the outer side of the forward pocket, she had two of her teammates open to kick to.
Failing that, kicking it to space in that direction would've given them a real shot on giving them a scoring opportunity. Instead, she again throws it onto the boot as if she's under pressure and it is lucky to register a behind.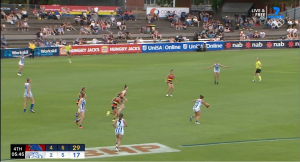 She won't be the only one in the blue and white to have done it in the first two weeks, but this is exactly how North are going to really compete with the better sides in this competition and win, a little composure is needed in these moments and right now, the Roos are really lacking in this area.
THE EMMA KEARNEY EXPERIMENT
In her first game of 2022, North Melbourne captain Emma Kearney was deployed more across the half back line as opposed to usual station in the middle.
I think, even before we dissect the game that it has some legs. It allows Jasmine Garner and Ash Riddell to be focal points in terms of the contested ball and major clearance winners. It allows Jenna Bruton to come off the wing and play in the middle and it allows more of the younger players to play further afield like Bella Eddey for instance, but we'll get to her later.
On Kearney's game, there were some good and bad moments to take out of this. The good is her positioning, having been in the game for years now – even dating back to pre-AFLW – she has got a very elite understanding of how to play as that kick behind the footy, she intercepted okay and with her running power was brilliant across half-back.
She recorded 10 marks as she provided a strong link to North's rebound and speaking of, seven rebound 50s is a fair return from a running type. However, as the esteemed chief Mongrel put it during the chat; she has missed a heap of targets and has let herself down with a few kicking errors.
It's perhaps the only blemish to her game, because I thought the rest of it was very good, she won some good one-on-ones, provided great dash out of defence when called upon and really, she probably looked the most likely to really take the game on in the second half, alongside Daria Bannister who was stationed in the forward line.
If I'm Darren Crocker, I'd be happy with the first hitout, some small things to iron out, but Kearney in the defensive half has the components to be a very good positional change for the side.
OTHER BITS
So breaking down Bella Eddey's game, she played more on the wing and I thought held her line superbly in the opening term, didn't look like she was gravitating towards the ball, which can be a detriment to wingers at times – finished with 16 disposals and nine marks for the match.
With Adelaide, I was very impressed with a few of their more inexperienced players. Despite her appalling miss on top of the goal square, Jasmine Simmons' spacing and marking hands was very impressive – 11 disposals and five marks is a very good return from someone playing her second AFLW game.
Montana McKinnon was the other player I thought was really good – worked hard to match Emma King in the ruck contests and then in general play, was very good in the air and had moments where she delivered the ball both by hand and foot with precision, at times, it felt like as if she was playing as another midfielder.
How did we see Jasmine Garner's game in this one? I thought after a slow start to the game, she began to settle into this game and had some strong moments in the second half – she had 20 disposals, six tackles, five clearances and a goal.
Rachelle Martin's speed and tenacity around the forward half is very scary to watch if you're the opposition. I love how she goes about her football for someone who is of diminutive size. She finished with six tackles – the most of any Crow out there.
One of the first times I've got to see Brooke Brown in action for the Roos and I thought she looked quite settled inside the defensive 50 – finished with 18 disposals – half of them coming from intercepts, but also took six marks and four rebound 50s.
I've really loved watching Tahlia Randall move into a key forward role. Maybe it'll take some time for her to really start clicking and get some goals, but you can't fault her efforts in a marking contest or when the opposition has the ball – she starts playing like she's going to seriously hurt someone – five tackles is a great defensive return.
Erin Phillips looked to have played more in the midfield in this one, if not more a high half-forward role and got involved a lot, causing plenty of link-up plays and leading up to the ball more and was just very good without causing much impact on the scoreboard – 23 disposals and eight marks for her.
A strong effort from Aileen Gilroy, trying to help create run off half back and trying to drive and add some movement to North going forward. Wasn't the best player on the park, but you could see she was busting her guts to make things work.
And one last player to rattle off, but I thought Teah Charlton's composure in the defensive half of the ground was that of a player beyond her years. She's tough as nails when called upon, but she was very cool with her disposal almost every time she got her hands on the ball – she's fast becoming one of my favourite Crows to watch.
FREMANTLE (7. 10. 52 DEFEATED GWS (2. 8. 20)
REVIEWER – HB MEYERS
After a tight first quarter, Fremantle notched their second win of the season on the back of a powerful second quarter blast that effectively put an end to the contest.
Trading goals early in the piece, the teams looked well-matched, with the inside/outside combination of Alyce Parker and Alicia Eva working hard to give the Giants plenty of ball use in their attacking half. Their contests against Kiara Bowers, Hayley Miller, and Gabby O'Sullivan continued at stoppages all over the park, but once Rebecca Beeson went down with an ankle injury in the late stages of the first quarter, the numbers worked against them.
From that point, Fremantle seemed to be able to find space for their prime moves, with Miller seemingly running without an opponent for the entire second half, finding space through the centre of the ground at will.
Cora Staunton looked dangerous early, but lack of supply after the first quarter saw her fail to add to her two goals, whilst Gemma Houghton matched output, with two goals of her own in the see-sawing early contest.
Five goals to none after the first break tells the story. The Giants are a good scrapping team, but they lack finesse, and against a team that possesses both grunt and skill, they were always going to be brought undone.
Let's jump into a few talking points.
MILLER TIME
The girl with the best eyebrows in AFLW owned the second half of this game. Absolutely put it in her back pocket and made it hers.
Hayley Miller was afforded such time and space at the Whitten Oval that I am surprised she didn't pull out a pincic blanket and have a cuppa in the middle of the oval. As the Dockers rebounded from defence, Miller was out in a flash, racking up a team-high 19 touches and adding a goal to her afternoon's work.
Named captain at the commencement of this season, Miller cracked in when the ball was there to be won, but it was her timing when it came to running and spreading that made the difference in this one. Two others had more touches – Eva and Parker – but neither had as much influence.
EASY EAST
Dana East can flat out play the game.
The 31st pick in last year's draft looked completely at home in this game, with her vision a real highlight. I took particular note of the handball she dished to Mikayla Hyde in the first quarter – it was a gem. Handballing on the move, over her shoulder and hitting Hyde in stride (poetry…), East did what many players at this level still fail to do – nail the handball and give the opposition no chance to track it down. Seriously, when a player can do this, it adds so much to a team and the game.
Hyde then dished to Houghton, who nailed the goal, but the chain of handballs was exquisite, and the best and most creative of the lot came from East.
She finished with 11 touches and eight tackles, and looks to be a real player for the Dockers coming through. She is 19 – the future is very bright for her.
IF ONLY…
I am sure this goes for many women who got their start late in footy, but how good could Cora Staunton have been had she had the opportunity to ply this game when she was younger? At 40 years of age, there are times when she is the most desperate player on the park – 40 and desperate… I remember those days well.
In all seriousness, though, Cora does not give up, and though I am 100% sure she sometimes does a silly thing or two under the guise of not knowing the rules, or whatever, if her work ethic and desire to get involved in the play could be bottled, there'd be a group of women drinking the Cora kool-aid in GWS right now.
That said, we are five years in, and GWS have a 40-year-old as their man weapon inside 50 – questions should be asked about this. No knock on Staunton, but other than her, who is capable of carrying the hopes of the forward line? Rebecca Privitelli looks good and takes a nice overhead mark. She is a good option. Tait Mackrill? Nup… cannot see it happening. Not mobile enough.
A bit of solid recruiting/drafting is required at the Giants – too much is being left to too few.
TOP HEAVY?
I didn't like how top-heavy the Freo ruckmen looked in this one. Playing two bigs the size of Ally Morphett and Erin McKinnon may pay off in the long run, but at times some of their disposals took five seconds to get from their hand to their boot.
Despite being outsized, Mim Strohm and Aine Tighe battled well in the ruck… even if Strohm did sell her teammate into awful trouble with Cat Smith coming the other way at one point.
A LAZY DOZEN
I remember looking at the stats just before halftime and thinking Kiara Bowers was having a bit of a quieter game. At that point she had only four tackles, and I was wondering what was going on with her.
She was, of course, not having to tackle as much when others, such as Dana East and Hayley Miller were doing the work in the guts, but come the second half, Bowers added another eight tackles to her tally to once again finish with double figures.
It's actually interesting to watch Bowers go about her work. My attention is drawn to her the same way it was to Dennis Rodman when he used to play basketball. Sure, Jordan and Pippen were scoring, and before them It was David Robinson, and then even earlier, Isiah Thomas and Joe Dumars… but it was Rodman sneaking in and battling for the rebounds that always caught my eye.
And that's the aspect of the game you cannot help but admire about Bowers – she barrels in and continues to do the dirty work even when the game is in hand. It's almost mesmerising.
So, that's 26 tackles in the first two weeks of the season for Bowers. Looks like a season averaging double figures is coming up for the fourth straight season… that's absolutely ridiculous.
OTHER BITS
Loved the work of Ann McMahon in this one again. Her one hand pick up of the footy and dish to Hayley Miller for goal was a blinder in the second quarter.
Not sure what that fifty-metre penalty was paid for at the end of the second quarter. If it was against Haneen Zreika, I am not sure she did too much wrong. What a penalty, too – all but sealed GWS' fate at that point as Dana East banged through the goal from point-blank range.
I've not given anywhere near enough credit to the inside work of Alyce Parker in this review. She was a machine at stoppages and would run through a brick wall for her team. Sadly for her, with the amount of Freo bodies crashing into her and stopping her run, it was as though a brick wall was crashing into her half the time.
Steph Cain is a bit of a hard nut, isn't she? Never seen a contest she dislikes, that one. With her and Ann McMahon running around out there, Freo are dangerous in a physical sense, as well as on the scoreboard.
Kate McCarthy saying she liked the game of Tait Mackrill at one stage… she'd had two touches when she stated that. It's okay to say that someone is not having a great one – that's what you're paid for. Abbey Holmes did it in the earlier game, too, praising Emma Kearney's game after several turnovers. I know you're all mates – how about some analysis?
Is Gabby O'Sullivan going to make it as a midfielder? I liked her game last week, but she struggled to get her hands on the pill in this one, particularly early in the game. Ended up with 11 disposals, but her tackling was the highlight – she finished with seven for the game, and four of them came when the heat was on.
And that'll do for this one. Freo now sit atop the ladder and with three weeks on the road ahead of them, can use this opportunity to establish their premiership credentials. They've been around the mark for a while – time to make good on it.
And that'll do it for Round Two. One game short, but at this stage, I am happy that the games are going ahead for the majority, with all this madness continuing. Bring on Round Three.