The inability to score in AFLW is something the AFL, the clubs, and the players are well aware of. Unfortunately, so are the fans. As we reached the conclusion of Round Four, the competition is staring down the barrel of some rather disappointing results.
Don't get me wrong – this is not simply to bash AFLW. There have been some genuine highlights this season. Sabrina Frederick-Traub's sensational contested mark-fest in Round 1, Aliesha Newman's amazing running, bouncing goal, Tayla Harris' crunching tackle on Nicola Barr, and Erin Phillips' triumphant return to action have all brought smiles to the faces of AFLW fans. But it is the lack of scoring that has been so concerning for the head honchos at AFL House, that a memo was sent to clubs advising them to structure up a certain way.
That memo was delivered after Round One. Many thought the AFL was prematurely meddling in a competition still finding its feet. It may well have been, but Carlton's performance against the Western Bulldogs on Friday night shows just how important it is to have a free-flowing game where scoring isn't an anomaly. The AFL realise that in order to make the Women's game more than just a niche competition, it must present as an attractive spectacle. What they saw in Round Four's opener would not have buoyed them with confidence, at least not where Carlton was concerned.
On a night when we should have been celebrating Brooke Lochland's record-breaking seven goal haul, my eyes were not drawn to the celebrations or the jubilation of the Bulldog players. They were drawn to the scoreline. Carlton were crushed by 73 points by a superior team on the night, and were unable to do anything to slow down the Bulldogs' new goalkicking sensation. But it is the way they were crushed, and the way they could not do anything with the ball once they got it that is most concerning. Carlton didn't look like scoring. They didn't even look like threatening to score for the majority of the game. In three of the four quarters, the Blues did not register a score. Now allow me to be clear; they didn't just fail to kick a goal in those three quarters – they did not score at all. Not even a rushed behind.
Whilst newspapers carried stories of a well-to-do Bulldogs benefactor being denied privileged access to the game through a special gate, the real focus should be on how a team can be held completely scoreless for three out of four quarters.
Carlton's 2.1 in the third quarter was their only score for the game. It took their total scoreless quarters for the season to a league-leading five. Hardly the mantle you want to carry as you attempt to drum up support for your team.
The bigger problem with Carlton having three scoreless quarters in a game – they're not the only ones to do it.
Number of Scoreless Quarters to End of Round 4
In the season opener, Adelaide also had three scoreless quarters. Yes, this occurred whilst they were missing Erin Phillips, and it hasn't happened since, but the 2017 premiers were so poor that they could not conjure a single behind for three entire quarters. Equally worrying is that over the course of only four rounds, every single team has been unable to score at all for at least a quarter.
Of the 64 quarters of football that have been played, 19 of them have involved a team being unable to register even a single behind.
Scoreless Quarters in AFLW to end of Round 4
As if that wasn't bad enough, when we look at quarters where teams may have registered a behind, but failed to score a goal, things start to look even messier.
Again, Carlton "leads" the way. They have failed to kick a goal in nine of the 16 quarters they have played for the season. I don't need to tell you how abysmal that is. They have been goalless in 56% of their quarters despite having last season's leading goalkicker on their team. Again, though, they are not alone.
Goalless Quarters to end of Round 4
When you look at the competition as a whole to this point, a team has been unable to kick a goal in a quarter 45 times. There's only been 64 quarters played. With no team undefeated, it's not as though we have a dominant group running roughshod over the competition, holding every team they play goalless – the problem of being unable to kick a goal is competition-wide.
Quarters where a team is goalless to Round 4
So what does the competition do about it? With new teams set to join over the next couple of years, the talent-base could be somewhat diluted. Whilst I fully expect there to be a whole new generation of young women coming through the ranks that will eventually elevate the competition, we're not going to see a drastic change in the prevailing 'slam it on the boot and hope' game style any time soon. Prior to Round 4, Collingwood's Christina Bernardi – one of the more skilled forwards in the game – was running at 32% disposal efficiency. Believe it or not, that was up on her 26% after the first two rounds. She is coming good now, up to 42% after Round Four but it may not matter what the AFL does or tries if the skills are not commensurate with the plan.
Gill and his buddies may well take a good long look at the competition for 2019 and decide it must employ zones to ease congestion and increase scoring. With many of the women unable to kick in excess of 35 metres, aerobic athletes are continuing to get to contest after contest. This isn't a bad thing in theory, but when you consider that many of the handballs out of congestion miss the mark, allowing more players to mill around the ball, it creates a series of rolling mauls. It's almost like watching the 2005-06 Sydney Swans play… only not quite so bad.
When you combine the haphazard kicking and fumbling causing packs to form with forwards missing set shots from 20-25 metres out with alarming regularity, or over-running the ball as an open goal beckons, it becomes painfully apparent that the game needs to improve as a spectacle. The endeavor is there. The competitiveness is there. The desire is there. The spectacle is not. The AFL don't want to be patient on this, as their Round One menu emphasizes – they want it better now.
There are beacons of hope, however. Chloe Molloy looks to have more time than anyone else on the park when she gets hold of the pill. If she is the prototype for the new generation of talent, things are looking up. It may take three or possibly four drafts of young, skilled athletes who have grown up on Aussie Rules – not been poached from other sports, to see the game flourish.
As supporters, all we can do is be patient and hope the AFL is too. To truly appreciate the warmth you must first experience the cold, and even though the Dees and Pies had to battle it out in 37 degree heat in Alice Springs, they combined for three quarters where one team was ice cold in front of goal. The ice will thaw eventually, but there's still some chilly days ahead for AFLW.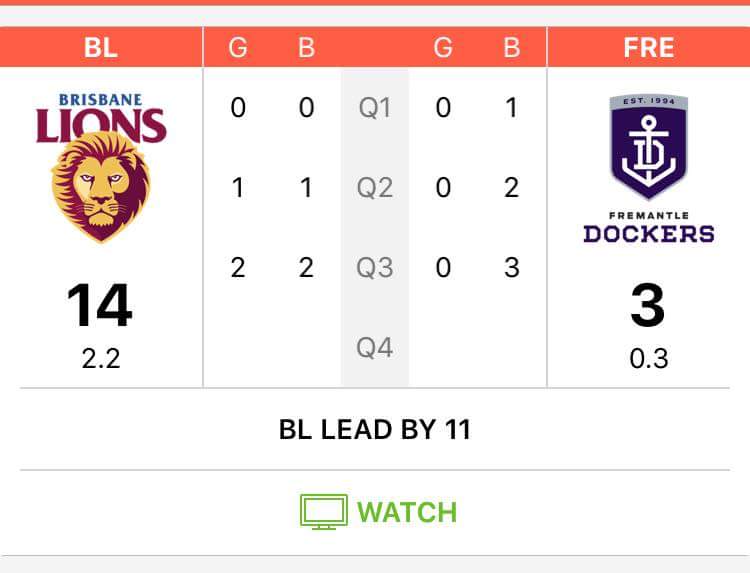 For more from The Mongrel, check us out on Twitter @themongrelpunt or have a gander at our Facebook Page.