Here at The Mongrel we love to do things a little differently. Four seasons ago, we introduced the first of our annual specialised awards – The Pluggies, for the best offensive efforts of the season, but far from being entirely swayed by those who kick bags of goals, we were looking to be an equal-opportunity award giver.
We then went on to award The Doullies for the most outstanding defensive efforts of the season. Both of these awards had their third incarnations over the last couple of weeks.
And so, we're now looking at the mids. With these blokes, we'll include the rucks as well.
But wait, isn't the Brownlow the midfielders' award anyway?
Well, yes it is – nice pick-up; I can see I'm dealing with some smart cookies, here. We're more about drilling down into the nitty-gritty of the midfield. Who was best at getting their hands on it first? Who created the most damage going forward? Who did the best tagging job of the season? And who is the man who… ummm, did other stuff that I haven't yet finalised… better than everyone else?
We'll be diving into each category to come up with the winners in distinct areas.
Initially, I wanted to call this award "The Juddies". I thought it had a bit of a ring to it, but the more I thought about it, I came to the conclusion that I didn't want an award named after Judd. I thought it might start taking itself too seriously and possibly bore people. I needed an award named after someone that doesn't think too highly of himself… or at least doesn't mind taking the piss out of himself. Someone like… Dane Swan?
And just like that, the award for mids from the site not taking itself too seriously was born. In honour of the former Collingwood champ who seems to give less than half a toss about the people who have a crack at him, we have our fourth annual Swannies. It's not the Oscars, it's more prestigious than the Logies, less prestigious than the Montgomery Burns award for Outstanding Achievement in the Field of Excellence, and it certainly fits right in with the Pluggies and Doullies.
Ladies and Gentlemen, I give you, the 2023 Swannies. Let's kick it off.
THE DANE SWAN AWARD for the best overall individual midfield performance
And the nominees are…
DOM SHEED – 43 disposals and a goal v Collingwood (R12)
ERROL GULDEN – 43 disposals and three goals v Melbourne (R24)
ZAK BUTTERS – 41  disposals and two goals v Melbourne (R10)
AND THE WINNER IS… ERROL GULDEN
What a pity this game was not held in as high a regard by the umpires as it was by me.
Gulden was on a tear at this point of the season. He was splitting time between the wing and the midfield in the role that has become known as the "Errol plays where Errol wants" role .
With 43 touches and three goals, this was a Leigh Matthews-esque set of numbers and an eye-opener for many who had not yet witnessed just how good this kid is… and could be.
PREVIOUS WINNERS
2019 – LACHIE WHITFIELD
2020 – OLLIE WINES
2021 – MARCUS BONTEMPELLI
2022 – CLAYTON OLIVER
THE RON JEREMY "Hey, that's some mighty good tackle you have there" AWARD for the best tackler in the game
The nominees are…
MATT ROWELL – 17 TACKLES IN ROUND NINE V WEST COAST
BRAD CROUCH – 17 TACKLES IN ROUND 16 V ST KILDA
REUBEN GINBEY – 16 TACKLES IN ROUND 9 V GOLD COAST
WILLEM DREW – 16 TACKLES IN ROUND 19 V COLLINGWOOD
RORY LAIRD – 16 TACKLES IN IN RUND 11 V BRISBANE
AND THE WINNER IS… WILLEM DREW
Okay… controversy.
I am discounting the numbers from both Rowell and Crouch as they both achieved them playing against an (at the time) inept West Coast side.
I was very tempted to go with Ginbey, but decided to go with a bloke that did this defensive work against the best team in the land. Willem Drew has  been overlooked in terms of two-way mids for a while, but with 16 touches and 16 tackles against the Pies in a game that went down to the wire, I wanted to reward him.
And of course, if you don't like that…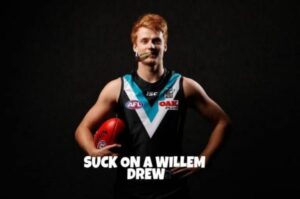 PREVIOUS WINNERS
2019 – NOT AWARDED
2020 – HUGH GREENWOOD
2021 – JACK STEELE
2022 – RORY LAIRD
THE JOE GANINO "getting your hands on the ball(s) first" AWARD for being the best clearance player. 
And the nominees are…
MATT ROWELL – 16 CLEARANCES  V WESTERN BULLDOGS IN R11
MARCUS BONTEMPELLI – 14 CLEARANCES  V GWS IN ROUND 8
JACK MACRAE – 14 CLEARANCES  V FREO IN ROUND 6
BAILEY WILLIAMS (THE WCE VERSION) – 13 CLEARANCES  V PORT ADELAIDE IN ROUND 6
AND THE WINNER IS… MATT ROWELL
If Matt Rowell was hard done by in the previous category, I am making up for it here.
Not only did Rowell have the season-high for single game clearances, he did it against a midfield that has been one of the best clearance units over the last few years.
With Bont, Macrae, Libba, and Bailey Smith in opposition to him, Rowell stood tall and fought his guts out to ensure the Suns broke even at stoppages.
PREVIOUS WINNERS
2019 – PATRICK CRIPPS
2020 – PATRICK CRIPPS
2021 – CLAYTON OLIVER
2022 – LACHIE NEALE
THE CLAMPS AWARD – Best performance by a player in a defensive/tagging role
And the nominees are…
Forget it… there is only one worth mentioning.
AND THE WINNER IS… FINN MAGINNESS
Look, we could have thrown Willem Drew and Josh Dunkley into the mix, but nobody sacrifices their own game as much as Finn Maginness to ensure the opposition's best player is kept under wraps.
He was en route to completely shutting down Nick Daicos before the kid was injured in Round 21, and his efforts on Clayton Oliver, and Josh Kelly were of the highest level.
With back-to-back wins, Finn may be headed for a three-peat in 2024. I mean, who else is gonna step it up?
PREVIOUS WINNERS
2019 – MATT DE BOER
2020 – JARRYN GEARY
2021 – TIE BETWEEN LACHIE ASH AND MATT DE BOER
2022 – FINN MAGINNESS
 THE SAMWISE GAMGEE "Get on my back and I'll carry you the rest of the way" award for carrying your team to a win.
AND THE WINNER IS… TIM KELLY
Geez, the Eagles were thin all over the park in 2023, and so often, it was Tim Kelly doing the heavy lifting in the middle.
He had Dom Sheed for support, but Luke Shuey was out most of the time, and Elliot Yeo was deployed to half-back..
Kelly responded with career-high returns in disposals, tackles, inside 50s, clearances, and both contested and uncontested possessions. That said, one bloke can only carry a team so far… but it did not stop him from trying.
PREVIOUS WINNERS
2019 – LUKE SHUEY
2020 – NOT AWARDED
2021 – TOM MITCHELL
2022 – PATRICK CRIPPS
THE RODNEY DANGERFIELD "No Respect" AWARD for the player consistently playing great footy whilst getting very little recognition.
Before I begin – to qualify, you must have NEVER been an All-Australian.
And the nominees are…
STEPHEN CONIGLIO
TOM LIBERATORE
ADAM CERRA
JOSH DUNKLEY
AND THE WINNER IS – STEPHEN CONIGLIO
And Bulldog fans get a bit pissy for Libba being overlooked in yet another award, however unimportant it is.
I found it crazy that Coniglio's name was left out of the conversation for an All-Australian blazer in 2023.
He landed at career-high disposals per game and inside 50s in a midfield that really started powering the team home. He also slotted 15 goals, as well, continuing his excellent goal-kicking form from the midfield.
PREVIOUS WINNERS
2019 – BEN CUNNINGTON
2020 – ADAM TRELOAR
2021 – JARRYD LYONS
2022 – WILL BRODIE
THE GARY DEMPSEY "tap it down your throat" AWARD for the best single ruck performance of the season
AND THE WINNER IS… TIM ENGLISH (60 hit outs, 22 disposals and ten clearances in R18 v Syd)
There was a time when Tim English was getting monstered every time he took on a top-tier ruck. Now, it seems the tide has come in, and English is now nt only winning the footy around the ground, but winning hitouts as well.
The Dogs were a perennially poor hit out team through English's first five years in the team, but in 2023, they were eighth-best. That is a massive turnaround, and with English claiming his maiden AA blazer, working with that elite midfield SHOULD see the Dogs prosper.
PREVIOUS WINNERS
2019 – MAX GAWN
2020 – NIC NAITANUI/TOBY NANKERVIS
2021 – NIC NAITANUI
2022 – TOBY NANKERVIS
THE WILT CHAMBERLAIN "repeat penetration" AWARD for the best inside 50 player.
The nominees are…
PATRICK DANGERFIELD – R7
CONNOR ROZEE – R12
ERROL GULDEN – R5
CALEB SERONG – R3
CALEB SERONG – R13
AND THE WINNER IS…  CALEB SERONG
Screw it… on a whim, I am going for consistency, and given Caleb Serong has two nominations out of five, I have made the executive decision to go with him.
I get the feeling that of all the Freo players, the 2023 result will have stung Serong the most. Every time I watch him play, he is all heart and when they walk off the ground after a loss, he genuinely looks like he is hurting. Not that I love seeing a player hurting… but I love when you can see they care.
For a while, I thought Andrew Brayshaw would be the next Freo captain, but more and more, I am angling toward Serong. He is a star.
PREVIOUS WINNERS
2019 – DUSTIN MARTIN
2020 – DUSTIN MARTIN
2021 – CHRISTIAN PETRACCA
2022 – CHAD WARNER
THE DUSTIN MARTIN "Coming Up Big When It Counts" AWARD for best midfield performance of the finals
AND THE WINNER IS – SAM WALSH
After a slow start to the season due to back surgery, Sam Walsh hit his straps at the right time f the season.
With the Pies and Lions having midfields that spread the load, Walsh was the standout across his three finals outings, averaging 33 disposals per game and slotting a couple of goals in the semi against the Dees.
There have been signs over the last couple of years that Walsh was ready to take the reins from the battle-weary Patrick Cripps. The 2023 finals series may have been the moment the torch was passed.
PREVIOUS WINNERS
2019 – DUSTIN MARTIN
2020 – DUSTIN MARTIN
2021 – CHRISTIAN PETRACCA
2022 – PATRICK DANGERFIELD
And there we go; the fifth annual edition of 'The Swannies.
Hopefully, it is taken in the tone it is intended, but you just can never tell with some people… they get so fired up over something so small…much like many of Joe Ganino's romantic partners.
Like this content? You could buy me a coffee – I do like coffee, but there is no guarantee I won't use it to buy a doughnut… I like them more. And I am not brought to you by Sportsbet or Ladbrokes… or Bet365, or any of them.