I don't know about you, but when I see certain games on a fixture, my eyes light up.
This was one of those games.
Earlier in the season, Adelaide took the game right up to the visiting Magpies and went agonisingly close to pulling out a win. This week, we got the encore performance, but for the first half, the show was all about the Magpies, as Adelaide failed to convert early chances. And they paid for it on the scoreboard as Collingwood capitalised on their own inside 50s, leading by 27 points at halftime.
And then something clicked.
The Crows threw everything at the Pies in the third quarter, and just about everything connected. A seven-goal quarter afforded the visitors a 13-point lead heading into the last quarter, as Tex Walker, Jordan Dawson, and Izak Rankine all came to life, but what it did was set up the game for what is fast-becoming the classic Collingwood finish.
I don't usually get crude in the intros, but hell… sometimes I cannot help myself. The Magpies love coming from behind, huh?
Cox started to find good position on Butts… okay, that was unnecessary, but I needed to slip it in somewhere. Oh man, I did it again.
Back on topic, Nick Daicos, the returning Jeremy Howe, and Pat Lipinski all stood up down the stretch, and even goal number five to Walker couldn't stop what now seems inevitable in close games – the Collingwood Football Club finishing the game on front.
Anthony Hudson said it best – this club is on top for a reason. Let's find out how they reclaimed the top position and where things went wrong, right, and then wrong again for the Crows, as The Mongrel asks The Big Questions from the Magpies v Adelaide.
WHAT WAS SAID TO ADELAIDE AT HALFTIME?
I would like to have been a fly on the wall of the Adelaide rooms at halftime as the players sat before Matthew Nicks to be addressed before heading out to play the second half.
What we witnessed after the break was a team playing at their optimum level, using much of the same tactics that Collingwood use to slice through their opposition.
They built a wall across half-back, with players you'd not normally expect to take control of a contest stepping up – Josh Worrel, Jordan Butts, and Mitch Hinge all made big plays as the Crows rebounded and hit targets by hand and foot. When the footy hit the deck, Adelaide swarmed, and the normally composed Magpies started to double-grab and fumble.
It was as though the teams swapped jumpers at the main break and the Crows simply took over.
It was not until there were a few minutes remaining in the quarter that the Pies started to regain a little bit of control and evened up the game again, but by this time, they found themselves two and a bit goals in arrears.
The stage was set once again. The pieces were in place. The job was at hand, and the Pies were well-versed in what came next.
WHY DO COLLINGWOOD WIN SO MANY ARM WRESTLES?
They believe.
Do you?
When you watch the Pies, removed from the excitement and tension of watching them live, you can start to scan the play a little more for indications as to why they find themselves in the game so often.
Players sneak out the front of contests – this is not them cheating and cherry-picking. No, far from it – this is the team doing as instructed, trusting their teammates to win the footy at the contest and get it forward. For a while, the Crows did an incredible job of halting this, but it doesn't just happen once or twice – it continually occurs. It is different players all the time, and when the Pies do win the footy, they're out. It's no longer a contested footy issue – they're absolutely out!
Hill, McCreery, Adams, Harrison… they all do it, just not at once.
Whilst the club can fight the good fight at the coalface with anyone, it is when they win that contest that things open up. Their quick hands and trust in each other sees everyone used, everyone willing to give the footy up, and everyone on the same page. It sounds easy, but it is so rare to find everyone working in such cohesion.
How great did the Crows look when they put together one quarter of this type of footy?
That is the aim for Collingwood every week, so when the game is locked up and you get the feeling it is going to come down to the wire, the Pies win those arms wrestles more often than not because every damn time they play, they're arm wrestling, even if their opponent isn't.
JUST HOW GOOD CAN NICK DAICOS BE?
How long is a piece of string?
Entering the second quarter of this game, I had only one thought – oh no… Daicos is not going to score any points in our Defensive Player of the Year Award this week! He has been leading it fr all but two weeks of the season (his own teammate, Darcy Moore took over at the top for that period) but in scoring a zero this week, as he played the entirety of the game in the midfield, he opens the door for others to close the gap on him.
But enough of my own concerns – the kid is a bloody maestro with the footy. People have made stupid claims this season; you know the ones, right?
"Oh, he gets a lot of cheap ball playing as a half-back."
Righto… where were those cheap ones in this game? Daicos was every-bloody-where. He had eight cheap clearances, 14 cheap contested touches, nine cheap score involvements, a cheap goal assist, and kicked a cheap goal of his own.
Hell, if the way Nick Daicos plays is cheap, I'm not sure I want to be rich!
That's a lie – I do want to be rich, but you get what I am saying, right? The arguments to discredit him are now more sour grapes, or an example of the tall-poppy syndrome than legitimate criticism. The kid has the Midas Touch.
How good can he be?
Well, he was the Brownlow favourite early in the year, but that has eased off a little since teams started putting more time into him. They tried that today, but it didn't work, so we might see more of him in the midfield, and more Brownlow votes flowing in coming weeks.
Shame about the Defensive Player of the Year Award, if that's the case, but I am sure he'd swap that for the Brownlow…
… and maybe a premiership medallion.
WHY DIDN'T THE ROLE OF BEN KEAYS WORK THIS TIME?
Oh, I ask such good questions.
I covered the last game these teams met, and the reason Keays was so good in that game is that he caused trouble for the Pies by getting forward. It was easier, because Daicos was playing at half-back, so on the spread, Keays was in a dangerous place, already.
Things were a little more difficult in this one. Keays tried to push forward and really, had the ball bounced his way a couple of times, he could have impacted the game more.
But he didn't, and this emboldened Daicos to continue to hunt the footy, knowing that when he got a touch, it would hurt far more than anything Keays would be able to conjure.
You roll the dice with matchups like this. Either Keays manages to slip away and becomes a thorn in the side of the Pies, or he does very little to impact. I don't fault Matty Nicks for playing Daicos this way – it worked before. This time, however, the luck, combined with the skill and the class of Daicos, fell in the Pies' favour.
AND WILL PEOPLE START WAKING UP ABOUT THE CLASS OF JOSH DAICOS SOMETIME SOON?
This one goes out to the boffins at Champion Data, who are evidently using an algorithm designed to miss important components of how a wingman is best utilised.
Two weeks ago, we saw Essendon's Nick Martin compile a couple of weeks of excellent footy playing on the wing. Some bozo from the AFL's official statistical providers then made the claim that Martin was on pace to set records as a wingman in 2023.
Ummm… hello?
Had you not been made aware that Nick Daicos also plays the wing role in 2023? And had you not been calculating his performances this season? Was it a slip up? Was it designed to cash in on Essendon fans wanting to believe Martin (who has been great, don't get me wrong) was the pre-eminent outside runner in the game?
I'd like to think it was opportunism, as Martin was having a purple patch and Daicos had two of his quieter outings of the year at that stage. But the statement was way off.
Whilst Martin was gathering touches in the teens in five of the first nine games of the season, Daicos was handling business, not dipping under 23 touches in any of those nine games.
The AFL media, of course, latched onto the statement and started presenting it as fact… largely because they're lemmings, but also because they're idiots.
People, I cannot stress this enough- Josh Daicos is so far ahead of the next-best wingman in the caper it's not funny. He was one of the largest factors in this game, as he totalled 33 disposals, kicked a goal, assisted another, and laid the foundation for the Pies to build on. He also managed six clearances and over 600 metres gained – exactly what you want from your outside runner.
If Nic Martin is setting records, it must be for the player to do the most whilst in second place, because Josh Daicos has owned the wing position all season, owned it in this game, and when you put him and Nic Martin side by side, he owns that contest, as well.
The next time Champion Data representatives make a statement like that, call them out. The next time you hear a media performer parrot it, correct them. If there is a question about which player is the best wingman in the game in 2023, there is only one answer.
And that answer is Josh Daicos. We saw exactly why in this game.
WAS DARCY MOORE A LITTLE LAZY ON TEX IN THE THIRD QUARTER?
Yeah, a little. And to be honest, Tex could have really started the game well, too, had he clunked a couple of opportunities instead of spilling them. They were chances gone begging.
However, by the time halftime rolled around, the Pies were in complete control. It probably wasn't accurately reflected on the scoreboard, but they were so much better in the second quarter that the game had a feeling of one that was going to play out time en route to a Collingwood victory.
Of course, we didn't know what was coming, but you could understand if Moore started to think he could zone off Tex a little more and start attacking from defence, as he had in the first half.
And then the avalanche came.
Funny thing about avalanches… once they start, they're pretty difficult to stop!
Walker had a mammoth quarter, snagging three goals, laying tackles, contesting the footy and bringing it to ground… by the time Darcy Moore started trying to cover Walker a little more closely, he found himself covered by the avalanche and scrambling to survive.
The three-quarter time siren must have sounded so sweet to the Collingwood captain, who got caught on switches a few times, as well, leaving Nathan Murphy to clean up his mess. A chat, a restructure, and a renewed sense that all would be well in the last was desperately required.
And that's what he got.
HOW CAN YOU NOT LOVE ISAAC QUAYNOR?
Is there a less celebrated mid-sized defender in the game than IQ?
He played largely on Josh Rachele in this game, and whilst Rachele did miss his share of chances at goal, finishing with 0.3 for the game, he struggled to have his usual influence at ground level, largely thanks to the work of Quaynor.
Quaynor's rebound and intercept work were first-class in this one, as he worked off the grunt work of Moore, Murphy, and Maynard, to provide the Pies with a springboard out of defence.
Quaynor is a weapon I reckon Craig McRae likes to keep low profile. He is the go-to man for a dangerous small/mid-sized forward and he continually gets the job done.
Of course, three straight from Rachele and I am certain we're talking rather differently about the matchup, but we're not dealing with what could have happened; we're dealing with what did, and Quaynor won that contest.
MRS MONGREL'S MUSINGS.
With the kids occupied for once, Mrs Mongrel got to sit quietly in my vicinity for this game, playing some zombie game on her phone and sporadically looking up at the TV to provide her special comments.
Here are the two best.
When a graphic of the day's commentators adorned the screen in the first quarter, she screwed up her face at the mugshots of David King, Anthony Hudson, Nathan Buckley, and Garry Lyon.
"Imagine you went speed dating and that was the card you got? You'd just get up and leave."
I don't think she's too far wrong. Personally, I'd be annoyed that I didn't receive any females, at all!
Her second observation was that the returning Jeremy Howe looks like American singer, Adam Levine.
I had to look up who Levine was, as I am about 800 years old, but when I saw the pic… damn it, she's right!
It was a pity that other things demanded her attention after about ten minutes into the second quarter, as I could really use her perspective on things. I mean… it's different.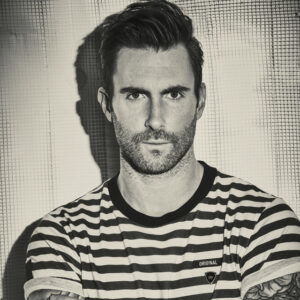 COULD TEX WIN THE COLEMAN?
Why the hell not – he plays the Eagles again!
Look, I'd love him to do it. People love to whack the guy, but his best is so damn entertaining to watch, and when you get a bloke kicking five whilst playing the majority of the game on Darcy Moore, you know you're dealing with a huge talent.
Walker has been a maligned figure in the league for a few years, now, but as a footballer, he has few equals. A Coleman win would cap off a brilliant career, and who knows – maybe a maiden All-Australian blazer is on the cards?
It would be well-deserved.
HOW GREAT WAS IT TO SEE JEREMY HOWE BACK?
Oh, it was fantastic – we even got a little taste of his high marking again… just a tiny little bite.
Howe eased back into the game, but by the last quarter, he was reading the play like he hadn't missed a beat. His timing came back quickly, he contested well, and his communication with teammates picked up where it left off when he had that horrible fall, breaking his arm in Round One.
Howe has had a horror run with injury over the last four seasons, with 2021 the exception. Fingers crossed he gets through the remainder of the season unscathed and enjoys this run into finals.
WAS THIS PEAK JORDAN DAWSON?
Maybe he can get even better, but with 35 touches, nine marks and 12 tackles, he was dangerously close to the rare air of an AFL Quadruple Double (double figures in kicks, handballs, marks, tackles).
He was enormous to start every quarter, with his efforts in the third quarter a huge part of lifting the Crows to the lead.
I am sure there were those who raised eyebrows when he was named captain of the club earlier this year, but he has laid any doubts to rest.
His move into the middle has been a resounding success this year, and as good as he was in defence, his is now in the process of establishing himself as one of the most important midfielders in the game.
QUICKIES
Bobby Hill's goal in the second quarter speaks volumes about how much his work ethic has improved at Collingwood. Involved on a contest on the wing, his work to continue following up until getting on the end of the ball were phenomenal.
Geez, I hate when a decision is let go, and immediately after, a similar one is paid against the team that should have benefited from the first one. In the hustle and bustle of the third quarter, it appeared to me like Jack Crisp tried to bust through a tackle. The up called for a ball up, and that's fine, but that should be the precedent.
Moments later – and I'm talking maybe ten seconds, Jake Soligo does something very similar and the same umpire decides to ping him for holding the ball. A lot of people complain about inconsistencies between different umpires, but what hope is there when the same umpire pays similar actions differently within ten seconds of each other?
Massive couple of minutes from Mason Cox in the last quarter, punishing the undersized Crows defence. I'm sure it's just the Neanderthal in me, but I also loved the skirmish after his second goal, as well.
Funnily enough, I thought the only time Nick Daicos was relatively ineffective was when Ben Keays wasn't on him in the third quarter, ans the job was shared between Rory Laird and Jordan Dawson at stoppages. Daicos still had seven touches, but just one clearance and no inside 50 deliveries, so the Crows were able to limit the pain with a team effort on the young star.
Loved the work from Ned McHenry when he entered the fray as sub. He is one who'll never die wondering and there are a few players that could learn a little about application from this bloke.
And finally, hats off to John Noble for his two big tackles in the last couple of minutes to prevent meaningful Adelaide possessions. Noble is an effort-player and that means that at times, his skills desert him (he was the kicking out on the full champ in the first half of the year), but when it comes to scrapping for the footy, he is well within his wheelhouse.
And that'll do me – a great way to spend a Sunday arvo, watching two teams whose best is right up there with THE best. Once again, the Pies prevailed, but the Crows are not far away.
Next week, the Pies get the Suns on the road, whilst the Crows head home to take on the Kangaroos. Based on what I have seen this season, I really want Adelaide in September. No one will want to front up to face them in the first week.
As always, huge thanks for your support. I am leaving this article open for all this week in the hopes you like what you read and would either like to jump on as a member (I often don't open my reviews up to all), or buy me a coffee below for the work. It takes a bit.
Like this content? You could buy me a coffee – I do like coffee, but there is no guarantee I won't use it to buy a doughnut… I like them more. And I am not brought to you by Sportsbet or Ladbrokes… or Bet365, or any of them.