There is life in the old Tigers, yet. The tone was set early and was certainly aided by Geelong's first-quarter inaccuracy, but it was clear right from the outset that the Tigers had come to play.
And Geelong knew they were in for a dogfight at the MCG.
Prior to their Round Nine clash, it would have been easy to write the Tigers off. With just two wins from their first eight rounds (and a draw, yes), they hardly had any form to hang their hats on. A win last week over the lowly West Coast Eagles was handy, but hardly the type of win to inspire the masses.
Conversely, Geelong were looking like a million bucks. Even with several injuries, the Cats still possessed a one-two punch that is unrivalled in the last decade, and with wins over Sydney, Essendon, and Adelaide in the last three weeks, were rightful favourites heading in.
Hawkins v Balta, Ratugolea v Riewoldt, Dusty, Cotchin, Bolton, Cameron, Stewart, Smith… there was plenty to look forward to in this one, and the Mongrel covers it all as part of our Big Questions.
Let's jump on in…
CAN WE TALK ABOUT THE RIOLI INFLUENCE?
We hear so much about the influence of Nick Daicos on the way the Magpies play, and for good reason, as well – he has been wonderful for the Pies – but are we missing out on some of the Daniel Rioli show as attention is diverted to the Collingwood star?
HB says yes… and it is time we started changing that.
Plenty of players provide a heap of touches at half-back. Plenty of players are able to rack up big numbers that look impressive, but when you watch a game, you barely notice them.
You always notice Daniel Rioli when he gets the footy. He has impact. Significant impact.
I spent a bit of time looking at who was responsible for him at points in this game, but the Geelong forward structure shifts and moves so often that it was hard to pin down who was letting him off the chain. At some points, it was Ollie Dempsey, then it was Sam Simpson, then it was Gryan Miers… all spent time with Rioli standing next to them, but when he darted off from half-back to get involved further up the ground, they were nowhere to be seen.
The theory was obviously that the Cats could hurt Rioli via his direct opponent on the rebound, but with the potency of his game, it's such a big gamble to allow him to run free.
Rioli had seven score involvements in this game, including a couple of shots of his own, and one direct goal assist , as well. When he gets the footy, he bloody well hurts teams. He ran at 83% disposal efficiency whilst collecting 513 metres gained for his team, running at over 22 metres per possession.
Had the Tigers picked up a couple more wins this season, my guess is that Rioli's name would be front and centre when discussions about All-Australian defenders came up. As it stands, the Tigers as a whole have a bit of work to do to make that happen, but with Rioli running off half-back like a one-man cavalry, all he has to do is continue this level of work and he'll be very difficult to ignore.
And speaking of hard to ignore… was Daniel a little too excited about the win???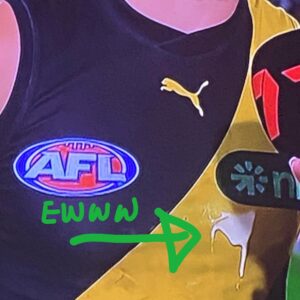 Get the man a tissue… or a sock or something.
AND WHAT ABOUT THE 'MOMENTS' MAN?
Oh yes… the bloke that captained the team to three flags… he went okay, didn't he?
The morning of the game, I wrote a column stating that Trent Cotchin was now at the stage of his career where he was not going to dominate games and had to make the most of his chances. It's not difficult to find – have a look on the site.
I call this article good timing.
Floated as a potential pressure forward coming into the season, things had not played out well for the former captain, and he was really looking down the barrel in game 295. He'd been subbed out of a game, and had missed last week… all signs pointed to a player in decline.
He had to make his chances count. He had to make the most of his moments.
With two first-quarter goals, Trent Cotchin shut his critics up. He added a third after halftime to extend the Tiger lead and though he didn't dominate the game by any stretch, what he did do was important – every touch counted.
And that is what you need from Cotchin in 2023. He doesn't have to carry a midfield like he did a few years back – he has Taranto and Hopper to help with that. He doesn't have to be the only one to inspire his teammates – sure, he still cracks in, but others can put them on their backs for a while now. All he has to do is stand up when the opportunities present.
And that is exactly what he did in this game.
With three goals, Trent Cotchin took the opinion of Kane Cornes, turned it sideways, and shoved it right where the sun don't shine. I know he is not the leader of this team and hasn't been for a while now, but having him turn in a performance like this… it still makes his teammates walk taller.
And if that is the fringe benefit of having Trent Cotchin in the Richmond team, you'd better get used to it – up until game 300 and beyond.
HOW IMPORTANT WAS NATHAN BROAD?
The overall stats don't do him justice. They rarely do.
Jeremy Cameron wandered all over the park to collect 21 touches for the game, and you could be excused for thinking "well, where the hell is Nathan Broad while he's doing this?"
Of course, you would be thinking it, so the quotation marks are unnecessary, but I used them, anyway. I may have just used a comma unnecessarily, as well. I'm a rebel.
The answer is simple – Nathan Broad hovered back around the defensive fifty to cut the legs out from under the Geelong attack once they did get possession of the footy. He did what a key defender is supposed to do. And if you're Damien Hardwick or Nathan Broad, you really couldn't give a rat's ass if Cameron picked up 21 touches, when only four of them came inside 50.
Yep, where Jezza is most damaging was where he was the quietest in this game – within goal-scoring range.
Cameron finished with just the one goal – this is the bloke people are saying was gonna kick a 100 this season, remember? He had six score involvements and if you were to offer those numbers to Hardwick before the game, he would have taken them gleefully.
Broad made some big plays, dropping back to aid Noah Balta as he battled with Tom Hawkins, and ended up with 11 intercepts as a result of Cameron's ranging efforts.
I know we're a small media outlet, but I really hope Broad gets the credit he deserves from the big places, as well, for this game. He played Cameron about as well as can be expected, particularly given his recent form. I notice the AFL website does not have him in the best players. Of course they don't… that's why you read The Mongrel Punt, right?
SHOULD NOAH BALTA PLAY EXACTLY LIKE ESAVA RATUGOLEA?
This is a strange one, I know, particularly as Balta had a ripping second half opposed to the Cats' big man, but it is more technique and execution that I want to explore.
When contesting the footy, I reckon Balta has just about every aspect covered. He is powerful, agile, and if any defender is going to be able to stand shoulder-to-shoulder with a player like Hawkins, it would be him. I have no issue with that part of his game. It is more his decision-making when he gets the ball.
I really think he doesn't know what he is supposed to do with the footy, at times – more an athlete than a footballer, if that makes sense. Aside from one excellent kick to kickstart the Tigers from defence (to Marlion Pickett at half-back, who ran and hit Dusty inside 50 for a goal), Balta's kicking and disposals, in general, are "heart-in-mouth stuff" for Tiger fans.
At the other end, I reckon the Cats have worked out what they have to do with Esava Ratugolea – don't trust him with the footy and get him to make the easiest decision with the footy each time he touches it. If that is a long kick down the line, then set up for it, as you don't want Esava getting creative with the footy.
And you don't want Balta getting experimental with the ball, either. Save that for the bedroom, Noah…
That's a nitpick, because both these blokes had excellent games, with Balta having several wins against Hawkins, who flat-out stopped leading after the first quarter. Seriously, if you have time, go back and have a look at how many times Hawkins makes false leads and tries to duck back behind his opponent. Sure, if he gets that position, he is an animal to contain, but Richmond started waking up to him and had Nathan Broad dropping back to cover the lead, which permitted Balta to be prepared for the duck back toward goal. Whenever Jeremy Cameron went on his treks up the ground, it ostensibly left Hawkins at a disadvantage.
That's called playing to your strengths if you're a Tigers fan. It's a man knowing his limitations. I'm not sure Balta knows his, just yet.
Balta finished with 11 intercepts and 17 disposals (seven of which were turnovers, which is what I was alluding to, above).
At the other end, Esava was very solid against Jack Riewoldt, who had just three touches in the first half. As the game opened up a bit, and particularly as Ratugolea started to get confident enough to roam up the ground, himself, Jack managed to find space and opponents that were more to his liking, finishing with 12 touches and two goals.
Ratugolea finished with nine intercepts and eight spoils in another impressive outing in defence.
But yes, for the record, I'd trust Tarryn Thomas as a driving instructor before I'd trust either of these blokes to start generating offence from the defensive 50. Keep it simple for the big fellas.
UNDER DURESS, HOW DID TOM STEWART GO?
He was really solid in the first half, but I genuinely liked the way Rhyan Mansell started contesting with him in the air to render him less effective.
He had 13 touches up until halftime, and then had the brakes applied. It is a feather in the cap of Mansell, as not only was this a big job on one of the best defenders in the game, but it was also a mismatch in terms of size and strength, but he fought on to nullify Stewart's influence.
The defender did pick up a couple of intercept marks late in the piece, but these were glorified stat-padding possessions, as the game was well and truly over. Given the vast difference in experience, I feel as though Stewart could have dictated terms to Mansell, but the kid was very solid, bobbing up for two goals in the first half before focusing more on the defensive aspect of the role after halftime.
Plenty of Tiger fans contact me about their team and their kids, espousing the potential of some of them. Mansell is usually at the top of their list, and this performance indicates why – it is one thing to go out there and run your own race, but it is another entirely to do so and then change up to make a difference in a defensive role.
Overall, Stewart was solid, but the work of Mansell deserves a lot of recognition, as well.
WHERE IS BRANDAN PARFITT AT?
Do you pass through Werribee on the way back to Geelong? Maybe the Cats bus should drop him off there, because his game was shitty.
I don't know what t make of Parfitt – I really don't. Rewind a couple of years and he was this up-and-coming midfielder who tackled like he just needed t hold someone… and ragdoll them into submission. And now, he plays the game like he is still the only bloke out there practicing social distancing.
That's especially true if he believes he should also be distancing himself from the footy. What the hell is he doing out there?
He finished this game with ten touches and a clearance despite spending plenty of time in the middle of the ground, and he just looked like he was two steps slower than he was in 2021. He's gone backwards by a fair bit, and is likely only in the team due to the injuries at Kardinia Park.
I remember Geelong staunchly refuting any advance from GWS to include Parfitt as part of the Cameron trade, and right about now, I reckon GWS would be rapt the Cats were so eager to keep him.
Where should he be playing (other than the VFL)?
How long do the Cats persist with a bloke that doesn't look like it?
And where did you think he would be by this stage of his career?
He is a restricted free agent after the 2024 season. If he is not happy, perhaps the Cats should try to get some value for him after this season, as they're not getting anywhere near enough at the moment.
WAS MARK BLICAVS THE WRONG MATCHUP ON SHAI BOLTON WHEN HE WENT INTO THE MIDDLE?
I spoke above about athletes playing footy, in relation to Esava Ratugolea and Noah Balta, but it wasn't something I thought I'd be bringing up in regard to Mark Blicavs – I thought we were past that.
Yet, there he was, allowing Shai Bolton to play goal side of him at the centre bounces, and then being pushed off as Bolton darted at the ball to collect clearances.
It happened twice and saw Bolton propel the Tigers forward unimpeded, with Blicavs chasing in vain… he is better than that, isn't he? Surely one of the team rules at Geelong would be to force Bolton to go backwards before he runs forward by playing goal side of him? Did Blicavs simply miss an assignment?
Twice?
Bolton was up and about last week, as the Tigers got over the Eagles, and he was starting to round into some pretty impressive form this week, as well. I heard on the commentary that he was "putting together some sort of season".
Really?
I thought he was one of the blokes the Tigers needed to go to the next level. We've seen it over the last seven days, but until then, it had only been flashes. Maybe this is the start of something big?
And if it is, permitting him to play goal side at stoppages will likely be a pretty big help.
Oh, and while I'm yapping about Bolton, there was a little bit of chatter at Casa Del Mongrel about the little tattoo on his neck. Mrs Mongrel believes he is a closet muso and the symbol was a treble cleft. Me… being an idiot, decided it looked like a seahorse… because I like seahorses.
I think I have to concede defeat on this one, but I'd be happier if we were both wrong. 🙂
MARLION PICKETT AT HALF FORWARD – HOW DID THAT WORK?
I liked it. Not that Pickett did a heap, but damn it, he contests the footy in the air like his life depends on it.
Pickett returned pretty modest stats – seven touches and one mark, but he continually crashed packs to bring the footy to ground and gave others a chance to capitalise on his work. He only had three score involvements, but two of them were direct goal assists and even though the returns aren't going to have Tigers fans leaping for joy, the fact that he was able to contest in the air so well would be enough for me to say the move worked and that Damien Hardwick would be willing to deploy him there again next week.
AND THE "DANGEROUS" TACKLE?
And back to Blicavs again… did he milk a dangerous tackle free kick at one stage? It looked like it to me – his head was nowhere near the ground in the tackle, but when he hit the deck, he acted as though he'd had his head rammed into the ground.
This is really poor form.
Of course, the umpire, being an umpire too afraid to miss a dangerous tackle, paid the free kick, but if players are going to start staging for these types of free kicks, I reckon they should be hit with a suspension.
You cannot screw around with this type of rule. If it is in place to protect players, having other players attempting to exploit it to gain a momentary advantage just seems wrong.
WAS THAT VINTAGE DUSTY… OR NOT QUITE YET?
Not quite, but it was still a lot of damn fun to watch.
Four goals and 19 touches… there are hundreds of players in the game who would kill for that kind of return, but when you put those figures next to the name of Dustin Martin, you kind of just smile and think… yeah, that's a nice outing for Dusty.
A nice outing.
Not "he smashed them", or "he was dominant…" No, none of that, because we have been witness to some extraordinary feats of football heroism from this man that the measly four goals and 19 touches doesn't get us excited.
But maybe it should.
This was a switched-on version of Martin – he looked like he gave a damn, was combative and worked hard to find the right matchup and the right position to exploit it. He looked hungry… he had the eye of the tiger, and to paraphrase Mickey from Rocky 3, he ain't been hungry since he won that last flag!
Maybe this is where he starts licking his chops again and getting the taste for success?
BAD KICKING IS BAD FOOTBALL
I've already heard from a couple of Geelong fans that the umpiring was terrible in this game. I won't dispute it – it has been poor for a while now across the board. However, that was not the reason the Cats lost – to intimate it was would be a disservice to Richmond and also let Geelong off the hook.
The Cats kicked 2.7 in the first quarter.
The Tigers kicked 6.0.
For me, it is not difficult to work out what the issue was, here. If Geelong kicks five in the first quarter, chances are they apply enough scoreboard pressure to cause the Tigers some serious concern.
But they didn't, and Richmond kicked straight early to build the lead and their own confidence. By the time the scoring shots started levelling out, it was too late.
Bad kicking is bad football, and bad starts cost games a lot more often than umpires do.
And finally, before I sign off… injuries. Yes, Geelong had injuries. Bowes, Danger, SDK, Guthrie, Rohan, Stanley, Henry… all significant, but the Tigers were missing Lynch, Nank, Soldo, Tarrant, Rioli Jr, Gibcus… all teams have bloody injuries. I hate when this is used as an excuse by a team that loses. Kick straight and stop whining, particularly as the reigning premier. You're still a good side and you had your chances in this game.
So, there we go – a huge win in the context of Richmond's season, opening their finals window again, with a Dreamtime date with the Bombers on the horizon.
As for the Cats, they might get a few back next week as they head interstate to take on Freo in what should be a very interesting game of footy.
As always, mucho gracias for the support and love you guys give The Mongrel. We continue t be a niche media outlet and you know what…. I kind of like it that way. I'll tell Fox we don't want to sell – you guys keep us going just fine. Cheers – HB.
Like this content? You could buy me a coffee – I do like coffee, but there is no guarantee I won't use it to buy a doughnut… I like them more. And I am not brought to you by Sportsbet or Ladbrokes… or Bet365, or any of them.