This story starts in the 2019 off-season. Well, it probably starts a few years earlier than that, but to save some time we'll start in October 2019.
West Coast, fresh off winning the 2018 premiership, had bowed out in the 2019 semi-finals, losing to Geelong by 20 points. Believing, with some justification, that their midfield lacked for the ability to consistently win the ball at ground level and impact games on the scoreboard, the Eagles set about trying to fill this gap by recruiting a player who, in his first two years in the league, had proven to be amongst the best in the comp in these two categories – 25-year-old Geelong star Tim Kelly. And great news – Kelly was a West Australian who, for reasons outside of football, wanted (if not needed) to come home.
It seems like a simple deal, right? One that would bring home an elite player in the prime of his career and add him to a midfield mix that was only 12 months off winning a flag. It looked like the kind of deal that West Coast would win for just about any price. Just about any price.
Before we get into the deal that saw him become an Eagle, we first need to look at Kelly's performance across his two years at the Cats. Recruited with pick 24 in the 2017 National Draft, Kelly immediately established himself as an important cog in Geelong's midfield, averaging just under 23 disposals a game, a tick over a goal a game and placing equal second in their best-and-fairest (just half a vote behind eventual winner, Mark Blicavs) in his first season at the club. However, it was his second season that saw him truly ascend into elite status. He averaged more than 25 disposals a game, a fraction under a goal a game, finished runner-up in the Geelong best-and-fairest (again), finished fifth in the Brownlow Medal and was named on the wing of the All-Australian team.
More than these accolades, it was Kelly's ability to win the ball at ground level and drive it forward that caught the eye of the West Coast hierarchy. Across seasons 2018 and 2019, no player for the Eagles was better than Kelly at the Cats winning the ball at ground level. Similarly, no Eagles midfielder hit the scoreboard with the same frequency as Kelly, only Luke Shuey and Andrew Gaff averaged more metres-gained per game, and only Elliot Yeo averaged more ratings points per game (more on those later) than Kelly. To cap it all off, across his first two seasons in the comp, only Nat Fyfe accumulated more three Brownlow vote games than Kelly (13 for Fyfe, 10 for Kelly; for those interested, the top Eagle was Elliot Yeo with seven across the two seasons).
All of this is to highlight that Kelly had almost immediately ascended to the ranks of the elite AFL midfielders upon starting in the league, and was exactly the type of player that West Coast believed could help them win premiership number five. Soon after the trade period began, West Coast parted with picks 14, 24, 33, and their 2020 first-round pick, in exchange for pick 52 in the 2019 draft, Geelong's third-round selection in the 2020 draft and Tim Kelly. In isolation, two first-round picks and two second-round picks would appear to be a very high price for any player, regardless of who it is. In comparison, the previous year Lachie Neale, Dylan Shiel and Dayne Beams all changed clubs –Fremantle traded Lachie Neale and pick 30 to Brisbane for picks 6, 19 and 55; Essendon sent pick 9 and their 2019 first-round selection to GWS for Dylan Shiel and the Giants' 2019 second-round pick; and, Collingwood parted with picks 18, 56 and their 2019 first-round selection in exchange for Dayne Beams and Brisbane's picks 41 and 44. These trades seemed to set the line at two first-round picks for a close-to-elite level midfielder, but West Coast's finishing position meant that they were unable to trade the early first-round picks that Geelong craved for Kelly, and instead favoured a 'quantity-over-quality' approach.
To complete our examination of the trade that made Tim Kelly an Eagle, we need to look at who was acquired with the selections West Coast parted with. Their pick 14 (which would become pick 16 after two matched Academy bids) was used by Geelong to select Cooper Stephens, pick 24 (27 after matched bids) was traded by Geelong to Gold Coast at the draft and used to select Jeremy Sharp, while the final 2019 draft selection traded by West Coast – pick 33 (38 after matched bids) – was used by Essendon to draft Nick Bryan. Finally, West Coast's first-round selection for the 2020 draft was traded (along with several other selections) by Geelong in exchange for Jeremy Cameron. The Giants would use the selection – pick 18 – to take Ryan Angwin.
Though it may be early into the careers of each of these players, it's probably fair to say that, individually, West Coast didn't miss out on any stars. But, of course, that's not the whole story. The opportunity cost for a draft pick is not just the player selected, but the player that could have been selected. If we limit ourselves to looking at the first West Australian player picked at or after the selections, West Coast could have had Port Adelaide's Mitch Georgiades (eventually selected at pick 18), Gold Coast's Jeremy Sharp and Sydney's Chad Warner (pick 39) from the 2019 draft, while they could have welcomed Fremantle's Nathan O'Driscoll (pick 27) in the 2020 draft. Adding Georgiades to Oscar Allen would give the Eagles forward line some important stability over the next decade, while combining O'Driscoll, Sharp and Warner to West Coast's midfield would surely bring a spark the Eagles engine room could have desperately used over the last 18 months.
So, now we've had a look at what West Coast gave up in the trade to bring in Kelly, let's see what they gave all this up for.
Prior to the 2013 home-and-away season, the AFL released their official player ratings. As its introductory document nobly states, it sought to answer the question "who is the best player in the AFL?" by attempting to measure the "total scoreboard contribution of a player's actions." While it is not a perfect measurement, it does provide us with a handy guide by which we can roughly measure a player's impact. Using these player ratings points across seasons 2018 and 2019 gives us a sample size of the top 25 midfielders in the competition, ranking Tim Kelly at 23.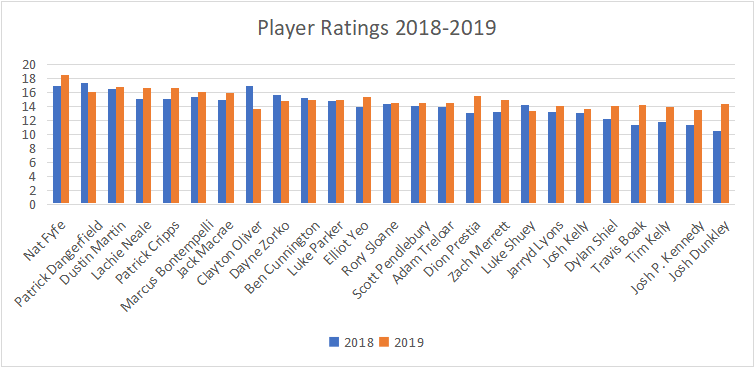 Data: wheeloratings.com

Digging deeper into this data gives us an idea of what makes Tim Kelly elite and will bring us closer to understanding why West Coast felt it necessary to part with four first-round picks to secure his services. Amongst this group of 25 midfielders, Kelly ranked 13th for ground-ball gets and stoppage clearances, and 10th for score involvements. Across these three metrics, West Coast were either just at, or well below the AFL average through 2018 and 2019. Of course, there are reasons for these discrepancies, in particular when it comes to ground ball gets – West Coast didn't play a style that allowed for the ball to spend much time on the ground. Their game style was built around possessing the ball, moving it slowly and methodically through precise ball movement until the right option presented itself in attack. At ground level, the Eagles weren't as much focused on winning the ball as putting their opposition under pressure and forcing them into long kicks that allowed their stable of intercept markers to go to work and start West Coast's next forward thrust.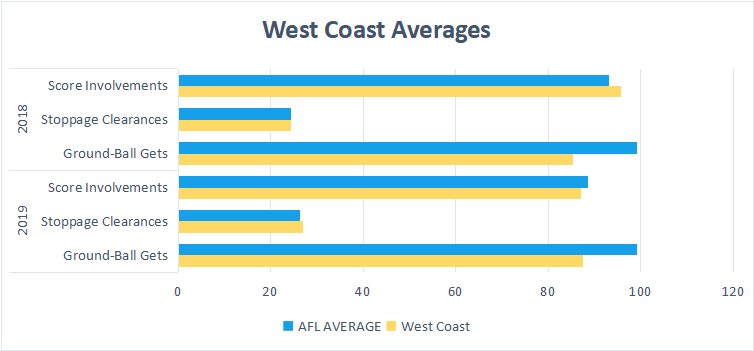 Data: wheeloratings.com

The recruitment of Kelly, however, seemed to signal that this strategy may have been changing. In Kelly, West Coast were acquiring a midfielder whose ability around the ball was competitive with the best in the comp, and only getting better. In terms of year-on-year increases amongst the 25 top midfielders, Kelly ranked amongst the top handful for stoppage clearances and was inside the top 10 for ground-ball gets. With the trade secured, West Coast and their fans could look forward to Kelly joining a midfield of Yeo, Shuey, Gaff, Dom Sheed, Jack Redden and Nic Naitanui, with plenty of wins and another shot at a premiership seeming more and more likely.
Of course, because it's now 2023, you know where this is going. West Coast tried to get it all together in a Covid-impacted 2020 season but were eventually eliminated by Collingwood in week one of the finals. Then they fell in a hole in the back half of 2021 and missed finals altogether, and finally have suffered through an injury plague since the start of 2022 the likes of which hasn't really been seen for, well… ever. This doesn't tell us the whole story but suffice to say, the trade has its critics. And if we're being honest, it's not solely Tim Kelly's fault that the trade (to this point, at least) hasn't worked.
Trying to change a game plan that has won a premiership only 18 months prior must be difficult. Even if you do get full buy-in from the entire playing and train the new plan well over the off-season, it's only natural that players, particularly senior players, would revert to what has worked when confronted with challenges. That's clearly what happened in 2020. Amidst a once-in-a-century global pandemic that saw the football season shut down entirely for eight weeks, forced players to train in pairs during the forced lay-off, and meant that an entire competition had to hub on the Gold Coast upon resumption, it maybe wasn't the best time to be working on a new game plan. Particularly one that aimed to shift West Coast from a slow, methodical ball-movement-focused team to one that wanted to move the ball faster. Teething problems on both sides – players adjusting to a new game plan, and Kelly adjusting to a new team – were always going to be the case, but the restrictions imposed by the Covid pandemic made these a lot worse.
This is not to say that West Coast didn't expect Kelly to change for them. Over the course of his four years in blue and gold, Kelly has slowly adapted to coach Simpson's preference for his clearance midfielders to be centre-clearance-dominant. Throughout his first three seasons in the AFL (including 2020, his first as an Eagle) centre clearances made up about one-third of Kelly's total clearance numbers, while over the last two seasons (plus the first six rounds this season), centre clearances make up just over one-half of his total clearances. Below is a graph of Tim Kelly's clearances per game, broken down into centre clearances and stoppage clearances.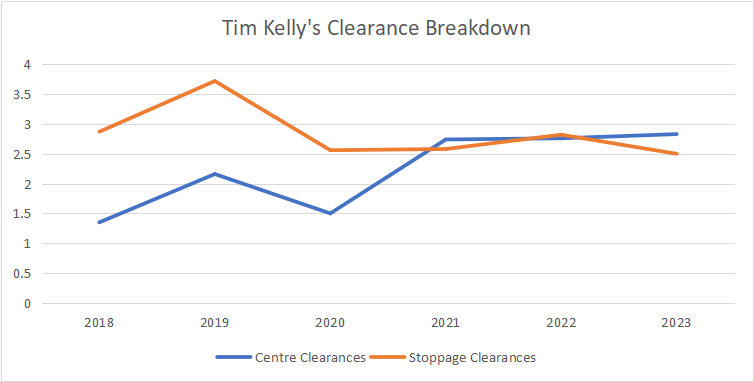 Data: wheeloratings.com, afl.com.au/stats (data displayed as a per-game average)
That West Coast heavily prioritise centre clearance dominance when they have a ruckman like Naitanui, and tall forwards like Josh Kennedy and Jack Darling, is not surprising, however that Kelly's dominance as a centre clearance player is growing in the absence of Naitanui goes to show how hard he is working to try and fix what's broken at the Eagles.
We've been stepping gently around what has been the biggest issue at West Coast since Tim Kelly came onboard, and it's only appropriate that we now address it – it's injuries. You want to know how bad injuries have affected the Eagles since the start of 2020? How about this; between the start of the 2020 season and the end of the 2022 season, West Coast played 62 matches. How many times did Tim Kelly play with all of Shuey, Yeo, Gaff, Sheed, Redden and Naitanui? Nine times. That's right, it's not even a number big enough to warrant a digit in an article. Nine times out of 62! If you're looking for reasons why West Coast have fallen so quickly and sharply, look no further than this. As they say, availability is your best ability, and at this West Coast has, and continue, to fall well short.
But it's not all doom and gloom. The good news is that the start of 2023 has bought with it Kelly's best form in blue and gold, and not coincidentally an uptick in key stats for West Coast. For example, the Eagles have improved in winning ground balls, going from more than 10 below the AFL average to just one below the average this year – Kelly sits 11th in the competition for ground-ball gets. Similarly West Coast have gone from a team below average in score involvements to one that is above average, with Kelly once again leading the way, ranking in the top 15 in the comp over the first six rounds.
The final missing piece for Kelly's time at West Coast, in comparison to his time at Geelong, is his impact forward of the ball. Amongst the elite group of midfielders for 2018-19 mentioned above, Kelly ranked fourth for total goals and goals per game, behind Patrick Dangerfield, Dustin Martin and Dayne Zorko. Since arriving at West Coast, however, Kelly's one-goal-per-game average has slipped to just one goal every three games. Similarly, his impact at ground level in attack has fallen off, with his forward-50 ground-ball gets shrinking from one-and-a-half per game for the Cats to below one a game for West Coast. Again, this has been impacted by West Coast's game style which emphasised that midfielders are midfielders and forwards are forwards, but this year once more provides a signal that things are changing. Kelly has kicked four goals across the first six rounds of the season and is back to averaging one-and-a-half forward-50 ground-ball gets per game.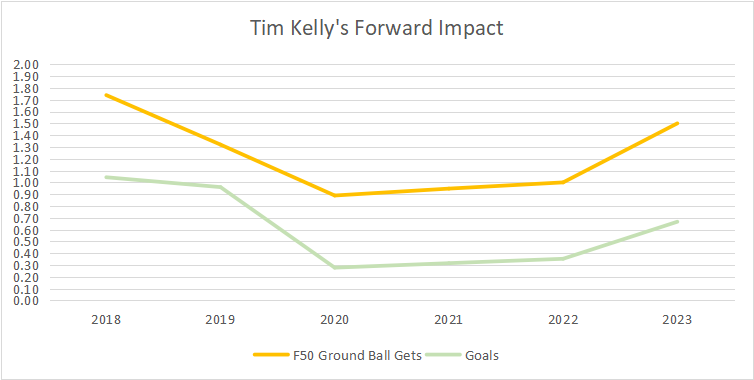 Data: wheeloratings.com (data displayed as a per game average)
And so we finally come back to the central issue. The 'Tim Kelly trade' saw West Coast part with four draft picks in the first two rounds, spread across two different years of drafts. For the price they paid, Kelly has been underwhelming. However, in Kelly's defence, it's not his fault that West Coast paid such a high price, nor is it his fault that a global pandemic erupted within six months of the trade becoming official, scuppering any potential for a quick game plan shift that may have suited his style of play better. Nor again is it his fault that the Eagles midfield has displayed the staying power of a virgin at an orgy. Some things just can't be planned for. But what we can say is that Kelly has now become the player West Coast traded for. Whether they can make the most of it will only be seen in time.
Like this content? You could buy Tim coffee for his work – I reckon it's worth it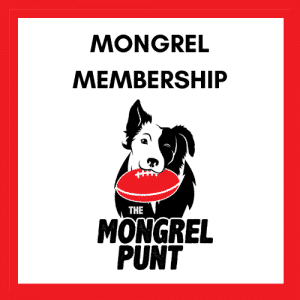 AFL (2013, May 8). Official AFL Player Ratings. AFL Media Ratings. Retrieved April 13, 2023, from https://s.afl.com.au/staticfile/AFL%20Tenant/AFL/PlayerRatings/PlayerRatings_HOW.pdf
 Wheelo Ratings (2023, April 26). Wheelo Ratings. AFL Player Statistics 2023. Retrieved April 27, 2023, from https://www.wheeloratings.com/afl_stats.html
 Wheelo Ratings (2023, April 26). Wheelo Ratings. AFL Player Statistics 2023. Retrieved April 27, 2023, from https://www.wheeloratings.com/afl_stats.html
 Wheelo Ratings (2023, April 26). Wheelo Ratings. AFL Player Statistics 2023. Retrieved April 27, 2023, from https://www.wheeloratings.com/afl_stats.html