Footy, amirite Hawk's fans?
As a team looking to build a foundation for the future, Hawthorn got a lot out of this match, not the least of which was 40,000 people turning up to the ground, with plenty there to support them.
The first half showed that when everyone has a red-hot go, the game can bring you along with the flow. Teammates get in sync, spaces open up and quick movement results in shots on goal.
But, unfortunately for the team formerly known as the Mayblooms, footy is a game of two halves.
The second half showed what happens when a well-drilled team gets jumped. They reset and work their way back into the game by strangling the opposition's easy movement, giving them little space and rope-a-doping their way into a win, absorbing what their younger opponents can dish out and counter-punching them into submission.
While the final margin will sting a little, twenty scoring shots will give them a lot to smile about, as well as winning the clearance and contested possession stats. In some ways, it was good to see the Hawks seething about the loss, as it shows that they don't accept that they don't deserve a win, while the Dogs showed that they have the class and discipline to work their way back into a game that really should never have been in doubt.
200 for the Bont
They say class is where your worst day still beats most people on their best, and that kind of sums up Marcus Bontempelli. A bloke his size shouldn't have the grace that he does, nor the ability to track so many teammates and opponents, while dancing around them like they're standing still.
In canine parlance, he's like an aristocratic Rhodesian Ridgeback cantering around a pack of German Shepherds, taking the time to adjust his monocle and top hat as he grabs his owner's steak on the grill before escaping cleanly.
And yet, with 19 touches, six clearances and six tackles, this was a quiet one by his standards. That's not to say it was a bad game, he had some very telling touches that brought other players into the possession chain, but it wasn't the dominant sort of play he's capable of. Still, getting 200 games before you hit 28 is no small effort considering over half of the players who make it to the AFL don't even make it to 20. There's no reason why we won't see him get deep into the 300s before he's done.
Rookie efforts
For the Bulldogs, rookie forward Arthur Jones managed to have his best game to date. It took him five outings to manage his first goal, but with the game sealed and Treloar spearing a low ball into his chest about 40 out, Jones was always having a shot. He went back and put it through cleanly, resulting in the whole team getting around him to celebrate.
There's always something special about seeing a whole team get around a kid when they kick that first one, and if it doesn't bring a little smile to your face, well, I dunno who took the jam out of your doughnut.
Hawthorn blooded two new players, with two-metre beanpole Max Ramsden taking a KPP spot and backing up Reeves in the ruck while Josh Weddle took up a spot on the back flank.
As a North Melbourne supporter, I consider myself something of an enthusiast on draftees, due to spending most of the last two years looking at the draft for some form of consolation for my team's poor on-field performance (a process I am now repeating in the vain hopes that we may somehow draft multiple future superstars who will actually remain at the club long enough to need two haircuts), so it's a little bittersweet to see one player I was actually quite bullish on make his debut.
Weddle has a bit of something about him when he's around the ball. He seemed to read the play very well in junior grades, and while there is a huge step up in speed and accuracy in the AFL, he didn't look at sea in the top league. He only managed eight touches, but his five marks showed he knows how to get to where the ball will be, and his five tackles hinted at a willingness to chase up. He managed to push possession chains that resulted in a score four times in the match, and while this game won't be one that turns meany heads, it's good enough that Hawthorn should have reason to be fairly content with his work.
Ramsden had a lot asked of him in his debut—playing back up ruck and holding down a key position. They say big men take a long time to mature, and watching Ramsden, I think that's fair. He's about 15kgs light for the role he had to play, starting at Centre Half Back on Cody Rhodes—I mean Rory Lobb. Lobb threw his weight around and took some great marks before Ramsden was moved off him, and shuffled to Centre Half Forward. His night didn't get any easier though, with Liam Jones picking him up and taking intercept marks at will.
Six touches, nine hitouts and 37 metres gained won't be a debut that gets him a rising star nomination, but it's early days for the big bloke. He's had a taste now, and with a bit of protein and maybe some dencorub in his undies, he'll show the sort of intensity that the Hawks will need in the years to come.
Ruck battle
Reeves and Ramsden vs English and Lobb sounds like the sort of ruck match-up that people would enjoy. Old v new, mobile v beanpole, rushing forward vs cruising over half-back… It's a joy in contrasts.
Tim English has shown a lot this season, working his way up the ground as well as making himself an option when resting forward, but young Ned Reeves was the better big man on the day, and a big reason why Hawthorn were in the match as long as they were.
While Ned's jawline may epitomise the saying 'be there or be square' he showed no reluctance to make his presence known at the stoppages, winning 43 of the 79 he attended, with 14 hit outs to the advantage of his mids. English attended a similar number of rucks, but only managed 30 taps, of which nine helped his smalls.
Aside from the stats though, English seemed happy to rely on the class head at his feet, while Reeves looked to put the ball into the space that worked for his teammates. That's not to reduce the impact young guns like Worpel, Newcombe and Nash had, but having a massive unit like Reeves there to impose his will on the contest makes life a lot easier when you've got blokes like Bontempelli, Macrae and Treloar contesting the ball with you.
Dashing Daniel
I've probably written this sort of thing before, but I love watching Caleb Daniel play. In an era where teams seem to love drafting athletes that they can teach to play footy, Daniel is a player that knows the game and plays it better than most. He's 120kg of 'just try it' in a 70kg package, with the poise and presence of a master.
Few players can intercept like he does, while still managing to push up the ground and deliver into the forward 50 with surgical effectiveness. I'm not suggesting he's perfect, as he does have the occasional clanger, but if you're a teen looking to play in the AFL or AFLW, you could do a lot worse than copy Daniel's field kicking.
Jai Carrumba!
I know the word 'potential' is thrown around a lot when looking at young sides, but Jai Newcombe has it in spades. He's built heavily enough to work at the coalface, he's mobile enough to find space, and he's sporting the sort of moustache that would make his tennis-playing namesake John Newcombe proud.
Nine clearances, 19 contested possessions, four tackles and two goals. That's a decent day out for any 21-year-old. The more I watch this kid play, the more I like about him. He's utterly fearless and has the sort of quick step that catches opposition players wrong-footed regularly. Watching him and Bontempelli in the same contests, he doesn't have the ability to glide in and out like the Bont, but he has the muscle to make a hole where he wants it. He's a little more like Petracca in that way.
Jamarra making his mark
As my year 10 science teacher/ town mayor (small towns are funny places) would always say: "The two most common things in the universe are carbon and wasted talent". Ugle-Hagan dabbled with the latter early on in his career, but it looks like he's managed to overcome those issues and is now becoming a dangerous and exciting part of the Bulldogs squad. He only managed ten touches, but they included two goals and an absolute screamer of a mark. He looks to be bulking up a little too, and it could be just a matter of time until he's tearing games apart. He does drift in and out of the game a little, but I'll back the Bulldgos' system to turn him into a top-level star.
Hawthorn's unsettled forward line
Mitch Lewis' return bolstered Hawthorn's forward options, but he was wasteful in front of the sticks, with the sort of accuracy reserved for shady youtube videos and the New Idea astrology section, managing only 1.4. On one hand, it's great he had so many chances and his 11 marks show he was getting into the right places, but those misses hurt the whole team when they're working so hard to get the ball forward against a quality side. His only major came from an easy set shot from a good contested mark in the square, but he'll need to improve his conversion as he comes back to full fitness.
Luke Breust was at his reliable best with three goals, making the most of his nine touches, but most of the other goals came from midfielders pushing forward rather than the full-time forwards taking their chances. Wingard, Moore, Greene and Brockman all looked off the pace, but much of that can be laid at the feet of a very well-drilled Bulldogs backline, especially when Johannisen and Daniel were so effective in launching scoring chances from half-back.
Next Up:
The Bulldogs are Canberra-bound to take on GWS who will be utterly delighted with their win over cross-town rivals Sydney in a see-saw battle that had them pinch it with some Toby Greene magic.
With the rain and pressure taking a toll on the GWS squad, the Bulldogs will be a lot fresher. The chilly Canberran conditions won't really suit either team, but GWS may be a little more familiar with the peculiarities of the weather in our nation's capital.
Watching the midfield battle will make this game a treat, but I'm just a little more sold on the Bulldog's transition game, and ability to pressure the forward 50 entries. I think this'll be another tight one for three quarters, but the Bulldogs will get the chocolates.
Western Bulldogs by 13 points.
Hawthorn heads to Optus Stadium to take on Freo in a season-defining match for both sides. Freo has shown some class at times but sits well below expectations and a few wins behind the teams looking to play finals this year. Wins against the two coastal teams won't do much for their confidence when they've suffered some big losses against the Bulldogs, Lions and Crows, not to mention North pinching a win earlier in the season that seemed to put them on tilt.
While Freo has the firepower to beat Hawthorn, I'm tipping an upset here, and I think the Hawks will approach the game with nothing to lose and little pressure on them, while Freo knows that looking fragile here will be blood in the water for other teams.
It will come down to how well-served they are in their on-field leadership, and while it's still early on in the season if they look to struggle here then it could quickly turn into a case of every player looking out for themselves.
Maybe I'll be proven wrong and this will be the match where Freo bring it all together, but tipping the favourite is never as fun as predicting an underdog victory, so I'm on the Hawks by 4 points.
On a personal note
Footy is a game that draws people together, especially during times of success.
The pic below is of two long-suffering Bulldogs supporters, my uncles Gary and Anthony at the 2016 premiership celebrations. They came back from the game with indestructible smiles, and from the family day barely able to speak, having sung themselves hoarse and carrying bags full of merch to give to their families.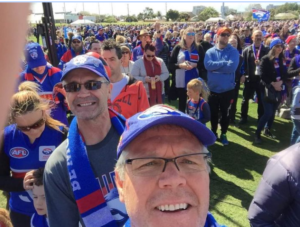 I'm dropping this in here because on Monday, we laid Anthony (front) to rest, shortly after his 60th birthday. I realise this is a bit of a downer to end an article on, but I'll mention that he was a die-hard doggies fan, having supported the team all his life, even rather cheekily wearing a Footscray guernsey at training on occasion when he was playing for Norwood in the SANFL at the time when they were something of a powerhouse club, an opportunity he parlayed into a career as a chef, and then working in business administration.
Going to games with his family and friends brought him much joy, especially as he lived in Adelaide and was frequently surrounded by Crows and Port supporters who liked a bit of banter. His quick wit had more than a few around him guffawing, and even the occasional raised beer in salute for an especially clever barb.
The game and the club meant a lot to him, and even in the lean years, he'd head to the matches, scarf proudly around his neck and a smile on his face. He'd cheer and laugh, but never take it seriously enough to boo or insult the players or other fans around him.
While those at the club would not have known him to realise his absence, I do, so consider this little addition to the article my own black armband moment.
While much of the focus of writing about footy is about the players, the game is really all about the hundreds of thousands of fans who celebrate the good times, bemoan the bad, and ride the ups and downs of the team year in, year out, and as fans, it's up to us to make the game something we're proud of. Something that brings us together, no matter who we support on the day. We can all enjoy good footy, and maybe a sneaky beer and a pie.
After all, a game should be fun.
RIP Ants, you'll be missed.