I had a bit of a smile whilst reading through the litany of articles following Round One action. Amongst them, the subject of Lance Franklin and the way he plays the game was raised.
One of the esteemed experts at Fox Footy, I believe (those who offer the same elite coverage that called Brisbane the "Brisbane Tigers" during the preseason) suggested that Buddy should change the way he plays football after receiving a one game suspension for collecting Gold Coast's Sam Collins high in their season opener.
Yep, that was a great idea. Well done to whoever thought that a bloke who has played 342 games and kicked 1049 goals should abruptly alter an aspect of his game to suit current popular opinion. STFU, Fox Footy… concentrate of getting team names correct, first.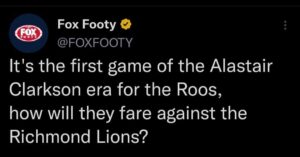 Franklin will miss the Round Two clash against his former team, Hawthorn, this weekend and I would doubt that he, John Longmire, or even Swans fans would lose one wink of sleep over it. Buddy was always going to miss games over the 2023 season. Sitting out a contest early in the season is probably something Sydney were considering, anyway. They want him to be right to go when the whips are cracking and given the way the Swans handled business against the Suns, it seems as though they're the ones holding the whips at the moment.
Franklin is in the twilight of a tremendous career – an all-time great career that will one day see him elevated to Legend Status in the AFL Hall of Fame. But whilst we may be witnessing the Lance Franklin farewell tour, even if it extends for another season following 2023, the Swans are wisely balancing the greatness of now with the potential of the future. The games Franklin sits out in 2023 – and I expect there to be half a dozen over the course of the season, will allow the Swans to tinker with their forward half and get a glimpse on how things look, Post-Buddy.
We've been there before, of course, with injury forcing Sydney to operate without their superstar for long stretches over the past few years, however, we are a now at a point in time where players are genuinely ready to step up and cover Franklin's absence as a powerful entity if their own, as opposed to holding the fort until he is able to return.
Logan McDonald has returned to the side in 2023 looking fitter and more determined to make an impact. Already leading further up the ground and using his mobility to contest and get back inside 50 to provide a target again, the penny certainly looks to have dropped for the young man.
Dropped from the 2022 Grand Final side (forget whatever else you read – his form in the lead-up to that game warranted his non-selection), McDonald may have had a fire lit under him. Being a hugh draft pick with potential only guarantees you a spot in a team that is struggling. They're desperate to keep you and will play you irrespective of how well or poorly you perform, but at Sydney, players are selected on merit. It was a harsh lesson to learn at the harshest possible time, but it may have been the catalyst for McDonald to apply himself to his football harder than he ever has.
Working in conjunction with Isaac Heeney, who has been banging on the door of superstardom for a couple of years, despite it being wide open for him a couple of times, and Tom Papley, a proven performer as an elite small forward, Sydney has the opportunity now, against a side that is tipped to win the wooden spoon, to give their forward line of the future a red hot run.
Whilst the Swans' best 2023 team definitely has Lance Franklin as a part of it, it is hard not to love what Sydney is building for the years that follow. This team surprised many in 2021 when they started their climb up the ladder (not me, for the record) and continued to surprise eight up until the final game of last season. This build has not come about by accident.
Yes, the Swans are a win-now team. They have cultivated a list capable of lifting the premiership this season, but they've also masterfully managed a list that is robust enough to withstand the loss of key personnel.
Jordan Dawson wants out? No probs… we can switch Nick Blakey to defence and run Justin McInerney through there as well.
George Hewett wants to go to Carlton? That's fine, we have James Rowbottom ready to step to the fore.
Josh Kennedy hangs up the boots? That was expected. Now, Luke Parker is the leader in the midfield.
And when it is finally time for Lance Franklin to salute the crowd for the last time and wander off into retirement, as sad as it will be for the club and the footy world, in general, the Swans will have prepared well to continue sustained success. It's what they do.
There is nothing Lance Franklin needs to change about his game in 2023. There is nothing more the Swans require him to do other than remain fit and ready to contribute when he is called upon.
Until then, Sydney has the luxury and the foresight to use his games sitting out to prepare for the inevitable.
And when I say "inevitable" I mean the inevitability that the Swans are preparing for an era of sustained success, even without one of the greatest players of all time up forward.
And in 2023, we get several trial runs of what that'll look like.