It was a bit of a horror night for the Magpies and it seemed for a while as though they were destined to crash to a loss.
Unable to hit the scoreboard for almost the whole first half, Sydney were able to counter a large inside 50 imbalance to sneak out to a lead against the inaccurate Collingwood. Pies dropped like flies and as the contest remained close the footy world started smelling an upset.
In the end, that smell turned out to be their breath blowing back in their face as the Magpies held on to grab a nine point win over a desperate Sydney team.
Here's The Mongrel's good, bad and ugly.
THE GOOD
THE BATTLE OF THE BOTTOMS
So many ways to describe this one… I cannot tell you how delighted I was to see James Rowbottom head to Steele Sidebottom less than a minute into the game.
It was like an assman's dreams come true!
I have a lot of time for Rowbottom as a player – he is a diligent worker who is unafraid to put his head over the footy and win the hard ball. With notable outs in the Sydney midfield such as Kennedy, Hewett and Heeney (when he plays there), Rowbottom has had to step up his game and in this one he took responsibility for Sidebottom with fantastic results.
Moving to Sidebottom at every stoppage after the centre bounce, Rowbottom squeezed Sidey to the point where the Gary Ayres medallist had just two touches in the first quarter. It was a worrying sign for Sidebottom, who has demonstrated a lack of ability to fight his way through a tag in the past.
This time, however, Sidebottom made his move to the forward line work for him. Rowbottom did not follow – he is a midfielder and remained as such in this contest. This allowed Sidebottom the room to move and get creative. His inboard kick to set up Taylor Adams' mark and goal was displayed his wonderful vision and allowed the Pies to head to the last change with their noses in front.
The fact that Sidey had seven of his 18 touches in the third quarter speaks volumes about how effective Rowbottom was in the middle and how Sidebottom should be adapting to a different role when he cannot break a tag.
A highly enjoyable duel between two absolute bums.
A CHIP OFF THE OLD BLOCK
It could only be a running banana from the pocket to ice the game, couldn't it? I mean, it's the Daicos way.
Josh Daicos has a long way to go if he is to be held in the same regard as his mercurial father inside the Collingwood Football Club – so often the son fails to match the heights reached by the father, and Gary Ablett Jnr aside, we have seen it happen more often than not.
The kid starts well, plays x-amount of games, but always lives in the shadow of a legend…
… until he starts forging his own.
Under pressure, Daicos capitalised on a poor kick in from Lewis Melican, gathered the footy, composed himself and slotted a brilliant left foot goal from the pocket that would have rattled the MCG grandstands to their foundations had this game been back in Melbourne.
As it stands, it happened at the Gabba in front of a few thousand, but you can just picture thousands more in the lounge rooms across Australia screaming 'Daicos!!!' as the ball curled beautifully through. On a night where Collingwood couldn't really hit the side of a barn, Daicos did the mercurial because… well, he's a Daicos.
It capped what was arguably his best game this season for the Pies, and I am sure he will feature heavily in our weekly wingman rankings this Saturday. With nine of his 25 disposals coming in the frantic last quarter, Josh Daicos made a statement this evening and made the name 'Daicos' the one on everyone's lips once again.
SINCLAIR SURPRISES BUT GRUNDY WINS
Hats off to Cal Sinclair in this one.
I have to admit – I looked at his match-up with Brodie Grundy as the one point in the game that the Pies would have it all over the Swans.
On paper, Grundy should have killed him. He is bigger, stronger, and his second efforts have gone a long way to setting the benchmark for what is expected of a top-tier ruck. Sinclair has struggled against the best in the business at times, and I was of the belief that he would again in this game.
But he was able to hold his own against the Magpies big man for the majority of the contest, and even got some nice wins along the way. Grundy was good in the second half – don't get me wrong, but it was not the game I was expecting from him. If we're sitting down and awarding the contest as we would in boxing, you'd still give the bout to Grundy, but only just. It'd be a 10-9 scorecard… maybe 10-8 at a stretch, and that kind of result was something I was not at all expecting.
I expected a knock out, and I expected it quickly. Instead, the contest dragged on for a long while and we even saw Sinclair land one or two.
It wouldn't surprise me to see Grundy end up getting a vote on Brownlow night (which should be quicker this year given there are less rounds, right? Yeah, sure…) but if we're looking at this performance as one of Grundy's best for the year, I reckon it gives an indication as to a) how good he was last year, or b) how ordinary he's been at times recently.
BROTHER MAYNARD
Have I told you about my wife's theory with Brayden Maynard?
She thinks he is an attempt to clone Scott Pendlebury that went wrong and because Pendlebury is so good, even a lumpier, slower version of him is still good enough to slot in at half back and be one of the best players on the team.
I miss watching Pendlebury play.
Alas, we got to watch his botched clone run around out there, and he was fantastic in this one. He had nine intercept possessions as he patrolled the half back line with his normal sense of confidence.
He was particularly prominent in the first half, but I wonder whether that shoulder niggle just before half time took a little bit of sting out of his game?
THE OLD BULL AND THE YOUNG BULL
Here's a nice story for you all… it's hypothetical, but humour me.
Brayden Sier has been watching a solid group of midfielders for Collingwood for a couple of seasons now. He's an excitable fella and has been ready to take his chance in this Collingwood midfield. He got the call up last week and attacked the game like it was the first time he'd been let out of the pen.
He was like an overexcited young bull looking down at a herd of cows. And he played that way.
Over the course of the last week, one of the old bulls at Collingwood sat him down at the top of the hill and told him he'd be getting another shot at the group of cows again this week. Immediately, Brayden started to get excited.
The old bull looked at the pumped Sier and asked him "What's wrong, Brayden? Why are you so overexcited?"
Brayden was finding it hard to control himself.
"Look at that herd of cows down there… I just want to run down there and screw one of them!"
The old bull laughed.
"No Brayden… you'll give away a free kick. Let's walk down there… and screw them all!"
Sier played with patience in this one, amassing a career-high eight clearances as he took a step in becoming a bit of an old bull, himself. 23 disposals at 73% in a team that needed someone to stand up in the middle is a very nice day at the office for him.
No bull…
JAKE LLOYD
You know, even Swans fans get on Jake Lloyd's case sometimes.
"Oh, he doesn't play on anyone… oh, he loses one-on-one contests…"
I'd like to know what they thought of his efforts in this game – I thought he was outstanding!
Lloyd's a floater in defence. He reads the ball well and knows where to position himself to get it. When Rampe has the footy, he immediately looks for Lloyd, because he knows wherever Lloyd is… that's where the space is.
The running half back finished with 25 touches at over 80% efficiency again in this game, and his eight intercepts added to his stat sheet. Everyone loses the occasional one-on-one contest, but Lloyd's role in this team is not to be the best one-out defender in the back six. His role is to receive and distribute and if you're holding him to the same level of accountability in that regard as Dane Rampe, then the issue may very well be with you – not him.
They don't hand Bob Skilton Medals out to people who don't deserve them.
THE BAD
IS BRODY MIHOCEK AN ARSEHOLE?
I don't know the bloke, but in the first quarter that's how he came across.
I know the players aren't the biggest fans of umpires at times, and I know when you have possession and are over the line and out of bounds, you can either throw the footy to the umpire or drop it  – they're the rules, and when you look at it technically, Mihocek did nothing wrong.
However, when a boundary umpire is running toward you with his hands out for the footy and you see him coming, only to throw the footy on the ground and run off… you come across as a complete prick.
Yes, sticking up for umpires… how 2020, right?
Not really, it's just pointing out when you see someone being a bit of a jackass, and that's what Brody Mihocek was in the first quarter.
Fast forward to the last five minutes of the final quarter.
Mihocek flies inside 50, gets two hands to the footy and really could have been paid a contested mark. He complained long and loud about after the fact, but all I could think was that it was karma for being such a dick early in the game.
What goes around, comes around Brody. Don't be an arsehole next time – umpires are people too.
BUT FOR THE BOUNCE OF THE BALL
Final quarter… minutes remaining… the game on a knife's edge and the long ball inside the Sydney forward 50.
Tom McCartin leads the race back for the footy and it seems as though the Swans are a red-hot chance to grab the ball and run into an open goal.
But it doesn't happen.
The ball bounces at a 45-degree angle and McCartin is forced to do a U-turn. The moment passes and another chance goes begging.
For all the talk of the Magpies poor kicking in the first half keeping the Swans in the game, Sydney really let the Pies off the hook in the last quarter. A Papley shot that he'd nail eight times out of ten missing… Sam Reid opting to kick round the corner from 35 metres out and not making the distance, and Dylan Stephens missing a snap much easier than his blinder in the first quarter.
Throw in Aliir's free kick to Grundy in the ruck to get the Pies out of trouble in defensive 50, and as much as I was impressed with them hanging in there against the Pies, they did not deserve to win.
THE INJURY LIST
The most important injury of the bunch looks to be that of Adam Treloar. It was reported as a hamstring issue and with his recent history, having to spend weeks out recovering will be a big blow to the Collingwood midfield.
That said, the injury to Isaac Quaynor looks to be the most serious.
Back in the olden days, I used to play footy, just like a lot of you… only not as good. I remember trailing this bloke to the contest one day and he went to ground to grab the footy… and just stayed there. I grabbed the ball, had a bounce and laced out… nah, I hacked it forward, because I am a bit of a spud.
I turned back, and this poor bloke was still down, holding his lower leg. I kind of ran toward him as he was lying pretty still, clutching at his leg and when I got close, I could see why.
Turns out one of the groundsmen had not removed a sprinkler head and when this player went to ground, it ripped a huge hole in his leg. The way they were treating him was very similar – basically immobilising the area and going about everything v-e-r-y…  s-l-o-w-l-y.
My hopes are that he hasn't done that – and it is something a little more innocuous, but watching the reactions of his team and the doctors, this wasn't a strain or a tear.
I just hope it wasn't due to a sprinkler being left on the ground. From all reports, he got a nice little pay out from the council.
The Pies ended up with one man left on the bench, and gutted out a win over the Swans. Sydney smelt blood in those last few minutes but were unable to capitalise against a walking wounded Collingwood side, who continued to throw themselves into contests despite soldiers falling left, right and centre.
THE UGLY
BAD KICKING IS BAD FOOTY
I covered a few of the Sydney misses above, but the game should never have been so close as to give the Swans a sniff.
At half time, the Pies were saved by a late Jamie Elliott snap to bring the margin back to a manageable eight points, but with just two goals from 12 scoring shots, there was a real chance that Collingwood were shooting themselves in the foot.
Misses to Sier, Ruscoe, Adams and Mihocek were all gettable, and would have put the Swans under immense pressure. Instead, the wayward Pies limp out of this game with a host of injuries and with a large degree of luck saving them from defeat.
Were they the better team on the night – most definitely. They had more of the footy, were +17 for inside 50s, won the clearances, contested ball, uncontested ball, had more intercepts, less turnovers and really, only lost contested grabs and tackles for the game, but had that ball sat up for McCartin in the last minutes, they could have very well have cocked this up.
There has been a bit of pressure on the Pies in recent weeks. They'll be glad to get out of this with four points, because really, they did almost everything in their power to lose it.
WAS CLARKSON RIGHT?
You know what I'm talking about, right?
Last quarter – Tom Papley launching himself into the stratosphere in an effort to milk a free kick in the marking contest… horrible look for the game.
I cannot believe the umpire fell for that. If anything, he should be hit with a fine for that effort. Bloody atrocious.
Also, Mrs Mongrel reckons Papley is a dead ringer for some bloke from Dawson' Creek or something. You be the judge…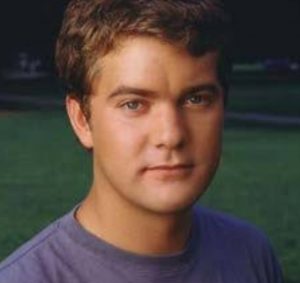 SOME QUESTIONS
WHERE IS JAIDYN STEPHENSON AT?
I'm not sure, but what I plan to do in my copious amounts of spare time is to go through his stats WITH Jordan de Goey in the team and without and see if there is a marked difference. I have the sneaky feeling that when de Goey is around to draw the heat, Stephenson plays better footy.
He was shifted up onto the wing at one stage in this game to get him involved as his first half was abysmal.
It was only 18 or so months ago that he looked as though he could be plonked at full forward and would give the opposition nightmares. It might be just me, but he doesn't strike me as someone doing that at the moment.
WHAT IS THE CEILING FOR JORDAN DAWSON?
With that kick, and ability to intercept, I reckon Jordan Dawson could be an All-Australian within a couple of seasons. He plays a little like Tom Stewart from Geelong – relaxed, in-control and when he gets the chance to go long, he should!
When the Swans can trap the ball inside forward 50, Dawson is the perfect player to be the designated kicker anywhere from 50-65 out from goal. As he develops more confidence, I'd almost expect the Swan to be laying blocks for him to start launching bombs at goal from that distance in the not-too-distant future.
DO THE SWANS NEED MORE FROM LUKE PARKER?
Look, he has as many tackles as he had disposals in this game, and I love his pressure around the contest, but the Swans need ball winners in the absence of Kennedy, and Parker is the closest thing they have to midfield star right now.
I get that the Swans are grooming Rowbottom to become their next midfield star, but there is a lot he could learn by playing second fiddle to Parker right about now instead of being forced to be the first fiddle.
WHO IS THE MOST UNDERRATED MAGPIE
I've been saying it since very early last year – it's Jordan Roughead.
Sure, he made a huge error in this game when he mistakenly thought he had running support at half back and it turned out he was the deepest defender, but on the whole, his ability to find the right spot on the field and chop off an errant attack is criminally underrated.
Whilst Moore, Howe and Maynard have all received the plaudits for their defensive work, and rightfully so, Roughead continues to fly under the radar and get the job done week after week.
OTHER BITS
Now, I am not sure I actually saw this, but did Tom Papley give a handball inside forward50 in the last quarter? I'm pretty sure it was to Ollie Florent (who he baked earlier for not doing the same for him). Someone should check if Paps is okay…
Loved Dylan Stephens' first goal in footy. Brayden Sier ran over him like a train, but he managed to get that snap off… it was a ripper.
There's no denying the hard work of Taylor Adams, but he butchered the ball by foot in this one.
I really liked the game of John Noble, and have for a couple of weeks now. He was a hair's breadth away from displacing Roughead in the most underrated player section.
Cal Brown would be a bit of a killer on the dance floor. He has a ripping change of direction, and always seems to be willing to hold onto the footy for a second in order to assess where to go next. This can work either way, as he can run into trouble occasionally, but it worked pretty nicely in this game. He looked dangerous.
That might do me for tonight. I've got to run and watch the Suns v Saints game now because I'm a footyhead with a very understanding wife. The Pies get Adelaide in South Australia and would be red hot favourites in that one, whilst the Swans get a week off.
And hey, you know we have memberships here at The Mongrel, right? We are small, we're independent and we've knocked back cash from the gambling industry as I reckon I'd be a massive hypocrite if I complained about all the gambling ads on AFL coverage and then sold out to them. For 40-80c per day you get access to our wingman rankings, defensive rankings, weekly player rankings as well as members-only columns and early access to my Good, Bad and Ugly evening game reviews.
Plus you help us grow. Come on… click the image below and help an old mongrel out.