Hello again Mongrels!
Well this has been a YEAR. In March we had a baby. He's great, a very chill kid. But being pre-occupied with him meant that we couldn't do our usual start of season planning for The Mongrel. So HB did it by himself. And that led to him deciding to watch every damn game. EVERY GAME. Even though we have a pre-schooler and an infant.
I don't even know when I realised what was happening. I think I may have hissed "what do you mean EVERY game? Who's going to feed me and look after the children??? What were you thinking? I'm gonna eat your face off".
In fairness, new mums do eat a lot.
But HB survived my wrath, and proved me wrong by managing to watch all those games AND do his fair share of childcare. Probably out of fear.
And we have made it this far. Again, I see there's no St Kilda – Suns Grand Final this year. I'm not sure if that nice red-headed boy with the notebook is still at the Suns but he's still my favourite player. But since we're meant to be focusing on Sydney and Geelong, let's pick out our best on ground now so I can rave about how he was robbed at the end.
Sydney: Best on ground is clearly… Hang on. I don't know any Sydney players. I think there's a blonde fella that vaguely reminds me of my ex's sister but that's all I've got. I'll have to ask HB on this one. Ok, he's told me that I know Buddy, which I do. But I'm not feeling it. I reckon the Sydney Best on ground is going to be Blondie Mc-ex. Looking at him makes me feel mildly uncomfortable but he'll have to do.
(That's Isaac Heeney, people. Sorry – HB)
Geelong: Best on ground is obviously either Selwood or that ex-Hawk guy. Selwood has puppy dog eyes and looks like he'd appreciate home baked goods. Ex-Hawk, who I am reliably informed is Isaac Smith, kind of looks like he is a pirate in a black and white film. Last I'll pick Cripps. I hear he brought his mum to the Brownlow which is adorable.
(Sigh… I am so, so sorry. Mrs Mongrel sometimes gets confused between Geelong and Carlton, because they both have dark blue colours. So incredibly sorry… – HB)
Who am I supporting this year? Well this is easy. I'm allergic to cats. Once HB surprised me with an hour of kitten cuddles for my birthday. Five cutie pies were all over me, but despite my antihistamines, I only lasted 45 minutes before I was one giant welt. Happy but unbearably itchy. So, Swans it is. I have created a very impressive swan boat out of tin foil for the occasion. Also, a less impressive cat. To be fair, it's extremely hard to do a tin foil cat if you're a bit of an unskilled muppet, such as myself.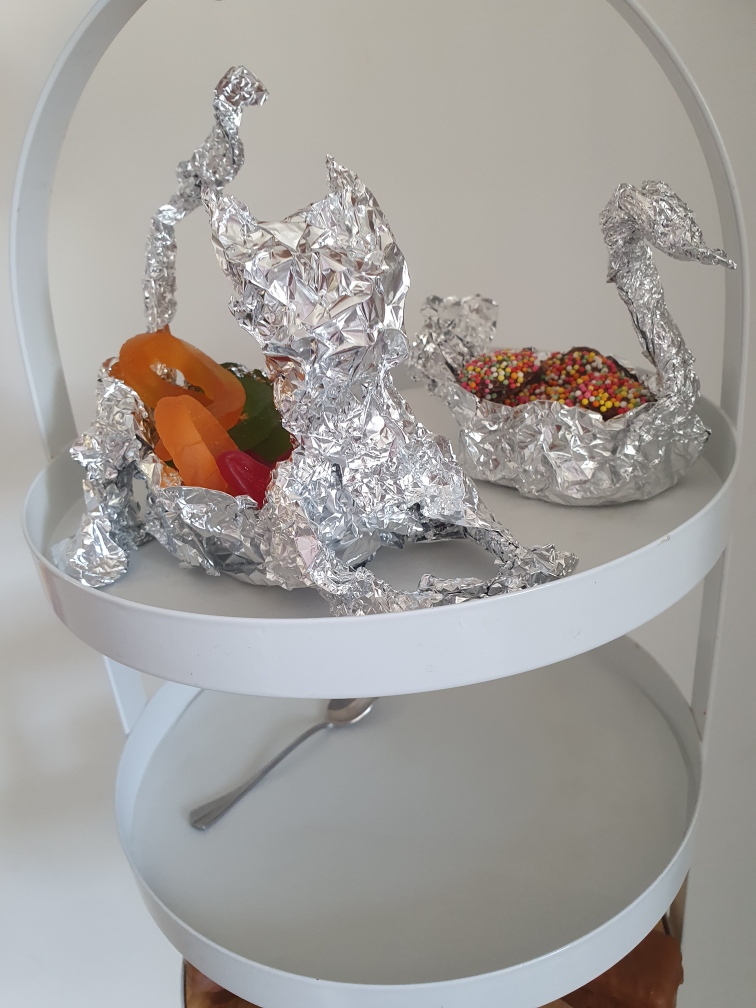 This year I have my friend Mouse with us. She has brought me a bouquet of lettuce from her garden. I am delighted, that's real effort right there. Anyone can pick up some flowers at Coles, but she grew this herself. 10/10.
Now for the pre-game entertainment. Robbie Williams eh? That's a bit of a blast from the past. And look at his dancers in their gold and silver body suits. They leave absolutely nothing to the imagination. Apparently Williams posed for a pic with Gil, and had a bracelet on that read "FUCK OFF". Very edgy Mr Williams. I too get crankier as I age ungracefully. To be fair, I don't need to wear something that is rude. I express the sentiment through my heavy sighs and my dead-eyed stare.
I don't have a lot to say about Delta. She's lovely. I hated her pink outfit, it was truly awful, but she still looked great in it. How does that even happen?
Back to the important business of the day. Mouse is going for the Swans, due to being on the side of native animals. I am technically a Swans supporter but also I am partial to supporting individual players. Sometimes a coach or two.
OH, the players are coming out and there's DRAMA! It's Buddy and it looks like he's gotten tangled in the banner! He'll hurt himself! Is it an omen? If you can't run out to the ground safely and without issues, then what hope do you have?
Mouse has asked which Geelong player is considered to be boyfriend material. For who??? Her? Me? The bevy of Meyers daughters? Doesn't really matter, I suppose. Were they unwed I would select Selwood obviously, and Isaac Smith. Nobody in these teams wears a helmet, and they would usually be my first choice.
Two things have impressed HB, that he may not mention in his review. First is the amazing beard that Bachar Houli is sporting. It's a work of art. A well maintained beard makes a man look 100x sharper and more handsome. Clearly, HB thinks so as well.
HB is also extremely impressed by the sheer size of Tom Hawkins. He's marvelling at him. I'm not that impressed. I'm an eyebrow and thighs kind of woman, but usually when I'm commenting on footballers I'm pointing out who's arms I would like to have.
1st quarter
Righto, everyone is out on the field and I can't help but notice that this year, Geelong did not slick themselves up with what could be considered an unreasonable amount of oil (or what I personally would call an alluring and intriguing amount). That's right, I can't remember what I ate yesterday, but I do remember Geelong being shiny as hell a few years ago. Instead, it's the Swans who are rolling around, glistening in the sun. I'm a tad disappointed. I had my heart set on a do-over.
We're off and running. An umpire just got crashed into. If a sweaty muscular man crashed into me, I would probably fall to the ground crying in pain because it clearly sounds better than it is.
It's pretty dull going so far. I asked Mouse if she knows what's happening. She does not. Neither do I.  Kind of wondering if anyone will lose their shorts this game. Wouldn't that be something? HB and I have discussed me doing 'shorts-watch' next year, but that would probably involve me watching football and that's not really on the cards.
I was worried that I haven't written anything football-related, but HB assures me there's nothing to write about at this point. And just as we start to get really bored, the commentators throw me a bone. "Atkins nailed him in the tackle". THIS… This is why I agree to watch the occasional game. A guy just got nailed in the tackle. Fantastic.
Hawkins has kicked the first goal.  And then the second – Hawkins is back again. He has taken it out of the ruck and kicked a goal. Twice now. I think my footy knowledge is getting better. Speaking of which, I want it in writing that I beat all the Mongrel writers in the footy tipping. Smashed HB completely.
Sydney finally kicked a goal. HB is shaking his head and mumbling something but there's a tower of food before me. It's really hard to know what's going on when you're basically a food driven Labrador in human disguise.
Isaac Smith just got a goal – Mouse has let me know the official term is a "slidey goal".  I'm delighted, he's going to get best on ground for sure. I think they give that to the most dashing player.
Oh he's got another one! BEST ON GROUND, BEST ON GROUND! I forgot for a minute that I'm going for the Swans.
Gryan is on the screen and boy is it epic. The camera focuses on him as he bends over and does a bit of a wiggle. HB comes out with "hellloooo ladies". I think he got his shimmy wrong because he misses.
How come Sydney look so sluggish? I am pretty sure I saw a Sydney player just sort of fall over and lay down. It looked very casual and tired.
HB is annoyed that Daisy is making points that he has already made, as if she is doing it on purpose. To be fair, he also sung her praises a few minutes back, when we agreed that we are on team Daisy and wanted her to be on the Norm Smith committee instead of Abbey Holmes.
2nd quarter
Ok so I missed the first two minutes because I was getting the dessert tray out. My daughter made scones and a chocolate sauce. I asked Mouse to provide some commentary for me while I was in the kitchen and it consisted of her telling me about some guys in red and guys in blue kicking the ball. Basically exactly what was happening.
Stengle just got a goal. HB said '… goodnight Swans'. Apparently Stengle was de-listed twice due to what HB termed as "indiscretions". Mouse and I both perked up and wanted to know if it was saucy. A fling with a coach's daughter? A fling with a coach? Apparently not.
When he turns his face a certain way, Isaac Heaney looks far too much like my ex's sister. I cannot get over it. It's incredibly creepy. She's a lovely woman, but I never want to see her playing footy. She'd be slaughtered.
Mouse decides to weigh in on a tackle, with: "umpire, it's not a crime to hug". I almost choked to death. Wasn't ready for that. The players did kind of look like they were just having snuggly time.
Hawkins has kicked a goal. HB is once again marvelling over him. I want to know, how big is he, and if I took him by surprise, and we were on a hill, could I push him over? I've got some solid post-partum heft about me, but I'm still quite good at sneaking, so I reckon I could do it. I'd test it out on HB first but my nan once pushed my pa over and broke his hip and I'd rather not have history repeat.
Did a commentator just call Tuohy a swashbuckling defender? I think he did. He sort of looks a bit swashbuckling I suppose?
The game is SLOW. I asked Mouse what she would do if she was Tom Hawkins for a day. She said she would enter the wood chopping competition at the Royal Melbourne Show. Very good answer.
HALF TIME
Usually I'd be doing a review of the half time entertainment. Instead I was the half time entertainment for an infant. Shall I tell you about what I would consider a dream performance? I would LOVE to see a bunch of drummers and acrobats and fire breathers just going nuts. We went to the local circus recently and there were a trio called The Lion Brothers. Bring them on and have them do their scary wheel of death stunts.
For music, only have Neil Diamond covers. Then, as everyone is thinking that this cannot possibly get any better, the camera pans to Nic Cage (circa 2008) and he's eating a pie and watching the game as he scouts a location for National Treasure 3.
… and break time is over, baby is fed and loved on, and it's back to reality.
The Sydney fans are all looking pretty grim right now. With good reason. Mouse has said this is a real shellacking.
Brian Taylor keeps using the word swashbuckling. Does he know what it means? I'm not certain. I think it's Brian Taylor – I don't actually know any other commentator.
Isaac Smith gets another goal! BEST ON GROUND! BEST ON GROUND!
Have I mentioned that I won the footy tipping this year? I just told HB and Mouse that if I get the Norm Smith prediction right then I'm probably the greatest footballing mind in the North.
These umpires are amazing at running backwards. How do they do it? Do they practice a lot? I'm struggling to get a forward shuffle going on these days.
Gryan has the ball again. Straight to Hawkins. His arms look a little bit shiny. Wonder if they had a half time oil up.
I asked Mouse for her thoughts on the game, and she scoffed and said "what game". Burn.
Mouse has asked who does the best 'distraction jingle jangles'. That's exactly what she called it. She means when a player is about to kick for goal and someone else… jingle jangles in front of them.
Game is still very slow. Has anyone noticed that 45 and 32 from Geelong look almost exactly the same from behind?
Lloyd just ran back and forth in the hope that he could bamboozle Geelong, but it didn't work.
Stengle just kicked another goal, making it four for the game. HB notes "he's making a run at your boy". Step off Stengle. You aren't a patch on Smith.
Daisy is talking about chaos balls.  I don't know what that is. There's two trains of thought I could take here, but I won't indulge because Smith is going for his fourth goal! Nah, he kicked a point, probably because of a sudden breeze. HB is trying to ruin me by telling me what a chaos ball is but I'm not having it.
Has anyone noticed that Chad Warner vaguely resembles Bill from Bill and Ted? I've now derailed the footy viewing. We're now talking about Bill and Ted. Mouse hasn't seen it. I'm appalled.
I'm not sure why, but Dane Rampe was lying on the ground and hitting Jeremy Cameron's legs. As HB says, nothing says physical dominance more than lying prone on the ground,  lightly slapping another man's legs.
Mouse is asking about the racer-back jerseys. It's true! They are racer-backs. I thought that was only for ladies gym wear. No longer, now everyone can feel awkward getting in and out of this monstrous style. Now we're discussing the cute glitter pants. HB is trying to insist that it's used for some kind of resin that makes it easy to handle balls, but we're having none of it. He's insisting he's told me about this, that they wipe some extra on their guernsey or something, then when they want to get rid of it they wipe their hands on their butts. I'm telling Mouse they actually put the excess in their hair. HB is refuting this, but I know I'm right.
Last Quarter
I don't know how this phrase hasn't been uttered in my presence before. "He was looking for the tackle to slide up."
Aren't we all?
Bill S Preston Esquire (otherwise known as The Chad) just lost his pants! Didn't get a replay, apparently they're more interested in the play that led to a goal. Don't know why. I said that everyone wants to see the dacking, and I think I'm right about that.
Stengle almost got a fifth goal, but he missed. I let out a sinister cackle which HB enjoyed immensely.
The commentator just noted that Geelong is the oldest team to ever play. That's lovely. Or it would be if they weren't all in their early 30s. That's pretty sprightly right???
Mouse is impressed by Dangerfield's socks being pulled all the way up. I'm about to weigh in on that but the camera has panned to the most amazing outfit I've seen in a long while. A woman is dressed up as a princess cat! I know I am meant to be focusing on the Swans, but my goodness, she deserves a special mention.
Six minutes to go and a bunch of Geelong players are just falling over each other and kind of staggering around.
Dangerfield is noted as the only player wearing long socks, probably by Brian Taylor who has nothing on Mouse who has already made mention of this. We should do live commentary next year. Can't be that much worse than the real thing.
HB keeps talking about The Chad. Makes me think of Charlie's Angels.
Aww, Selwood just got his first goal, and the guys are just loving on him. That's lovely. He must be a great Captain, there looks like there is genuine love there.
Jeremy Cameron got a goal, and pretended to crack open a beer. It was the weirdest thing. It was a very good effort at miming, which was probably what made it odd.
I just noticed that Heeney is wearing yellow shoes. Yellow shoes with a red outfit. Is he being paid a by Maccas for this?
And we're done. Geelong have totally annihilated Sydney. HB comes in with the win here, pointing out that Abbey Holmes has stolen Robbie William's clothes – his first positive contribution to my review.
It's all over, but really it was over quite a while ago. It's not that this final was anti-climactic, but it didn't have a sense of urgency about it. It's quite a lovely win though. You can tell how much this team care. I wonder if the team and their supporters feel like this is more of a farewell triumph rather than the start of a dynasty?
HB is regaling us with stories such as Selwood making his first Premiership as a Captain, and how this is Dangerfield's first Premiership ever. I guessed wrong in terms of the winner, but I don't begrudge this at all. A lovely bookend to some long careers, and here's hoping a few players trot out a sequel.