How do you even begin to describe what happened at the MCG on the last day of the AFL season?
How can words possibly do that ending justice?
It was everything that makes the game wonderful and everything that makes you hate it all at once. It was Carlton blowing a four-goal lead in a fit of rushed and panicky shots at goal in an attempt to seal it. And it was Collingwood, refusing to give in, making something out of nothing, and doing what they've done all season long – coming through in the clutch.
THE HEARTBREAK KID
Last season, we saw Bailey Smith motion to his arm, indicating he has "ice in his veins" in a moment idiots in the media translated as "go and get vaccinated." Remember that? They're such idiots.
Well, if Smith had ice running through his veins, whatever is pumping through the body of Jamie Elliott could plunge us all into another ice age.
His two huge goals in the last quarter – one on the back of an excellent contested mark, and the other on the run with the weight of the entire footy world on his shoulders, were about as clutch as you can get. Remember, he had just stolen a game from the grasp of Essendon in an after-the-siren shot from the boundary. That was clutch, but this was on another level – this one cut the throats of the club's most hated rival and it must have felt goddamn brilliant!
Those clutch goals were Elliott's only two of the game, but when it comes to delivering in big moments, he has raised the bar this season. In recent years, blokes like Robbie Gray and Jack Newnes have slotted goals after the siren to win the game, but none have been as important as the efforts of Elliott to snatch victory from the jaws of defeat.
Ice in his veins.
The Heartbreak Kid.
Take your pick, but respect what Jamie Elliott does when the game is on the line. He is as clutch as it gets in the league right now.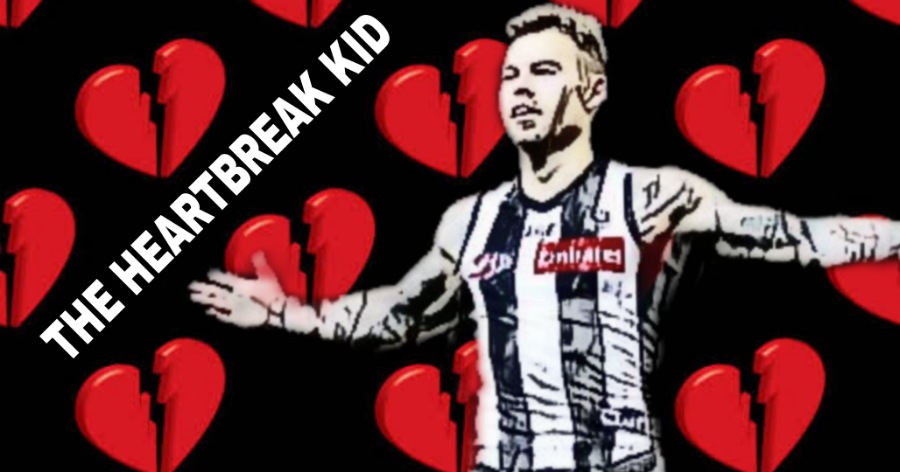 THE UNSUNG HERO
And whilst we celebrate the cold-blooded exploits of Jamie Elliott, I want to make mention of the young bloke with the dyed-blonde hair that did the hard yards to make it all possible.
The bodywork of Jack Ginnivan to hold Adam Saad out of the contest and give Elliott a clear passage to both collect the ball and slot the goal was first class. With three goals already to his name, it is this type of selfless act that people don't see that makes Ginnivan such a valuable asset to the Magpies.
Whilst you might jump out of your chair to berate him, or the umpires, or your neighbour if they've been pissing you off lately, he does a lot of little things that tend to slip under the radar of most. In impeding Saad, he gave Elliott the room to collect the footy, square up his shoulders and run straight at the goals, providing him every chance at success.
He has had an incredible season, establishing himself as a household name at "the biggest club in the land", but it will be things like this that keep him as part of the senior side for a long time, even if the goals don't flow as they have been for him this year.
He has finished the home and away season averaging 1.7 goals per game, and with the amount of heat he draws, I cannot wait to see and hear the crowd erupt when he gets near the ball in September. He was huge on Anzac Day, he was big today, as well. Finals look like the type of stage Jack Ginnivan will relish.
MISFIRING BIGS
Whilst we must be very careful not to level blame at one player, or even a couple of players, it is difficult not to look at the way Charlie Curnow performed in front of goals and wonder "what if…"
Curnow will be crowned the 2022 Coleman Medallist, but there were several moments in this game where he had the chance to stick a knife in the heart of the Magpies and give it a twist.
And he failed.
His last quarter saw Curnow lose composure as he rushed shots at goal, kicking two behinds to finish with 2.5. Just one of them may have been enough to break the Pies.
Harry McKay was also wayward, finishing with 2.3 to his name, leaving too much of the scoring to the smalls.
Earlier this season, our very own Matt Parnell wrote a statistical analysis of Carlton and how they could not win with Harry McKay winning the Coleman. He was summarily whacked by Carlton supporters, who admittedly, were riding high at the time.
Well, Harry didn't win it, but he was supplanted in that pecking order by Curnow. Carlton have another Coleman winner and another season without finals. I reckon Matt would be feeling pretty happy with his predictive article about now.
Anyway, this will feel like a long off-season for Curnow. Knowing you had the opportunity to kick your team into the finals but squandered the opportunity, in part because of haste and perhaps in another part due to panic, will be a big weight to carry through the summer.
I expect him to hit 2023 like a train, as he finished this on like he'd been hit by one.
THE WALSH REPLACEMENT?
This may have been the best performance I have seen from Adam Cerra at Carlton. Sure, he has only been there for one season, and yes, he had games where he collected more of the footy, but in this one, he did the hard work and wasn't the third or fourth wheel in the Blues' midfield.
Cerra worked well with the rampaging Patrick Cripps to give the Blues a +12 advantage in clearances, with Cerra winning six of them. He also worked hard defensively, laying seven tackles including a fantastic full-bodied, front-on tackle on the charging Jeremy Howe in the pulsating last quarter.
He kicked a couple of goals, as well and was excellent all over the park…
… but he was not Sam Walsh, was he?
The Blues missed that relentless run and carry from Walsh, looking somewhat stagnant in the first half as they found themselves hemmed into slower style of play.
I liked what Cerra was able to do with more responsibility, but I don't think there is anyone that would take him over Walsh. If Walsh plays, does Carlton win this?
What ifs… Blues fans have seven months to ponder them.
DAICOS AND DAICOS – CLASS ACTION
Whilst everyone has been in raptures over the younger Daicos brother this season – and with good reason – the older brother has well and truly made a leap of his own in 2022.
Josh Daicos was once again instrumental in the Collingwood victory, with his hard run from the wing giving the Pies plenty of drive as he dropped back into defence to aid the Collingwood defence in spoiling the big boys of the Carlton forward line. Though he registered ten turnovers – Un-Daicos-like), he was a consistent presence both exiting defensive 50 and kicking inside 50.
When you combine his work with the silky skills of his brother, who Carlton did not put enough time into, you have a pair of classy operators that demand you take note of their contributions.
Nick has been a revelation in 2022 and will walk away as the Ron Evans Medallist this year by a pretty fair margin. He collected 25 touches, giving the Daicos brothers a combined 53 for the game as they once again worked brilliantly to both win the footy and bring their teammates into the game.
Still, I reckon Josh would have liked someone to talk to him when he was mown down and caught holding the ball early in the last quarter by Mitch McGovern.
WHAT ELSE COULD HE DO?
With 27 contested possessions to his name in this one, Patrick Cripps worked his absolute backside off for his team.
At times over the last couple of years, people have questioned whether or not he was the right person to lead this Carlton team. If the rest of the 2022 season was not enough to convince you as to his inspirational abilities, perhaps this afternoon's efforts will.
Cripps crashed and bashed his way through a dozen tackles in this game, however, he didn't have enough left in the tank to smash through one more. He was caught holding-the-ball by Josh Daicos in the dying stages of the game as the Blues desperately looked for a way forward and Cripps tried to take on the responsibility.
That one action and the resultant free kick should not detract from what was a monumental effort from the Carlton captain, as he put the Carlton midfield on his shoulders. He finished with 35 disposals, 12 clearances, and eight inside 50s as he tried everything he could to get his Blues over the line.
It just wasn't enough.
DARCY MOORE – STAT MONSTER
Double figures in intercepts, one-percenters, and rebound 50s.
Up until this season, just two men have been able to achieve the Mongrel's Defensive Triple Double – Robbie Tarrant back in 2018, and Dougal Howard in 2021. There are now four players that have done it, with James Sicily making the stat his own this season, notching the milestone three times this season.
And now, Darcy Moore can add his name to this list.
Playing primarily on the man-mountain, Harry McKay, Moore's work was huge inside defensive fifty as he notched 11 intercepts, 12 one-percenters, and 10 rebound fifties.
Moore's battle with McKay was a genuine highlight of the contest, with both he and Jeremy Howe flying in to kill contests like their lives depended on it. Moore has always been regarded as one of the best defenders in the game – in this game he put some massive numbers behind that immaculate defensive reputation, with his first Mongrel Defensive Triple Double. And he put himself in some pretty rare air in the process.
DANGEROUS TACKLES
The dangerous tackle call against Steele Sidebottom cost Collingwood a goal in the midst of the Carlton run in the third quarter. Sidebottom clamped onto Cerra, dragged him down and was pinged for the dangerous tackle that afforded Cerra a shot at goal.
But was it dangerous?
The interpretation of a dangerous tackle seems to change as the umpires see fit. Cerra appeared to have both hands free in the tackle, meaning he had every opportunity to brace for contact and prevent his head from hitting the deck – which he did!
To add to the confusion, Sidebottom also released Cerra from his grip on the way down, meaning that he did everything exactly right and still got penalised.
The umpires are incredibly jumpy about this rule. With the AFL certain to make some pretty hefty contributions to a fund to support players experiencing ongoing concussion-related injuries, the league needs to appear to be doing everything it can to limit knocks to the head…
… including punishing players for pretty fair tackles, apparently.
The umps are far too trigger-happy on this rule at the moment and in a contest that had 132 total tackles and just eight resulting in holding-the-ball decisions, too much leeway is given to the bloke being tackled at the momemt, and had the Pies lost this, it would have been a moment I looked back at and thought how much it had cost them.
Whilst I am on the topic of the umps, was it just me, or did the Blues get a charmed run in the third as they hit their straps? I know it can either be correlation or causation, depending on the circumstance, but in this one I felt it aided them on some critical calls.
CAN WE GET SOME LOVE FOR BRAYDEN MAYNARD?
I am sure Pies fans have plenty of love for him already, but I am not sure there is a harder defender in the game than Maynard – harder at the footy, harder to beat, and harder to dislike.
I remember him playing on Toby Greene a couple of seasons back – maybe it was last year – and Greene, who is an exceptional talent, managed to beat him in a body-to-body matchup and take a mark.
There was no whining from Maynard – no looking to the umpire and pleading his case for a hold or blaming something else for a loss in a contest. No, instead, he applauded the effort of Greene. Not just a nod of approval – he genuinely clapped for him, recognising that he was fairly beaten in a one-on-one contest. It probably happens so seldom that when it does, he is actually impressed.
At that moment, he cemented himself as one of my favourite players, and in this one, he put his stamp on the game early.
Going to Patrick Cripps at early centre bounces, Maynard drifted between short periods as a midfielder and his normal position in defensive fifty where he took five intercept grabs in the first half.
His second half was nowhere near the level of his first two quarters, but he remained a force in defence and was instrumental in the Pies' last quarter fightback.
LITTLE BITS
Jack Martin looked "on" early in the game, but the longer the game went, the less involved and important he became. I'm not sure there is a player who has promised so much and delivered so little over the duration than Martin. 11 touches and four score involvements for him – not good enough.
Could Will Setterfield finally find a place as a defensive mid? This was the second time I have seen him do a decent job in the role, as Jordan de Goey was not a factor in this game, at all.
Speaking of de Goey, it is almost contract time. A big few weeks from him and he could add some substantial numbers to offers. More games like this, and teams may be lowballing.
Isaac Quaynor had a few big moments down the stretch. At points, he seemed to look a little hesitant earlier in the game, but that all went out the window with the game on the line. His attacking run from defence made a huge difference.
As huge as Jamie Elliott's goal was to give the Pies the lead, the effort from the boundary from Beau McCreery has to be one of the goals of the season. That goal right then had to make the Pies feel like they were a team of destiny. As it turns out… they were.
SUMMING UP
So, I often see a shitty column advertised from either Fox, or the AFL website, which is something like "your team's weekend summed up in three words."
I've never read it, as it seems like stating the bleeding obvious, but I got to thinking about it and I reckon "did it again" sums it up for the Pies.
As for the Blues, I don't need three words – two will do it. "They choked."
What a game of footy.