Apologies to West Coast fans in advance for the dig (and this isn't even about the game yet). Why the AFL scheduled this game on a Saturday night, and decided to tuck away the best rivalry in the game in my eyes, in Collingwood V Carlton on a Sunday arvo, is mind-boggling to say the least.
These two sides met twice last season, and the match played out in Round 2 was easily one of the best games of the year, so I guess I have to cut the fixture planners at AFL House a little slack. Hindsight is a beautiful thing after all.
Enter season 2022.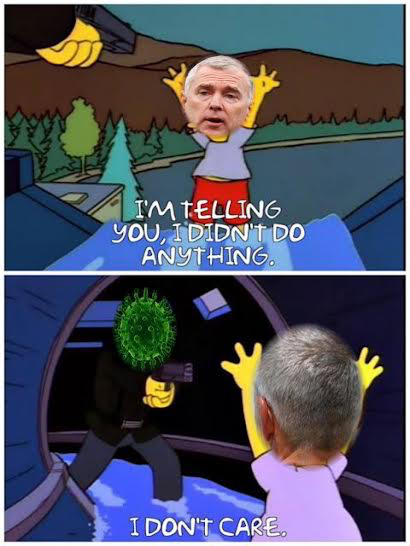 At the season's start, I didn't have West Coast sitting rock bottom after eleven games in my imaginary ladder predictor, but as Owen Wilson would say, 'wow'. With a dangerous cocktail of Covid and injuries, this once feared and proud club just can't catch a break.
Currently on its knees and eager to stop the bleeding, the boys want to give themselves and their proud and vocal fans something to smile about before the season comes to an end. The only thing standing in their way of a famous victory was a rejuvenated Bulldogs side who are finding form and constantly creeping their way along, knocking on the door of the top eight as expected. It was the Dogs, in the end, laying more pain and suffering on the West Coast faithful, running out victors quite comfortably by a modest 101 points. Let's get into it!
HOW IT STARTED
During the first ten minutes of the game, one would be forgiven for thinking they were watching a re-enactment of the opening scene from 'Saving Private Ryan'. Players were coming off left, right and centre with niggles and having a lay down to get their battle wounds attended to. It was only an entrée for the Eagles as more pain was only around the corner.
It looked as though West Coast were content with playing slow, chipping the ball around, maintaining possession and making the Dogs chase wide leaving holes in the middle of the ground. Whether this was a lack of confidence or a strategy to retain the footy is debatable. Either way, it did pay off a few times when they were gutsy enough to make the switch into the middle uncontested and register an inside fifty. It did appear as though the Eagles might be onto something, even if it was a bit grinding on the pace of the game. The only problem was if the Dogs forced a turnover (which became a staple throughout the night) the Doggies mids had more real estate than Donald Trump, more space than the Milky Way, and more time than Nick Riewoldt had before the Heath Shaw smother.
The Dogs were able to move the ball through the middle with ease, weigh up their options and have an eager Naughton, Weightman and Dunkley awaiting gifts.
The Eagles didn't get blown away in the first thirty minutes. Instead, they looked as though they were throwing the gauntlet down and were up for the fight. Darling was looking dangerous and prominent kicking two goals in the first, and kicking a total of four for the night (finishing on multiple goals for the first time since Round 4). But it was the Dogs still registering a healthy six goals for the quarter and smelling a kill was on their hands.
SLOPPY EAGLES
I hate to be one to talk bad about a team's performance, especially when that team is struggling to field a healthy 22 most weeks, but credit where credit is due, it's a ballsy effort to play every week when deep down there's no doubt you may lose again, and I tip my hat to West Coast for going out week after week and playing their guts out after enduring endless interruptions with their 2022 campaign. The performances from Tim Kelly and Jack Darling aside (which I will touch on in a little bit), the field structures, the skills and the confidence were once again, way off. Whenever the Eagles scored a goal it looked painful and messy (reminds me of my shenanigans and hangover after Year 12 Formal) but if it works, it works.
Unfortunately, in this game it didn't work much or often, if at all. Finishing with only eight marks inside fifty compared to the Dogs' twenty, and losing the inside fifty count by a chunky 31, the Eagles' mids didn't give their forwards much chance, which is already an uphill battle when you're missing some of your best forwards and beast of a ruckman.
Speaking of having a mare, Josh Kennedy had a night he would be happy to see in the rear view mirror. Back in the team after missing two weeks with knee troubles, the veteran spearhead looked about as reliable as a 1985 Mitsubishi Sigma that hasn't been serviced properly since 1986 (this is too close to home if you can't tell) and a shadow of his former self. Finishing on eight disposals and a goal, he had moments that were very unlike the Josh Kennedy we've grown to love over the years, including a silly brain-fart and hundred metre penalty (just get out of the way, dude!) which only highlights the type of season West Coast are currently having.
Another blow to the Eagles' horror run with luck was star defender Jeremy McGovern being subbed out in the second quarter with nerve pain in his back. When it rains, it pours, right?
Believe it or not West Coast fans, all is not grim. This season may be painful and feel like there is no end in sight, but once injuries and illness subsides to allow your best 22 on the park, I'm confident your team will be a force once again.
DOGS GETTING THEIR BARK BACK
This season has been a bit of a rollercoaster for the Dogs. Mostly consisting of a win-loss, win-loss pattern, the boys from the West have now strung three convincing wins together, and dare I say, look to be a lock for the top 8? It's not really a big call considering this team was arguably the best team last season before dropping three games in a row prior to finals and finishing 5th, and then strongly making their way to a well-deserved, hard-fought Grand Final berth.
Beating on the team sitting 18th by 101 points probably isn't the most convincing way to stamp your credentials as a finals threat, but tonight the Dogs worked extremely well as a unit and looked as though they are close to being back to their best that we saw last season.
Boasting one of the best midfields in the league, they were instrumental in getting the huge win, even when missing Instagram model and ball magnet, Bailey Smith. Kicking seven goals to halftime from stoppages, the Eagles just couldn't stop the Dogs mids from moving the ball so easily in this area (eventually conceding 70+ points for the game from stoppages), the Eagles struggled to halt the bleeding, giving the Dogs clear movement to execute inside fifty after inside fifty.
Yes, Tim English didn't play on Nic Naitanui tonight and did play on the young ruck duo of Williams/Jamieson, but he still won and he won quite convincingly (sometimes even roving his own ruck work and getting the clearance himself). Finishing the game with 28 hitouts, 25 touches, 11 score involvements, 7 clearances, 6 inside fifties and a goal, he was one of the main influences in this slaughter, which brings me to the next focus point: Adam Treloar.
Treloar was big in this one, so big he'd make John Holmes blush. It's not always about rambling stats off to sound valid and smart, but I'll list them off anyway so you get an idea of his night. 35 touches going at 71%, 9 score involvements, 7 inside fifties and a couple of marks inside fifty to go with it. The only downside in his game if I'm being picky was his accuracy around the big sticks. He could've easily walked away with four goals but could only rustle up one major. Still not bad considering his impact in this contest. Stats aside, he was just everywhere.
FEEDING TIME AT THE KENNEL, COME AND GET IT!
As everyone heard multiple times, and I'll remind you again because it'll be a sin not to bring it up, two records were broken in this game.
Firstly, the 101 point win is the biggest winning margin the Dogs have ever recorded over West Coast, the previous record being a 60 point win way back in the good old days of 2010. Kicking an average of six goals a quarter, the goals were coming in faster than Charlie Sheen spotting a Bordello. By the opening minute of the last quarter, the dam wall had well and truly burst open and it was din-dins for Bevo's pups.
And the second one being the Dogs equalled a VFL/AFL record of sixteen individual goal kickers. SIXTEEN! At one point it looked like Bevo was going to jump on the ground and slot one from fifty himself. Leading the charge was big dog Naughton slotting four, and six other players all kicking two goals each in a dominant display of Big Forward Energy (one of them being Centre Half Backman Alex Keath!)
Sixteen individual goal kickers is huge feat when you consider North Melbourne only had two individual goal kickers in Round 8…..
It shows the Dogs are starting to work well as a unit and finding that team attitude and hunger that'll only serve them well for the second half of the season.
WHERE'S THE WHISTLE?
One thing that caught my eye, and ear, was the lack of free kicks in this game compared to a few others in the past few weeks, which was a pleasant surprise. Well documented this season, the circus that is AFL 'umpiring' has caused quite a stir this year, and rightly so given that in the Sydney V Richmond game, Dan Rioli was penalised for basically breathing on his opponent. It's even at the point now where I'm just waiting for a whistle at every single goddamn contest. Talk about PTSD. But for some reason, and I'm not sure if I'm the only one, it seemed as though the umpires put the whistles away a little tonight? There were numerous 'dangerous tackles' (I'm using quotations marks to get my sarcasm across) that weren't payed, and a few late hits off the ball that went unnoticed.
IT WAS GREAT!
Enjoy it while it lasts because I'm sure a game in the next few weeks will chalk up seventy frees including ten 'umpires dissents' and a few 'prohibited contacts'. Come down from your power trip and give us our beautiful game back!
HONOURABLE MENTIONS 
Tim Kelly –
In what was a pretty gloomy night for the Eagles, Kelly was the shining light amongst the fog. Stacking up a healthy forty possessions, eleven clearances, nine inside fifties, eight score involvements and a goal, it was the kind of Tim Kelly performance we saw regularly when he used to don a Cats guernsey. He worked his arse off for his team, even when they were staring down the barrel of an inevitable loss once the Dogs kicked away.
Rhylee West –
Finishing with a couple of goals and playing gutsy footy, West is only giving Bevo more reasons as to why he should be in the starting 22 every week. Being the son of a club legend would be a hard task in any scenario, and Rhylee looks as though he's grabbing the ball by the horns and giving it a damn good shake.
Jack Darling –
Easily playing his best game for the year, the result would've been even worse for the Eagles if Darling hadn't of played. Registering four goals for the game along with eight marks and eight score involvements, he was the one to stand up when old mate Kennedy looked as though it was nap time at the Senior's Club.
Cody Weightman –
When he's not auditioning for Cirque Du Soleil, the kid can play. Taking a few awesome, contested pack marks tonight, and kicking two goals, Weightman was very fun to watch. You can already smell the Stephen Milne/Hayden Ballantyne vibes on this lad.
WHAT NOW FOR BOTH TEAMS?
The Eagles travel to Adelaide Oval to take on a depleted Crows outfit that will be eager to get four points after a horror five weeks. Is it the week the Eagles get their much anticipated second win? Or will it be the same old story for the 2022 Eagles?
As for the Dogs, they get a chance to prove their worth against a solid Cats outfit at Marvel Stadium under the microscope of Friday Night Lights in a must-win game for both teams.