There was a time, not too long ago, when football supporters in general railed against the Blues having the stage of Friday Night Footy.
Remember that?
Those were the days before a mature Charlie Curnow could come out and dominate the forward fifty, before fleet-footed small forwards could buzz around the pack and create havoc with their creativity and desperation, and before their understated defensive pillar was able to subdue the biggest names in the game.
Yes, they were dark times for the Blues, but as they moved to 8-2 in 2022 and secured a place inside the top four, they're now just a memory. Sure, it is a memory that Carlton fans will not soon forget – pain causes scars – but it is one that makes the current success of this team feel a little more genuine.
To truly appreciate the warmth, one must first experience the cold.
For the Swans, you never question their heart. They were blown out of the water by a rampaging Carlton in the second quarter, but rallied back to challenge late in the final quarter, causing plenty of nervous moments for the suddenly under-pressure Blues.
As a neutral, there was a heap to like in this game and a lot to cover as we dive into The Mongrel's Good, Bad, and Ugly.
THE GOOD
THE COMEBACK IS COMPLETE
Tom Lynch is still to suit up for this weekend's clash against the Bombers, but as of right now, Charlie Curnow leads the race for the Coleman Medal.
How good a story is that!
I've gotta be honest with you, watching Charlie wander around the park late last season did not instil a heap of confidence in his recovery from repeated knee injuries. I'll also come clean and say that I did speculate that falling over on the slippery tiles at your relative's place was more like the type of story you'd expect from Jordan de Goey than from Curnow, but he has cast any doubts about his recovery aside with a scintillating first ten games of the season.
With five first-half goals, and six for the game, Charlie Curnow is on the precipice of fulfilling the huge promise he displayed as an electrifying mobile forward back when he was an emerging talent. A few years later, a mature Curnow has snatched the mantle of Carlton's number one forward as Harry McKay sits on the sidelines, and it is going to take something special for him to part with it.
He took Tom McCartin to the cleaners early in this game, and you could see that the impact of Curnow's performance affected not only his direct opponent, but the entire Swans defence. Curnow's aerial efforts meant Paddy McCartin had to fold back to offer cover more often, which allowed space for others inside 50, and the smalls loved it. I rate Tom McCartin highly – he is one of the best young defenders in the caper – last week he had 17 one-percenters as he completely owned the air against Peter Wright.
But this was no Peter Wright. This was Charlie Curnow in full flight, and as much as you can consider the actions of another man to be beautiful, Charlie Curnow was beautiful in this game. His first half set up the win, and doing that against quality opposition means that he is ready to ride this Carlton team right into the finals.
The comeback is complete, and things from here look very good, indeed.
THE RISING STAR AND THE PRESSURE FORWARDS
There was a very good reason Corey Durdin was handed the Round Nine Rising Star nomination, and just in case you missed it, he provided an encore performance in this game.
Though I have talked up the game of Charlie Curnow above, and rightly so, so much of the early-game success was built on the hard work of Durdin and his fellow small forward, Matt Owies. They seemed as though they were everywhere in the first half, pressuring, harassing,, kicking goals, and setting them up for teammates.
Durdin, in particular, made life incredibly difficult for the Swans, as he stretched the defence with long searching runs to provide a target out of defence, kickstarting the Blues' run and carry game. He finished with 12 touches, three tackles, two goals, and two direct goal assists, as Owies chimed in with 15 touches, four tackles and a goal.
And then you had Jesse Motlop, who threatened to turn the game on its head early in the second quarter. Though he finished with one goal for the game, his presence inside 50 when the Blues were starting to ramp things up gave the Swans fits. I think I've only ever seen Daniel Wells get the ball to his boot quicker than Motlop did at one point.
The Blues have found another one, and with a player I rated really highly when I watched him live last year – Josh Honey – as an option in the second half of the year, suddenly, the Blues are brimming with small forward talent.
THE DEFENSIVE GENERAL
If you ever want to watch a bloke spoil with an intent to kill, jump back on and have a gander at Jacob Weitering fold Justin McInerney up like an accordion early in the last quarter. This looked like a wrestling finishing move. The way it crumpled McInerney to the turf as one of Weitering's 14 one-percenters was a thing of beauty to a battle-hardened old bloke me who thinks the game may be a little soft at times.
That wasn't soft. That was brutally efficient, and there wasn't an umpire's whistle to be heard.
Weitering was tasked with limiting the influence of Lance Franklin – a role he has taken on before, but I am not sure he has ever executed as well as he did in this one. Sure, Franklin ended up with two goals, but one of them came as he streamed through the guts and slammed it home from 60. There wasn't much Weitering could do abut that one.
As a matter of fact, Franklin had to search far and wide for his touches (much like that dirty Joe Ganino) to the point where he had just two inside 50, and none inside attacking 30.
Weitering is our reigning Mongrel Punt Defensive Player of the Year, and as he continues to compile games like this as part of his 2022 season, it will be something he gives a shake again. Hell, he may even get the All-Australian selectors to notice this year?
THE FORMER FAVOURITE SON
I've chatted with a lot of Swans fans this season and not one of them was nonchalant about George Hewett leaving them. As a matter of fact, most seemed genuinely sad that someone they'd watched fight through injury and get back had decided to leave their club for greener, or navy blue-er pastures.
Watching him in this game, as much as it must have hurt to see him at his combative best, I find it hard t believe that any would think he made the wrong choice.
Hewett was a warrior for the Blues in this game, mixing it up with his former teammates in the middle and winning a game-high nine clearances to lead both his team, and all players. This off-season, I wrote a piece about Carlton finally getting one right in terms of their recruitment of Hewett. Many times they'd gone out and grabbed the best player possible, regardless of position (which happened to be half-back… almost all the damn time). With Hewett, this was a team recruiting with purpose.
For years, the club has cried out for help for Patrick Cripps, and George Hewett has provided exactly that. He is no-fuss, no-bullshit, and no-fanfare. He goes in, does the job, and walked away from this game with his fourth-straight 30+ disposal game. When you consider his lowest output for the year was 28 touches, Carlton have found an absolute gem.
THE SECOND-QUARTER BLITZ
I've not seen a Carlton team play like this since… damn, I can't even remember! Was it the mid to late 90s?
It could have been.
This was a team that smelled blood and went for the kill. Sure, they left a little too much life in the Swans, but with that nine-goal second term against a high quality, well-drilled unit, Carlton sent the message that they are legitimate.
Curnow could not be stopped, Durdin was causing headaches, Hewett and Walsh controlled the footy, and both Jacob Weitering and Adam Saad cut off the Sydney counter-attacks at the knees.
This was Carlton playing at their peak, and if you're a Blues fan and did not find yourself jumping out of your seat as goal after goal sailed or dribbled through, then I hope those scars heal soon enough, because you're missing something glorious and if you're sitting there waiting for something bad to occur… inevitably, it will. Enjoy this.
THE CHARACTER
As much as I loved the Blues flexing their muscles in the second, how good were the Swans to rally and steady themselves, coming back through the third and last quarters to get a little too close for comfort?
Sydney will rue a couple of missed chances, and some rushed possessions in the last quarter that could have made things very interesting, but the way the team was able to pull together and work back into the game needs to be commended.
Callum Mills put in a tower of work in the third quarter. No longer shackled to limiting Patrick Cripps, he moved to the outside and was integral in the Swan closing the gap. Ollie Florent did some fine work off half-back and even for periods in the guts, whilst Braeden Campbell came on for the injured Josh Kennedy and had a big impact.
Sydney started to take risks in the third, and the fatiguing Blues could not cover their switches through the middle well enough to force turnovers. This led to the Swans playing fast footy, and when they were able to get out, it would often see forwards in a lot of space.
The Carlton defensive grid is strong, but all it takes is one breakdown for things to go awry. They have maintained it well enough this season, but Sydney demonstrated what precision kicking can do to even the best-drilled setups. The Swans showed enormous character to fight back in this one, and as much as I believe that good sides win these types of games, I walk away thinking they were a better side for two quarters of this contest.
Carlton were just significantly better for one quarter, in particular. And that is as much on the Swans being unable to stop the bleeding without a restructure and rest, as it is about the Blues running rampant.
THE KIDS
One for each team, here.
Logan McDonald was a beacon of light in a very dark period for the Swans. His hands were excellent in this one, and his three goals to halftime, though overshadowed by the efforts of Charlie Curnow, displayed why Sydney was so high on him in the 2020 draft.
The other kid worth noting was tom De Koning in the ruck, who took on the challenge of Sydney's two-headed monster – Ladhams and Hickey, and emerged victoriously.
As if to emphasise his dominance, De Koning took three big "get out of jail" marks in the last quarter to open up the game for the Blues and release the mounting pressure on his team. Taking these types of grabs, to this point of the season, has largely been the domain of Harry McKay and Charlie Curnow, but TDK did amazing things in this game and pulled in a couple of ripping contested grabs to snuff out the hopes of quick rebound play for the Swans.
THE BAD
ATTACK THE BLOODY FOOTY!
Righto Peter Ladhams – when you get home and look in the mirror, I want you to remind yourself that you are a big freaking unit. You're over two metres tall and over 100 kilograms. When you attack the footy in the air, people had better fear for their safety.
But they don't fear for their safety because you don't attack the ball in the bloody air!
In the third quarter, Carlton were attempting to put their collective foot on the throat of the Swans and Sydney were trying valiantly to get back into the contest. The Swans had kicked two early, and Ladhams found himself with plenty of space to work in the forward half as he drifted back toward goal. I'll stop explaining and post the pics I took off my TV, because I am a bit of a whiz at this stuff.
Yes, that's sarcasm.
Florent glides through the middle, sees Ladhams making space inside 50.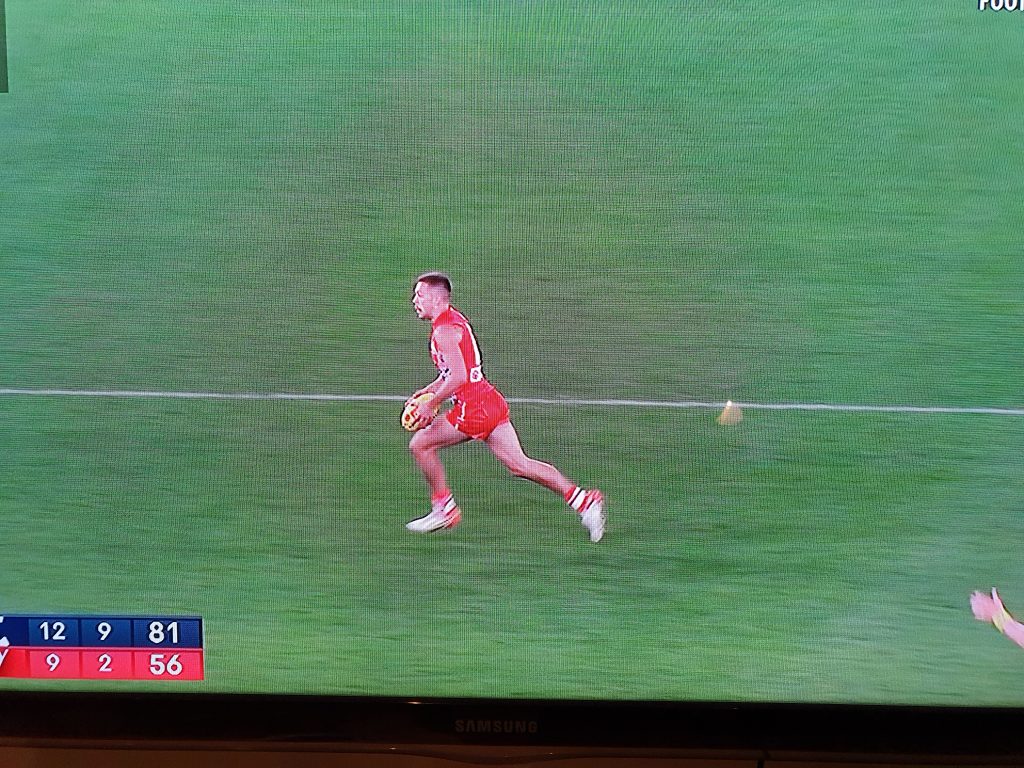 He goes long to the big bloke expecting him to a) engage the body of Lewis Young, and b) fly at the footy, either taking the mark, or drawing the free-kick.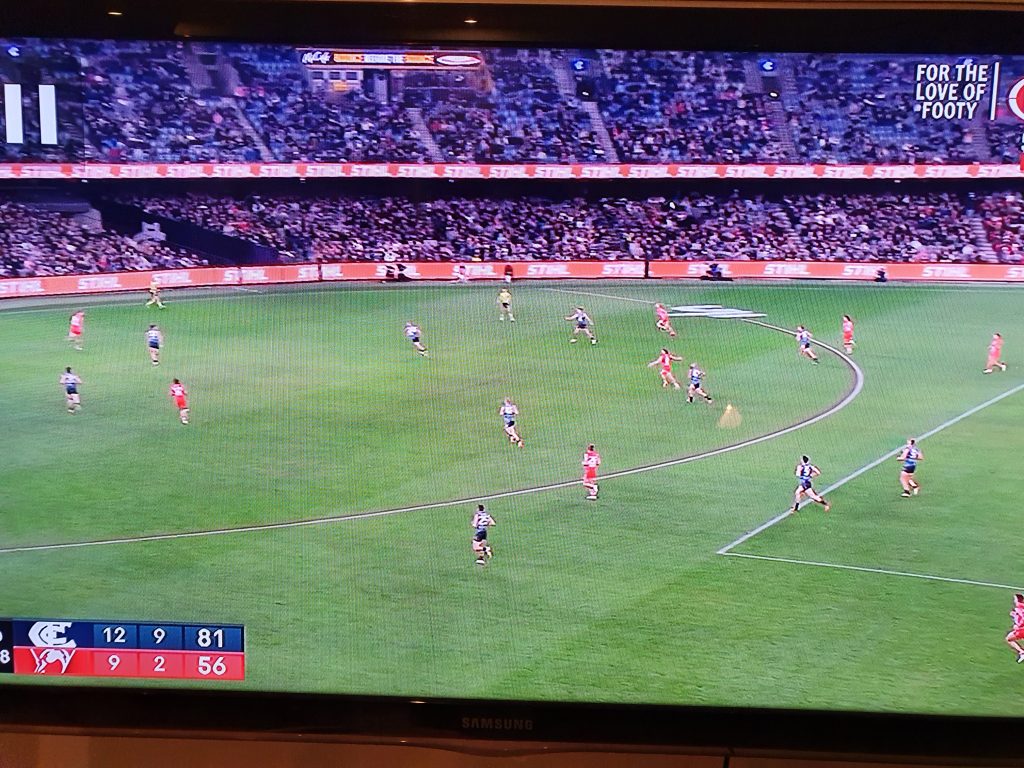 What does big Peter opt to do? Neither. He tries for the cute little hip check thing, makes no bloody contact, and…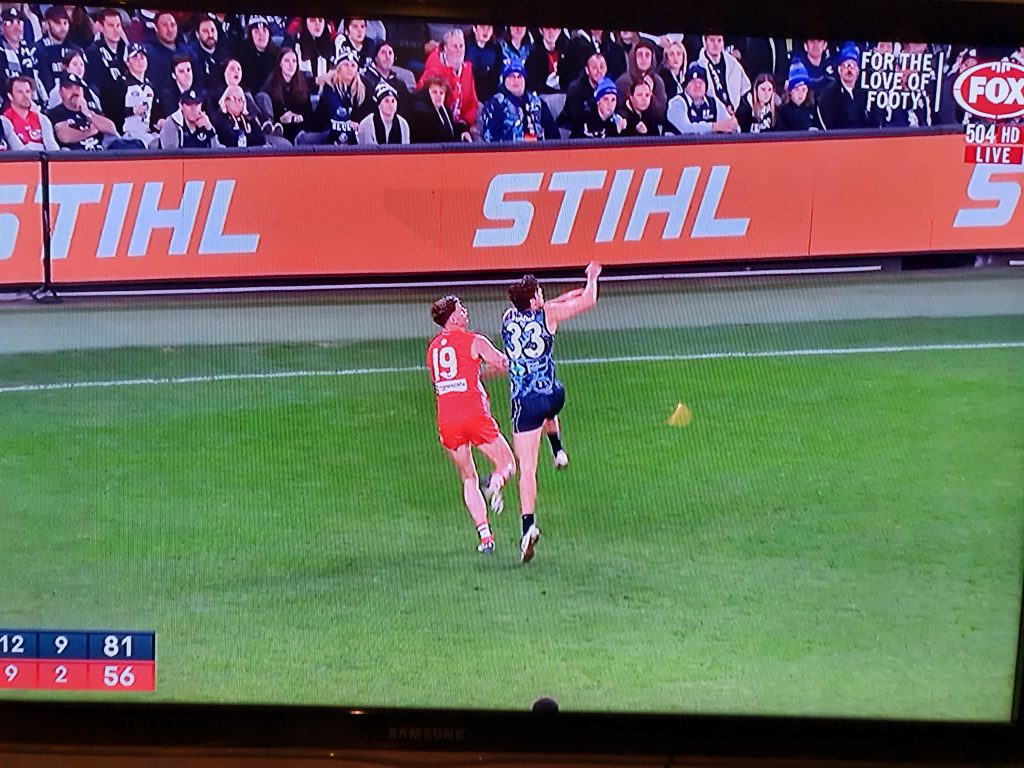 … Young kills the footy. Not only does he destroy the contest, he does so without Ladhams even putting any physical pressure on him. There were two options for Ladhams, here. He could have put his body between Young and the drop zone, or he could have taken a running leap at it… I am thinking John Longmore might be telling him to take a flying leap back to the seconds after that effort.
Now, it is not just that one action, or inaction, that is is the issue. Not at all. Do you know what happened immediately after this? Carlton went coast-to-coast, Charlie Curnow snagged goal number six and the Blues settled.
Peter Ladhams may very well look in the mirror and see what a big unit he is. He may have a bit of a strut about him, too. Good for him. If he does, and if he is somehow able to maintain some form of swagger about him, I sincerely hope that someone shows him this moment from the game, and the one very similar from the last quarter where he was looking for the cheap, easy mark out the back and chose not to go hard at the aerial contest. Size is no use if you don't know how the hell to use it.
And judging by the big, fat, goose egg in the marks column for the game for Peter, maybe he doesn't know? He has very little to be happy about in this one.
FALLING FOR IT
It's happening every single week, and the umpires are falling for it every single week.
A player collects the footy, sees an opposition player in front of him, knows a tackle is coming, and angles his body to draw a free kick for high contact.
And every single bloody week, the whistle blows and the umpire rewards the bloke with the footy for playing for a free-kick.
Errol Gulden was the main culprit in this clash, leading with his head and angling into tackles for two of his three free-kicks (the third was legitimately there), and we just accept this as part of the game.
Like suckers.
I may be like a dog with a bone with this, and I completely understand those who think this tactic is more art form than anything else, but I cannot stand players milking free kicks and umpires falling for it all the damn time. Open your eyes, wake up to what these blokes are doing and pay a free-kick against them because ducking into a tackle is prior opportunity.
Do that, and watch how quickly these blokes stop angling into tackles.
In Gulden's defence, he played a ripper second half after looking shellshocked in the first two quarters, so I don't mean to single him out, but at the same time… I am totally singling him out.
Oh, and while I am on umps, have a look at the vid below.
Now, this occurred late in the game, everyone wants it over and I get it. However, there are two Carlton players locking the ball in, here, right? Luke Parker is tackling them and the ump says that no one is tackling the bloke with the ball… but he calls for a stoppage.
If no one is tackling the ball carrier, how in the hell can you call a stoppage?
Again, this was not pivotal, but just an example of the "make it up as you go" nature of umpiring at the moment.
THE UGLY
THE HIT
You all know what I am talking about.
It was late, it was to the head, and it will probably cost Josh Kennedy weeks on the sidelines as a result. Not that it will worry Kennedy or the Swans, who will be without Kennedy anyway, following the incident that knocked Sam Docherty into next week – he tore his hamstring in the process, and it looked to be a pretty nasty one, as well.
So, what was going through JPK's mind when he launched and crashed into Docherty?
At that point, the Swans were being railed by the Blues, as Carlton slammed on goal after goal. Kennedy may have thought he'd make a statement – a physical act intended to inspire his team? I mean, if the old bloke is going to crack in like that, what is stopping the rest of you, right?
I'd like to say it worked for him, but those types of acts can work both ways. They can fire up an opposition, as well, particularly when it is someone as universally loved as Doc. For God's sake… the bloke just came back from cancer, Josh – at least hit someone like Cerra, who hardly put his head over the footy all game, or Hewett, who jumped ship after last season – why Doc?
Because he was there, I guess? Same reason you climb a mountain – because it's there.
I know there will be arguments calling for Kennedy to serve his suspension once he recovers… you cannot cure stupidity. That is not how the game works. Kennedy will hear from the MRO, plead guilty and take whatever is coming to him, because the way he limped off the ground, we won't be seeing him for a month, anyway. Doesn't make it right – it is what it is.
OTHER BITS
I get all the way to this section only to realise I have barely mentioned Sam Walsh, despite the fact he was arguably the best player on the ground. Whilst I am more likely to look for defenders and forwards that make a huge difference most of the time, there are some games you cannot help notice the influence of a high-quality mid, and that is exactly what Walsh was in this one.
The way he looked so comfortable waltzing back into traffic to find a player in space and ready to clear the footy speaks of a player with maturity beyond his years. It also speaks of a player that is so confident in his own ability that invited pressure in order to draw it away from his teammates.
He is a class act, all-around.
The Carlton pressure on the Sydney midfield was evident even to the casual fan. The number of times the Swans took possession of the footy and saw two or three navy blue jumpers closing in sowed the seeds of panic, and had some Swans players looking as though they expected to be spoiled or tackled even when there were no opponents in the vicinity.
Low disposal efficiency is always a good way of seeing whether players handle pressure well. Wicks, Parker (who I thought really lifted), Warner, and Gulden were all at 65% or under. That is telling. Opposed to them, only Hewett had a percentage under that mark.
Geez, my Ollie Florent/20 disposals equation was looking good at halftime. At that stage, he had seven touches and the Swans were down by 38 points. In the second half, he had 14, and the Swans were +23. Sure, it didn't quite work out, but I am claiming a moral victory – screw you guys! 🙂
Dunno why Chad Warner was pinged for dissent for holding his arms out after being called for running too far (did the ump miss the bounce he took?) and when Patrick Cripps did it, for about five times as long, nothing was called. This is why the rule is ass.
Not much said about the Callum Mills game, but I really enjoyed him and Cripps battling it out in the first half. I'd give the first quarter to Mills, the second to Cripps, and then John Longmire moved Mills to the wing for a while in the third, so their clash ended at halftime.
And that may just do me. A great win by the Blues, despite allowing Sydney back in. And for the Swans – against good teams, and Carlton are proving to be a good team in 2022, you simply cannot have lapses for an entire quarter. You will pay for it… and you did.