We all have things we love and hate about footy in 2022. Some more than others.
As a weird mix of positivity and negativity (pegativity? Sounds a bit… weird…) here are some from HB.
LOVE – CHARLIE CAMERON SINGING "COUNTRY ROAD" AFTER HE KICKS A GOAL
Whoever came up with the idea of playing snippets of songs for each individual player deserves a pat on the back.
Whilst I am not the biggest fan of Disturbia for Zac Bailey, Charlie Cameron has absolutely nailed it with John Denver's Country Road as the track played around the Gabba after his goals. He went for a classic, the crowd sings along, and Charlie, himself, mouths a few of the lyrics as he walks back to position.
It's bloody great!
I heard Dermott Brereton intimate that Charlie singing the song as he trots back to his spot in the 6-6-6 setup as disrespectful, but I think that's a bad take. The crowd loves it, the Lions obviously embrace it, and it is something that adds to the Brisbane home games.
I guess Derm just hates John Denver…
HATE – PLAYERS ANGLING INTO TACKLES TO DRAW HIGH FREE KICKS
Been happening for a long time, and umps keep falling for it.
Dipping a shoulder and throwing your head back to draw the free-kick is an art form in the AFL these days, as mentioned by Cody Weightman just last week. But is it something we should be rewarding?
Credit where it's due – the umps are getting better at spotting it, and occasionally call "play on" or call for a stoppage when a player tries this one, but we're still looking at about an 80% strike rate for players who employ this tactic. It's at the point now where free kicks for too high outnumber free kicks for holding the ball by double (I have the data… watch for a big column on this later this week).
If you want to fix this, immediately penalise those playing for free kicks. Drop the knees and angle into a tackle, or in some cases, throw yourself into a tackler – that's your prior opportunity gone. Blow the whistle, call them for ducking, and watch the players adjust their games accordingly.
LOVE – PETER WRIGHT PROVING THE HATERS WRONG
How good is it to see players rise above the hate?
John Cena would approve.
People will take a swipe at Peter Wright whenever they get the chance. He doesn't go hard enough? He is too one-dimensional?
Yet they seem to be fine with others doing the same role in Harry McKay, Joe Daniher, or Max King. Wright is just 25 years old – people forget that. He has years ahead of him where the Bombers can build their forward line around him, and they picked him up for a bargain.
With 23 goals in the first eight weeks, he sits equal-fourth in the Coleman Medal race and if he could just get some decent delivery, might be close to the top.
HATE – PLAYERS DIVING – PERIOD
Clayton Oliver… wake up.
A few years back you took one of the worst dives we've seen. Seriously, his work against the Eagles back then was deplorable. Need reminding? Here you go.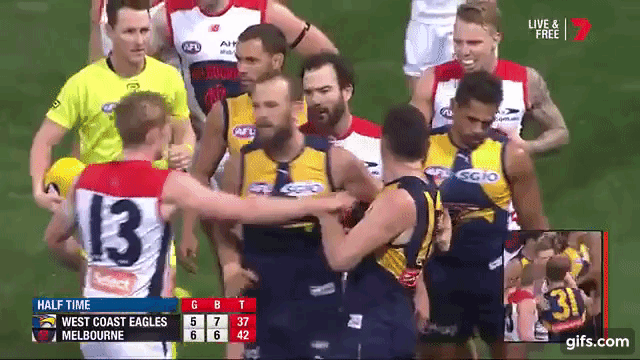 After seemingly removing this from his game, it reared its ugly head again on the weekend, with Clarry collapsing to the deck after a forearm to the chest from Zak Jones.
Before I continue, Oliver was coming into to remonstrate with Jones after he appeared to tunnel Ed Langdon in a marking contest. It was the action of a frustrated, defeated man by Jones, and when Oliver ran at him, he put the bumpers up. But let's get this straight – as dumb as Jones' initial contact on Langdon was, he was ready to stand up and man the mark when Oliver came charging in. Clarry then hit the deck and drew a 50 metre penalty.
All's well that ends well?
Not really.
Being known as a flopper, or a diver is something no AFL player wants. But when you start becoming a serial offender, that's what will happen. Oliver is too good to be known as something akin to that. He needs to eradicate those actions from his game entirely. In short, he doesn't need them. They make him look weak, and he is not that type of player.
LOVE – SECOND CHANCES MADE GOOD
For the second time this season, Will Brodie topped 37 disposals in a game. Not just 37 disposals, but 37 meaningful disposals in a winning effort from the Dockers.
And last season, he couldn't get a game at the Gold Coast Suns in a scenario that is becoming frighteningly common.
With Nat Fyfe on the shelf, Brodie has stepped in to become close to indispensable in the Dockers' midfield. His clean hands and growing confidence see him ranked in the top 20 in the league in clearances, disposals, and contested possessions. Despite the combative role he plays, he is still ticking over at 75% efficiency, as well, which is a clear indication that this is a man that has well and truly found his place in the league.
And it is brilliant to see.
And then there is Tyson Stengle, who you'd have to say is on his third and final chance at AFL level.
He is playing out of his skin, notching impressive numbers not only in goals, but in effective tackles – and when I say effective tackles, I mean tackles that are rewarded with free kicks.
The fear with Stengle is that he was not going to do the work to become a player at Geelong. Would he cruise on through? Would he not understand that this lifeline was a privilege, not a right?
Absolutely he has understood, and the Cats have found the small forward that makes them even more dangerous when the ball hits the deck.
Both Brodie and Stengle have had their doubters for different reasons – both are in the process of proving them very, very wrong.
HATE – QUINTON NARKLE'S DEFENSIVE RUNNING
Geelong carried this bloke on the weekend, and for those who have been calling for his injection into the team to add some speed on the outside, go back and watch the first quarter and you'll witness a man that simply has no interest in running both ways.
On three occasions, Narkle simply neglected to go with his opponent, allowing them to run to position to receive, as he jogged along behind them play, waiting for a turnover and an easy possession going the other way. I am not sure how he would defend these actions as part of the review. If I was seeing it clearly, I can only imagine how vivid it must be to the coaching panel.
Yes, the Cats played well as a collective, and yes, Narkle finished with 19 touches and a goal, but seven of those touches and the goal came in the dead-rubber last quarter, and when the heat was on in the game early on, he was nowhere to be seen… unless it was 20 metres behind the player he was supposed to be playing on.
Good teams don't have passengers. Good players don't put that burden on their teammates.
LOVE – THE HARD WORK DEMONS
Look at this picture below.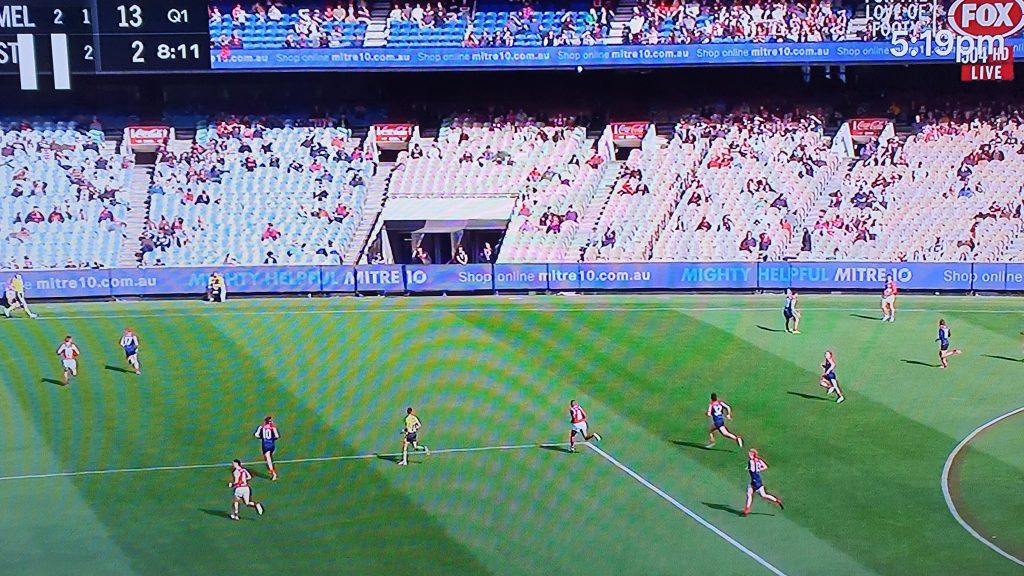 What do you see?
I see a sea of red and blue runners, hell-bent and determined to stop the exit of the footy from their attacking zone. Other teams may amble back. Others may leave holes in their setup, but the Demons are next-level in terms of shutting the space down. This footy has got to Jack Sinclair on a quick exit. It came inside 50 on the near side of the ground and is exiting immediately on the right, but looking up, what options does Sinclair have?
Butler is completely covered by Bowey down the line. The hard-running Hill has Sparrow and Oliver trailing him, but Angus Brayshaw is watching Sinclair and has that short pass covered if he decides to bite it off. Sparrow would probably make the contest as well. Brayshaw is also positioned so well, that any attempted kick over the top to Gresham is his responsibility too.
And then you have Ed Langdon streaming up from defence and… someone else I cannot quite make out doing the same. It makes any kick into the corridor borderline suicidal and the kick down the line is handly covered off.
The thing is, anyone can take a picture off their TV (most wouldn't but I'm a nerd) to illustrate one specific moment in a game, but the Dees do this over, and over again. Pick an opposition defensive exit and talk me through it – it won;t be all that different. They just run harder than everyone else to close down options. If you don't go quick and make your pass, they will beat the hell out of you by the weight of numbers.
How do you beat this team? You have to outwork them, but as this picture indicates, outworking the hardest-working team in the business is easier said than done.
HATE – DAN MCSTAY GETTING HURT
He was having such an excellent season, and in many ways, I'd had my eyes opened up to the role McStay plays for the Lions.
This season, I started to chart and track the "Get out of Jail" marks and, to my surprise, I started to see McStay's name popping up every single week. As a matter of fact, he was the only player in the league to have at least one of these marks every week up until the end of Round Seven.
And heading into Round Eight, he was the outright leader in that category.
I'd been pretty critical of McStay in the past and I still reckon there have been times when he has not performed his role well, but he had made huge strides this season, and being the second big Lion to go down in two weeks… it will be interesting to see how Brisbane covers him.
Suffice to say, I'm McStaying the course with him. He made me a believer this season.
LOVE – AN INJURY-FREE PATRICK CRIPPS
His 2022 season has been remarkable thus far, and if he is not leading the Brownlow at the conclusion of Round Eight, then there has to be something wrong with the system.
Cripps is monstering teams, too powerful for your regular midfielder, he has added that burst running power that had been missing from his game over 2020/21. The result has been a version of Cripps that not only dominates the middle but runs forward and snags goals, as well.
With 13 goals for the season, Cripps is averaging 1.9 per game, and had he not gone off the ground early with hamstring issues in Round Four, we could very well be seeing him headed toward the first season in over a decade to average 20+ disposals and 2+ goals per game. He still may get there.
Plenty wrote the injury-plagued Patrick Cripps off. Plenty were dead-wrong, and as we roll into Round Nine, he looms as the most unstoppable force in the game.
HATE – PATRICK CRIPPS BEING CITED FOR A TACKLE
This was garbage.
It was a great, hard tackle on Lachie Murphy that deposited him flat on his back. Murphy reached for his neck and was subbed out of the game, which prompted the pearl-clutchers to call for Cripps to be suspended.
Firstly, are you fucking kidding me?
I rarely swear in my columns, but the decision to even look at this tackle reeks of the knee-jerk, panicky reaction that has seen the AFL change rules in the middle of the season. The issue here is that Murphy has a recent history of issues with his neck. That is not Cripps' fault, and given the tackle was completely legal, it should not have even been flagged.
We seem to be moving toward a game where any sort of injury at all results in the league looking to blame someone and punish them for it. Sometimes, injuries happen, and whilst I am glad Murphy is ok, and I am rapt Cripps was not suspended, I am pretty bloody annoyed an action that is part and parcel of our game was being treated like a possible offence. Lift your game, AFL.
LOVE – THE RETURNS
Two returns on the weekend made me smile.
I'll start with the one that saw me have to delete about 100 racist and insulting posts from our Facebook page… only to be accused of not doing enough to stop people from being racist and insulting. Guys, monitoring Facebook is not a paid gig… settle down.
Adam Goodes returned to the SCG to take part in the Sydney Swans' ten-year premiership reunion. It was a great moment that should have been celebrated. He didn't return to be with the club, or bend over for the AFL. He returned to be with his mates and celebrate what they achieved together.
The fact they beat my Hawks to accomplish that still stings, but to see him back enjoying his place within a team environment… it was great, and if you don't think it was, I genuinely feel sorry for you.
The other return was Dusty hitting the MCG as part of the Tigers' win over the Pies. The cheer when he stuck that arm out and fended off for the first time… manna from heaven.
Martin played his role, finished with a couple of goals, and whilst he was not his dominant self, he was handy as his fellow Tiger forward, Tom Lynch, dominated the game.
After the game, he declined an interview where he would have undoubtedly been asked some of the dumbest questions in the history of interviewing, and I cannot say I blame him one little bit.
HATE – NORTH GOING BACKWARDS
Already, we're starting to see segments of the media questioning David Noble, and in the midst of a rebuild, he has barely had time to get an ass-groove in the coach's seat.
North are struggling – that's an understatement. They're not looking anything like a team on the rise, as they did in the last third of 2021, so it's natural to ask what is going on.
The answer is simple – the list needs time.
They have talent – Luke Davies-Uniacke continues to tease with hints of Petracca-like ability. Jy Simpkin is a warrior, but needs help. Nick Larkey is on the verge of something,, but whether that is the verge of being a good key forward or a key forward reliant on free kicks to get him over the line remains to be seen. And then there's Jason Horne-Francis, who looks like he cares more about winning and competing than every other bloke on the list at this point.
But it's the little things that bring the Roos undone. Basic skill errors, double-grabs at the footy, fumbles… all invite pressure, and the Kangas just are not up to handling the pressure just yet. They will be, but right now, they fold like a conservative poker player whenever the heat is applied.
Tom Powell, Will Phillips, LDU, Tarryn Thomas, Josh Goater, Jason Horne-Francis… they're all first-round picks – many of them pretty high first-round picks. They will pull it together, but to expect a miracle this season is probably something beyond Noble, or any other coach, for that matter.
That said, without improvement, the below article is where you end up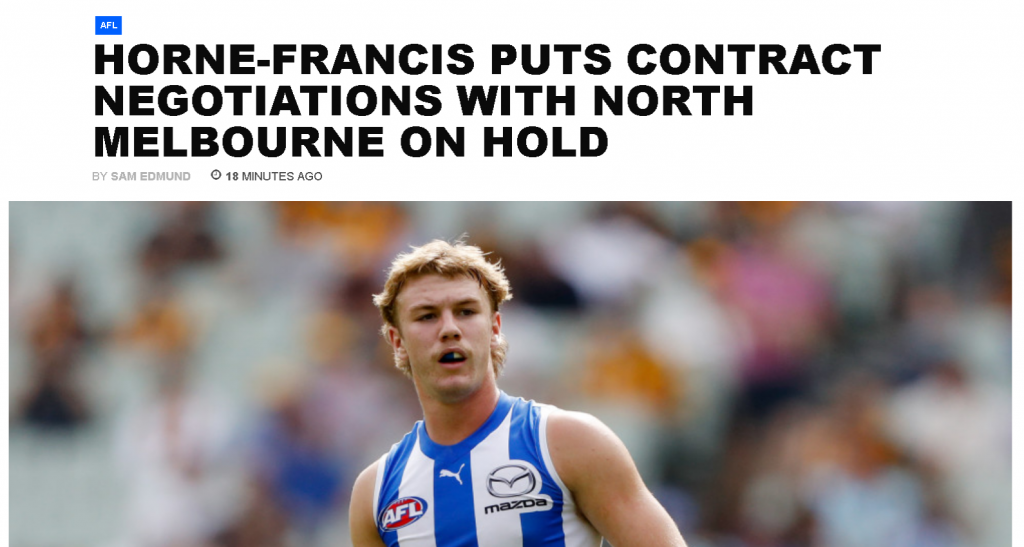 LOVE – A GOOD, OLD-FASHIONED DEFENDER
Sam Collins… love to see him battling away against the key forwards, and for a lot of the time, he is forced to do it one-out.
He had some huge wins against Buddy Franklin on the weekend, matching Franklin in the strength department, and throwing himself at the footy all game long.
We all saw how personally he takes his one-on-one duties after he copped a whack to the guts from Tom Lynch a while back, and scenes of him pacing back and forth in the rooms after the game, like a caged animal, were aired. That is the type of passion I like to see, and it is the tyoe of mongrel in a key defender you'd love to have on your own team.
Also, that Chopper Read moustache doesn't hurt. Maybe he should cut his ears off, too… just for the intimidation factor? He can blame a clumsy hairdresser, or something…
And that might do me for now. I am sure there are more things I love and more things I hate about the 2022 AFL season, but hey… I've got to leave a few for you guys to chime in with. Hit me with them in the comments or on our socials.