With just one win for the season and down by 25 points halfway through the third quarter, it looked as though the Bombers were about to be handed their seventh loss of the 2022 AFL season.
Against the old enemy, they continually ran the gauntlet through the middle and were made to pay on the turnover, with Hawks out inside fifty on several occasions. Looking around the crowd, there were worried expressions on the faces of the Bomber faithful.
And almost as many faces wearing angry expressions.
They needed something. They needed their team to lift. And they needed someone to provide the spark to light the flame. They got it in the form of several players putting their hand up and playing for the jumper. As the Hawks looked out on their feet, some of the younger Bombers stepped up and took control of the game.
Ben Hobbs was huge, and Nic Martin continued to demonstrate that his signing may turn out to be the biggest bargain the club has received in a long while.
The Bombers rampaged back into a game that was controlled by the Hawks for two and a half quarters, overrunning them in the last quarter as their veterans took the cue from the kids and worked their way into the game.
It was the type of win that gave Bomber fans hope – hope that all is not lost and that this group can and will fight to salvage their season. It may seem like a bit of long shot, but every great journey begins with a single step.
And the Bombers took one in this game.
Here's The Mongrel's Good, Bad, and Ugly.
THE GOOD
THE RECRUIT
It's funny – after watching Nic Martin in the Bombers' intraclub game this preseason, he was a man playing like he needed a contract. He was everywhere in that contest, taking every chance he could to impress the Bombers hierarchy that he should be offered a chance at the top level.
I reckon they'd be thrilled both with themselves for offering him the spot, and by what Martin has produced as a rookie in the league.
He was huge in the third quarter as the Bombers rallied from 25-points down to make this game a legitimate contest, and then he adjusted in the last to both hit the scoreboard and set up his teammates.
As much as we look at the top draft picks year after year, waiting for them to make a huge impact and wield large amounts of influence over the contest, sometimes you find your Aladdin – your diamond in the rough, and they can offer just as much – if not more considering they're a little more mature – to a team on the rise.
What Nic Martin has been able to do in 2022 has been outstanding, and if his season ended right now, you'd be absolutely thrilled with what he has been able to contribute over the first couple of months. With 22 touches, two goals, and ten score involvements, he is playing the high half-forward role as well as anyone in the league. At 22 touches ad 1.4 goals per game, he is making Essendon look like geniuses, and at the same time, making himself indispensable to this footy club going forward.
IS THIS THE YEAR OF REDMAN?
I've been waiting a while for this from Mason Redman.
Sure, there have been flashes of what he is capable of over the past few years, but there was a point in the fallout of the Adam Saad trade that I expected Redman to emerge as the replacement runner for the speedy Saad.
Of course, I didn't really see Nick Hind coming at that stage, so it is understandable as to why it took longer, but Mason Redman has taken another step in 2022, and now looks ready to play a vital defensive role for this Essendon team.
Finishing with 27 touches and providing the Bombers with great rebound 50, his hands in close were also quite impressive and it was good to see his body working at the same speed as his mind – there have been instances in the past where they've been a little out of sync, and that has cost Essendon.
He still has a bit to work with in terms of his disposal quality at times, but the tools are all there and he is starting to construct something pretty special. At 24, he is coming into his prime years right now – sit back and watch the show from this bloke – he has made the next step.
THE KID
I loved what I saw from Ben Hobbs as the game tightened up in the third quarter. Sure, he missed a vital goal, but he'd just come off kicking one minutes earlier, and his efforts at both ends of the ground are exactly what you want to see from a kid making his way in the league.
With 19 touches and four tackles, his 11-disposal second half indicates that the hotter the game, the more comfortable Hobbs is in the role. He has great hands, good vision, and will be a mainstay in this Essendon midfield for the next ten years.
Give him the Rising Star nod this week. Even if others have bigger numbers, his influence in the second half provided more than most kids with empty stats.
THE GOOD SIDE OF PETER WRIGHT
And now, we get to the big man!
With six goals to his name, Peter Wright was far and away the most potent weapon on the park for either team. His hard leads all the way down to half-back to give him defence an outlet option set the tone for what would be an excellent night at the office for him, finishing with six goals and playing an integral part in breaking the game open in the second half.
There have been a lot of people over the journey that have relished the opportunity to sink the boots into Peter Wright. Whether it was that he didn't put in, dropped easy marks, made poor decisions… and you could make the case he did the last two of those three things in this very game, people tend to look for something to complain about. And in doing so, they miss what he is providing for their team.
Wright straightens Essendon up.
I've not quite seen him demand the footy the way he did in the early stages of this one, but he definitely had a commanding presence out there, and if there was a footy in the vicinity, it was as though he was lectured not to allow someone else to take the grab, even if it's your teammate. It looked as though everything he could mark, he was going to try to mark.
His six snags puts him at 23 for the season, trailing overall leader, Tom Lynch, by just four in the race for the Coleman. It has been an incredible season thus far for Wright, and so powerful has his forward craft become, I genuinely find myself barracking for him to get the footy and prove all those who doubted him wrong.
Maybe I just like the underdog, but the way Peter Wright has re-established himself at Essendon after being abandoned by the Suns, really is quite a special footy story.
O'MEARA STANDS UP
It's been a while since I have been genuinely impressed by the game of Jaeger O'Meara.
Over the last couple of seasons, it became apparent that he was doing his best work in the clinches, but had little to offer outside the clearance and contested work. Whether that was because he had not been able to do the work in the preseason, or whether he was carrying a niggle or two, I'll never really know. However, in this game, he was more than just an inside player, working just as hard with his run-and-carry game to give the Hawks drive out of the guts.
He had 28 touches, 13 score involvements, including two direct goal assists, and laid six tackles in one of the better games we've seen from him in quite some time.
We're seeing a bit of a changing of the guard at Hawthorn. All you have to do is watch to witness Jai Newcombe and Josh Ward taking on more responsibility, as Tom Mitchell becomes a secondary, third, or fourth option.
Is this the correct course of action for Sam Mitchell to take? I'll cover this a little further down.
A CAPTAIN'S KNOCK
This one will likely fly under the radar, as it seems it's cool to knock Dyson Heppell these days, but if you were ever looking for a captain to rebound and demonstrate exactly why he is the onfield leader of the team, I reckon Dyson Heppell showed it this weekend.
With 12 intercepts as part of his 25 touches for the game, Heppell looked in control of the half-back line, positioning himself perfectly to cut the Hawthorn attack off at the knees late in the game. The Hawks were desperate to drive the ball forward, but Heppell's experience and composure gave the Bombers a cool head when re-entering 50.
If we compare the two captains on the evening, I don't think you could be disappointed with either. Whilst Heppell was understated, the bodywork and ability to kill contests of his opposite number gave the Hawks plenty of stability… right up until when the whips started to crack. That time became Heppell time, as he lifted his game to match the increased effort of his team.
I've read quite a few opinion pieces questioning Heppell's leadership, but if you're sitting at the game watching him marshall the troops and set up the defence, you'd quickly change your opinion. The fact that he had such a young bunch of players to work with as key defenders, yet still managed to compose them and get the team over the line speaks volumes about the way he handled himself, and the way his charges listened to him. It was truly a captain's knock in defence.
DRAPER V LYNCH – MULLET-BOWL
Both guys had some moments in this game, but looking back, Lynch was the harder worker of the two. His effort to cover the ground and be a presence at both ends far surpassed that of Draper, who seemed more content cruising around Marvel Stadium, doing his own thing.
I'm sure Ben Rutten noticed, as well, as Draper visibly lifted in the last quarter, dominating the hit-outs and giving his team first use on multiple occasions. He also started to ramp up his second efforts to ensure there's be no Hawk revival stemming from the centre square.
Lynch was all over Draper early in the game, but like his midfield, he faded in the last, unable to jup over a piece of paper late in the piece. This allowed Draper complete ruck dominance, and this is reflected in a 14-2 differential between the big men in hit-outs for the quarter.
So, you had Lynch with the fast start, and two snags as the Hawks built their lead, or the power of Draper late that fed his mids as the Bombers charged home.
As much as I would like to say you stick with the winning team, the two goals from Lynch really stretched Draper early on, and I would not have been surprised had Ben Rutten eyeballed his big man at quarter time and said what he was providing was not good enough.
He would have been right had he done that.
THE BAD
STOPPING TO A WALK
I don't know whether it translated well on-screen, but you could feel the momentum change in this game. I liken it to a hot Summer afternoon. You're sweltering, there is no shade for you to hide in, and you know that unless you get some respite soon, you're done.
That was Essendon in the third quarter – they were teetering on the edge of disaster, and you could argue that only the inaccuracy of some Hawthorn players kept them in the game.
And then the wind changed and a cool breeze blew over them. Suddenly, all those that were running hot cooled off, and it was the Bombers that looked like they were coming home with a wet sail.
They kicked eight goals to one in the last quarter to completely run over the Hawks, who looked like they were out of gas.
Luke Breust couldn't get a touch. James Worpel did what has become all-too-common for him recently, ad disappeared. Jai Newcombe, after such a great first half, was running up and down on the same spot. And Tom Mitchell was unsighted.
Between the players listed above, they compiled a total of just four disposals in the last quarter. The others, I can cop, but Tom Mitchell was the man who sparked the Hawks in Round One last year, with a mammoth third quarter. And this year he can only manage one touch when the heat is on?
Something is up, there, See below.
Newcombe obviously ran out of petrol and what seemed to be destined for a 30+ disposal outing stalled on 28.
The Hawks were outworked by the Bombers in the last. They'd proven they could match them, and that they could beat them. They worked hard to get into a position where they could win the game.
And then they fell away so dramatically that you'd either have to question their fitness, or their mental toughness.
PUTTING A SQUARE PEG IN A ROUND HOLE
Tom Mitchell at half-back, huh? Take him out of the action. That's the plan?
It seems to be the vision of Sam Mitchell. It's the vision that will see Tom Mitchell playing for another team in 2023, and the Hawks will receive 40c on the dollar in terms of his market value.
Tom Mitchell is an elite midfielder. If you guys believe all that crap about him not hurting teams and picking up hollow possessions, then apply that same logic to Darcy Parish and Lachie Neale as well – that is the role these blokes play.
Seeing Mitchell starving for a touch of the footy in the last quarter had to be humbling for him, and it is a tad disrespectful from his namesake in the coach's box to treat him that way. Hell, even Adam Simpson played Sam Mitchell in the guts in his AFL swansong in 2017. He didn't throw him onto starvation corner and force him to beg for the footy.
Tom Mitchell is a Brownlow Medallist. He is a three-time Peter Crimmins Medallist and will one day be a legend of this Hawthorn Football Club. To see him play out of position as the opposition runs all over the top of his team was horrid. I understand what his coach is doing – he was trying to give the young kids some experience in continuing to fight and win back the lead, but when you do that, you need some experience around you to show you how.
And it is pretty difficult to demonstrate this to them when you're stuck in no man's land and cannot impact the play.
Thanks for your service, Tom – I hope your next team values what you can do more than the Hawks did on this occasion.
THE UGLY
THE BAD OF PETER WRIGHT?
Righto, this is going to be interesting.
Where I was sitting for this game gave me a great view of this moment, with Peter Wright working into space between half-forward and the centre. Sam Frost had sagged off him like a wizard's sleeve and Nick Hind was bursting out off half-back with the footy. Look at all that space in front of Wright to kick the footy into and allow him to get a run at the ball in the air. Hind is usually a great kick of the footy, and I would back him to make this easy for Wright 19 times out of 20.
Unfortunately, this is the one time that he didn't. Take notice in the pic below where Wright is standing. A good kick would allow him to come at the footy, even by just two or three metres. This one did not. And apologies for the poor pic quality – I took them off my TV when I got home.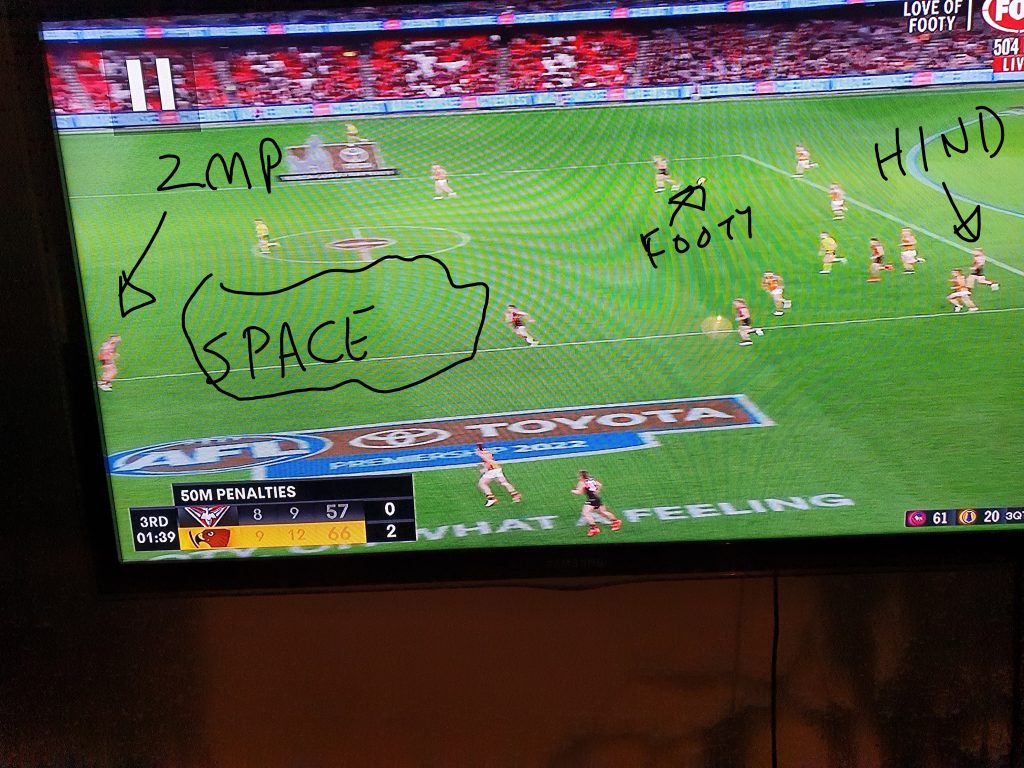 Now, looking at the next pic, Wright is still in the exact same spot as when the footy was kicked. He has to stand there and jump vertically instead of taking a running jump at the footy. We're all aware of what happens in these instances, usually, right?
Anyone who has played footy will tell you it is a horrible situation to be in.
Wright leaps and misses the mark. The Essendon fans around me went nuts, screaming and cursing the name of Peter Wright as though he was not the bloke that has been their spearhead all season and on the way to another bag of six. I'd repeat a few of the phrases here, but I am afraid we'd be de-platformed and I'd be hunted down by every PC warrior on the internet. Some of those women at the Bombers games… they have a certain way with words.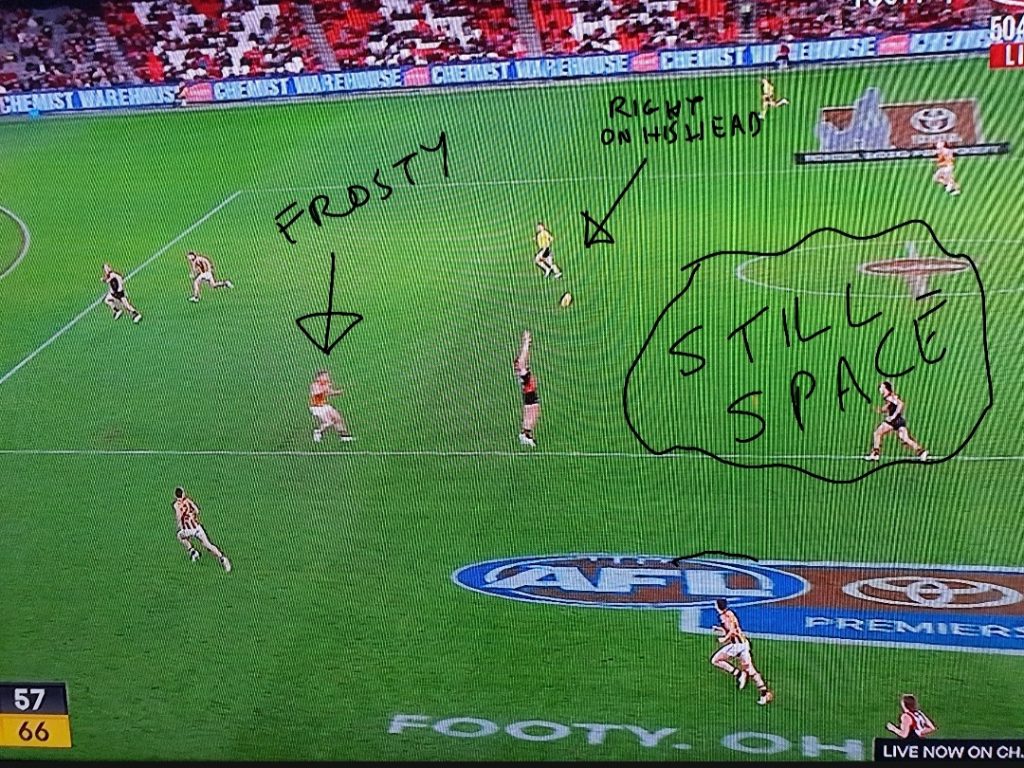 Anyway, my point here is that too often we have the blame levelled at a player like Wright, who is simply scrambling to make up for a skill error from a teammate. On this occasion, if those lovely ladies on Level Two should have been angry at anyone, it should have been Nick Hind for overcooking the kick by 5-10 metres and forcing Wright into a crappy spot, but like most things in life, it is easy to get angry at the last thing you see in the chain of play, as opposed to all the circumstances that led up to it.
I wrote an entire article, complete with lovely little pictures demonstrating the way the Bombers have let Wright down at times this season with their kicking skills. I'm linking it below in the hopes that our lady friends on Level Two get to have a gander and realise they've been verbally abusing the wrong bloke most of the time.
OTHER BITS
A real "almost" game from Jack Gunston in this one. It was like he wanted to pay homage to Tim O'Brien, so he "almost" did a lot of things, but in the end, didn't. he finished with 2.4 for the game, but a reversal of those numbers probably better reflects his efforts.
Good to see Aaron Francis find some form, and particularly good to see contested marks as a part of that form. He could be s important for this Bombers outfit if only he could get right and stay right.
Some good moments from Dylan Shiel in this one, but that miss from right in front…that was Tayla Harris-like in terms of ease. Shiel has long been a horrid shot at goal, and I reckon he, more than any other midfielder, has a little man on his shoulder telling him how he is going to miss goals.
He listens to that little bugger too often.
Six years into the career of Andrew McGrath, I still don't know what the hell he is. Is he ha half-back again now? Is that what we're going with? I know people think I hate this bloke, but really, he has been roughly the same player for the last four years – averaging between 21-23 touches and never establishing a position as his own. I have high standards for number one overall pick, and though he had some great little runs out of defence… I want him to be the star he was touted as.
Finally, I know I gave Nick Hind a whack for kicking the footy on Peter Wright's head, above, but I should make a point of stating that in no way did I think he played poorly. Not at all. As a matter of fact, Hind's run from half-back, and his pace through the middle were exhilarating for the Bombers, and I think he may play a role when I hand out votes for this game.
And that might do me. An excellent, and I have to say, unexpected win from the Bombers, considering I genuinely thought the Hawks were a kick away from putting the game away at one stage.
That took some balls.