If you're an Essendon supporter, chances are you're sick and tired of people asking what's wrong with your team, right?
Further, those people would be getting pretty sick of your answers, which in truth, could go on for days. Suffice to say, there is a lot wrong with the Bombers, but one thing that has improved is the form of Peter Wright.
Whilst far from perfect, and still prone to the quiet game here and there, to see him sitting on 17 goals for the season after seven rounds of footy likely surpasses the expectation of most Bomber fans. Remember, this was a bloke that couldn't get a run for the Suns back in 2020.
There is always room for improvement, and whilst a change in Peter Wright's game will not cure what ails the Bombers at this stage, it may end up wallpapering over a few cracks, which may be just enough to get them up and running whilst others make the adjustments required to their games.
But what can Wright do better, and is it fair to put that on his shoulders given he has been one of the better marking forwards in the game this season?
Answering the second question first, yes, it is always acceptable to ask for, and to strive for more, irrespective of the form of a player. In regard to what he can do better, well… that's the whole point of the article, isn't it? He might need a bit of help to get there.
Some may view the work of Peter Wright and be content with it to this point of the season. With two contested grabs per game, he resides in the top ten overall in that category, but there are little nuances to his game, and the games of those around him that are going undetected.
When watching a game of footy, It is easy to get lost in the general play, and the cut and thrust of the game in general. However, given I wasn't reviewing the Essendon versus Western Bulldogs clash, I was able to pick and choose what to look for. I chose to watch the way Peter Wright contested the footy.
I have to admit, this was a first for me – I usually try to take a more holistic view of a game, so focusing on one aspect whenever that became a feature of the play made for riveting viewing. I almost found myself barracking for him. And the exercise unveiled some interesting habits both from Wright and the Bombers.
Let's take a look at some examples. Note – these eight examples are all just from the first half of this week's game.
Wright is the number one target. As a result, he will always garner the attention of the number one tall defender. The thing is, the Dogs don't really have a legitimate number one defender. They have this weird collective of players that reside in defence, yet they always seem a little vulnerable. This should have been something Wright took complete advantage of, and you could argue that he did, registering four goals for the game.
However, in the instances below, you will see how he, and his teammates repeatedly shot him in the foot. Hell, at times his midfield almost blew his leg off.
And before I go any further – apologies for my terrible picture quality. I hope it suffices to illustrate the point, but I am no photographer – that much will become evident.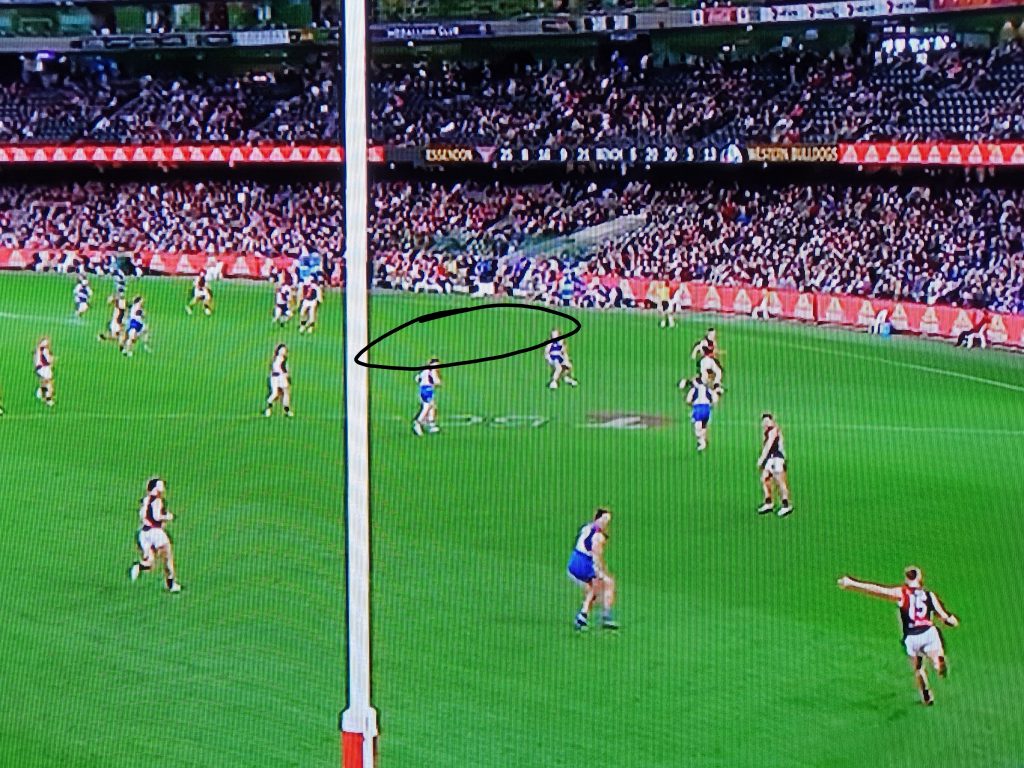 Jayden Laverde is given the responsibility of clearing the D50. Wright is his best option for a "Get out of Jail" mark. Note the space in front of Wright. At the moment, he is holding his distance to ensure the space in front of him is open. He knows that the Dogs defender located just in front of the space will come back into his path, but with his direct opponent positioned behind him, he will get a good run at the footy and you'd rather be the person crashing into the back of your opponent than standing under the footy, waiting for an opponent to crash into you..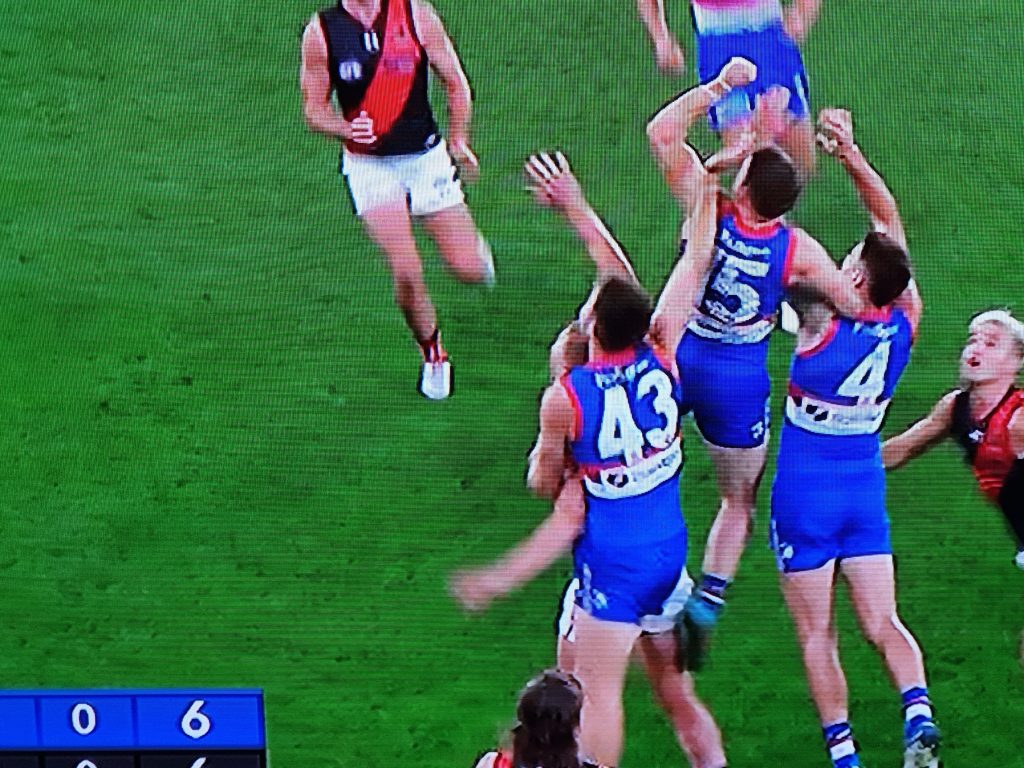 But Wright's welfare doesn't seem to be too concerning for Jayden. He boots it as hard as he can, right to the spot Wright is already standing. As a result, not only does Wright have to beat Ryan Gardner, but Taylor Duryea is able to come over the top and destroy the contest. Even Bont makes an appearance to create a 1v3 in the air. Laverde gave him no chance.
Uh oh… paywall. The next seven examples of Essendon's kicking to Peter Wright are for our members. Notice the clean page? No gambling ads? No random google ads? I am extremely grateful to our members for supporting our work. This is the third of six members' articles for the week. Yep, one, two, three, four, five, SIX members articles this week – I do the work for our members – always. Want to join us?