It doesn't seem like all that long ago that the Eagles and Swans engaged in these epic, tightly-contested games that constituted one of the fiercest rivalries in the game.
However, they now find themselves inhabiting very different parts of the AFL landscape.
The Swans are building something special – you can literally see the pieces falling into place as they play. Without Franklin, without Papley, and without Hickey, the machine rolled on and, if anything, gained momentum.
And it rolled over the top of a hapless West Coast team that looked all adrift as Sydney piled on the pressure and the goals.
In stark contrast, the Eagles are watching their team crumble around them, reliant on players you never thought you'd see at the helm of this team. Whilst their stars sputtered and stuttered through the game, players like former Tiger, Patrick Naish, and defender-cum-midfielder, Liam Duggan became their more consistent performers. They are heading downward fast and one only needed to spend a quarter – a half at most – watching this game to see why.
A 63-point margin flattered the Eagles, with the Swans missing opportunities early you would normally have backed them to kick. This felt more like a 100-point belting. Sure, the Eagles were missing vital components of their team – McGovern and Naitanui are as important to them as any player is to any team, but the players out there looked spent, or underdone.
And the Swans sensed it.
It was a huge win for Sydney, propelling them, at the time of writing, into third place on the AFL Ladder. Here are The Mongrel's Big Questions stemming from the monster win for the Swans.
DO THE SWANS HAVE THE BEST DEPTH IN THE GAME?
Franklin goes down – in comes Sam Reid and Logan McDonald.
They lose George Hewett and Jordan Dawson to other teams – up step James Rowbottom and Justin McInerney.
Tom Hickey and Sam Naismith are out  – Peter Ladhams is there to fill the void.
One soldier goes down and another takes his place – it is the way of teams that have won flags over recent years – Richmond, Melbourne… they have deep lists with capable players ready and waiting for their opportunity. Once it happens by, they seize it with both hands.
Sitting on the sidelines of this Sydney team right now are Angus Sheldrick, Joel Amartey, Lewis Melican, Callum Sinclair, Sam Wicks, and Dylan Stephens. Throw Robbie Fox in there, as well. Add those names to the ones you know – Buddy Franklin, Tom Papley, Tom Hickey… and you have a collective of players ready to step into roles and not just make a good fist of them, but push each other in terms of keeping them.
They have a young fella like Braeden Campbell playing half-back, waiting for his chance to move into the middle and demonstrate what he's capable of. It's like Callum Mills all over again! And then they have this warrior – this club legend on the bench in what looks like a "break glass in case of emergency" situation, in Josh Kennedy.
Mark my words – there will come a time this season where the Swans need JPK in the middle of the ground, and people will realise his value to this team when that occurs.
Guys, this team is completely stacked – from top to tail, the Swans have talent ready, willing, and able to step in, take on the responsibility, and make the team better.
I am not a Swans fan – I should stress this – but I have watched every single one of those players I named and am aware of what they're capable of. The fact that they are being deployed as depth players at the moment is the best indication you can get that this Sydney team has the tools not only to contend with their best-22 on the park, but to cover a loss or three along the way and not miss a beat.
On their current form, you take players the equivalent of Hewett and Dawson out of any side in the league, and they would struggle, yet Sydney has not. This is how you successfully build a list and do it quickly. This Swans team is built for success – not just now – but for the next five or six seasons. And what we're seeing already is scary enough… imagine when some of these younger blokes start to reach their potential!
WHERE DOES ISAAC HEENEY SIT IN TERMS OF THE BEST MID/FORWARDS IN THE GAME?
At number one.
There are a few that can play a role similar to him – Shai Bolton is one, Jordan de Goey is another, and a third would be Zac Bailey. However, none have the overall package quite like Heeney.
Bolton is fantastic, but flashes in and out of the game.
De Goey is a bull, but lacks the overhead prowess.
And Bailey is a dead-eye but he doesn't impact in the middle as much as I would like.
Heeney does it all, and he does it in such a way that he stands out like I did when I decided to wear white shorts to the swimming pool that one time. What a day that was!
Heeney doesn't just rely on skill or strength to win his battles – he is intelligent, but he is also a gut runner that is underrated by most in the footy media. His work in running from the wing to the goalmouth saw him run past three Eagles defenders, who simply could not go with him, and once he arrives at his destination, his ability to elevate and clunk marks makes him as dangerous as a key position player.
Earlier in this young season, I speculated as to whether Heeney had another level he could get to. Could he become the next star in this Sydney team? If he isn't at that level already, he is kicking down the door and not waiting for an invitation. He is a player that can turn a game off his own boot, but remains a team player, inasmuch as he works to the correct position defensively, and refuses to try to do the impossible when there are viable options around him.
With 14 goals for the season, he is on the verge of becoming Sydney's next superstar. With Buddy out nursing his broken finger, by the time he gets back, I reckon it might be time to share centre stage with Heeney on the regular basis. Buddy has his 1000 goals and Heeney offers something special inside 50 that is virtually impossible to combat with one opponent. He is too damn good to play second fiddle now, and he looks like he will only get better.
LET'S ASSUME MCGOVERN, GAFF, AND NAITANUI PLAY – WHAT DIFFERENCE DO THEY MAKE?
As I watched the Swans blitz the Eagles in the first quarter, my mind wandered immediately to how the Eagles would have fared with these three in the side.
Naitanui is obviously the largest concern, out of the team until the second half of the season. This left Bailey Williams to do the ruckwork – it played out about as well as you'd expect. The list manager at West Coast deserves a foot right up the backside in regard to the ruck situation. The Eagles have not pursued another big man, instead relying on Naitanui (who plays less than 70% of the game) to carry the load, whilst Williams was to be used to backup Nic Nat while he rested.
However, with Naitanui out, the job of the number one ruckman has fallen to Williams… yes, "fallen" is the best way to out it. It has fallen pretty dramatically. Sydney walked the footy out of the middle on clearances, aided by Peter Ladhams deft taps. Sure, the Eagles had MORE centre clearances, but they did not have better ones. The Swans extracted the footy cleanly and effectively. The Eagles hacked it and hoped. They were also bolstered by some garbage time clearances.
That would have been different with Naitanui in the mix.
And then there was Logan McDonald and Hayden McLean clunking marks inside attacking 50 whilst Tom Barrass tried to decide what his next move was going to be. The presence of Jeremy McGovern kills at least one of that pairing and forces the other to deal with Barrass single-handedly.
Lastly, I don't think Andrew Gaff is going to out-sprint anyone these days, but his continued run could have given the Eagles a reliable option through the middle of the ground – they simply did not have that in this contest.
So, all three play – do the Eagles win?
Hell no. The Swans still have their hand raised, but I doubt we see 40+ points scored so quickly with McGovern inside defensive fifty and Nic Nat crashing and bashing away at stoppages. Sydney probably would have had to work for it.
But hang on… what's that I hear? It's something grumbling  in the background right about now – it is Sydney fans asking – well, what if we had Buddy, and Papley, and Hickey? It's a fair call – I was just trying to give the Eagles fans some hope. I'll shut up now – your point is taken.
SPEAKING OF THE RUCK, HOW GOOD WAS PETER LADHAMS?
Well, he just posted a career-high for disposals, notching 24 for the game, and added 25 hit outs and five clearances as he took control of the middle of the ground.
It should be noted that he wasn't playing against much – Bailey Williams is a C-Grade ruckman, and that is me being generous, but even when confronted with mediocrity, a player still has to exert his authority – it doesn't just happen, and there is a reason the saying It's hard to soar like an eagle when you're surrounded by turkeys is so well known.
In this case, it could have been difficult for Ladhams to soar like a Swan when surrounded by a bunch of inept Eagles, but he managed it with aplomb. He did get a little carried away at points, opting to take on the responsibility of the long kick inside 50 instead of handing off to the running option (Denis Cometti would have called the delusions of adequacy), but we'll put that down to either lack of experience with this Swans group, or perhaps being in complete shock that he was actually getting this much of the footy.
Ladhams was not great last week – he gave away a tonne of free-kicks and was generally doing as much to hurt his team as help them. That was not the case in this one – he was fantastic at stoppages and made a heap of second efforts to either extract the footy, or bottle it up where necessary.
The big bloke has had his critics, and I reckon there are more than a few people that were sitting and hoping that he fell over in this stint in Sydney, but he looked very much at home in this game, and with Hickey still a month or so away, Ladhams now has the opportunity to own this role at Sydney and make anyone who wants to take it from him have to work their backside off to do it.
WHAT IS THE CEILING FOR ERROL GULDEN?
He rarely wastes the footy, and following a pretty ordinary outing against the Dogs, he increased his work rate the longer this game progressed.
Whilst the Swans had better performers over the duration of the game, his last quarter spoke of a man keen to make amends for failing to deliver in the loss the previous week. It was Gulden, scrapping and scrambling to keep the ball in play that led directly to Luke Parker roving a forward fifty contest and kicking a goal. He does the little things so well and so often, and his hands were so clean in this one.
In a contest where it seemed as though one team was playing with a wet ball and the other with a dry one, Gulden's hands were the cleanest of the lot. He was like the Anti-Eagle in this game – as they fumbled and double-grabbed at the footy, Gulden took it cleanly and made them pay.
I have likened him to Zak Butters at points in the past, but Gulden lacks that killer instinct, or mongrel, that Butters has. Instead, what Gulden brings to the table is a sense of calm, a composure with the footy that allows those around him to take a breath and realise that everything is going to be okay. He is like a safety blanket to drape over the team when things are looking a little dicey.
For the record, I won't be giving him a vote in this one – they are reserved for those who had a big impact when the game was there to be won – but it is hard not to be impressed with the way he finished this contest.
In terms of his ceiling – and Swans fans might like this – he could be Robbie Gray. Champion players don't grow on trees, and comparisons to players of Gray's ilk should not be made lightly, but after a season and a bit, he is well on the way to establishing his own name in this game. I would not bet against him.
WHERE ARE THE EAGLES' RETURNING STARS AT?
It is pretty safe to say that they were underdone in this game. Shuey, Yeo, and Kelly struggled to get involved in the first quarter, combining for just six disposals as the Swans torched them through the midfield.
Oh, and five of those touches came from Tim Kelly.
Elliot Yeo was relegated to the bench to have a concussion check, and Shuey looked a mile off the pace, often lagging behind his man by five or six metres. Hell, even when he did make ground on him, the effort it took saw Shuey completely spent and unable to follow up.
Let's jump forward to the second quarter to emphasise this.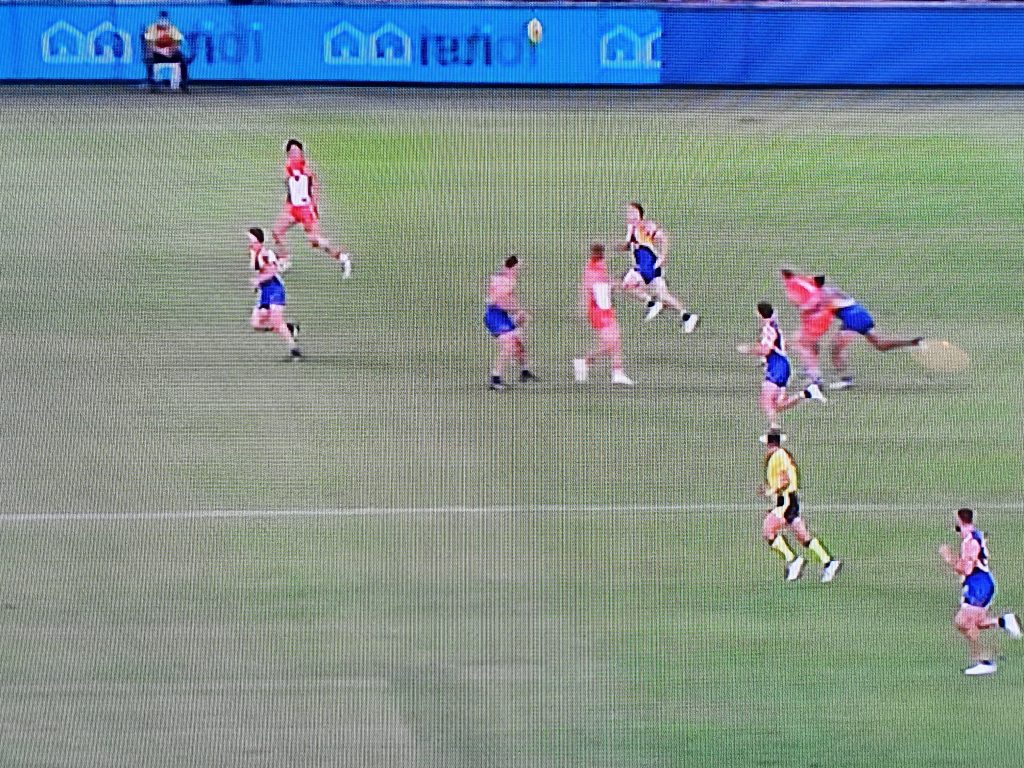 Justin McInerney runs hard from half-back to receive the footy. As the closest opposition player, it is up to Shuey to close him down.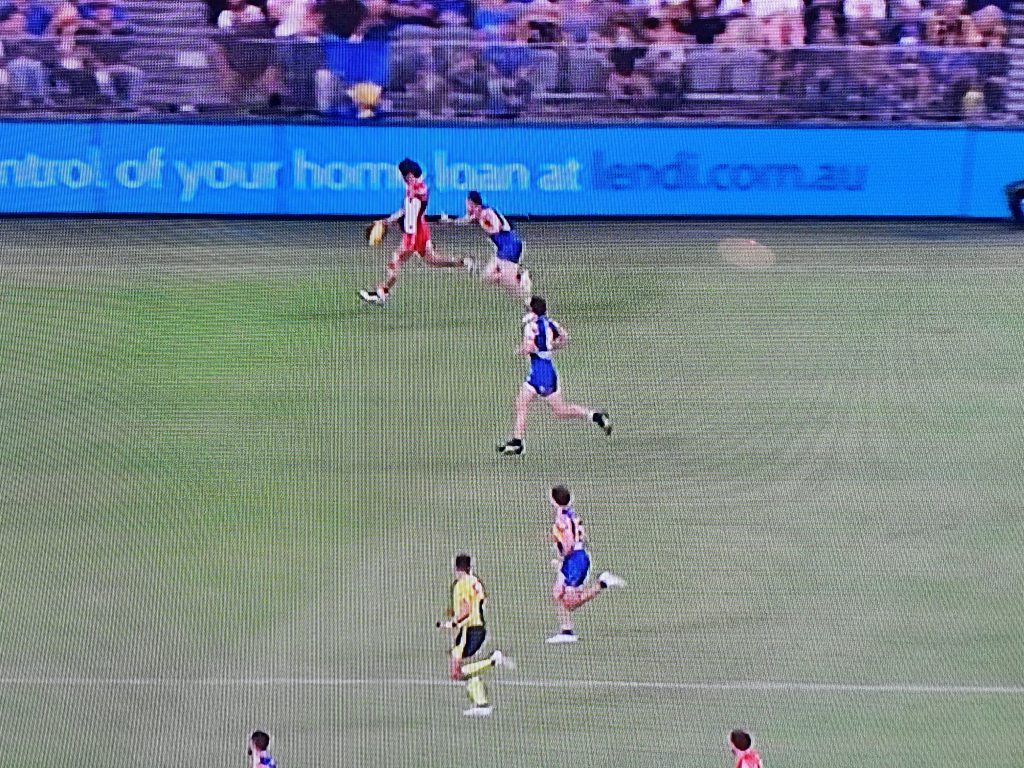 Shuey puts the hard yards in and closes the gap on McInerney. He should be commended for this, forcing the Swans to kick to Heeney.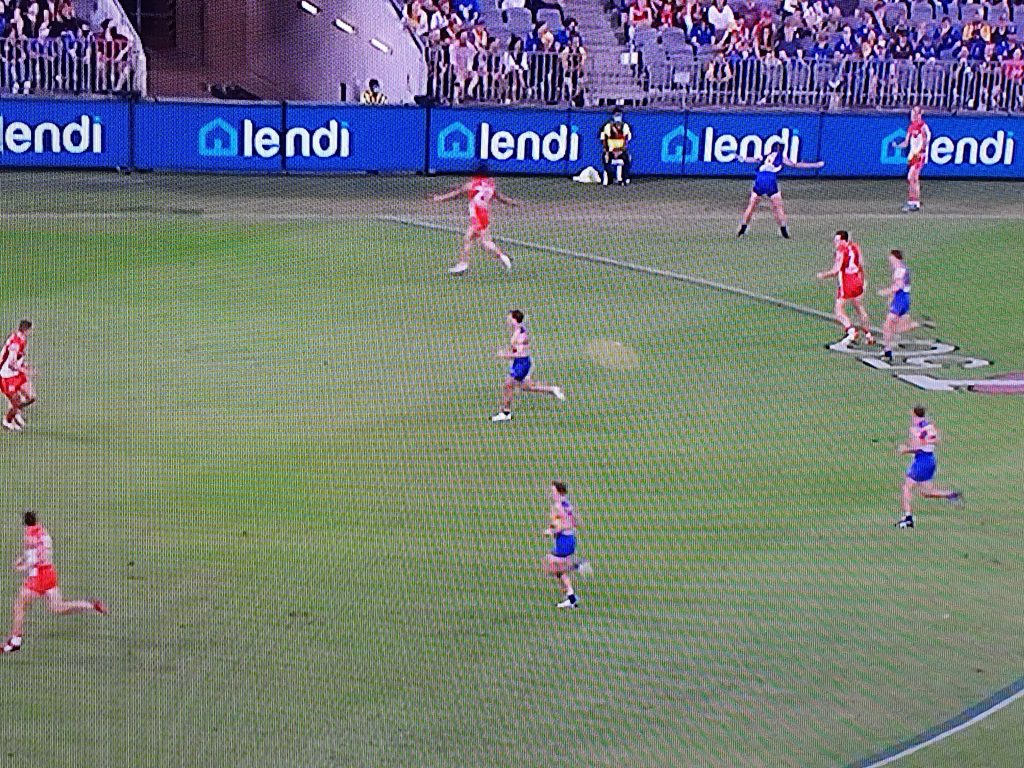 But it doesn't stop there. Shuey has made the first effort, but McInerney has more in the tank. He keeps running to provide another option inside 50.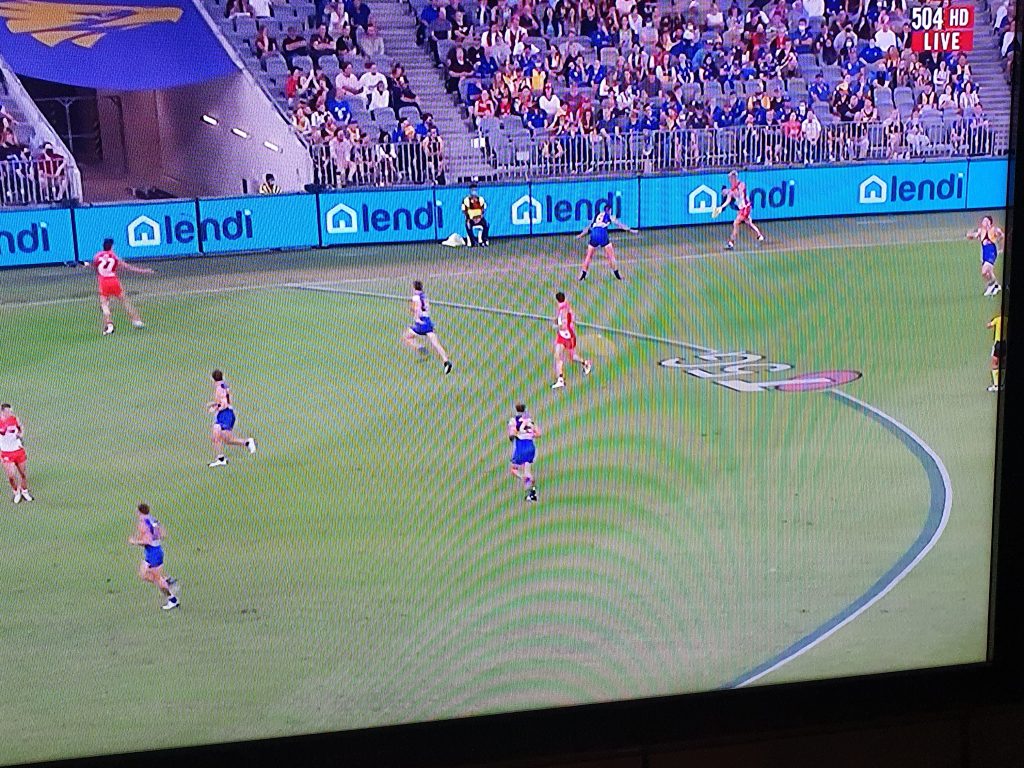 And where is Shuey? There he is… just entering the frame as McInerney prepares to mark and goal.
Now, it is vastly unfair that I am comparing the run of Shuey in his first game back to that of McInerney, who is fast establishing himself as one of the premier wingmen in the competition, but if McInerney is setting the standard – a standard that Shuey would have met a few years ago – then it is the standard by which others should be judged. And it is in these types of moments that it becomes clear – West Coast rushed Shuey back in on name alone, when some of the players that were omitted may have been able to continue to run when Shuey was evidently unable to.
It may be weeks before Shuey and Yeo regain match fitness. Kelly, not so much, yet he was only able to conjure 15 touches in a pretty anaemic performance. If the club is going to rely on these blokes to get them home, they may just find themselves homeless over the next few rounds.
SO, WHERE ARE THE NEXT GENERATION STARS FOR WEST COAST?
Playing against a team like Sydney, with their vast array of talented youngsters, West Coast's youngsters look… well… off the pace.
That's a nice way of saying it.
There is o Chad Warner, Errol Gulden, or Braeden Campbell amongst the group we saw in this game. They do have Oscar Allen waiting n the wings for his body to be right, and when it is, his presence will elevate this team.
However, in terms of the midfield, I have some grave concerns for where this group is headed.
Let's have a look at what they trotted out in terms of young talent in this game. We'll go player by player to make it easy.
Player One – Patrick Naish – Played on the wing, ran hard and despite picking up 26 touches, was one of the chief offenders in terms of both fumbling, and turnovers (he had ten of those from 26 touches). Some of you will look at the stats and think he played well – the eye test says otherwise. His fumbling and hurried kicks to nowhere are the exact reason he was no longer required at Richmond. Disposal numbers are nice. Turnover numbers… they're not so good.
Still, it is a skill in and of itself to find the footy at this level, so the Eagles have something to work with, at least. I mean, who else stepped up?
In terms of young midfielders, that's it. Yep, I am not kidding. You had Shuey, Kelly, Yeo, Redden, and Rioli in there, and Naish was the only bloke not over 25 to have a run on the ball.
Scared yet?
You should be.
The Eagles have bugger all in terms of midfield talent coming through. Some may point to Connor West, or Campbell Chesser as the future – if you believe that, good luck to you.
Looking at this list right now, and I think most Eagles fans will concede that I have always been exceedingly fair to their team, I cannot see a way forward other than drafting and perhaps an out of contract WA-born player wanting to come home. The pieces that are now in place are ancient.
Shuey is 31 and is seemingly held together by some tape and clag he borrowed from Dan Hannebery. Elliot Yeo is 28 and… I hate to say it, looks nothing like the shape he was in a few years back, and Jack Redden is 31. Within three seasons, they'll most likely be gone, or on the way out. That leaves Tim Kelly, Dom Sheed, and whoever else they pick up in the next couple of years.
Does Liam Duggan finally pull his finger out and stop being a small defender they hope to switch into the middle? He's 25 – if he is going to do it, bloody do it! Or will Campbell Chesser be one of the missing links in the Eagles' forward half?
We must also remember that Naitanui is 31 and those legs aren't getting any stronger or more durable.
This is a midfield in trouble, and steps must be taken at the conclusion of this season to ensure it begins to be rectified.
SHOULD I STOP ASKING IF CALLUM MILLS IS UNDERRATED?
I know I have asked this before, so yes, I'll just stop.
He is underrated, but only by those who don't watch the Swans go to work. People tend to forget that he had an interrupted preseason this year, dealing with some Achilles issues. They're never pleasant, yet here we are, just knocking Round Five on the head, and Mills is being judged as the best player on the ground and receiving a trophy for… something.
Imagine he had a good run during the preseason?
He was the best four-quarter performer in this game, lifting in the second quarter to have 14 first half touches, and matching that after halftime.
HOW IMPORTANT IS JUSTIN MCINERNEY TO THE SWANS' STRUCTURE?
Oh, he is vital.
There are few players that run as hard and as often as he does. You saw what I highlighted above about the way he burned off Luke Shuey in the second quarter, right? It even had nice little pictures for you that I look off the TV to ram the point home.
That is what McInerney brings – repeat efforts, gut-running, and if you happen to drop off him and take the easy way out, he makes you pay. Above, I also mentioned Errol Gulden, who finished the game strong. McInerney was the opposite, doing the majority of his damage in the second quarter when the Swans had their foot n the throat pf the Eagles. His ten touches and a goal for the quarter enabled the Swans to build on their early lead and make it unassailable.
There are some quality young wingmen in the game right now – I love monitoring them in our weekly Wingman Rankings here at The Mongrel, and when I see a talent like Justin McInerney emerge from the shadow of Jordan Dawson (he kind of did that last year… I am just being dramatic), it makes you excited not just about the player he is now, but the player he could be in the next year or two.
His run and spread gives the Swans options, and if his teammates find him, McInerney is a hard man to stop, particularly if you allow him goalside.
IS THE CHAD LIKE THE SWANS' SECRET WEAPON?
Geez, you can tell it's getting late – I am just making up stupid headings now.
He's no secret, but word is getting out as to what type of season Chad Warner is putting together in the early part of 2022.
Playing as a hybrid forward/midfielder/wingman, Warner is now averaging 21 disposals per game, and his hardness at the contest and ability to stand in a tackle look to have improved vastly on his 2021 efforts.
All reports out of Sydney were that Warner returned to preseason in great nick with an eye to making this season count – he has definitely started the right way. Last year, when people spoke about the "young Swans" it was mainly about Gulden, McDonald, and Campbell. I reckon Chad Warner may have had a touch of Shannon Noll about him (or Moving Pictures for those of a more mature vintage) and asked "what about me?"
With 20 touches and two goals in this one, and a lovely salute to the West Coast fans after one of his goals, I don't think he will be left out of any conversation for long this season.
And that may just do me, nicely.
The Swans get the Hawks next week down in Tassie. Playing there is never easy and it is the type of ground where having an ageing midfield bull in the middle of the ground could be quite advantageous. Don't be too surprised if Mr Kennedy plays and plays well down there.
The Eagles travel to Adelaide to take on Port. Now… this is an interesting one. If Port lose this weekend, the pressure will be enormous. Hell, even if they win this weekend, the expectation of Port fans is that they don't just play finals, but contend. Could the Eagles snuff out their chances?
And remember, kids… just as your old buddy, Hayden McLean says – keep your eye on the ball at all times. Do as he says… not as he does, please.
Massive thanks to all those who support us by becoming members. Without you, there is no us – it's six bucks per month, people – support the Mongrel to give your team the coverage it deserves… the coverage you deserve.