The Hawks and the Crows are two teams that came into the year with lower expectations than most, which is completely foreign territory for both these teams' fanbases. The clubs are two of the most successful in the AFL.
Adelaide, in their short history, have made eight prelims and three Grand Finals, winning an impressive two flags (flags are really hard to win, folks).
Hawthorn, on the other hand, won their first premiership in 1961 and have piled on 12 more since. This to go along with 18 grand final appearances and 24 prelims.
Christ, I hate them.
This period of dominance was after making three finals games since their club's inception in 1914. The first was a 95-67 loss to Port Melbourne in the 1923 VFA season. Just to repeat, Port Melbourne.
Stanley Melbourne Bruce, 1st Viscount Bruce of Melbourne was the Prime Minister at the time. He chaired the League of Nations council during the Abyssinia crisis. I don't know what any of that means but it sounds like it was a really long time ago.
They finished 4th out of 10, their highest ladder position until 1957 when they finished 3rd, one of only four seasons they had a winning record until the 61' flag.
They beat Carlton 71-48 in the semi-final, then got belted by the eventual premiership-winning Demons 144-76.
Hawthorn were a laughing stock. They were absolutely, unequivocally, horrendously shit. Then they became the most dominant side of the modern era.
Can we go back? (yeah I am a Cats fan, how can you tell??)
The point is, that fans of these teams do not like to lose for extended periods of time.
Both of these teams took the L last weekend, but I'm a positive guy, so let's have a look at some positives. Ever the intelligent footy fans in these two mobs, even if they don't expect their rebuilding teams to make finals, they do expect the signs of progress to be there.
They better see some good old fashioned scrap from the young fellas…
…or they won't be happy. Coach.
DING DING DING!
IN THE RED, BLUE AND YELLOW CORNER…FIGHTING!!! out of WEST LAKES. SOUTH AUSTRALIA…MATTHEW!! 'BIG DICK'. NIIIICCCCCCCKKKSSS.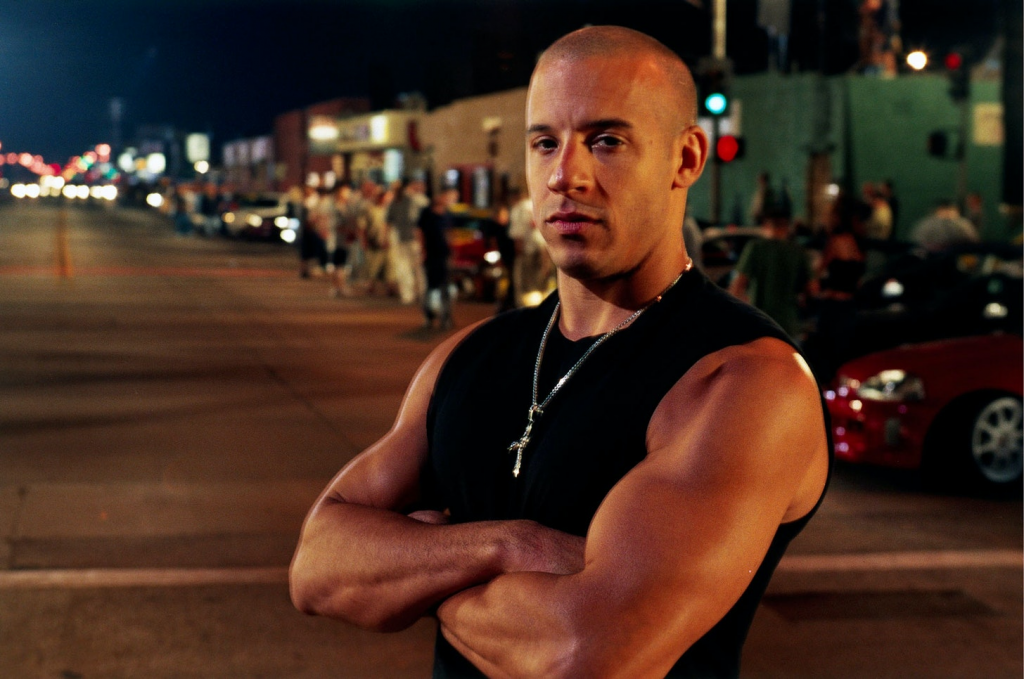 Hit 'em with the counter punch, Nicksy.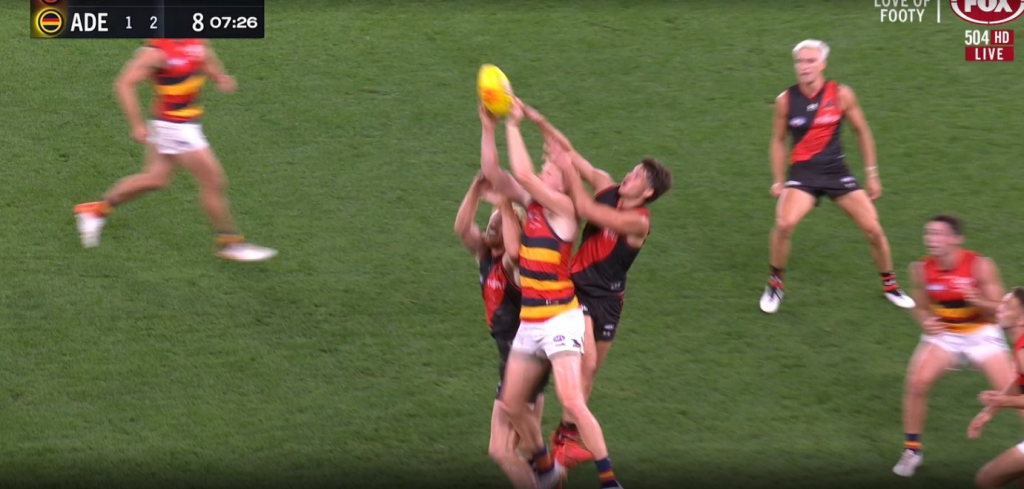 Himmelberg takes a good strong intercept mark on the wing. Quick possession like this is usually a good springboard for the counter.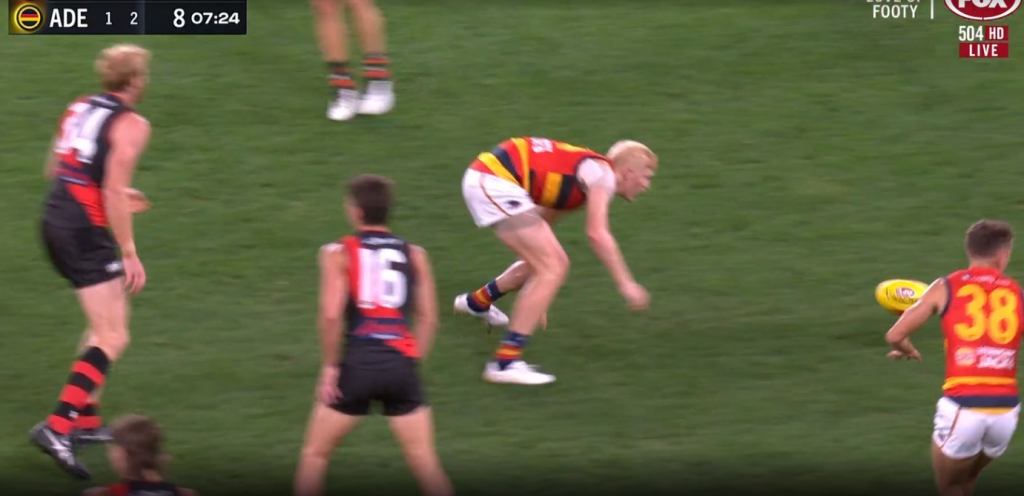 Unfortunately, the big man drops his car keys, but luckily his mate Chayce Jones (I promise that is the correct spelling) is there to help pick them up for him.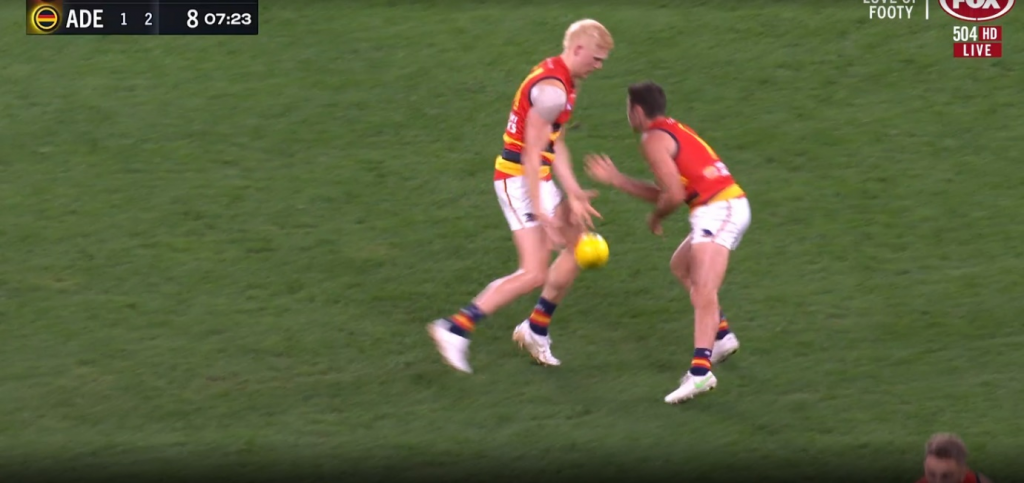 Jonesy always likes to give people a challenge, so he throws it at Himmelberg's knees. Think fast, Elliott. But Elliott spills it, slowing the play down further.
Thankfully they're up against the ever-lazy Essendon Bombers, so we still get to see the counter.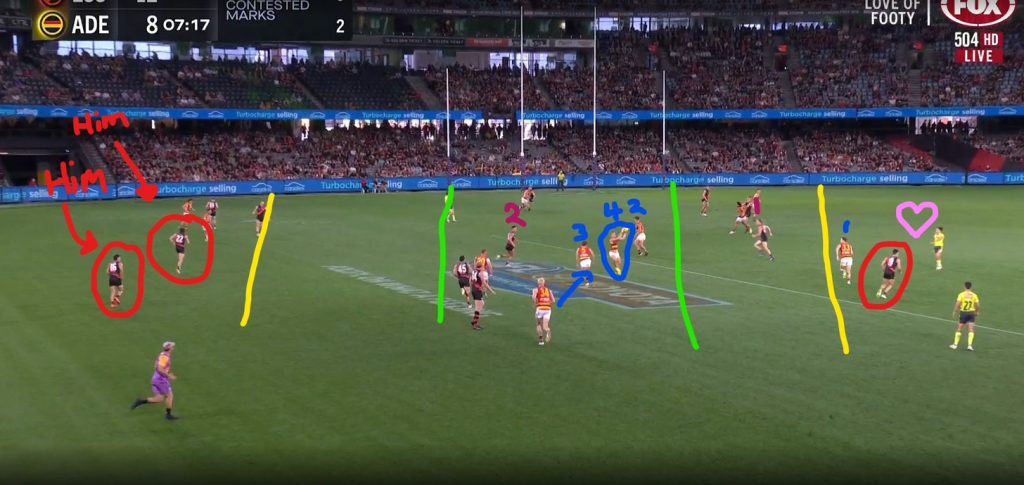 Himmelberg drills it to Laird, who rather conveniently has a big number four hovering over his head. In transition, the Crows' plan is clear. Punch you right in the mouth. I count four festival-staters running right up the gut and only two Bombers.
Not to put the blame on anyone in particular, but it's completely Archie Perkins and Sam Durham's fault. They're young fellas so I'll give them a pass, but it's a good lesson in getting on the wrong side of your opponents and getting too ball hungry.
They were looking for crumbs in the contest and forgot about their men sitting in the corridor. When the ball is marked too, a big invisible forcefield appears around Himmelberg, so it can be tough to get back in the middle because you have to go the long way round.
I think in Durham's case he also got caught in one-dimensional structural brain, he's looking to set up the zone here down the line, because that's where the ball has just come from. He doesn't look into the corridor even when the Crows have kicked it there and he'll realize soon that he's caught out.
Also, this is a good lesson for fans that get too excited about some young players. They catch a few highlights, but miss this sort of thing. 'Wow, I haven't seen that guy put a foot wrong all day! How dare my coach drop him!!' Yeah, that's because he's gassed so he's nowhere near the contest *cough* Ugle-Hagan *cough*. AFL coaches know more than you.
Dylan Shiel's man is wider out of the picture, but really there should be some alarm bells going off in his mind about the two extra runners in the centre. To be fair to him, he probably got seduced by a gorgeous little eye flutter from Chelsea Roffey. Honestly Dyl, keep it in your pants.
Meanwhile, the Crows are flying it right down their throat.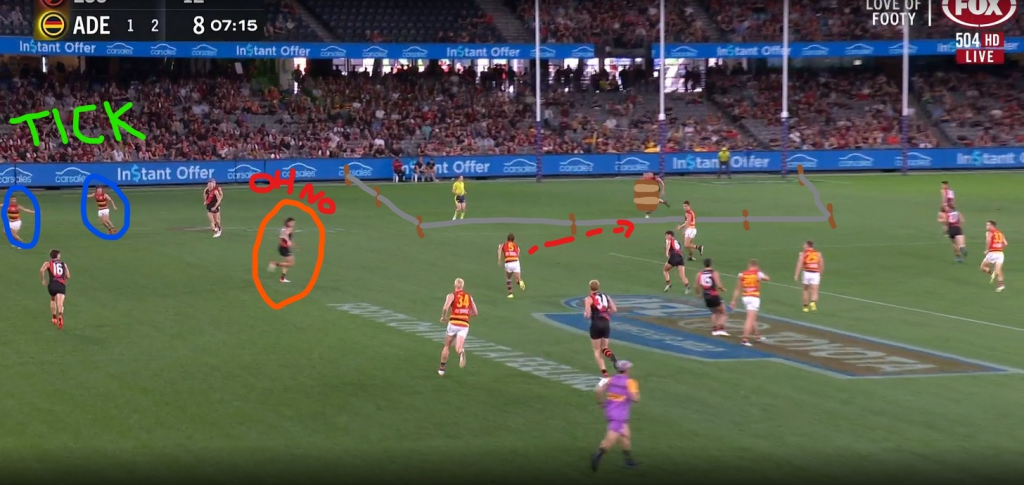 Laird gives it to Crouch, who puts the hand-pass to the fast-becoming-elite, Ben Keays. When the ball is coming through the middle like this, it can be tempting to run towards goals if you're a young forward. But Lachie Murphy and Ned McHenry instead drift into the space out wide, gaining Josef's tick of approval.
Forward structure is all about having space to run into, and the young Crows leave a massive paddock for the human barrel-chest Taylor Walker to operate in.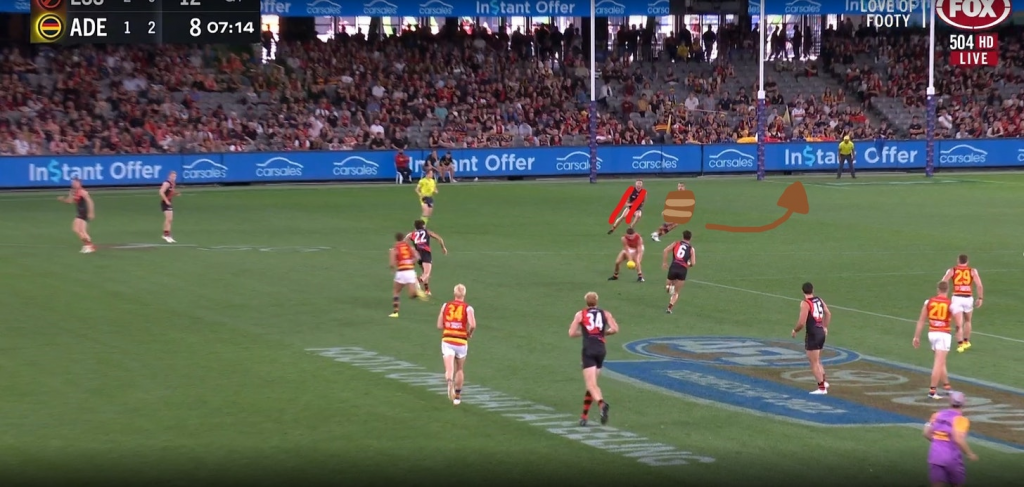 Ben Keays is so good at running that he actually runs further than Crouch can handball it. He has to come up and meet the ball, forcing him to step inside from the now-present Durham.
Jayden Laverde is playing on Tex and if not for the Essendon defenders now running towards goal off screen to the right, was playing as the deepest man back. As Walker doubles back around for another lead, you can see that Laverde is understandably concerned about the corridor. This causes him to stay up in the space, clogging the hole and allows Walker to get separation out the back. This proves crucial as we'll see but it's not Laverde's fault. He's correctly worried so the space that he gives Walker is due to the Crows in the middle of the ground.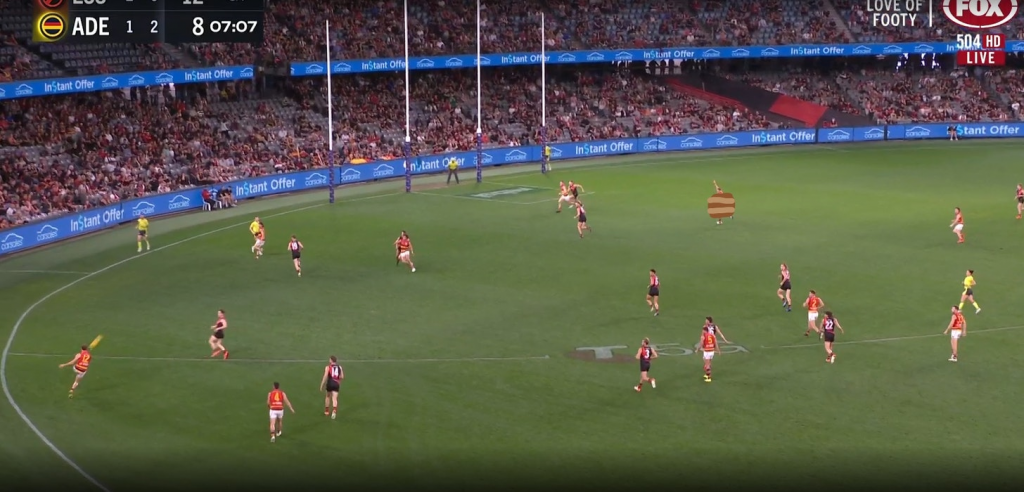 Keays spreads the ball out wide to the spaced-out Murphy, who handballs it to Jordan Dawson running past. Normally, to change the angle of approach, you have to do it on the kick before the forward 50 entry. But Laverde is caught out by this fantastic punt from Dawson which gets it to the open space behind him, giving his big man the sit.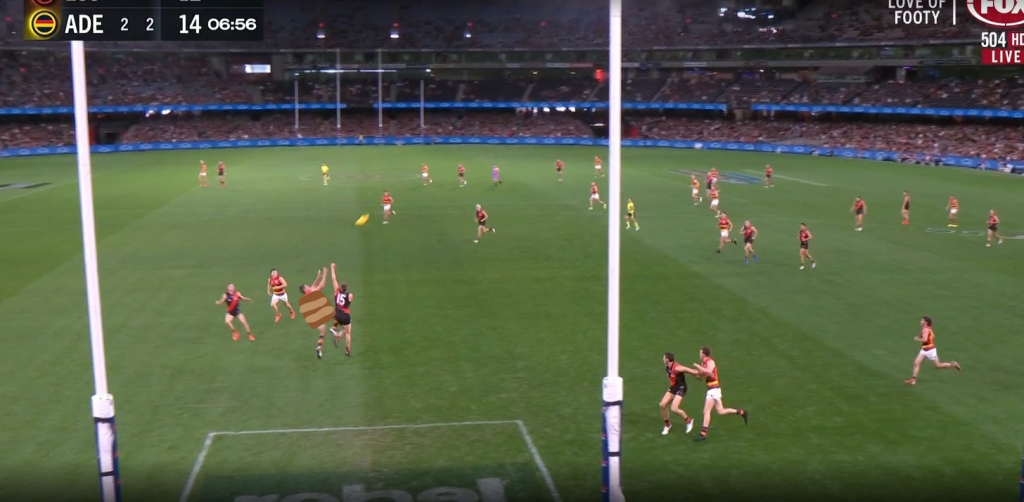 Laverde does well to get back, getting a fist to the ball first. But he falls over so the Texan snaps one through.
Tex will bring quite a bit to the Adelaide forward line. Despite going with the three-pronged approach at times last year, I actually like them a little bit smaller with just Walker plus another more pack–marking big.
Walker is an odd player,. He's kind of like Buddy Franklin but a bit shorter and a bit worse at footy. He has the strength of a big tall, but has terrific acceleration and speed from the contest.
Similarly to Buddy, he's not a big pack crasher, but he makes up for it by being able to keep his feet and crumb his own contests. This allows him to wheel around, himself or get some smooth hand outs to the litany of young Crow smalls at the fall of the ball.
He has very exaggerated strengths and weaknesses, Tex, which can make him a difficult matchup for opposition teams. If you put a big lanky bloke on him, he can run with them but he'll body them out. If you man him with a bigger guy like Laverde, he can use his leading patterns and speed to give himself the sit, making it tougher to use your strength advantage.
Hard problem to solve.
Alright, let's look at another one.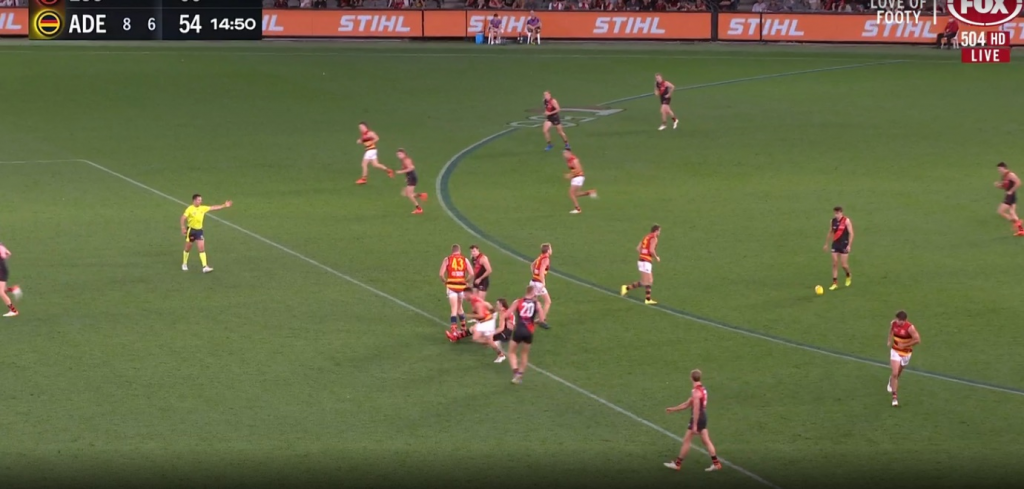 The Crows win a free at the top of their defensive 50, and they're off to the races.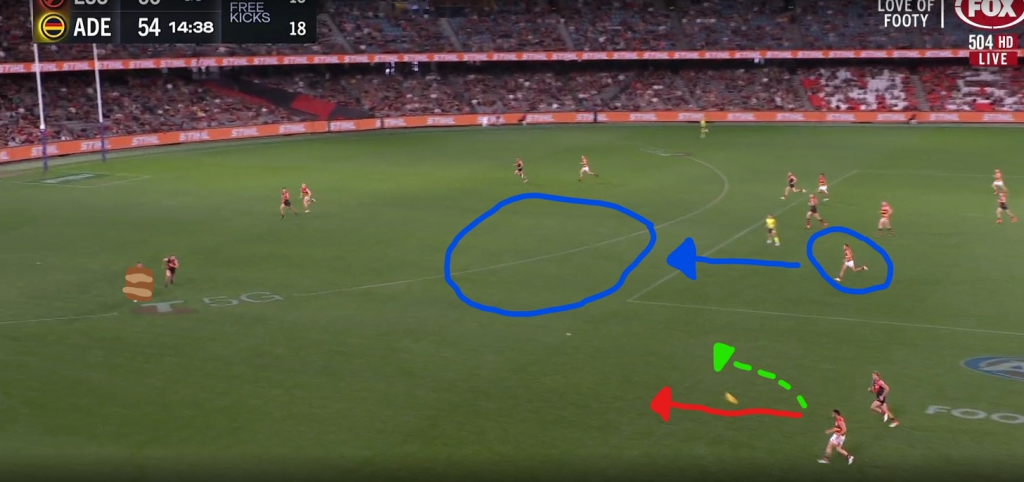 Sloane kicks it to Lachie Murphy, who leads up and takes it on the wing, turning around and moving it quickly on to barrel boy. Murphy does well to get this lead. He's outrun Parish on the rebound, and catches it in enough space to play on.
Whilst the intent and effort is fantastic from the young Crow, he just needs a bit more polish and game awareness here. The directive from Nicks is to play it quickly, but he just needs to dart his eyes into the corridor, as his fellow Lachie – Mr. Sholl – has also gotten on his bike.
I understand his thought process. Big man strong. Big man clunk mark. Big man kick goal. The reason teams have key forwards is because – Ceteris Paribus – they are the best option. That's why they're the key, and the others are more like lockpicks, helping out if things go wrong.
But in footy, the best option is always going to be the guy with no-one playing on him. An unmanned Josh Bootsma will always be the correct option over Christian Petracca being defended by Josh Bootsma.
Hopefully Murphy sees this in the film room and tidies up these sorts of errors. Often these decisions end up in turnovers or at the very least contested ball. If it is a turnover, suddenly Lachie Sholl streaming through the middle is twenty metres behind his opponent.
Here's another example.
Keays has absolutely burned his guy and the ball is about to be with Schoenberg.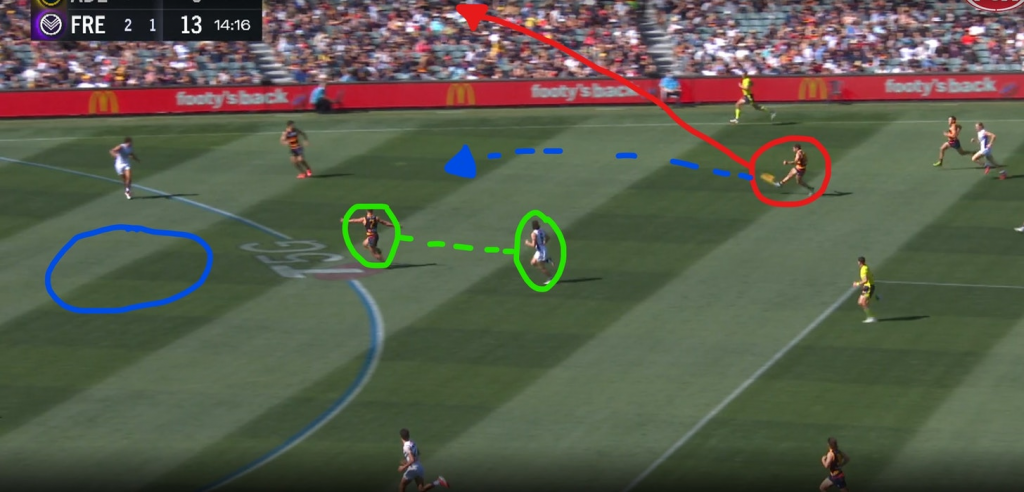 Schoenberg has a tonne of space and time so he really should see Keays here. Instead he sends it long to the big guy. This is structurally exactly what you want, but the execution is poor.
It's the classic trade-off for young teams playing counter-attacking footy. If you step into the pocket and miss (which happens a decent amount), the big heavies can land an uppercut right on your chin. Decision making ability will come with experience, so Crows fans shouldn't be too worried if they get caught out the back like this. If you go out, better to go out swinging!
Meanwhile back at Marvel…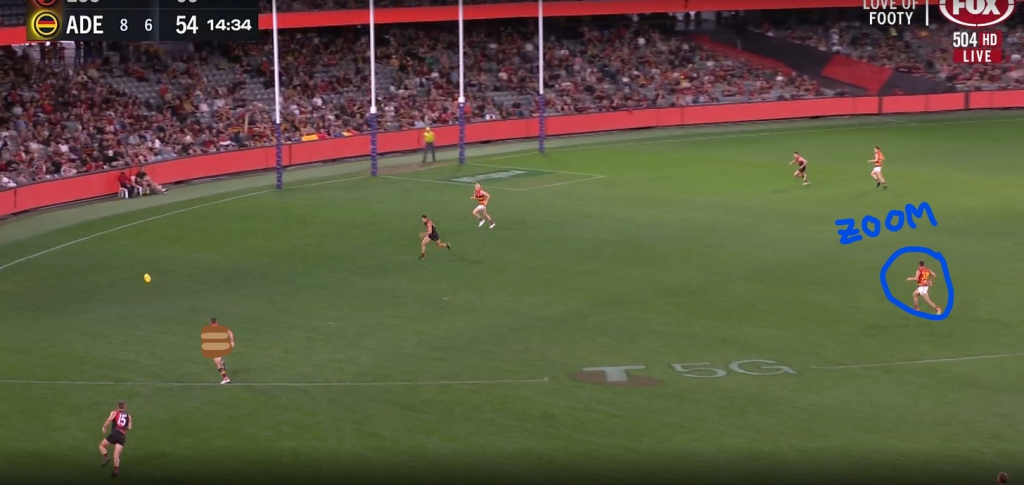 The ball spills out the back and Himmelberg's man comes off him to contest. Walker gathers it and pops one over the top to Himmelberg who then tries to handball it to the missile Sholl.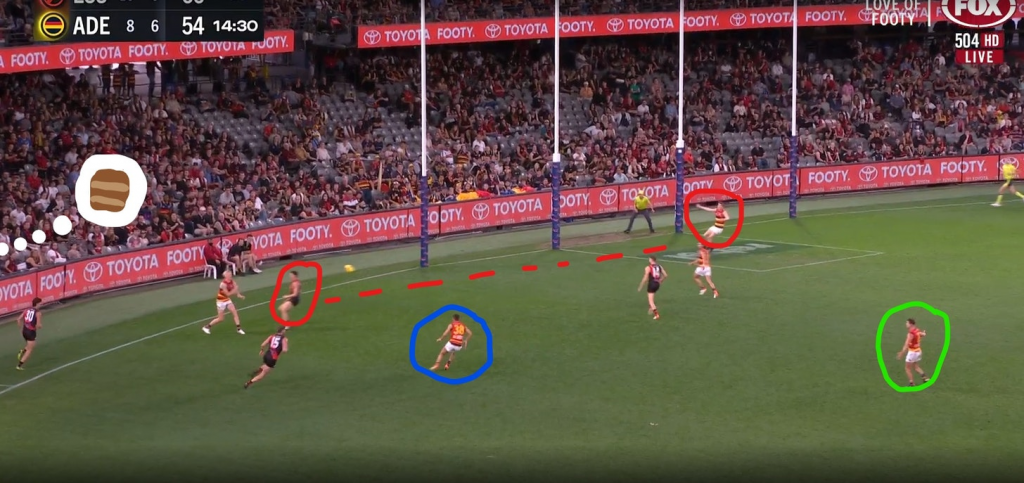 Sholl has run really hard for this so he's licking his lips for that Sunday arvo snag.
The Barrel is off-screen here and Gollant's man has come all the way across to help put pressure on Himmelberg. Ben Keays has outrun his man tremendously well, so he's also snuck into the forward 50. This means the Crows have two extra numbers but unfortunately for Sholl, he's not one of them, as Laverde is on his tail.
Big iron-fist Elliot puts too much sauce on the hand-pass so it spills across to Benny boy. Sholl's sensational gut running, getting himself in the best place to kick a goal…TWICE! results in a big fat zero disposals.
Footy is a cruel game sometimes.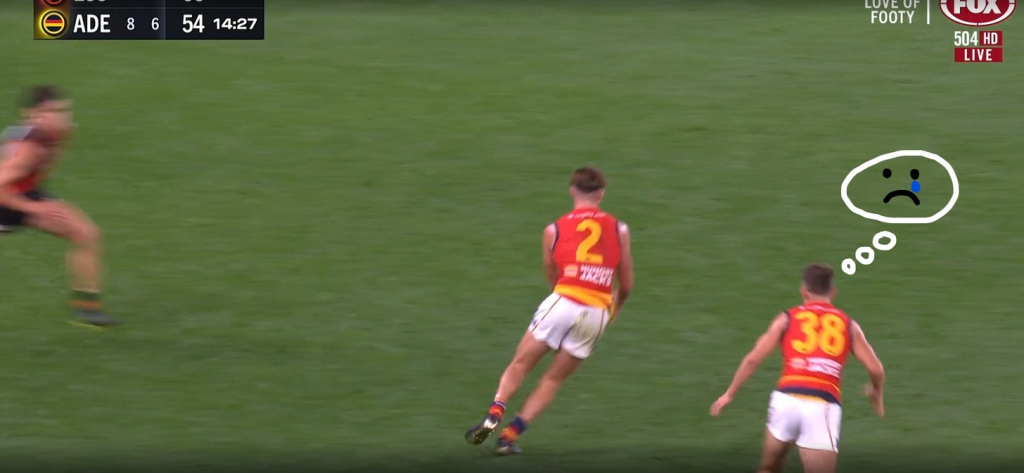 Keays gathers the crumb and is being hunted down by Brandon Zerk-Thatcher to the left of screen.
For the neutrals that don't know, Ben Keays was a below average mid for the Lions that drifted in and out of their team. He was delisted in 2019 by Brisbane and was picked up at slot number seven of the 2019 rookie draft. He was selected alongside big names such as Jarvis Pina, Jake Pasini and Mitchell Hibberd (not Michael Hibberd).
Here is what Mitchell Hibberd is doing now…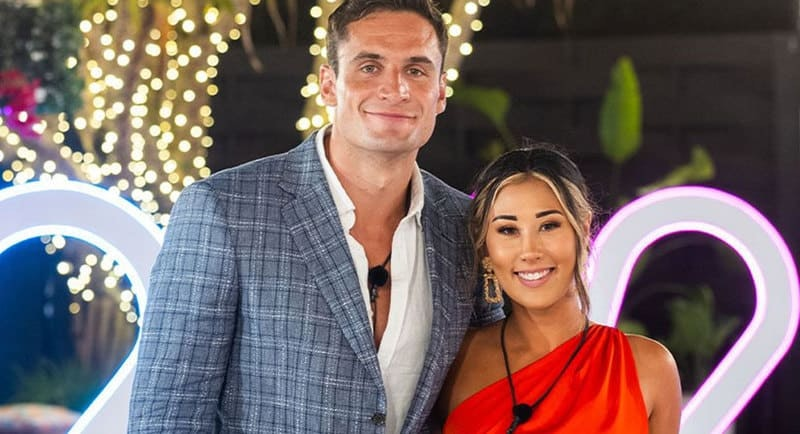 That's him winning Love Island Australia…you know…that show your girlfriend wants to watch instead of the footy.
It's a world of high intensity romance and drama…and I'm sorry to reveal to you that the two broke up after the show (Shocking, I know!) with Mitch posting the below on his snapchat story.
Fair warning, you might want to grab a bucket before reading this.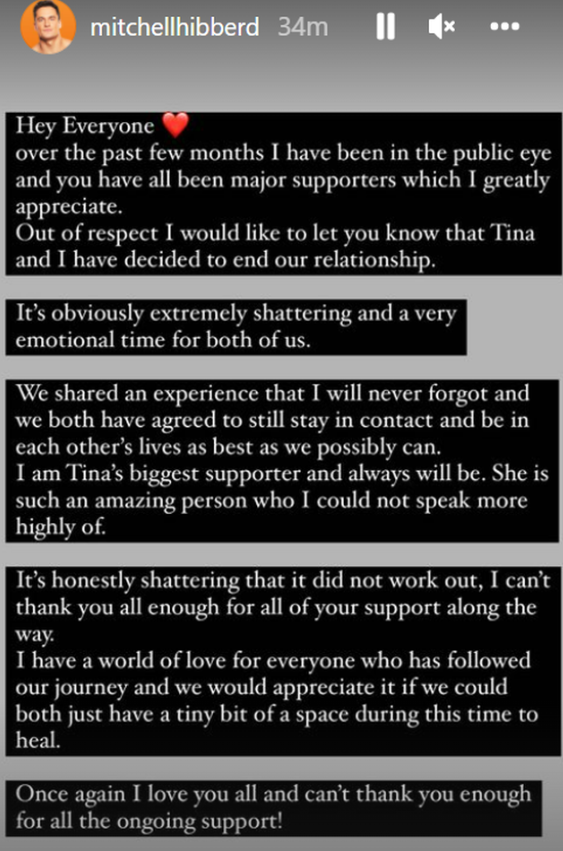 From the AFL to a simp…how can a man fall so far? We will never forgot you Mitch.
…But do you know what Ben Keays is doing now?…
He's gut running through the corridor.
He's averaging thirty one touches a game.
And he's breaking Zerk-Thatcher's ankles so hard he sends him into an early retirement.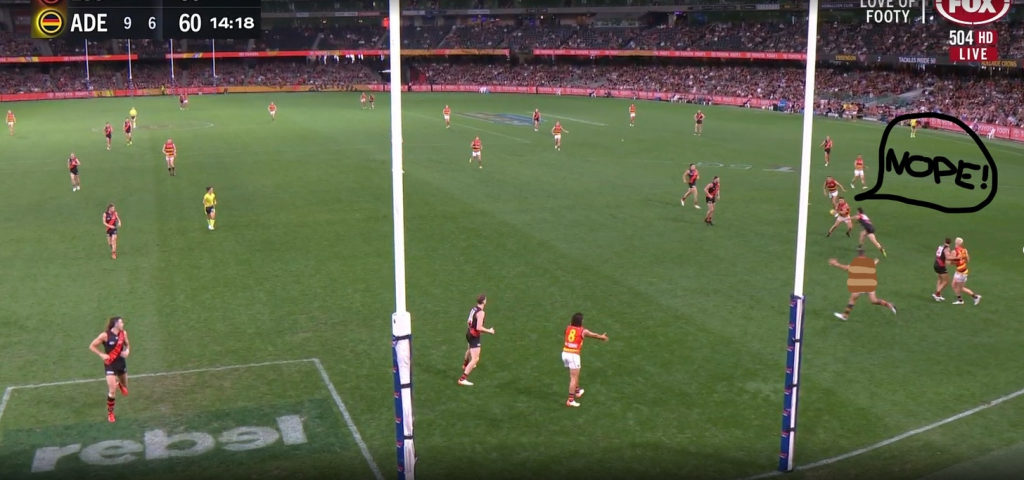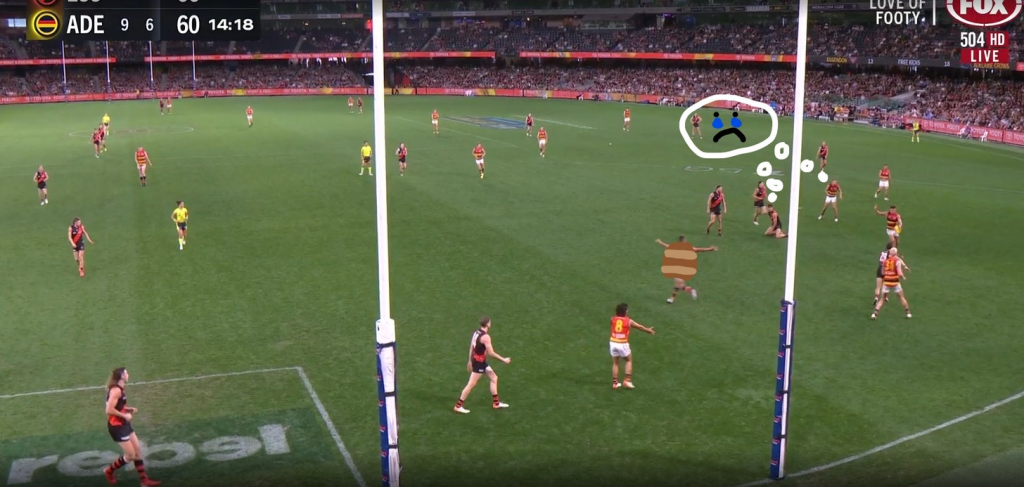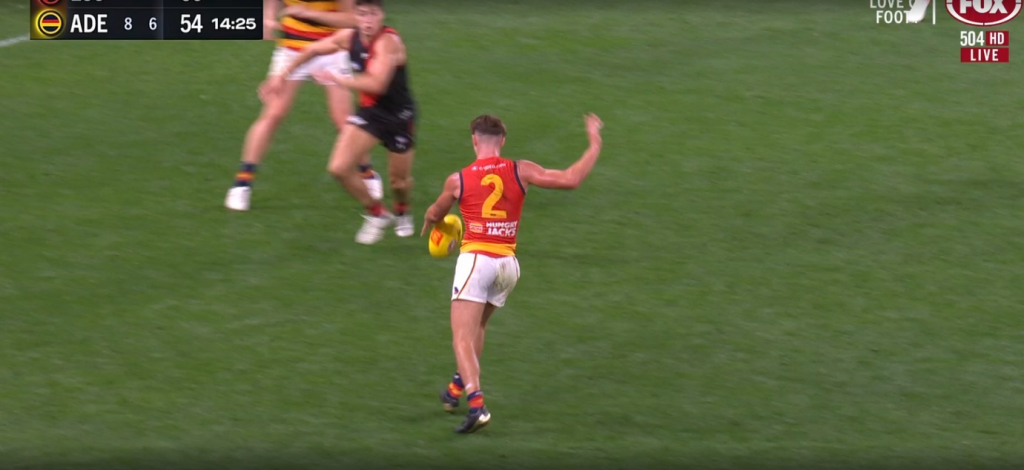 Look at that filth.
Not even in the frame when Keays slots it.
Disgusting.
He still can't kick that well though, so pipe down Crows fans.
Anyway, that's the Adelaide Football Club. Big Nicks Diesel has them charging through the middle of the ground. They're not always going to get it right but they'll give it a red hot crack.
DING DING DING!
AND IN THE BROWN AND GOLD CORNER…FIGHTING!!! out of GLENFERRIE STATION. VICTORIA. AUSTRALIA…SAM!! 'THE SUCCESSION PLAN'. MIITTCCHHHELLLLL.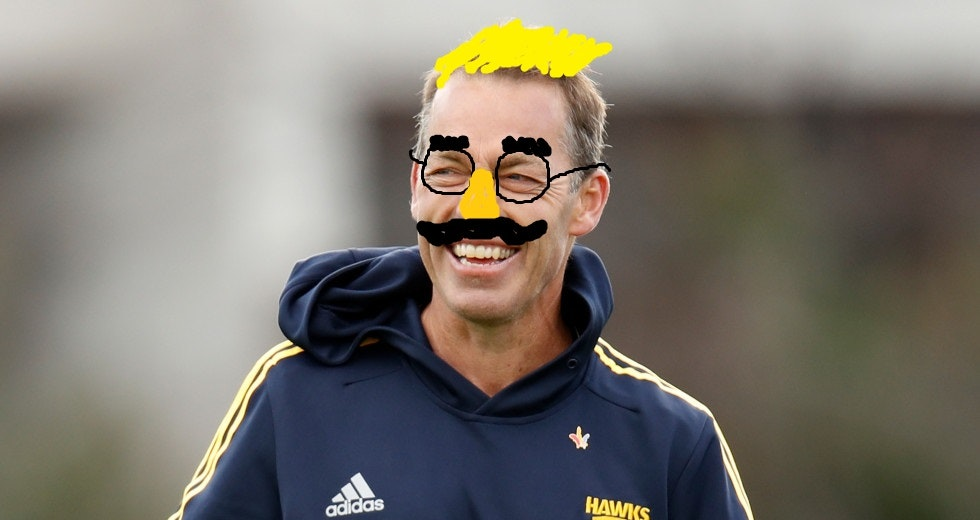 Let's see those quick feet Sammy boy.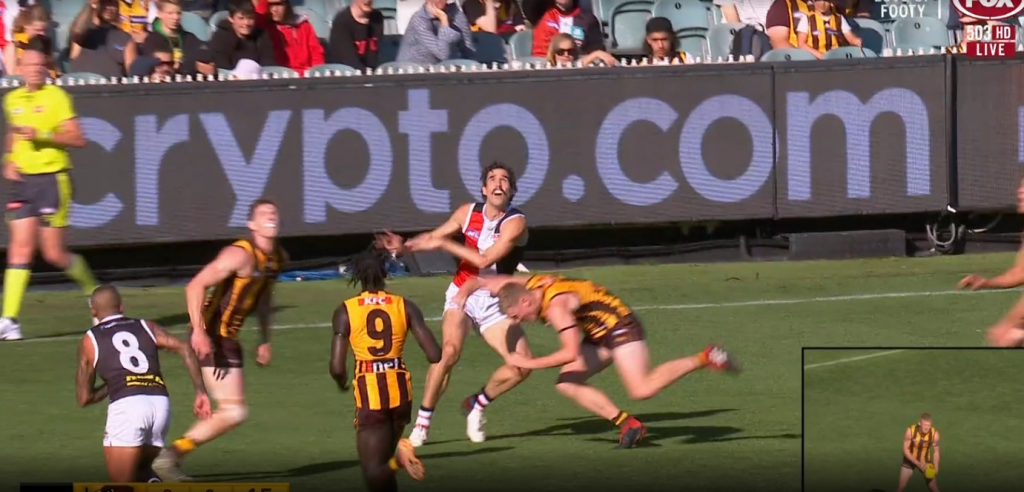 Max King whacks James Sicily over the head, which contrary to popular opinion, isn't allowed by the laws of the game, or even the regular old law.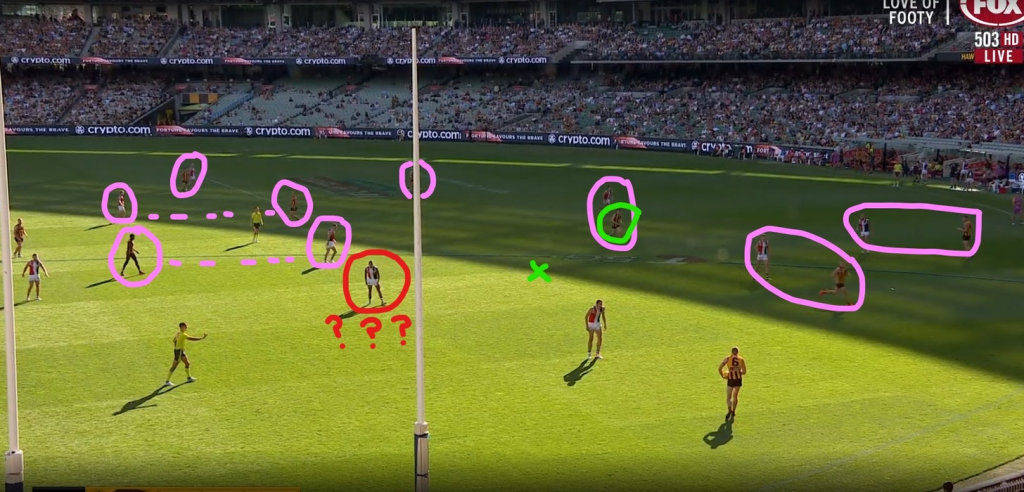 Sicily takes his time and can't see anything other than a little chip to Ward. But look at Bradley Hill here. Something has clearly gone wrong and the Hawks will have a spare man somewhere.
Even though the rest of this play isn't a quick turnover, and is the Saints fault, it'll give us some great insight as to what the Hawks want to do when they get the overlap.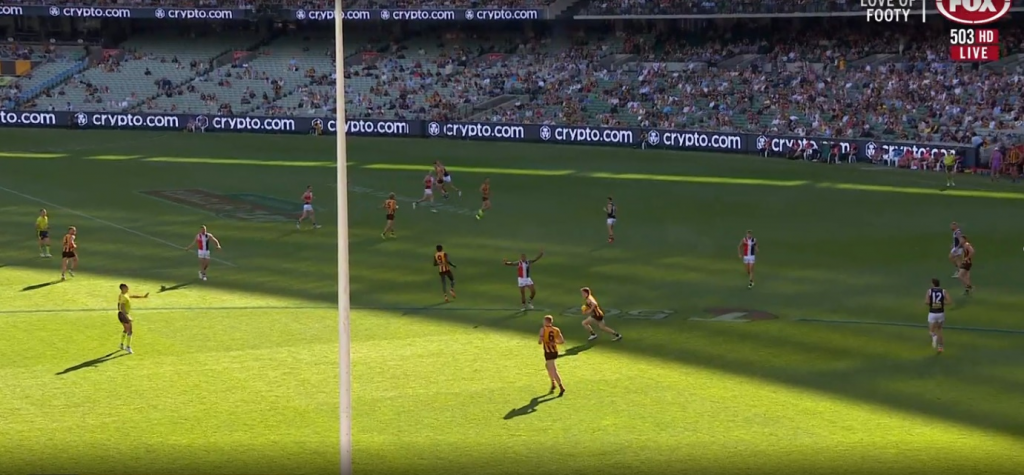 Bradley Hill says to Lienert, 'piss of mate, I'm not taking the wrap for this.' It's these sorts of savvy veteran moves that earns him the praises of his coaches and teammates.
Ward sees that the spare man is on the fat side of the ground so he swings it over.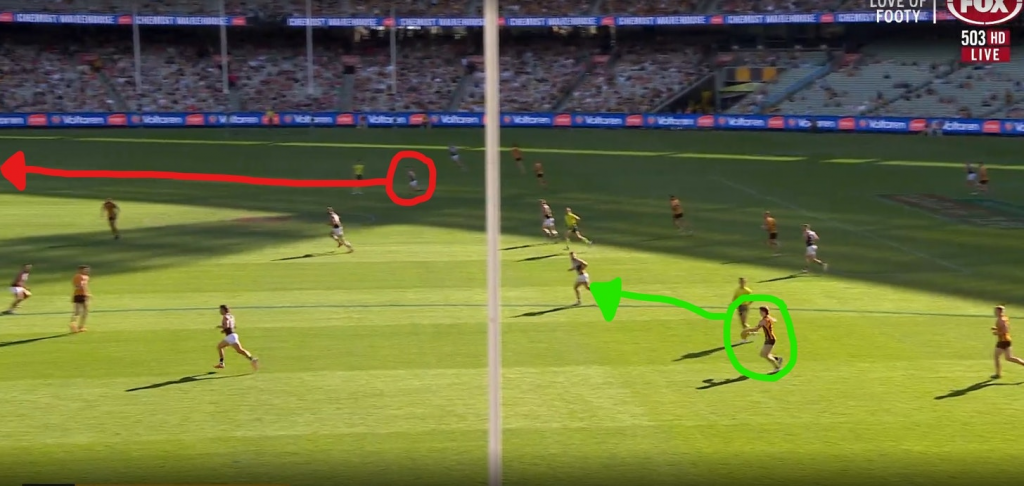 Jack Sinclair sees the open man and thinks that it might be him that's cooked his team's structure. 'Oh shit, I might get a tepid spray from Ratts.'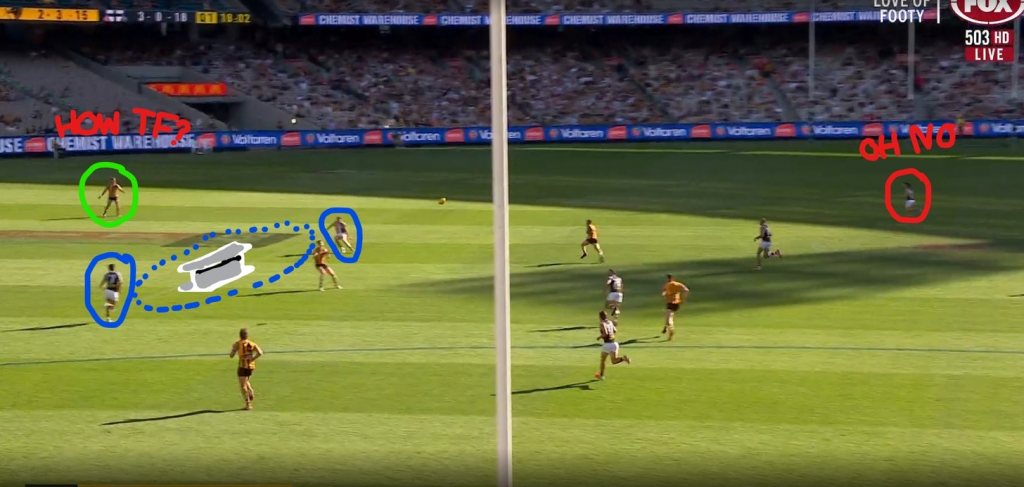 Sinclair has a lot of ground still to be made up as the ball swings to Will Day. The Saints are set up in the unorthodox steel beam formation. They really have a lock on that narrow section of the turf.
Day correctly stands outside the wall of steel and look at these Hawkies fly.
All of them are belting it down the ground to try and win the Chad Wingard medal. Awarded to the guy who's the last overlap runner and gets the cheap goalsquare kick over the back.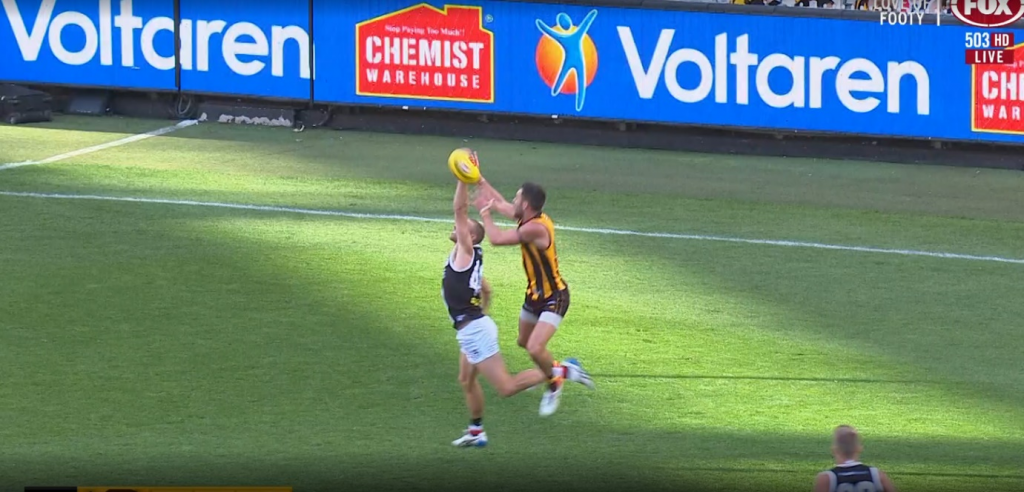 Bruest gets it in mountains of space and kicks it to Gunston. He can't take the grab, but as long as he does well enough, there should be an overlap runner there.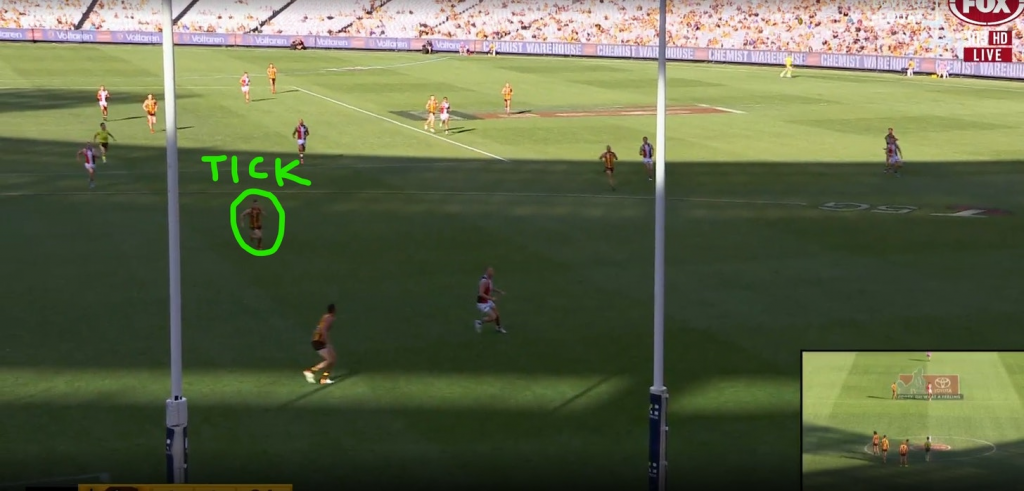 Yeah, there he is!
The ball spills to ground and Mitch Lewis's man in the goal-square comes up to meet Moore who has gathered. Dylan Moore just pops it over the top, and Lewis wins the Wingard prize.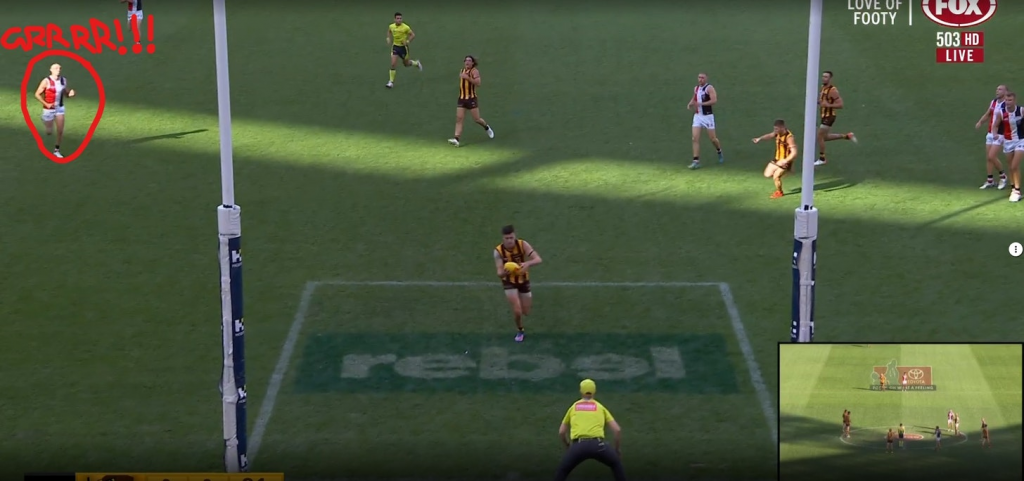 And there's our man Lienert from back at the start, still seething at Bradley Hill for making him run that far..
So the Hawks like to rebound. Hmmm?
Interesting move Mr. Mitchell. You're copying the rebounding Richmond's premiership playbook are you?
Well…not quite.
The two disadvantages of the Hawks to using this playbook, are that being a young team like the Crows, their players aren't very skilful and they get run off their feet at the end of games.
So to mitigate this, Sam Mitchell has done two things.
The first is he's encouraging spreading the ball out wide for the switch of play. It's easier to hit kicks if you're in open space, rather than bounding through the pressured corridor.
The second thing he's done is make the zone flatter across the ground. I think this so that his young mids don't have to run as much, although this could be just a reflection of them getting gassed and not holding their structure. Either way, let me show you what it looks like.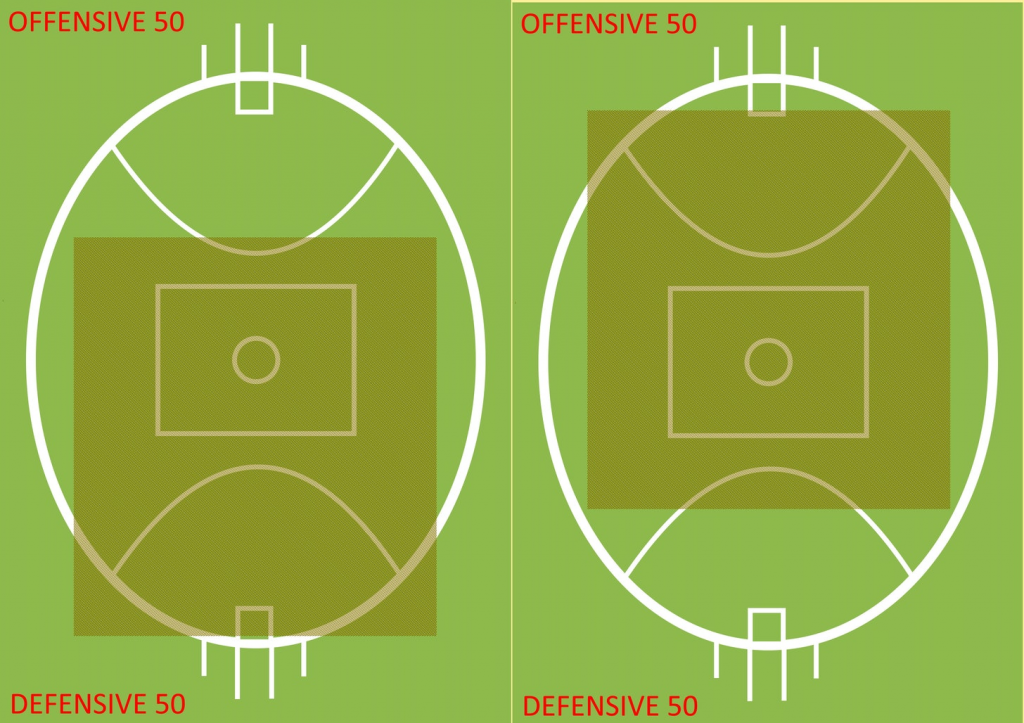 If we consider this the Richmond zone, this is how it moves up and down the ground when rebounding.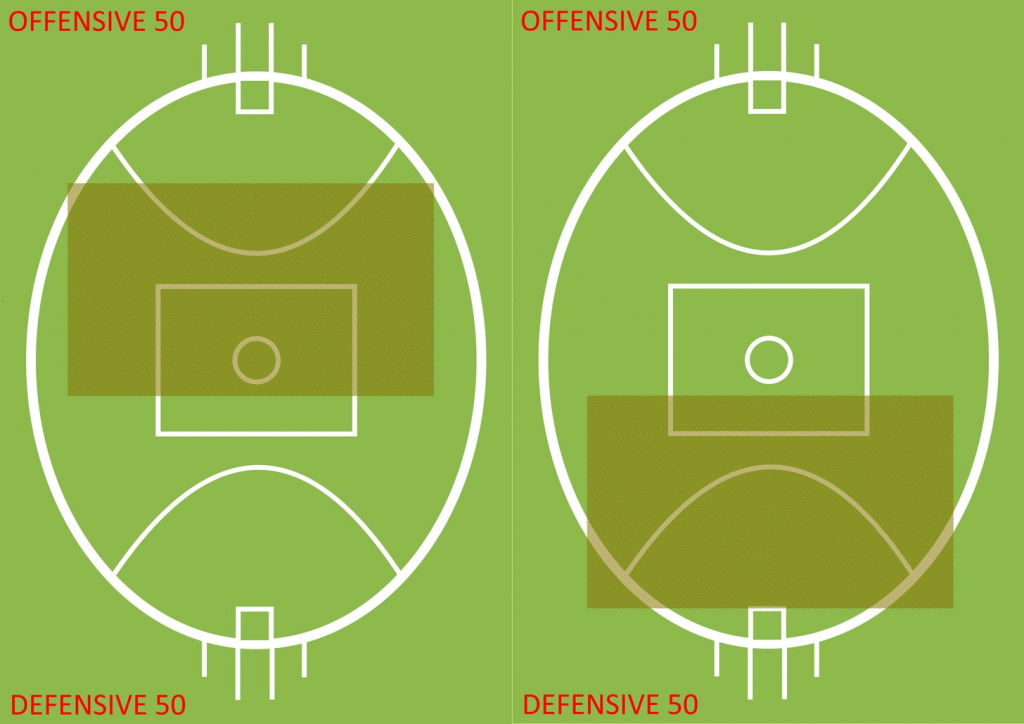 I've over exaggerated here, but this is what I mean by the Hawthorn zone being flatter. It's a similar style to how Port Adelaide and Collingwood have been playing, but its much more focused on protecting the middle part of the ground.
What it means is that when you do get the ball at the top of your defensive 50, you have plenty of numbers to spread it too. What it risks however, is that you're completely screwed if you turn it over and they get out the back.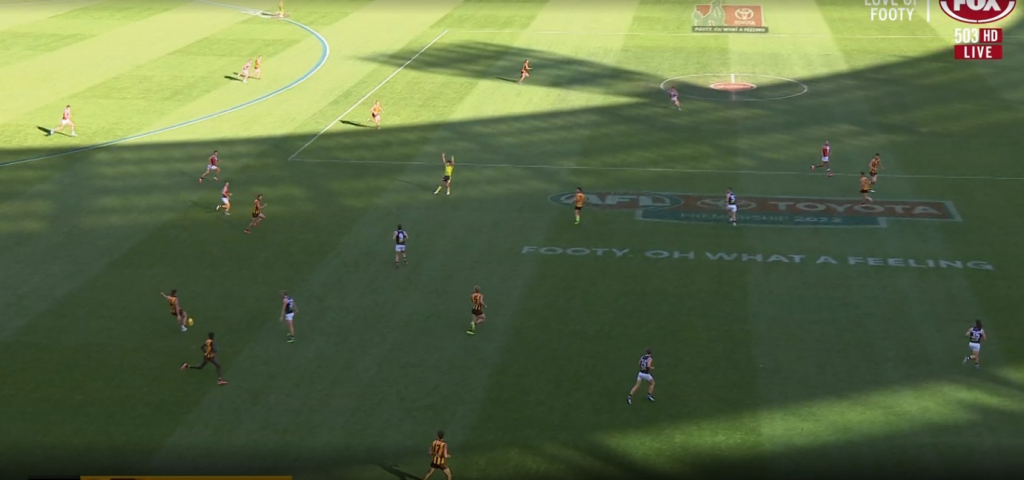 See how there is a lot of numbers in a line sideways with the ball carrier. The Hawks have the overlap here if they can just get it to Frost in the middle, then over the top to the man on the far side.
Let's see how they go.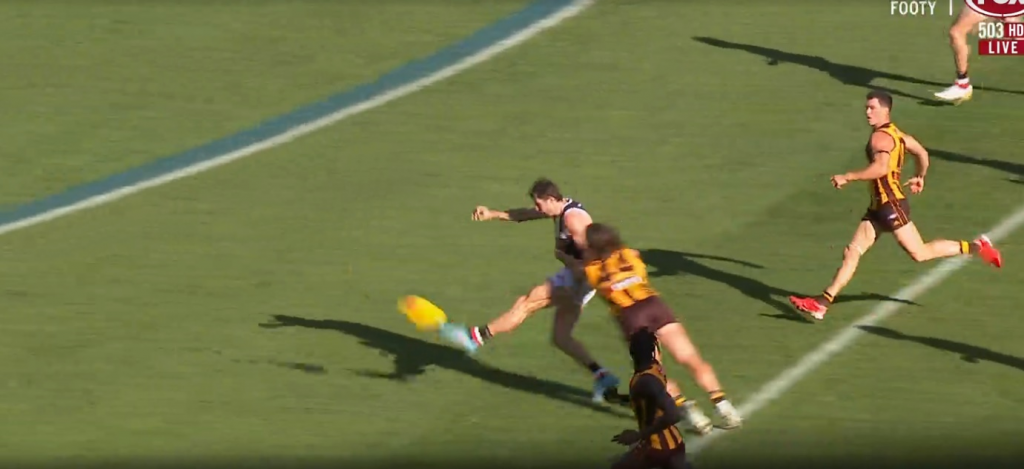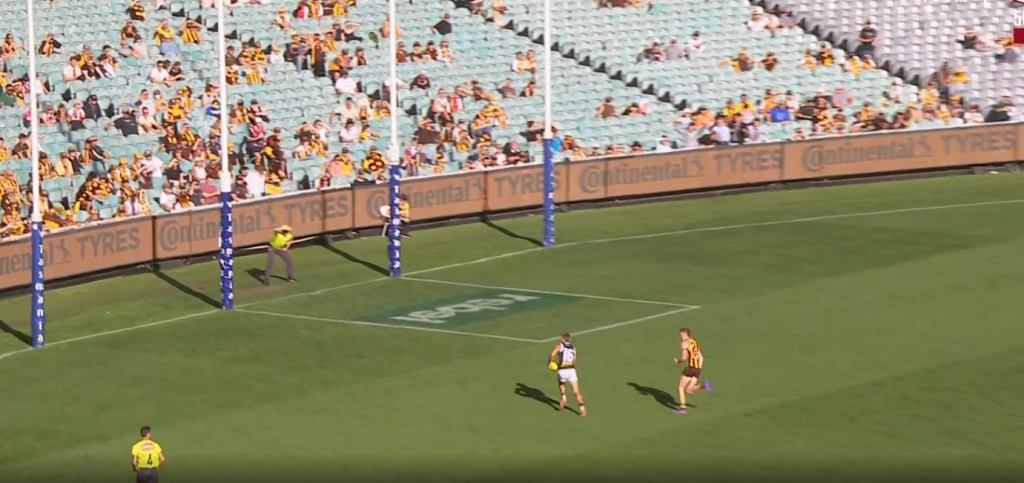 Risk and reward footy.
Having the zone this flat gives the Hawks half-back flankers license to get up the ground a long way, but never into the attacking 50.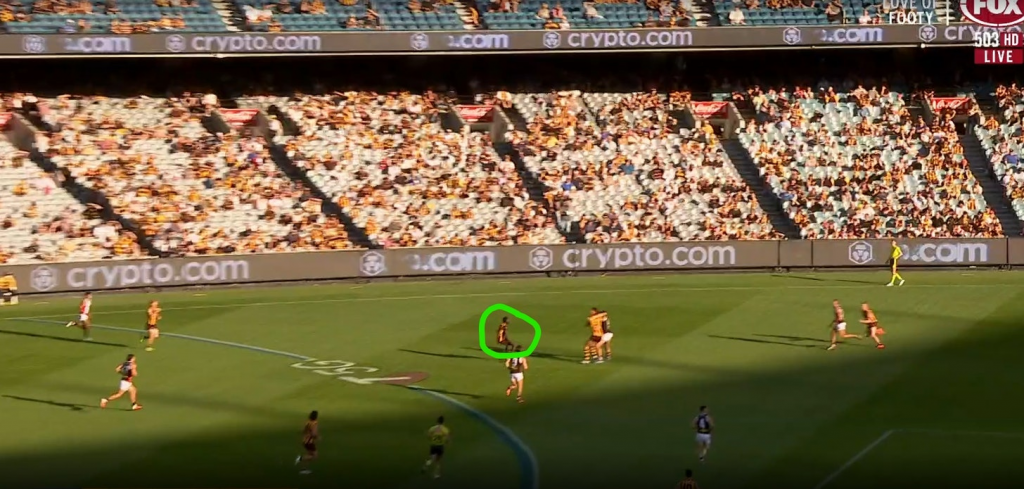 CJ has just bombed one into the 50 and its been intercepted by the Saints defender. The defender doesn't move the ball out quickly, he takes his time, assesses that there is no switch on and then puts it back down the line.
Rather than sprinting back, CJ has just stayed up near the top of the 50, in a position to crumb this one front and centre.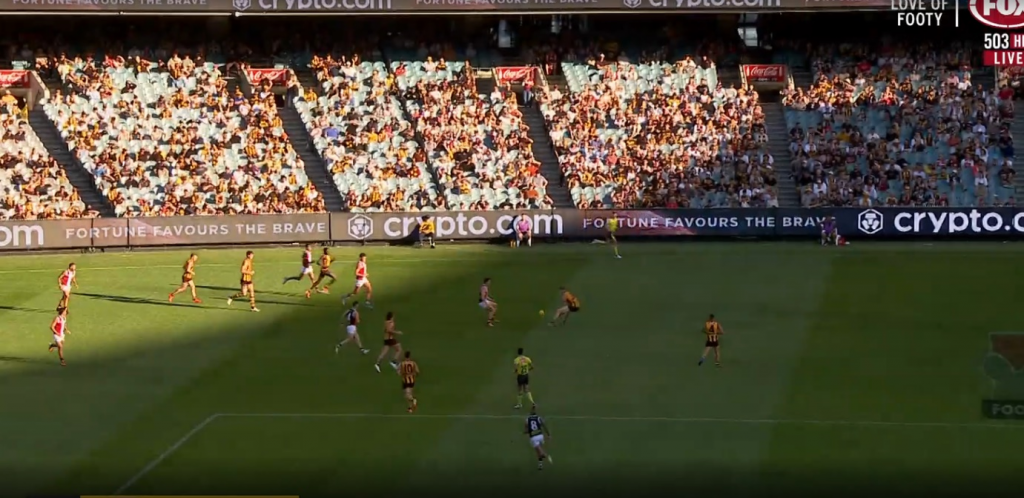 The ball ends up going to ground, and eventually it tumbles out the back of the contest. CJ realises it could go out the back here, so he starts to run backward…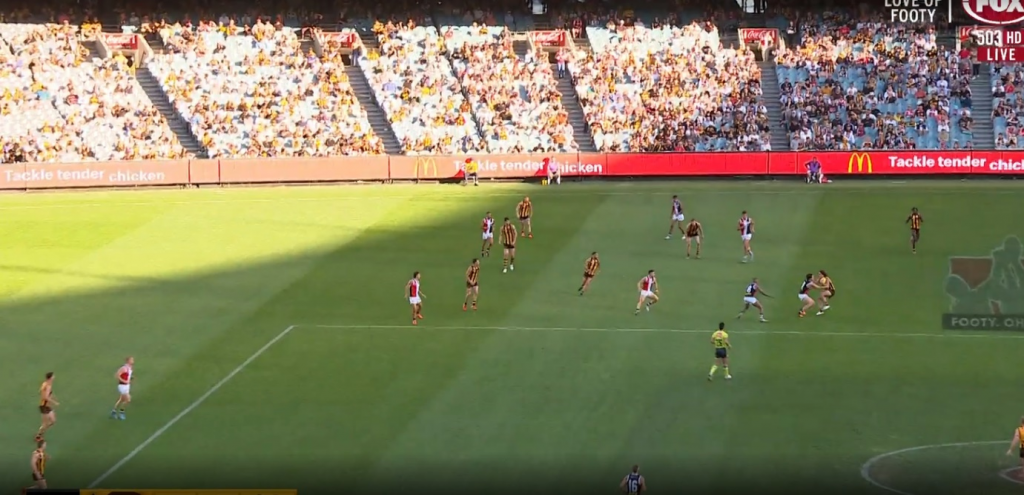 …But not that far backwards. Other than the Hawks defender who is just in the bottom right of screen, CJ is the furthest man back for the Hawks here.
Bully Boy Newcombe thankfully gets a fend off and sends the ball back in. Thank god he did too, because there is hectares of space behind him.
I think, by the way, that the flat zone is why CJ hasn't slotted his first major yet. He's running up the ground so often, so you'd think he'd have nabbed one by now. But Mitchell's playbook is a complete cock-tease for him, he's just never quite in range to let it fly.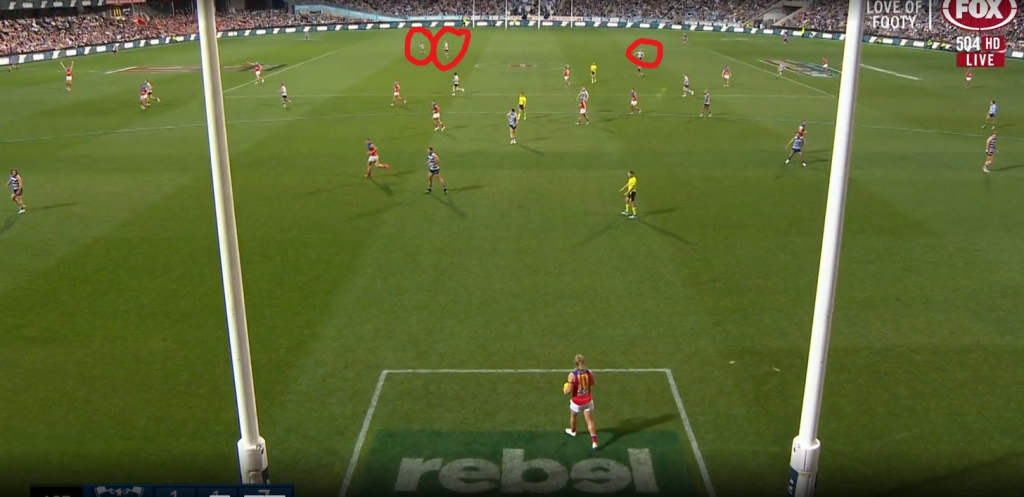 This is the Cats' zone from kick ins. The three furthest back players on the ground are three Cats defenders. This is a normal set-up.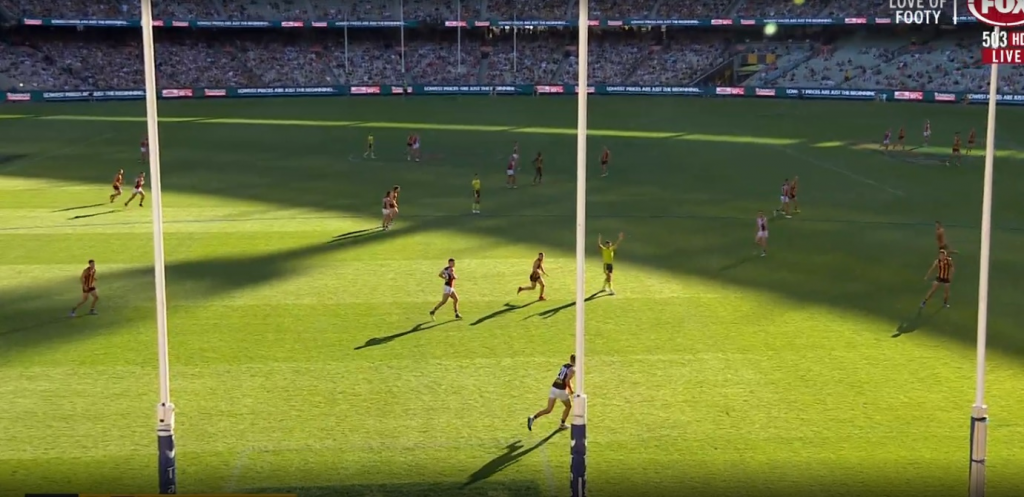 This is the Hawks zone from kick-ins. Really in your face stuff, but there's a looootttttt of space behind you.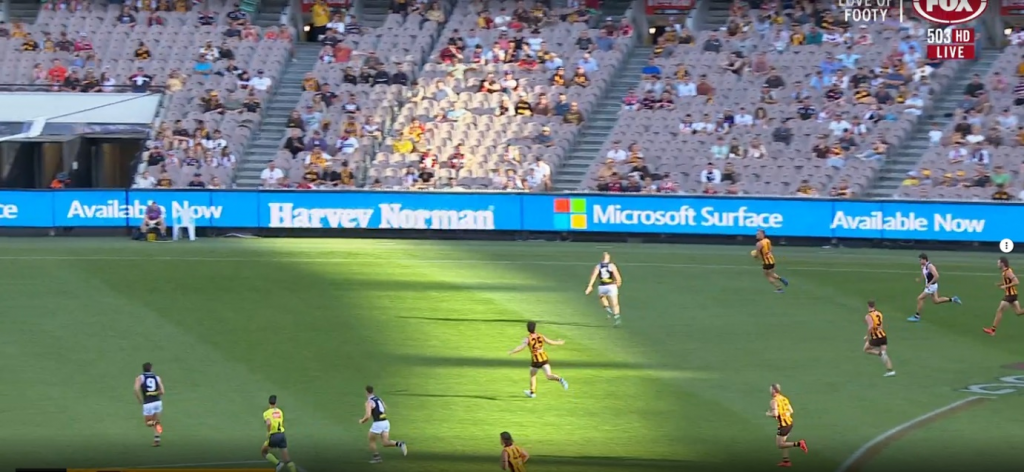 In this one they clear it off of half back and look at all those runners they have in a line.
Unfortunately, one problem with this system, is that if you have to get a quick kick away, you don't have the time and space to spread it across to the long tsunami wave.
Morrison is forced to dump it…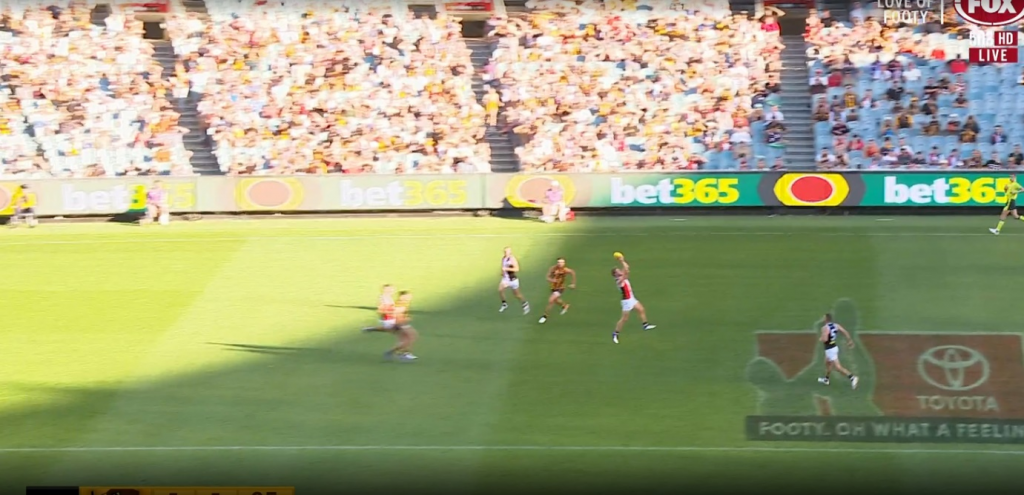 …Straight back into the Saints zone.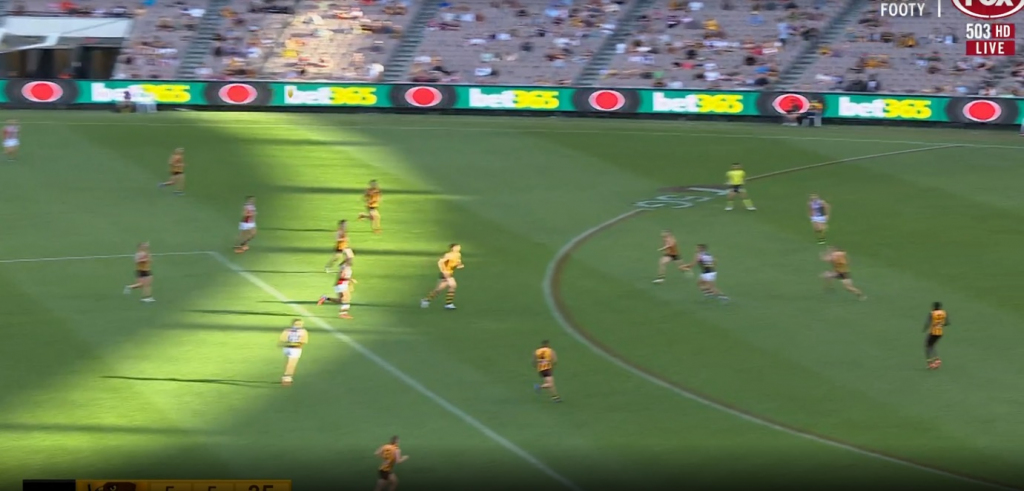 The ball is bombed back long to a contest. But the Saints are yet to realise that the top of the 50 is exactly where the Hawks want it.
I count seven Hawks running back with the flight to meet this ball, as compared to three Saints. This is the part of the ground they want to defend in.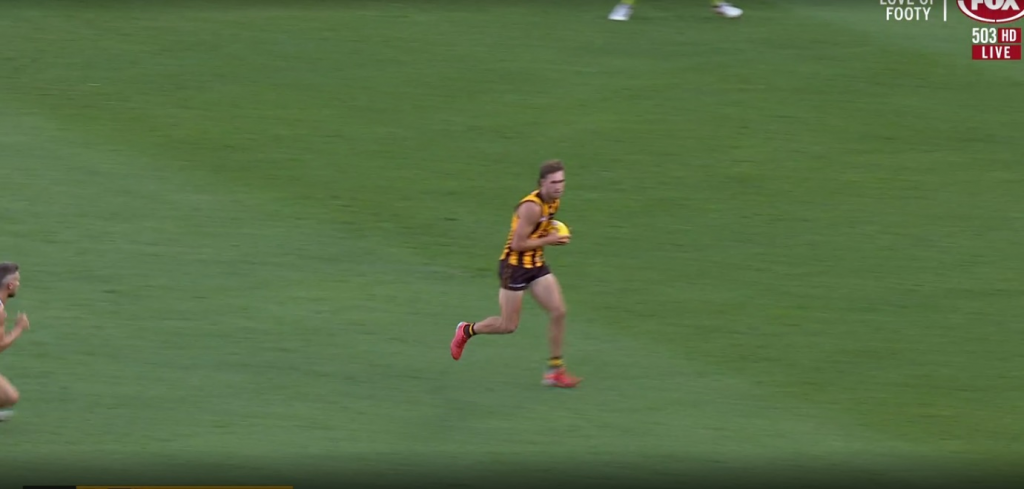 The contest is won by the Hawks and they get it back to the sweeper Scrimshaw. Here comes the half-back Tsunami!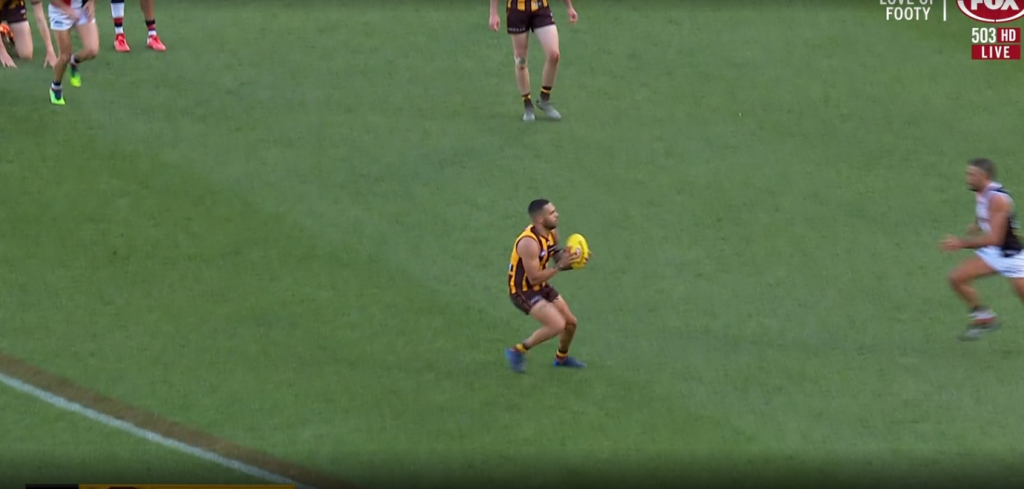 Spread out to Impey.
Further to Jiath.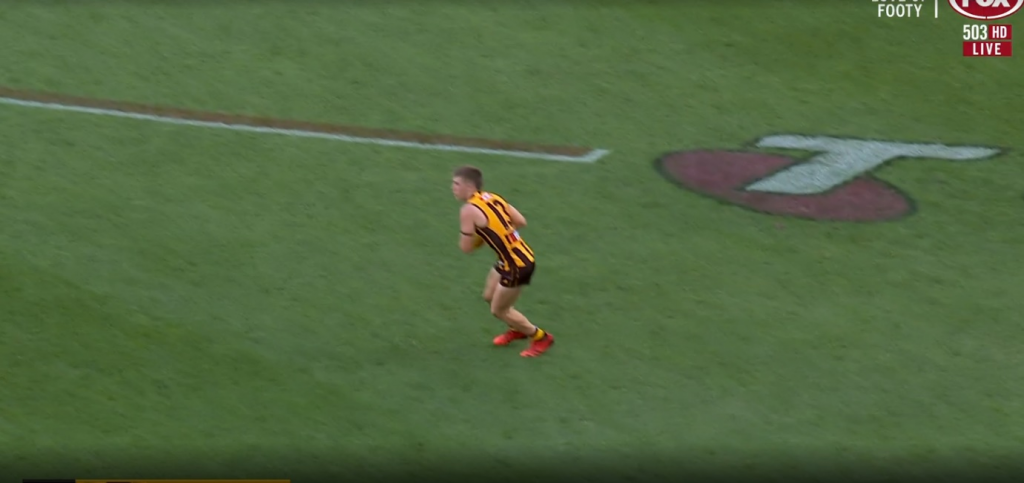 And further still to Dylan Moore.
Mitchell has the Sainters right where he wants them. Overlap runner incoming on the outside.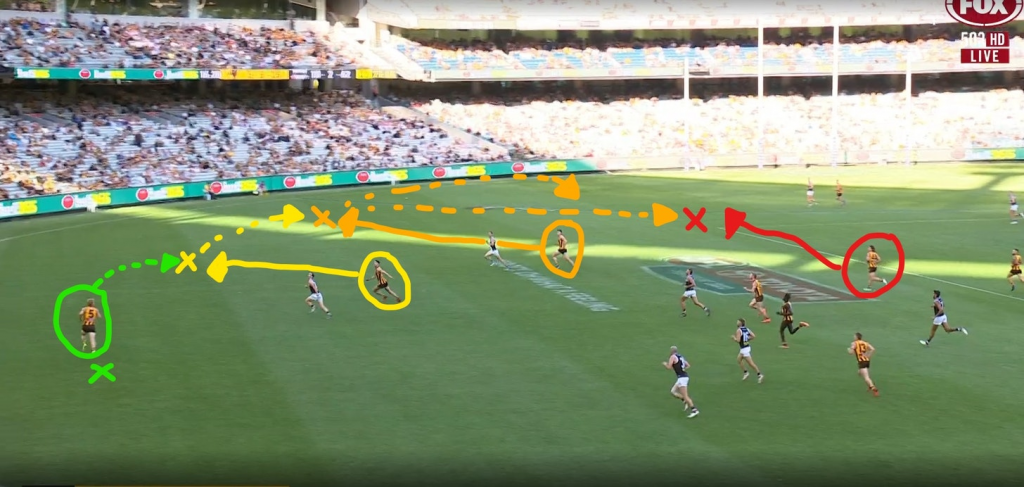 All Moore needs to do is get it to Worpel out wide here and the chain of overlaps will be on. To add even more cream on top, Jai Newcombe would also be open in the corridor, to give the Hawks two extra numbers.
This is textbook rebounding with a switch. Exactly what the Hawks fans were after.
Just waiting on that kick to Worpel now…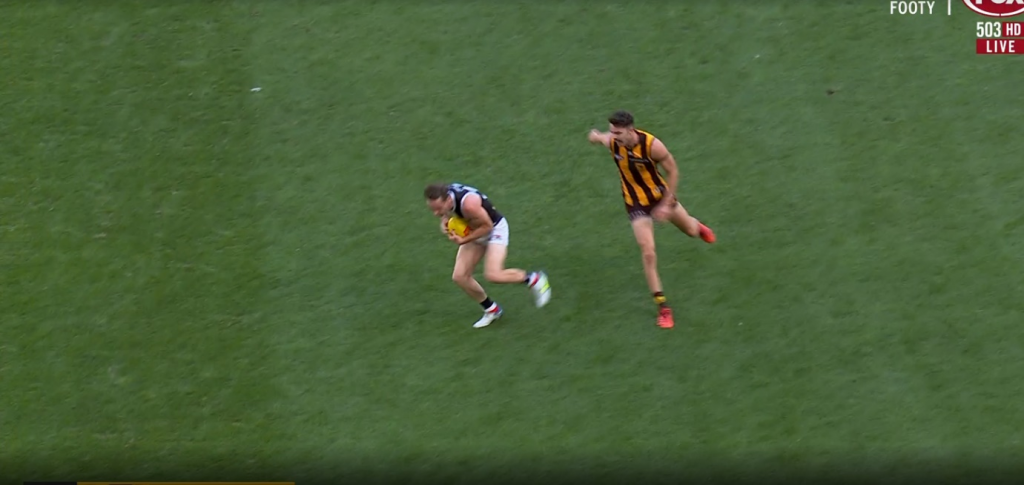 I don't know what's written in Sam Mitchells play-book, but I'd be willing to bet that kicking it to the opposition when you have a spare man open isn't.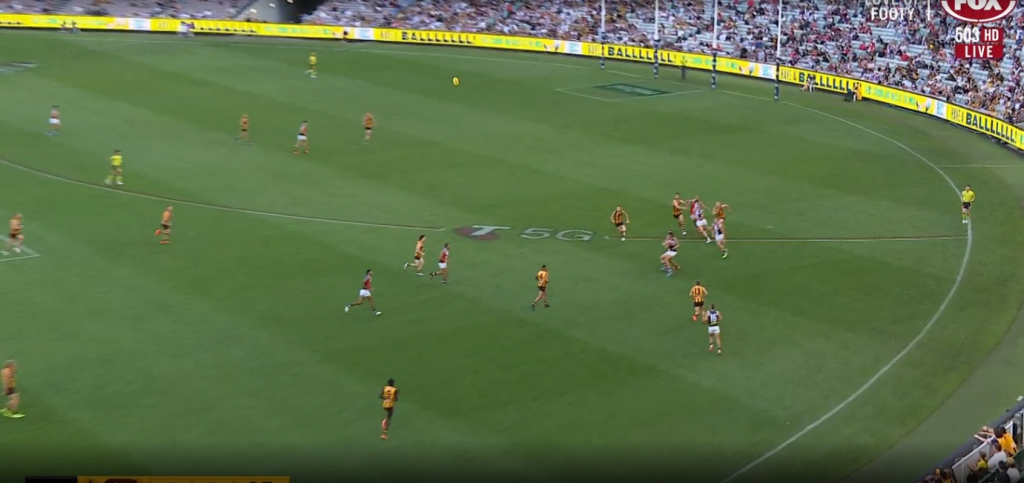 The ball gets sent back to the top of their defensive 50, but this time they're not setup for the spread. Hopefully they can make a contest out of it though, because their pancake shaped zone leaves a lot of room out the back.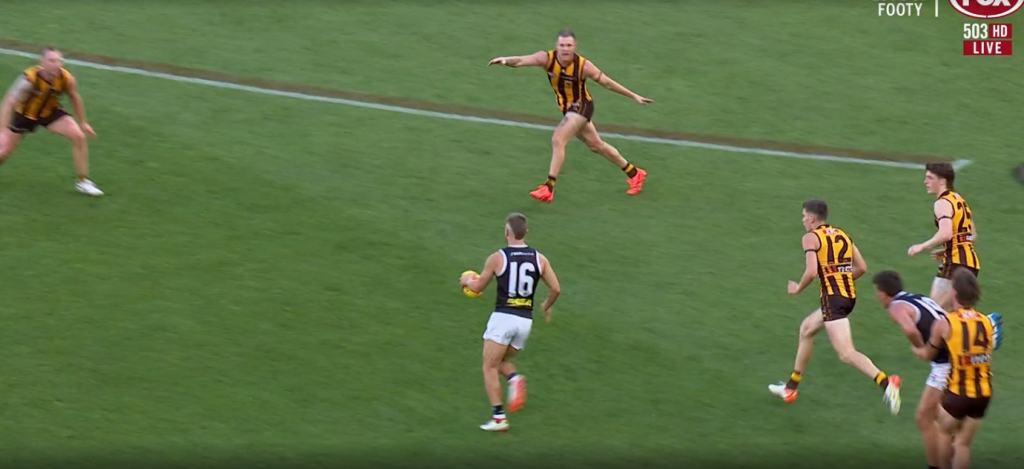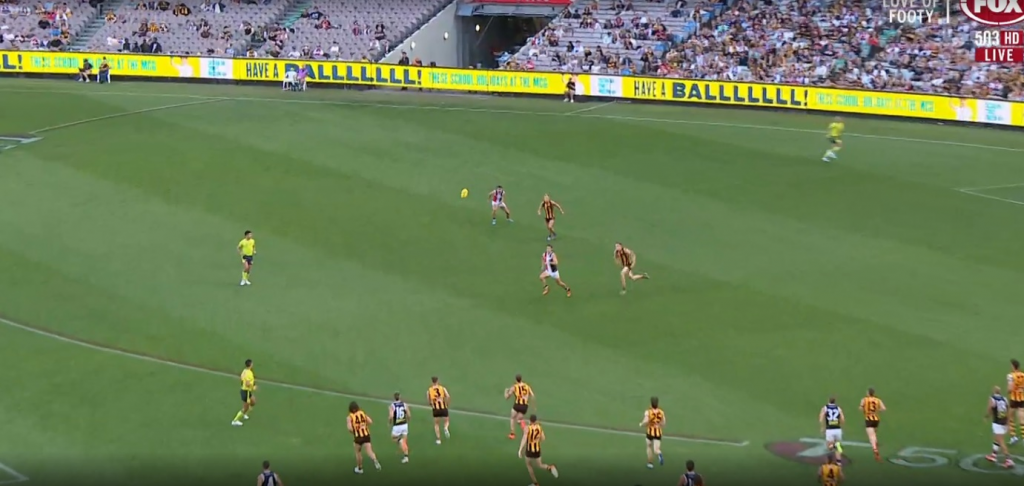 Just look at that ocean of Brown and Gold jumpers on the 50. Defending exactly where that ball isn't.
Also, as an aside, this was Cameron Ling's commentary after Steele kicked this goal.
"Just a heap of Hawthorn players around that marking contest. They're getting good representation across half-back, because that's where they want to launch everything from, the Hawks. But as soon as the Saints win it back and they get it past that line of Hawks defenders, there is plenty of space and it was Jack Steele then. Just a nice little lead up and set shot."
So to all you nuffies that comment 'thanks Lingy' on everything, get bent. I had to go watch this on replay to get this sort of insight. Ling knew it in real-time, once again proving that people who coach and play the game know so much more about footy than you.
Anyway, thanks Lingy.
So that's the Hawthorn Football Club. If they start making kicks and they can get a bit fitter, they'll really start to challenge teams. The Hawks may be shit, but if they hit targets and get their confidence up, they can start landing shots on the heavies. Port Adelaide learnt that in Round Two.
The Hawks are playing my Cats this week, which means they WILL start hitting their kicks, because Easter Monday always turns into a close tussle. Cruel world.
As for the Crows, they're playing the old head of the comp, Richmond. The Tigers practically invented the modern style of rebounding through the corridor, so Adelaide must be ready to get hit with a few shots back in the other direction.
Either way, both these teams' style is aggressive and fun to watch, so we should have some fast swinging fifth-round rope-a-dope action.
…Wait a second…do you hear something?…
.
.
.
DING DING DING!
You can find more from Josef – including his response to unhappy Lions fans at his article on the Tom Hawkins and Marcus Adams match-up – on his substack available here: https://josefmack.substack.com/