That was ridiculous.
Geelong had no right walking away with four points in that game. As we headed to the last quarter, the Pies looked home. I know that I was busy preparing what I thought would be the main Collingwood talking points of the game. After all, the team that wins the game usually has the supporters that read the reviews.
However, as the last quarter got underway, and Mitch Duncan snuck forward to mark on a tough angle, you could sense that Geelong were going to leave nothing on the table. As his ensuing shot at goal started the Geelong motor running, you could tell the Cats had belief. That, my friends, is dangerous.
And with that sense of danger in the air, the Pies went into their shell.
There were two huge takeaways from that last term. The first was a lesson for the Pies – don't go conservative. After playing some brilliant attacking footy to stretch the Cats and look like winners, they started looking like a team that wanted to save a game that was still there to be won. Players dropped off, looking for sideways and backwards kicks, leaving those who did want to attack looking at outnumbers ahead of them. They were forced to play with the footy, and that played into the Cats' hands.
The other lesson we learnt was that you never, ever doubt the heart of a champion, or those playing in honour of one. And champions are what this Geelong team played like when the heat was really turned up. With the chips down and their backs to the wall… and whatever other metaphors you'd like to use to highlight their plight, they dug in, put their bodies on the line and made things good for their captain, who was breaking the all-time record for games captained.
Here are The Big Questions stemming from a brilliant game of footy.
DID THE CATS JUST BAIL JOEL SELWOOD OUT?
In a lot of ways, hell yes, they did.
Things looked to have turned very sour for the Geelong captain when he was run down inside defensive fifty by Ollie Henry and caught holding the ball. I don't know about you guys, but my heart sank a little watching it – it was like watching an old lion get mauled by one of the younger, stronger ones – and the old one didn't even get a chance to fight back as it didn't hear it coming.
Of course, so much of that had to do with a lack of talk from his teammates, but Selwood just looked like he was completely oblivious to the young Magpie gun gaining ground on him with baaaaaad intentions.
To make matters worse, following the Henry goal, it appeared as though Jack Ginnivan, with his recently dyed (almost spelled it "died" as it looks like he killed it) hair, had a bit of a crack at the Geelong captain as the goal went through and Tom Atkins responded by dragging him to the ground by the head and pulling him across the MCG turf.
Ginnivan appeared to refuse to fight back, with Atkins' effort looking more like an assault than a back and forth with an opponent. The AFL doesn't like the "look" of plenty of things – I wonder if they'll like the look of this?
Anyway, that pair of incidents gave the Pies all the momentum, and formed part of a mammoth nine-goal third quarter. The Cats looked cooked. Their captain looked rattled. Their supporters (well, some of the Mongrel writers who support the Cats) all but conceded the game at that point, but when they headed to the three-quarter time huddle, what do you think the message would have been from Chris Scott? Who do you think he would have pointed to? And what do you think he would have spoken about?
The intelligent coach would have spoke about how many times Selwood had pulled this team out of the fire, and how many times he had dragged them over the line in games they had no right to win. I am a Hawks supporter – I know how many times Selwood did that just against my team. It was like his bloody superpower!
This would have been Chris Scott telling his charges how much this club owed Joel Selwood and how they could each repay all that he'd done for them. I'm speculating, of course, but the way the Cats attacked the last quarter, I don't think I am far off the mark.
When Duncan kicked the goal to reduce the margin to 24 points, you could see the Cats building confidence like a storm on the horizon. As Collingwood chipped and played with the footy, the Cats became an irresistible force, creating turnovers, willing the ball forward, and giving their forwards every chance to drag the margin back further.
As the quarter ticked down to the halfway point, the Cats found themselves just two goals down. It was game on, and the Pies were on the back foot. It was then that the greatest captain I have seen re-entered the fray.
Throwing himself back into the action, Selwood's presence in the last quarter was huge. As the Cats ran over the top of the Pies, they did it with their captain leading from the front, able to put behind him the three quarters prior where… well, he just didn't look like Joel Selwood.
Yes, the captain was strong in the last quarter, but this game was a payback for him. On his record-breaking night, it was no longer Selwood that had to drag his team back into the game – it was the team lifting, and dragging their captain back into the contest with them.
As stated above, I am not a Geelong supporter, but my favourite player over the last 15 years, or so, has been Joel Selwood and it was a privilege to watch the team he has done so much for stand up and do something for him.
Congrats, Joel. And congrats to the players who made it all possible for him to celebrate. It was a win that should be savoured.
WHO STOOD UP WHEN THE GAME WAS THERE TO BE WON?
I'll cover Tom Stewart below – he deserves his own space in this column.
The Cats got a lift from an unlikely source down the stretch, with Max Holmes playing the best quarter of his young AFL life as the Cats caught fire.
Picking up ten touches, the 19-year-old was composed in the heat of battle and consistently contested the ball in dispute, funnelling it out to the Geelong runners. He was also involved in several vital handball chains as the Cats surged past the stagnant Pies.
Jeremy Cameron burst to life in the last quarter, kicking three of his six goals for the game as the Cats looked to him to finish off their hard work up the field. Cameron was able to find space on the turnover, and gave the Geelong mids and half-forwards a reliable target when they won the footy back through the middle of the ground.
Tyson Stengle… now there's a name I did not think I would be discussing when I was talking about stepping up when the pressure was at its highest. He did was so few do in key moments of big games – he lowered his eyes and hit targets.
Making space forward of stoppages, he was often the last link in handball chains and able to deliver the ball by foot to leading forwards. Watching him over the preseason, he struck me as someone who would fade in and out of games, and really, he did that in this one, as well. He had five touches in the last quarter, but just two in the third as the Pies ran riot. Three of his five in the last quarter were inside 50 deliveries. All of them were effective.
Isaac Smith and Brandan Parfitt did some hard running, as well. Parfitt was combative on the inside, whilst Smith gave burst run to the Cats when they needed to break a line.
There are plenty more I could list here, as the entire Geelong squad took up the challenge in the last quarter, but the blokes above were the ones who stood out to me.
SHOULD WE START SIZING UP TOM STEWART FOR AA BLAZER NUMBER FOUR?
Yep – you already know his size.
If you want to see the impact of Tom Stewart summed up in just one play, his kamikaze attack on the footy, putting himself at risk, and crashing into Brody Mihocek in the process during the last quarter is the exact clip to do just that.
It was a selfless act from Stewart, who would have been under no illusion what the consequences of his actions could have been, but so committed was he to the cause, that sacrificing his body like that seemed like a small price to pay for the chance to get his team over the line and honour his captain.
Stewart is often spoken about as a future captain of the Cats, and watching his last quarter, and his entire game for that matter, gives you every indication as to why that is the case. He is fearless, reads the ball perfectly, sets up the defence, and if you decide to test him, you'd better be prepared to get hurt.
He finished this game with a defensive double-double, notching 13 intercepts and a monster 14 rebound 50 disposals (and didn't take the cheap kick-in route to get them, either), whilst gaining 767 metres for the Cats.
I've said it before (and got whacked for it) and I'll say it again (and get whacked for it again), but Tom Stewart is everything in a defender I wish James Sicily was for Hawthorn. He is the consummate professional and it was only fitting that the man many believe will succeed Joel Selwood would play such a big part in ensuring he has his name in the record books with a win.
ANYONE SEE WHERE JORDAN DE GOEY WENT?
Firstly, I have to state that as far as I am concerned, my site concentrates on footy and I prefer it that way. I know a lot of you want people hung out to dry for things that take place off-field – that's fine. That's what Twitter is for. Go nuts. I prefer to separate the player from the person in these instances, as I can still enjoy what a player does irrespective of what type of person he is away from the footy.
And before Geelong fans get up in arms and think I am copping out, you had a bloke named Gary Ablett Senior who is still revered at your club. I still write glowingly about him, too. People in glass houses…
Anyway, this was an "almost" game for de Goey – one where he should have stamped his authority early and announced himself as the best player on the ground in the first quarter. He "almost" did. If not for kicking 0.4, his 12-disposal first stanza may have been absolutely electrifying. Instead, it was just a mild buzz.
But the thing that stuck out to me most was how quickly he faded from sight once the Cats rallied. Where the hell did Jordan de Goey go?
He managed just one touch in the last quarter and I am not sure whether you noticed it, but for a bloke with plenty of power and superb balance, he sure as hell goes to ground a lot in a contest. If that is fatigue, that's one thing, but to me, it looked as though JDG was trying to bottle the footy up and win stoppages, when keeping his feet and winning the footy is always where he is at his best.
He finished with 20 touches and ten score involvements, but it was concerning that when the Pies needed someone to stand up, de Goey faded into the background. This could have been his time to shine. He could have lit the game up and swung the momentum back Collingwood's way, but the heat was a little too much for him on this occasion.
DO PIES FANS HAVE SHORT MEMORIES?
"Shame on anyone that booed a champion."
That was the message from three seasons ago, when then-coach, Nathan Buckley addressed the crowd following the Anzac Day game where the crowd booed as Scott Pendlebury accepted the Anzac Medal as the best player on the ground. Pies fans responded with cheers, in full agreement with Bucks' sentiment. They supported their champion.
Aaaand, in this game, the Collingwood fans booed Joel Selwood every time he touched the footy.
Yep, do as I say, not as I do.
Look, we all know that despite what the media told you back in 2019, Essendon fans weren't booing Pendlebury at all – they were booing the result and the umpiring that led to that result. It was probably the worst display of umpiring I've ever seen, and though the Pies got the rub that day, it was apparent that the Bomber fans were irate at the treatment their players received and some of the nonsensical decisions/non-decisions that came about.
Yes, they booed – long and loud, but it was opportunistic of Bucks to indicate they were booing Penles, and the media ate it up because it made a good story. And also because they think you're stupid.
This game was a little different. The Pies fans were genuinely booing Selwood because… ummm, he is good? Because he manages to win free kicks? Because he has a lot of pride in what he does and gives a damn when he plays poorly, sometimes reacting in a way that is… hmmmm, unsavory?
Regardless, Pies fans were happy to take aim at Bombers supporters a few years back for booing, and then they do the same thing. There's a name for people like that.
IS BRODIE GRUNDY DOING ENOUGH?
Strange question about a bloke who just had 20 touches, eight tackles, eight clearances, and five inside 50s, right?
So, if he is producing those numbers, why do I walk away from this game thinking that Rhys Stanley was just as good?
Would the 2018/19 version of Brodie Grundy have permitted Stanley this type of space to operate? Would he have taken the ruck tap and then nodded at Stanley and said "see ya at the next stoppage"? Because that's the way he played, allowing his opposite number plenty of room to move.
I am a little miffed with the rucks in the league as a whole at the moment. I am not sure whether the way the game is being played is conducive to them racking up big numbers, or whether game style is stepping on their toes in terms of playing accountable footy, with each ruck maintaining a more defensive position, but one thing I am pretty certain of is that rucks don't really play on each other at the moment, and if Grundy is going to permit his direct opponent to run around and collect the footy at will whilst he does the same, is he really beating him? Or do these inflated numbers just pump up the tyres of the big blokes and have little impact overall?
I'll get an answer by about Round Six, I reckon. It's around that point of the season stuff starts to settle down.
WHAT DIFFERENCE DOES A WELL-TIMED SUB MAKE?
Cards on the table – I am not a huge fan of Esava Ratugolea, so that may distort how I viewed this, but him being subbed out of the game, and Luke Dahlhaus emerging to play in the last quarter was quite pivotal in terms of the way the Cats were able to attack via pressure and quick handball chains.
Let's be honest, there is absolutely no way in hell Big Sav was ever going to be involved in those runs through the middle, was there? But Dahlhaus… that's a little different. With fresh legs, he was able to get up and about, collecting seven disposals in the last quarter, including four score involvements and a direct goal assist.
Chris Scott must believe in Ratugolea. He must see things that I just don't. Yes, he is a huge body, and yes, he can take out a pack if he launches at it, but we're here discussing a bloke who has not managed to hit the scoreboard in 2022, and who is averaging career-lows in basically everything this season.
Here's the deal – Stanley is the number one ruck til Ceglar is ready. Then they can fight it out. Hawkins takes the inside 50 ruck duties, and Blicavs pinch-hits in defensive ruck duties when Stanley/Ceglar cannot get there.
And Sav can take his seven disposals and five hit-outs per game and work on them in the VFL. How does that sound?
ANY FINAL THOUGHTS?
The Pies really seemed to lose a bit when Steele Sidebottom went down injured. Up until that point, his overlap run was excellent.
I've liked what I've seen from Patrick Lipinski thus far, but he looked a bit slow in this one, which was always the knock on him at the Kennel. He still managed 23 touches, but he wasn't very creative in this game – just threw the ball on his boot with dump kicks a little too often.
I really hate the free kick and 50 metre penalty for someone who holds a player off the ball after they get rid of it. For context, I could run into someone, elbow up and clock them in the face – that is worth a free kick. If it is in a marking contest, maybe a free kick and/or 50, but this little ticky touch rule has a penalty so disproportionate to the act that I find myself shaking my head. Between that rule, which resulted in a goal to Dangerfield, and the free kick after the goal to Henry, we saw a gift goal to each team that did nothing for the game except make it seem over-officiated.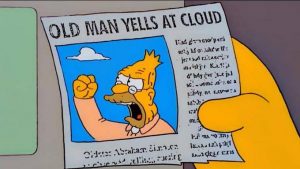 Had a bit of a laugh when Jack Ginnivan dropped at the knees a little and caused Joel Selwood to take him high at one point. That was like a WWE wrestler stealing his opponent's finishing move. Joel failed to see the funny side, however.
If I look at this game and think about any players who probably no longer belong at this level, Shaun Higgins is one that jumps out. Stats sheet says 17 touches at 78% efficiency, but I watched him miss a target 20 metres away and then get stepped way too easily by Scott Pendlebury early in the contest. Made me shake my head – not sure he is best-22 for the Cats, at all.
I also have little faith in Jack Madgen as a defender. I am sure he's solid, and Collingwood fans would pay more attention to him than I do, but whenever I see him, he never looks settled. The Cats really worked the Jeremy Cameron matchup well, getting him isolation on Madgen, or on Jeremy Howe, who always gives an opponent way too much room.
And how good is it to see that they've tightened up on the holding the ball rule so well, huh? No more 360 swings where players get slammed into the ground because the early holding the ball calls are eliminating those slings. Yep… working a treat. Jordan de Goey going pinged for a dangerous tackle because Patrick Dangerfield had an eternity to get rid of the ball and didn't, but Danger ran down Reef McIness in a perfect tackle at one stage, as well – neither were rewarded by the AFL's super interpretation on holding the ball.
It lasted two rounds.
And that might just do me.
The Cats and Lions on Friday night will be a BELTER! Meanwhile, the Pies get West Coast at Marvel and so much of how that one goes depends how many Eagles players are locked in their own homes over the next week as a result of living in Western China.
Great win by the Cats for their captain. Great game of footy to watch.