I don't think you'll be showing a replay of this game to anyone as a method of selling them on AFL Football, but there is an old saying when it comes to footy – good teams win ugly.
And that is exactly what Melbourne did on Friday night at the MCG.
With one of their superstar midfield duo down on the incredibly high standard he's set for himself, it was up to several of the lesser lights to accompany Clayton Oliver as he went about setting the table for his forwards. Angus Brayshaw, Ed Langdon, and James Harmes all made valuable contributions as the Demons responded to the Essendon challenge in the third quarter to drive Melbourne to a 29-point win.
There are those amongst us that search for the positives in a game of footy. Others cannot get past the negatives. Another group, still, wants to have a more balanced assessment.
And that is where The Mongrel comes in. Here is the Optimist, the Pessimist, and the Realist Mongrel Review.
This is only my second time trying this format – stick with me.
THE OPTIMIST
MELBOURNE
There seems to be some nice interchangeable parts in the Melbourne team at the moment. Ben Brown sits out with covid restrictions and in comes Sam Weideman to help himself to four goals for the night. He could have really had six to his name but for some early inaccuracy, but it is still a great return. James Jordon and Ed Langdon play the wings, forcing Angus Brayshaw to ply his trade off half-back, and he casually trots out a mammoth 34-disposal and 20-mark game in arguably his best outing since 2018. His ability to find space and expose the lack of accountability from the Essendon half-forwards (Martin, Guelfi, Wanganeen, Perkins) gave the Dees a wonderful driver from half-back and through the wings/middle.
Christian Petracca has a bit of an off-night (21 touches and a goal is now considered an off-night… you have to love that) and James Harmes ups the ante, nailing a couple of goals and picking up 21 touches of his own.
Great teams cover for one another. They have this mindset that when one soldier goes down, another is ready, willing, and able to step into his shoes and pick up the slack. Premiership teams do it, and those destined to win flags soon adopt that way of going about their business. It is an aspect of the Demons we saw develop in 2021 and it is now second nature to them. They play the game as a team, and team football wins, even if you have a couple of superstars flying the flag at any particular time.
The run of Ed Langdon was a highlight for me, personally, as I am responsible for the Mongrel's weekly wingman rankings as part of our Wingman of the Year Award. Ed Langdon is one I expect to feature very heavily this week. The thing with Langdon is that he runs his guts out, up and back the wings of the MCG, and then you see a shot of him as everyone else around him is gasping for breath and the bloke isn't even breathing hard enough to blow a candle out.
As the game went deep into the fourth quarter, there was Langdon, still delivering that power running to create overlap and options for his teammates. He just does not stop!
Is he the best wingman in the game right now? Well, if we are talking aerobic fitness and the capacity to outrun his opponents, yes, he very well could be. Over the first three games of the season, do you know how much time he has spent on the bench?
I do. It's none. Not one second.
He has played every minute of the first three games in a role that would blow most people up, and with 31 touches and one of the most ridiculous goals you're going to see, he demonstrated just how far he has come as part of this Demons outfit.
Clayton Oliver continued to make his case for having the best hands in the game, continually finding the footy in close when it looked as though a stoppage was imminent. His ability to extract the footy and find someone in space, almost instinctively (and sometimes with a throw – this is optimistic… but it is not bald-face lying), borders on paranormal. His 15 inside 50s were a career-high, and though he is usually known for his handball skills, his 666 metres gained (the number of the beast for a Demon… how fitting) were also the most he has collected in a single game. He looks a lot more confident in his skills by foot this season, and was a clear best on ground in this game.
He also wins the award for best Weasley family member this week, beating out James Harmes and Jake Bowey. Bowey was excellent across half-back and although his numbers weren't as impressive as last week's breakout game, he was still able to zone off for five intercepts amongst 18 touches.
Maybe Jake is Ron Weasley to Harmes and Oliver's Fred and George?
You can probably tell we're working through the Harry Potter films at our place at the moment? Can't wait for the Brownlow to see if Jake summons the courage to ask Hermione Granger…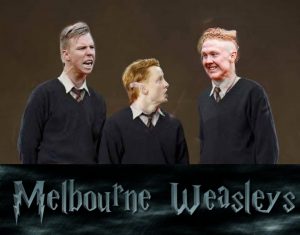 Anyway  as a team, it was as though the Demons needed to be challenged in order to kick things into gear in this one. When you look at it, playing a team that has struggled to find their groove, already with two wins on the board, yourself… motivation would be difficult to come by. However. this Melbourne team absorbed the Essendon pressure when it finally came, and turned the blowtorch back on them.
In the end, the Dees powered away to end with almost a five-goal margin, with their foot only going on the Bombers' throats late.
Good teams win ugly. Good teams win – period.
ESSENDON
Are there still Peter Wright bashers out there? Are they a little quieter these days?
They should be.
Peter Wright was playing on one of the best key defenders in the caper, in Steven May, and still managed to snag four goals and make a real difference whenever he was given even remotely good delivery inside 50. He kicked four goals from three contested grabs, and though May had his moments, and enjoyed running off Wright, the Demons' full-back struggled to keep up with the Bombers' big man when Wright was able to get separation early in the contest and get a clean run at the footy in the air.
Wright now has nine goals for the season, and leads the race for the Coleman at the time of writing. This has to be more than most expected from him in 2022, and I know it is a damn sight more than a lot of people who were ready to sink the boots into him this season. Hell, some of our own writers have been extremely critical of him at times, but all he can do is present, take marks, and kick goals. With an average of three per game, that's exactly what he is doing.
Over the last little while, I have mused about the role Dylan Shiel could play in this Bomber midfield. Could he fit with Parish and Merrett? Would he be bumped for Jye Caldwell? Shiel answered in the best possible manner during the last quarter, turning up the heat and compiling 12 touches and three clearances as the Bombers looked to challenge. His two goal assists indicate that there was a definite recognition of players on the lead and he endeavoured to find them when running into attack. This has long been a fault with Shiel's game, as he has been prone to bombing to the top of the square and hoping for the best. If he continues to lower his eyes, it makes not only him, but those around him far more dangerous.
I had a bit of a feeling that Shiel may have been the odd man out due to the Bombers having too many attacking mids and requiring balance. Looking at a trio of Shiel, Merrett, and Parish, they could kill you with the ball, and have you killed without it. Without a designated tagging player, Caldwell is often allocated some defensive responsibilities, but Shiel showed that he can drive the offence as well as either of Parish or Merrett. Maybe there is a place for him after all?
Is 0-3 the end of the world? Nah… not really, and my realist friend below will tell you why.
THE PESSIMIST
MELBOURNE
What are you smiling about, Dees supporters?
Yeah, you won, but you beat a winless Essendon team and needed a foot up your backside to get the job done. That was as unconvincing as the time those charities assured us all that the money we donated to bushfire victims would go directly to those affected. Remember that? Look up how much of the money they kept…
Aaaaanyway, there was no self-generated sense of urgency in Melbourne's game at all in this one – if anything, there may have been a slight sense of arrogance; a feeling that you were "doing enough" to win and that was good enough.
That was fine – this time, however, it took Essendon actually finding space and using it well to put the defence under some genuine pressure in order for you to kick your backsides into gear.
Christian Petracca ran around like a lost puppy for the majority of the first three quarters, thwarted mainly by Andy McGrath in the middle, and forced to deal with Jake Kelly up forward. Did he work hard enough? After two perfect ten games from the coaches, he looked tired and a little lethargic.
Sure, he picked up eight touches in the last quarter, but he seemed to be on cruise control for large periods of the game. There were no trademark bursts from the pack, and the last time he had lower than two clearances in a game was over 12 months ago.
Bayley Fritsch kicked a couple of goals late, but he was largely unsighted through the first three quarters, with just four touches coming before three-quarter time. He made none of his own luck in those first three periods, seemingly waiting for things to fall into place for him rather than earning his kicks. Of course, they did… so maybe he was onto something?
Kysaiah Pickett was soundly beaten by Nick Hind. You may be tempted to argue that it is the little things Pickett does that make a difference – I get you… I really do. His tackle on the oblivious Mason Redman in the last quarter demonstrated what he can bring to the table, but if that is all he's bringing, is that enough? Wouldn't it be nice if he could pull his finger out and touch the footy more than six times in an entire game?
In the end, I guess you come away from that game thinking the Dees did enough to win, but nowhere near enough to say they won impressively. Against a better team, do they get away with that?
ESSENDON
Oh, where do we begin?
How about Sam Draper, who managed to run around for about 60% of the game and returned two disposals, one mark, and one tackle? That is Nic Naitanui game time without Nic Naitanui results when he is on the park. This is the bloke you are betting on to carry your ruck division for the next ten seasons? Hell, the way he played, he couldn't carry it for the next ten minutes.
He had 19 hit outs, so he competed well at the actual ruck contests, but as soon as the footy hit the deck, he was rendered absolutely useless. Perhaps if he put as much time into his game as he does attempting to come across as a second-rate Bailey Smith, it'd do him some good. Might do the Bombers a bit of good, as well.
Did you hear Luke Hodge making excuses for Mason Redman, about how he had to take the game on in the last quarter? That was directly after he decided to test Kysaiah Pickett in the only area he was actually doing something positive in – tackling. Completely oblivious to what was around him, Redman strolled right into danger and Pickett made contact just as he attempted to get a kick away. It was turned over and the Dees went the other way to score. He was also responsible for a terrible turnover earlier in the game which led to a Melbourne goal.
And yet, his stat sheet reads that he only had one score involvement – how can that be???
I kid, I kid… my fellow Mongrel writer, The Slugger informs me that he had Mason Redman's mistakes down as the catalyst for three Melbourne goals. I trust him, but I am going to look back and check this out. Costing your team three goals playing as a running half-back that should be providing a launching pad for scoring opportunities (for your own team, Mason) is a pretty ordinary result.
22 touches for Dyson Heppell sounds good, right?
It wasn't.
Dumb decisions were followed by poor execution more often than not when Heppell was involved. Only two of his 22 touches were contested, yet he managed to turn the footy over seven times. That's like a tennis player continually double-faulting. Unforced errors kill teams, and Heppell had plenty of them in this game. In terms of leadership, well, this section is about pessimism – not making flat out degrading statements, so I'll leave that to you to work out how I feel about the captain.
And, of course, how could we get through our dose of pessimism without discussing he goalless quarter that made me want to get up and do something else? Bomber fans, I could feel your frustrations as you allowed an under-performing Melbourne team make you look inept.
Let me lay this out for you – they were missing Jake Lever, Harrison Petty, Michael Hibberd, and Christian Salem – four of their six first-up defensive selections – and still, you couldn't put a goal on the board in the first quarter. Talk about handing a team the ascendancy!
THE REALIST
 MELBOURNE
At the end of the day, you have a reigning premiership team moving to 3-0 and setting up their season, and their premiership defence, perfectly. Coming into the 2022 season, had you offered Simon Goodwin a 3-0 record, irrespective of the way the team was travelling, I am sure he would have taken it. I would have. Getting the structures and cover right is one thing. Putting 12 points in the bank after three games… that's what allows you to rest players and be a little more expansive with your ideas as the season progresses. That is where Goodwin now finds his team.
The Dees played way below the standards we've come to expect, but we used to hear about Richmond's ability to flip the switch during their glory years – we saw some of that from the Dees in this one. I guess it is just a matter of not relying on that switch too often. You don't want to be The Joker standing in front of the hospital, pushing the button over and over, hoping for the explosions to start. You want to be a little more in control of the situation before you start mashing at buttons like me when I get behind in a game of NBA 2K22.
The Dees managed, and managed well, particularly when the most damaging player in the game was having a less than stellar outing.
We could weigh up the negatives and how they stack up against the positives for hours on end, but at the end of the day, we had a Demon team kicking five goals to two in the last quarter to pull away and expose the Bombers as a messy football team. To do that against a side with its back to the wall should not be underestimated. Essendon have been 0-3 just once before in their history.
Before tonight, that is.
Now, thanks to the Melbourne Football Club in 2022, they've done it twice. And it must be noted, this Melbourne team is starting in a very similar fashion to the way they kicked off 2021. You all know how that ended up…
ESSENDON
First time in 50+ years that Essendon have fallen to 0-3… time to panic?
Not just yet.
The Bombers have played three of the top four teams from 2021 in the first three weeks of the season. Looking at it logically, a 1-2 record would have been desirable at this stage of the season, but given the quality of opponents, a 0-3 record would not have seemed a completely foreign concept. I reckon it had to be floated as a definite possibility behind closed doors.
Still, in a 22-game season, starting with three losses makes finals a very difficult proposition, and finals are the expectation on this group. Over the next three weeks, they get the Crows, Dockers, and Magpies – all of these games are winnable, and a 3-3 record seems very much in-play. It will need to be if Essendon wish to start clawing back toward the top eight.
In terms of players, Wright is playing some excellent footy but the delivery to him needs to be out in front and not on top of his head. Jake Stringer had moments but seems to be easing his way back into the swing of things, whilst Jordan Ridley showed enough to indicate he will be a diamond for this club for a long while.
There is some fat to trim, however.I am not sold on Brayden Ham (I much prefer the $5 one you get from Coles you get in a four-pack… ), have been waiting forever to see Mason Redman take a step forward instead of backwards, and saw both something wonderful and something dreadful in the game of Sam Durham. For every good thing he did, there seemed to be one poor thing just around the corner. His dropped chest mark inside 50 in the last quarter was a team-killer. Unforced errors… again.
Regardless of how many doomsayers delight in telling you the year is over, my feeling is the season is not a bust. I expect the Bombers to get on a run through the middle of the year to get themselves right back into contention. By the time September rolls around, and with a good run, health-wise, we ay very well be looking back and wondering how this team could have dropped three in a row so early.
Hmmm… maybe this should have gone in the 'Optimist' section?
WRAP UP
This was a difficult game to get into in the first half. Safe, unexciting footy saw the teams content to play conservative footy – Melbourne to maintain a lead, and the Bombers to disallow any blowout. The fact I happily went off to make a coffee at quarter time gave an indication that I thought this was going to be a long night.
A rally by the Bombers livened things up, before they tugged on Superman's cape once too often and fell by 29-points as a result.
If I were to give votes (which I am, for the record), Oliver would be the best on the park, Ed Langdon would be next, and Angus Brayshaw would slot in as well.