It seems a long while ago now, but I used to run a trading card store way back in the early-to-mid nineties.
Ah… those were the days. Caught in the wave of Michael Jordan mania, we were selling a bucketload of NBA cards, with people hoping they could secure one of the rarer products depicting Jordan, and to a lesser extent, young big man, Shaquille O'Neal, and exciting prospects Allen Iverson and Kobe Bryant.
Around this time, card companies started to issue what they called their "Premium" line of cards. They cost a little more and had a tighter product run, meaning the cards should retain value compared to the mass-produced cards that were more common amongst the younger collectors. Most didn't, of course, but some… well, some have made a handy little investment for the astute collector.
By 1996, the days of simply collecting a set were a thing of the past. It was all about chase cards. Special insert cards were included at around one card every six or twelve packets for the low end to keep kids interested, at about one per box (36 packs) for your mid-range cards, and around one per every 12 or so boxes (about one in every 450 packs)  for your more valuable cards. These included autographed cards, serial-numbered inserts and eventually, game-used material cards.
In Australia, we were a bit slower in catching on – collecting footy cards had well and truly fallen over by this stage, with little interest in the genre. However, with basketball cards, and then non-sports cards like Spiderman (great set) and X-Men cards starting to capture the imagination of the younger brigade, a company named Select started to produce footy cards again.
Initially, their products were basic, but they saw the value of the chase card, and inserted autograph cards of some of the game's biggest names at a rate of about one in every 36 packs – or one per box.
It was about then that adult collectors started to take an interest. An autograph card of Gary Ablett, Wayne Carey, or Jason Dunstall started commanding a hefty price tag. And as Select learned from the big boys overseas – Upper Deck, Topps, and eventually, Panini – they started to cater more to the large amounts of disposable income adults had. Sure, parents didn't mind slinging a few bucks over the counter to buy their kid a pack of footy cards, but if there was a chance that they could procure an autograph of a legend of the game, what's a few dollars more to grab a few packs for themselves?
Eventually, Select started to release two products per season – one was aimed at the younger collectors and featured more cartoonish depictions of players. This was in competition to the "team coach" cards that were flashier and more attractive to the younger cohort that were being produced by a rival company. Select's second series each season, retailing for slightly more and in more limited supply, offered collectors a chance to snap up rare signature cards of AFL captains, as well as what would become one of the best sets to collect over the journey – the Draft Pick Signatures.
Hell, even as someone who used to deal in these cards for a living, I got sucked into trying to secure the Draft Pick Signature of Nick Riewoldt, Luke Hodge, and Chris Judd in the early 2000s. They now reside nicely in a shoebox in my storage cupboard. What an investment, huh? They were the first thing I removed when I noticed a bloody leak in my ceiling yesterday. That would have been one expensive leak, particularly when you factor in where the hobby has gone to since, and how much money some cards are reselling for.
Adult collectors are ravenous, and in recent years, Select has moved to an even more exclusive type of product. Its name is Supremacy and if you're an old bloke like myself, you may wish to sit down before I let you know the amount of cash being splashed about for these products
Featuring some of the biggest names in the game, the product is very limited and sells out immediately. The lamentations of those who jump on the website to purchase, only to be told the product is no longer available after a couple of minutes of release tell the tale of a company that knows what they're doing.
The retail price for a box of 2021 AFL Supremacy was $695.00.
A bit pricey, huh? Once they sold out, eBay prices are now above $1000 for one of those boxes, and not just a little bit over a thousand bucks, either.
But wait… there's more. The box contains only one pack of cards. Just one. That pack contains ten cards, so, it averages out that one card from that box is worth about seventy bucks. Crazy, huh? Not like throwing three bucks over the counter at the newsagency hoping you get a Tony Lockett card to add to your album, is it?
But the rewards can be immense – much like gambling. This is something you can do to kill five minutes of your time when you're sitting in the smallest room in the house. Jump onto eBay, search for Select Supremacy 2021 and search by the highest price plus postage.
And then hold onto something.
The highest price, currently, for just one of the cards from the set is the lazy twenty grand! Yep, you read that right – $20,000 for a redemption card that will get you a triple signature version of the Norm Smith Medallists, featuring Dustin Martin, Luke Hodge and Gary Ayres. Andrew McLeod must not have picked up his phone? There are only 25 of them in existence. This is matched by a quad-signature with Tony Lockett, Jason Dunstall, Gary Ablett, and Doug Wade all adding their signatures. Again, just 25 made.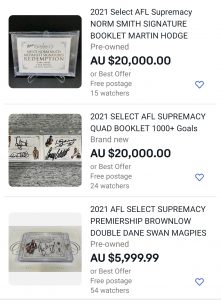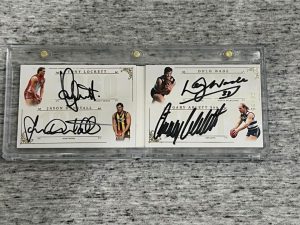 Next up, the price drops a bit, as the Dane Swan Premiership/Brownlow double autograph card is going for right about six grand, and after that, a Joel Selwood autographed card and game-worn patch from his jumper has a price of four thousand dollars.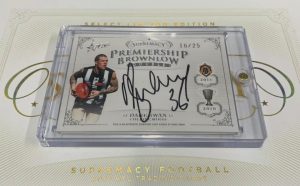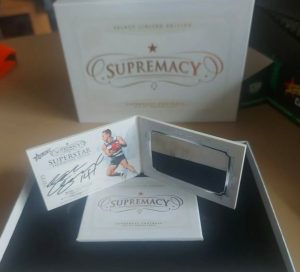 Names like Michael Roach, Gavin Brown, Greg Williams, Wayne Schimmelbusch (that's the one I want), and Matthew Pavlich represent the old guard with high-end signed cards. They combine with the John Hancocks of the younger brigade as well – Matt Rowell, Ben King, Oscar Allen, and Harry McKay all have their limited number signature cards as well.
But whilst the adults love the high-end cards they're able to afford, where does this leave kids in the equation?
Select would argue that their cheaper cards are there for children to collect. It's a fair point at face value, but in actuality, is it the case?
Kids aren't dumb, and they know they're getting the inferior product by the time they're in around Grade Four or Five. At a place I was working until recently, kids around that 10-11 age range were acutely aware that the inexpensive "Footy Stars" cards were cheap for a reason. As such, these kids were less interested in the product, and as a result, the hobby in general. Whilst there is no doubt the expensive and exclusive cards are great for serious collectors, have they risen in popularity at the expense of the cards kids collect?
And have we now reached a point where it is too lucrative to turn back?
I don't know many kids who have the capacity to shell out four grand for a Dane Swan autographed card. Come to think of it, I don't know many who would want to even if they did have the cash. Nor do I know many adults who could justify that purchase – I know Mrs Mongrel would be quite displeased with me if our bank account was suddenly $4K short.
As things tend to go with life in general so has the hobby of collecting footy cards. I'd hate to be a young person trying to break into the housing market right about now, and by the same token, I wouldn't envy someone wanting to get into collecting AFL trading cards, either.
Not if they wanted a nice place to live, or a nice collection of footy cards to call their own.