As of Friday, Hugh Greenwood proclaimed on Twitter that he was content with what was happening at Gold Coast.
His tweet was as follows.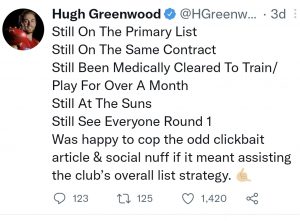 However, he didn't really mention WHICH club's list strategy he was referring to, did he?
Within a couple of days, things changed drastically for the former Crow, and now for his other former team – the Suns. With Greenwood officially on the delisted free agency list, and with a year to run on his current deal (as well as triggers for another season following that), North Melbourne swooped in like thieves in the night and snatched up one of the best contested footy players in the game.
Just like that, Hugh Greenwood was no longer a Gold Coast Sun.
This story has quite a bit to get through, and we should pay each of them the attention they deserve.
DID HUGH GREENWOOD SCREW THE SUNS?
Well, this will largely depend on where you sit. Are you a Gold Coast supporter? A North Melbourne supporter? Neutral?
Allow me to channel the WWE's Vince McMahon for a moment to accurately articulate my response when I say that "Gold Coast screwed Gold Coast." Whilst there will be some who look at Greenwood's tweet and his actions three days later, and see it as a betrayal, there is something we need to consider. This stopped being a handshake, smile, wink and nod arrangement a long while ago. There are agents, contracts and systems in placed to be used and, yes, abused. We call this the football business, not the football friendship, and Greenwood took a guaranteed two-year deal with North as opposed to a one year deal with incentives for one more.
Do you blame him?
You're free to, but I can't. He is 29 years old with a young family, and more than likely won't get another good payday in the league. The Suns opened the door for him to explore options and he did. By delisting him, whichever way it was framed, it set off alarm bells for him. Have you ever known alarm bells to be a good thing? From the outside looking in, I would have done the same thing.
DO HEADS ROLL AT GOLD COAST OVER THIS?
Well, they sure as hell won't be patting each other on the back at the moment. There is already people likening this to the move of Jarryd Lyons to Brisbane, but this is obviously different. Those managing the Suns' list now look… well, they look inept. They look foolish. They look like they're playing checkers and every other list manager in the league is playing chess.
With so much young talent on their list, this does not bode well.
Did the delisting, even if agreed to by Greenwood, leave a sour taste in his mouth? Isn't it the club's job to read the room and ensure they're absolutely sure that the player is onboard? This reeks of amateur hour, and demonstrates a clear divide in what Greenwood was thinking and with what the Suns thought he was thinking… and with what Greenwood thought the Suns thought he was thinking and what he was really thinking about what he thought.
Okay, that last bit was rubbish, but you get the drift.
We've heard so many times that the Suns are now on the right track and are putting together a culture that compels players to want to be a part of it. Well, moves like this take those two steps they've moved forward and set them three steps back. It is embarrassing and dumb, and the club has to wear this failure.
HOW GOOD WERE NORTH MELBOURNE IN THIS SITUATION?
Smart… very smart. Greenwood is a warrior, and North is a club that has kids coming through that need a bit of muscle behind their hustle. As the league leader in tackles per game for last two seasons, Greenwood adds even more veteran toughness to North Melbourne. They already have Cunnington in there, and now… if the left one don't get ya, the left one will!
You have to hand it to the Kangaroos. They saw an opportunity, went after a player that was available and secured his services while the Suns were asleep at the wheel. So much of the attention and fallout from this deal will be centered on the inadequacy of the Gold Coast Suns, but North Melbourne deserves a heap of credit.
You miss a hundred percent of the shots you don't take. North took this one and they made it. Hats off.
AND HOW HARD WILL THE KANGAROOS' MIDFIELD BE TO COMBAT IN 2022?
Let's run down some names. Ben Cunnington, Jy Simpkin, Luke Davies-Uniacke… and you throw Hugh Greenwood into this mix? Good luck winning a contested ball in the middle with those guys fighting you for it.
I've been saying it for a couple of years – you simply don't break the tackles of Hugh Greenwood, and with him applying that pressure in the guts, players like Simpkin and LDU can continue their development at their pace and not have to take on more responsibility.
After a pretty ordinary off-season and trade period, this kind of came out of the blue and spiced things up. Our own resident Suns supporter, Brett Hodgson, will be writing on this in the next day or so from a Gold Coast point of view, but from where I sit, the Suns left the door ajar and North Melbourne walked right on in.
It is borderline indefensible.
Follow up article from our resident Gold Coast supporter, Brett Hodgson.