The 2021 AFL Grand Final will be played at Optus Stadium in Perth this Saturday, September 25th, between Melbourne and the Western Bulldogs, commencing 7:15pm eastern time.
On August 16th, the AFL scrapped this season's pre-finals bye, instead reserving the option to insert the week off during the finals.
The bye was then scheduled for the week before the Grand Final, allowing the AFL an extra week to plan for the event and to comply with quarantine protocols for both teams, administrators and media.
In light of the concussion rule implemented at the start of this season, whereby a player concussed during a game must have a minimum of 12 days without playing, the pre-Grand Final bye would have also ticked that box had there been such an occurrence in a Preliminary Final.
However, the timing of the bye also means that when Melbourne run out on Grand Final day, they will have played just one game (the Prelim') in the previous 27 days, compared to the Western Bulldogs with three games under their collective belts in that time.
If Melbourne loses on Saturday, critics of bye weeks at this time of year will, no doubt, suggest the Demons' lack of match practice as a possible reason.
Incidentally, no announcement has been made as to whether the AFL will continue with the contentious pre-finals bye in Season 2022.
The pre-finals bye was introduced by the AFL in 2016 to negate finals-bound teams resting players en masse for the final home-and-away round. The idea that any team could be seen as not doing their utmost to win a game of football was not a good look for the competition.
The bye gave teams another week to recover from injuries and prepare for the finals. It seemed a vital ingredient in Western Bulldogs winning their first flag in 62 years in the first year of its inception, from seventh on the ladder.
From 2016-2020, the pre-finals bye ensured the winners of the two Qualifying Finals in Week 1 of the finals with one game in four weeks, give a day or two.
Critics of the bye claim playing just one game in almost a month leads to teams losing momentum. They cite the stats from those last five years where only four of the 10 Qualifying Finals winners then won their Preliminary Finals – a 40% success rate.
Conversely, sans a pre-finals bye, in the 16 seasons between 2000 and 2015, 28 of the 32 Qualifying Finals winners then won their Preliminary Finals and progressed to the Grand Final. That's 87.5%.
But the League only need look at its own history for a much larger sample size.
From 1931, when the Page-McIntyre system was adopted, to 1971, the then-VFL had a final four consisting of just four finals – the First Semi-Final, the Second Semi-Final, the Preliminary Final and the Grand Final – played over four consecutive Saturdays.
In effect, all teams had a bye during the finals except the loser of the First Semi-Final.
Indeed, the Second Semi-Final winners ran out on Grand Final day, having played just one final in the prior 27 days, with the exception of Essendon in 1946 who finished on top, drew the Second-Semi, won the replay and then the flag.
How did the other winners of the Second-Semi fare?
They won 26 Grand Finals and lost 14.
When the Final Five was introduced in 1972, only the team that finished on top at the end of Round 22 had the first week of the finals off. If they won the Second Semi-Final in Week 2, they went straight through to the Grand Final and, again, had only played one match in 27 days before the decider.
In the 18 seasons from 1972-1990, using the Final Five, there were 10 instances of a team finishing on top of the ladder, winning the Second Semi-Final, and playing just one game during a long break. (Nine of these were 27 days. In 1985, Essendon's Round 22 game was a Sunday, so they had one game inside 26 days.)
On seven of those occasions, the team with this hiatus won the flag.
The winners were Richmond (in 1974), Carlton ('79, '81 & '87), Essendon ('85) and Hawthorn ('88 & '89).
The losers were Hawthorn ('75), Collingwood ('77 – the draw was their second game in 29 days before losing the following week) and Richmond ('82).
In total, between 1931 and 1990, there were 53 instances of teams having multiple weeks off during finals. Second Semi-Final winners accounted for 51 of these, with two exceptions due to draws.
Of those 53 teams, 34 of them won the flag, a 64% success rate.
So why the disparity between the records of teams that had multiple weeks off in VFL/AFL history and in the past five years?
Is there anything that today's fully professional AFL sides can learn from those finals teams who successfully negotiated breaks decades ago?
How do the icons of the AFL view the bye?
*     *     *
David Parkin OAM is a member of the AFL Hall of Fame and the Sport Australia Hall of Fame. He played 211 games with Hawthorn between 1961 and 1974, and captained their 1971 Hawthorn premiership team. An analytical and innovative coach, he took the Hawks to the flag in 1978, and then Carlton to premierships in 1981, 1982 and 1995. Parkin has taught Physical Education for over 40 years and continues to lecture in Sports and Exercise Science at Deakin University, even starting his own degree in Sport Administration Coaching and Sports Management. He has written several books including Preparing the Australian Footballer (1979) and Perform or Else (1999). These days, Parkin continues to write and is enjoying his farewell year providing expert commentary for football on ABC Radio.
Two of his teams had multiple weeks off during finals – namely, Hawthorn in 1971 and Carlton in 1981. Both teams were ultimately successful in those years. He also played or coached against sides that had the same breaks – Geelong in 1963 (losing by 49 points) and Richmond in 1982 (winning by 18 points).
Whether as a player or coach, Parkin always looked favourably on the breaks.
"Having a week's rest, i.e., winning the Second Semi and missing the Prelim', e.g., Hawks in 1971, was a huge psychological and physical advantage. The opposite being for 1963, after a very tough Second Semi and Prelim, we were smashed by the Cats in the Grand Final.
"In 1981, the week off was extremely helpful."
After beating Geelong in the Second Semi-Final by 40 points, Carlton waited whilst Collingwood won a thriller over the Cats in the Prelim' by seven points.
With the benefit of another week's rest, Parkin was surprised when Grand Final day arrived.
"I went to the pre-match address, and there were five players in the room. I went to check the rest out. There were seven in the medical room. The other eight were in with the psych on the floor, all holding hands. You had five ready to play, seven who were physically incapable and another eight who were psychologically dispirited!"
He rates the Carlton premiership in 1982 even higher, considering the team played every week of the finals.
"The most difficult flag to win was off the back of a bruising Prelim' versus the Hawks in 1982. Doing it in 1982 with injuries, loss of form and starting non-favourites was the most difficult finals series and premiership win I have ever been associated with.
"Before the game, I was horrified to walk in and find seven of my players having local anaesthetic into joints and parts of their body, all of whom had been passed fit by the medical staff and had looked me in the eye and said they were OK to play. Players are so keen to get out there and be a part of it that they tell terrible lies so that they won't be out.
"It's the hardest game in the world to play, bar none. There's no other game that demands more of its participants."
As to whether the multiple breaks come finals time are beneficial to today's teams, Parkin believes it depends on the individual circumstances.
"You would need to have some type of objective evidence re the injury status of individuals and the team. I doubt whether you could measure the psychological profiles of each player, even these days, to ascertain whether that (the break) was in fact an extenuating influence in individual and team performance.
"There are too many uncontrolled variables to come up with a sound theory, unless some empirical research is carried out by genuinely qualified sport scientists."
*     *     *
Daniel Robson-Petch is co-owner and founder of Resistance Sports Science, a Brisbane-based team of university-qualified Exercise Scientists and Exercise Physiologists providing training and rehab for amateur and professional athletes. His work is primarily in AFL, education and ACL return to play. He did his internship with the Gold Coast Suns. He has a Masters in Exercise Science (Strength and Conditioning), and his passion is returning athletes back to sport in minimal time.
Robson-Petch believes Melbourne, by virtue of winning their Qualifying Final and having a week's break, are the team disadvantaged by the pre-Grand Final bye this season as opposed to the Western Bulldogs' match-hardened, circuitous route to the big dance.
"We can make our training intensity maximal. In AFL, players are adept at putting in multiple efforts at a time. It's the pressure of winning or losing a game that drives them, whereas, in training, it's that mental drive which we struggle to find. They can feel super fresh, but I do imagine after a game a month, they're actually at a disadvantage because of the mental component of it. There's no intensity like playing a game of football.
"These players are so elite at the moment that it's almost impossible to keep up if you take the foot off the pedal.
"If I look at the likes of NBA where they're playing two or three games a week in comparison to footballers who have dropped down to one a month, it's almost unfathomable."
Robson-Petch believes it would be a fairer system to have no bye the week before or during the finals, giving only the winners of the Qualifying Finals the benefit of one week's break.
"Currently, I believe one week is the perfect amount for players to refresh and get themselves physically and mentally ready to perform."
Could Sports Science get to the stage where a pre-Grand Final bye would still be a benefit to teams that have won the Qualifying Final, rested, and then won the Prelim'?
"Potentially. We still have a lot of growing to do in our mental performance side of training. In today's society, yoga and meditation and visualisation can be sometimes written off as 'gypsy' therapies rather than proper mental techniques. Men, especially those who are in the 20-25 age bracket, struggle to take some of these things seriously. We've noticed that with professional athletes we've worked with. If we can get the players' psychology to get these techniques, I believe the realm of Sports Science will greatly improve. It needs a big buy-in from the players."
*     *     *
Kevin Sheedy AO is an AFL legend whose 251-game playing career at Richmond from 1967-1979 included three premierships. He went on to an even bigger career as Essendon coach for 27 years, winning four flags, and was the inaugural coach of Greater Western Sydney.
When Peter Sumich's errant shot for goal ensured the draw between Collingwood and West Coast in the 1990 Qualifying Final, it meant Sheedy's Essendon played no game in 21 days, the longest period of no games in finals history.
It proved a bridge too far for the Bombers, and Collingwood went on to win their first premiership since 1958 in emphatic style.
Despite this, 'Sheeds' remains ambivalent about weeks off in finals.
"Every club and every team and every situation is totally different. Sometimes the finals series are advantages and disadvantages for different teams for different reasons. And this year more so than any because of the travel and the living away. In 1990, all those boys went to work for 40 hours a week and then went to training, so it's totally different."
How did the 1990 Essendon players maintain momentum? Was a practice match during those three weeks off a possibility?
"It was always going to be difficult because the other teams in Melbourne had gone on holidays. They were all on their trip away, so it was hard to say, 'Can you help us out and play a practice match?' because no-one could."
Like Parkin, Sheedy doesn't believe multiple weeks off in a month of finals are necessarily a disadvantage.
"It depends on your list and how many sore and injured players you have. It is the longest-running football game in the world. I'm not counting for all the parliamentary call-outs (time-outs) they have in gridiron because they have a parliamentary meeting every five seconds. But as a two-hour game, contact, it's very difficult, and it's totally different to any other game.
"It's how you observe as a coach each different situation."
*     *     *
If critics warn of the deconditioning effect one game in 27 days might bring, how would they feel about 34 days?
The 1962 Preliminary Final draw between Carlton and Geelong meant minor premier Essendon played just one match in 34 days.
Ken Fraser played 198 games for Essendon in a career spanning 1958-1968, playing in two premierships. He won their best and fairest in 1963 and 1964 and twice came equal-second in the Brownlow Medal. He played for Victoria several times.
He was inducted into the AFL Hall of Fame in 2001 and placed at #7 in the Champions of Essendon list in 2002. He was selected at centre half-forward in the Bombers' Team of the Century.
Fraser skippered the Dons' flag win in 1965, coming from fourth on the ladder to clinch the flag, only the third team to do so at that stage. (The others were Carlton in 1945 and Essendon in 1949.)
His first premiership was in 1962, coached by John Coleman in his second year at the helm.
Essendon had lost just two games in the 18 home and away rounds season to finish on top of the ladder, two games clear of Geelong.
The Second Semi-Final saw the Bombers comfortably account for the Cats by 46 points to lock in a Grand Final berth, scheduled for two weeks later on September 22nd.
The resultant Preliminary Final between Geelong and Carlton was a draw, replayed the following Saturday, the Blues getting home by five points in another thriller.
So, finally, Carlton met Essendon on September 29th.
When Essendon ran out on Grand Final day, it was just their second game in five weeks.
In 1962, Fraser was the star centre half forward and in his first year of teaching at Glenroy Technical School.
He raises what may be a critical point when asked if the extra week's break was a concern.
"It's quite different nowadays, because in those days we all had jobs, five days a week. Our captain, Jack Clarke, was an architect. We had a lawyer. Three of us were teachers. A farmer, bricklayer, accountant, salesmen. We all had jobs, so there wasn't the mental pressure that there is nowadays on the players. So the lay-off, while it was obviously strange, or different anyway, at least it wouldn't be as bad as it would be with the players of today."
Parkin demanded his players had day jobs and still stresses the benefits not only to players post-football but to their immediate playing career. Fraser concurs.
"It's very significant. Rather than worrying about the period off, you had plenty of other things to worry about. You were preparing for teaching your school kids and correcting papers and all of that as a school teacher. And the lawyers and architects and salesmen and so on had all their problems. It wasn't quite the psychological pressure on the players."
Coleman's men had one piece of good fortune afforded them that Sheedy's 1990 team did not. Melbourne had lost the First Semi-Final two weeks earlier and were still at home.
"Because of the lengthy break, we did have a match that was organised by Coleman. The week before the second Preliminary Final, we played Melbourne in a practice match on a Thursday night at the MCG. I can remember that quite strongly because there was a fair crowd there. I think about seven or eight thousand Essendon supporters were there as well, so we played that match in late afternoon for an hour, I think."
The downside to this practice game was talented half forward flanker Terry Rodgers sustained a badly corked thigh and missed the Grand Final. He was replaced by Graeme Johnstone.
"One bloke's misfortune was a good fortune for Johnno. I can't remember who won the match. But that gave us extra match practice.
"Generally, of course, for most or all teams, end of season trips were a very traditional part. The club or the players would not plan the trip until after September because you might be playing right through September. So that wasn't an issue."
Essendon had already beaten Carlton twice that year – by 45 points at Princes Park in Round 5 and then nine points at Windy Hill in Round 16.
The Bombers defied any theories about the extra week taking the edge off their form, kicking six goals to one in the first quarter. Clearly, they were primed to go, eventually taking the flag, 13.12 (90) to 8.10 (58).
*     *     *
Leigh Matthews is an inaugural AFL legend. He played 332 games for Hawthorn, kicking 915 goals, between 1969 and 1985. As a player and then a coach (Collingwood and Brisbane Lions), he was a key protagonist in eight premierships. In 1999, he was voted as the greatest player of the 20th century. These days, he calls Brisbane home, while calling games with 3AW and Channel 7, and is a much admired and respected statesman of the game.
His first premiership win was in 1971 as a 19-year-old. That year he also won the first of his eight best and fairest awards and earned the nickname 'Lethal'.
"Back in those days, with the top four, the idea was you'd hope that you'd actually win the Second Semi-Final, and you would have one game in 27 days."
Rarely misty-eyed about the past, Matthews no longer sees that as ideal preparation for a final.
"The game's now played at a much higher tempo. What happened a generation ago has no relevance, in a way, to what's happening in the current generation. I think one weekend off in a series is helpful; two weekends off are probably not."
But what of injury rates like Parkin's Carlton in 1982?
"Well, that's always a different factor. Anything you do is on the basis that you get through unscathed. Every game you play, you may well get an injury or two. That's the downside.
"Everyone still wants to win the Qualifying Final because the fact is you're there; you're now, at least, playing for a Grand Final berth. It's just sort of a general view that the team that loses the Qualifying Final, wins the Semi-Final, and then plays the team who hasn't played is slightly advantaged in the preparation. But, again, you're working on the basis of no injuries and no suspensions. Each individual situation can clearly be different."
Whilst recognising the pre-finals bye was brought in to counter teams resting players, Matthews doesn't believe that it should stay.
"It seems unnecessary. If you want to rest your team in the last round, that's your choice. I don't know whether having a complete weekend off is sufficient justification."
Matthews even suggests an overhaul of the current finals model is in order. Under the present system, a team can win every game of the year, lose the Preliminary Final by a point, and be eliminated.
"Over the years, there was a Final Four, then the Final Five. For most of football history, the top couple of teams had a couple of chances to go directly into the Grand Final. You could win the Second-Semi and go straight to the Grand Final. If you lost the Second-Semi, you'd go to the Preliminary Final and have another chance to get to the Grand Final. You had two games to qualify for the Grand Final, whereas now there's still four teams alive on Preliminary Final day, and the system doesn't reward the team that finishes on top after six months.
"I happen to believe that finishing first after a six-month campaign is a greater achievement than playing well for the last couple of games of the year and winning the premiership.
"In our current finals system, clearly, first gets no more advantage than fourth unless it (the Qualifying Final) happens to be teams from different states. If it's four Melbourne teams finish one-two-three-four, well, the first team and the fourth team are starting exactly the same."
This brings Matthews back to the bye.
"A complete weekend off is a significant thing in a way because there's not that many weekends you can play footy. You might be able to find a better finals system if you had five weeks of finals. It wouldn't worry me if 10 teams started off the finals, and the finals were over five weeks."
*     *     *
Kevin Bartlett AM is another AFL legend who has weighed into the debate.
Bartlett was the first player to reach the 400-game milestone, finishing with 403 games for Richmond between 1965 and 1983, kicking 778 goals and starring in five premierships. He won the Tigers' best and fairest five times, a record shared with the great Jack Dyer for whom the medal is named after. Since his playing days, he has very successfully transitioned into a radio and television sports commentator and, for many years, was a member of the AFL rules committee.
As he was in his stellar football career, and as football followers who witnessed his guest appearance earlier this year on Channel Seven's The Front Bar and listen to him chairing 3AW Football on Sundays would attest to, 'KB' is an entertainer.
Bartlett and Matthews were the two greatest rovers of the 1970s, perhaps even the two best players of that decade.
Like Matthews, Bartlett would do away with the pre-finals bye.
"We don't need it. That only came in because, in 2015, North Melbourne and Fremantle, who couldn't change their spot on the ladder and knew where they were playing in the finals, decided to rest about nine or 10 players out of their best side.
"But the AFL doesn't tell sides who to pick during the course of the year. We have sides now, all the time, resting players and managing players, and, you think, Gee, why did they do that? Playing a pretty important game this week and, all of a sudden, they've decided to manage players or rest players.
"I think most football fans would like to see the season continue. I don't know whether there's that many who really like the pre-finals bye. Every year, when it's been on in the last five years, people have said it's pretty boring. The footy comes to an end, and you've got to wait again for next week".
Unlike 'Lethal', 'KB' doesn't agree the bye has disadvantaged teams winning the Qualifying Final during the last five years. He attributes the 40% success rate in recent years to the closeness of the competition.
"If you look at the ladder, there were about four sides all within a game or so of each other, and then the fifth and sixth sides are another game away. Now, if you drew those sides to play each other every week, you might get a different winner every week. If you go back in time, it was seen as a bonus to have the one game in 27 days."
Three times, Bartlett played in teams that had such a break during finals series: 1967, 1974 and 1982.
Richmond won the flag on the first two occasions when the legendary Tom Hafey was coach. Even into his senior years, Hafey's own gruelling, daily fitness regimen would make players half his age squirm. It was a given that any Hafey-coached team would be fit.
Bartlett believes Richmond trained no differently during finals than during the home and away season.
"It was seen as a bonus that you weren't going to be playing a game. Therefore, the general feeling was less chance of getting an injury, particularly to two or three important players. But Tommy trained us exactly the same as if we do home and away games. There was no let-off."
'KB' cannot recall any practice games ever under Hafey.
"But there was always contesting. There was always a lot of hard gut-busting running in that week leading up to the Grand Final."
After four premierships in 10 years, Richmond failed to make the finals in 1976. Hafey read the tea leaves at Richmond and took over coaching Collingwood in 1977, lifting the 1976 wooden spooners to a drawn Grand Final in his first season.
Bartlett defends Hafey's training methods at the mention that some Collingwood players suggested they trained 'too hard' in the week prior to the 1977 Grand Final replay.
"Tommy used to say to me, 'Hard training never worried the Richmond Football Club. I don't know why it worried the Collingwood Football Club'. Because we trained like that ourselves, through Tommy, and used that as one of our strengths – that we'd be fitter than any other side in the competition. Tommy had a saying that no-one would be able to withstand 100 minutes of Richmond pressure. 'At some stage, we'll make 'em crack'.
"The general feeling was that hard training was the thing that was going to win us the game, not lose us the game. So we trained through, as per normal, and we had great success."
In 1982, Bartlett's second last year of playing, Richmond, now coached by Francis Bourke, had finished on top of the ladder, earning a week's rest, before defeating Parkin's Carlton by 23 points in the Second-Semi Final, thus having another week off before the Grand Final.
The Tigers subsequently went down to the Blues by 18 points.
Was the Richmond preparation any different?
"Francis trained us pretty hard as well. We beat Carlton in the Second Semi, and went into the Grand Final. They played (the Prelim') and came through. I think Carlton may have even had the wood on us a little bit in '82. We played them twice during the season, and then we played them in that final. They won the first two, so there wasn't much between Richmond and Carlton. If we had've been good enough, we would have won. We didn't lose because we had the week's rest. That's for certain."
Nevertheless, Bartlett would have no byes at finals time, including the pre-Grand Final bye, simply because he prefers the continuity of the season, not because he thinks it disadvantages anyone.
Indeed, regardless of the paths the competing teams this Saturday have taken, Bartlett remains steadfast.
"It doesn't matter how many byes you have or what you bring in. The best side will win."
*     *     *
One thing's for sure. Plenty of AFL followers will be speculating on the bye's effect, pro or con, should the Western Bulldogs get up on Saturday.
May the best side win.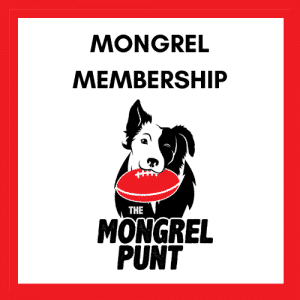 The following is a list of results using the Final Four from 1931-1971.
Premiers in bold were sides that had multiple weeks off during finals series.
Year    Second Semi-Final winner    Premier
1931    Richmond    Geelong
1932    Richmond    Richmond
1933    South Melb    South Melb
1934    Richmond    Richmond
1935    South Melb    Collingwood
1936    Collingwood    Collingwood
1937    Geelong    Geelong
1938    Carlton    Carlton
1939    Melbourne    Melbourne
1940    Richmond    Melbourne
1941    Melbourne    Melbourne
1942    Richmond    Essendon
1943    Essendon    Richmond
1944    Fitzroy    Fitzroy
1945    South Melb    Carlton
1946    Essendon    Essendon *
1947    Carlton    Carlton
1948    Essendon    Melbourne **
1949    Carlton    Essendon
1950    Essendon    Essendon
1951    Geelong    Geelong
1952    Geelong    Geelong
1953    Collingwood    Collingwood
1954    Footscray    Footscray
1955    Melbourne    Melbourne
1956    Melbourne    Melbourne
1957    Essendon    Melbourne
1958    Melbourne    Collingwood
1959    Melbourne    Melbourne
1960    Melbourne    Melbourne
1961    Hawthorn    Hawthorn
1962    Essendon    Essendon ***
1963    Geelong    Geelong
1964    Melbourne    Melbourne
1965    St Kilda    Essendon 
1966    Collingwood    St Kilda
1967    Richmond    Richmond
1968    Carlton    Carlton
1969    Carlton    Richmond
1970    Collingwood    Carlton
1971    Hawthorn    Hawthorn
* In 1946, the Second Semi-Final between Essendon and Collingwood was a draw. Essendon won the replay and progressed to the Grand Final. By Grand Final Day, they'd played TWO games in the previous 34 days. Consequently, Melbourne, winner of the First Semi-Final, had a break of 20 days prior to the Preliminary Final which they won but subsequently lost the Grand Final.
** In 1948, the Grand Final between Essendon and Melbourne was a draw. By the following week, Essendon had played TWO games in the previous 34 days. Melbourne won the replay.
*** In 1962, the Preliminary Final between Geelong and Carlton was a draw. Carlton won the replay. Consequently, Essendon, the winner of the Second Semi-Final, had played one game in 34 days prior to the Grand Final. They won.
The following is a list of results using the Final Five from 1972-1990.
Again, premiers in bold were sides that had multiple weeks off during finals series.
+ signifies all teams that had multiple weeks off during the finals
Year    Minor Premier    Second Semi-Final winner    Premier
1972    Carlton    Richmond    Carlton
1973    Collingwood    Carlton    Richmond
1974    Richmond    Richmond+   Richmond
1975    Hawthorn    Hawthorn+    North Melb
1976    Carlton    Hawthorn    Hawthorn
1977    Collingwood    Collingwood+    North Melb *
1978    North Melb    Hawthorn    Hawthorn
1979    Carlton    Carlton+    Carlton
1980    Geelong    Richmond    Richmond
1981    Carlton    Carlton+    Carlton
1982    Richmond    Richmond+   Carlton
1983    North Melb    Hawthorn    Hawthorn
1984    Essendon    Hawthorn    Essendon
1985    Essendon    Essendon+   Essendon
1986    Hawthorn    Carlton    Hawthorn
1987    Carlton    Carlton+   Carlton
1988    Hawthorn    Hawthorn+   Hawthorn
1989    Hawthorn    Hawthorn+   Hawthorn
1990    Essendon **+   Collingwood    Collingwood
* In 1977, the Grand Final between Collingwood and North Melbourne was a draw. By the following week, Collingwood had played TWO games in the previous 34 days. North Melbourne won the replay.
** In 1990, the Qualifying Final between Collingwood and West Coast was a draw. Collingwood won the replay and faced Essendon in the Second Semi-Final. As a consequence of the draw, Essendon, the minor premier, had a break of 21 days prior to the Second Semi-Final which they lost.