Of all the dumbass things that are going ahead this year…
To be honest, I've got a lot of snark in me at the moment, so we'd better pop in a little disclaimer. I have zero right to bitch about people's fashion choices or looks. I wear gym gear 80% of the time, yet am still rolling around with a good 10kg of extra lock-down chunk. Not like the gyms are open here in sunny/rainy/grim Melbourne. I likened myself to Barney Gumble the other day, and HB laughed because it's TRUE.
So. HB and I have gone for lock-down chic tonight. I didn't brush my hair, and I haven't worn makeup in 3 months so whatever. I wore a fetching blue dress with a satin lining, that is my summer nightie. I have also fashioned a cloak out of a soft red blanket. HB wore his standard uniform of a grey jumper, Kmart shorts and white socks. Perfection.
Have you seen some of the disasters at the Met Gala this year? Absolutely blinding. I was salivating over the pictures because some of these super-wealthy people look WAY worse than me in my oversized dressing gown. It's a rude shock to look at a room full of beautiful people and think "oh. Oh no". Or maybe it's a relief.
That's what we will be comparing our AFL lads and ladies to tonight. Will the sparkle and glamour of the Brownlow be able to hold its own against the debauchery and denim of the Met Gala? Lol, no of course not. But the Brownlow stars and WAGs need something to aim for. A pretty dress is a pretty dress. A revealing dress is just that. A well-fitted suit is very nice and dull. This isn't about pretty or nice. This is about wow factor. A bit of audacity, a bit of flair. A fair whack of 'oh my god, look at that'.
So let's start, first by haunting the AFL twitter feed. Brayden Maynard has put a bow tie on his doggy. 10/10, I think he might win the Brownlow.
Wow. All I can say is this is some incredibly BORING fashion. I feel like there are a lot of people who are doing hesitant fashion, where they kind of think 'yeah I'm going to go a little bit wild', but it's not wild, it's just a tad weird. I went through that stage once. Wore a really odd gold and black dress that had a dragon tail on it. I looked unwell.
But wait! Cripps' partner Monique Fontana has stepped out in some kind of fabulous under the sea number! I love it. In comparison to the dull nonsense that came beforehand it's lovely. It's all wild shapes and sparkly. It's not the most flattering dress but it's the boldest thing so far. She looks a little bit like she could be in Strictly Ballroom and I love it.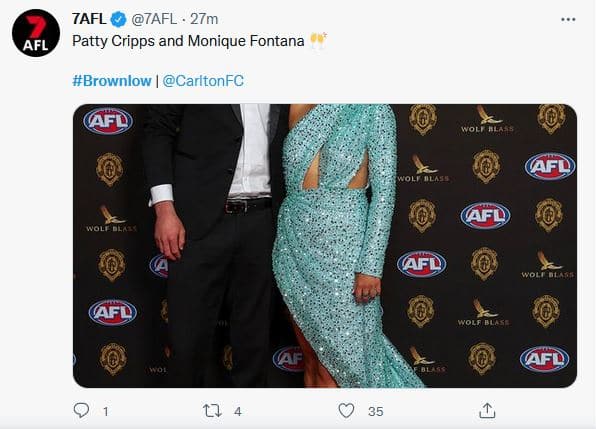 HB has just announced "this is such a wank".
Luke Shuey's partner is in yellow. Yellow is a mostly a disastrous colour to wear. Rose Leslie (Ygritte from Game of Thrones) chose a yellow dress for the Met Gala. What a mistake.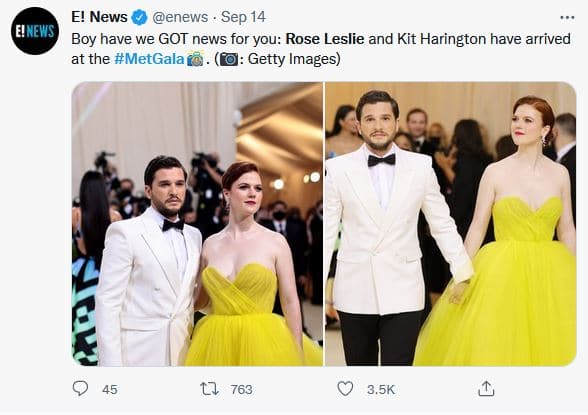 She's washed out. It looks dreadful. Look at Jon Snow. He knows it's bad. However, Danielle Orlando somehow found a reasonable shade of yellow, not sure about the cut but she's pulling it off.
Channel 7 is doing some odd photographic tribute to what I can only assume is WAGS who are now dead. Brit Selwood and Annie Nolan amongst the people who are deceased? Not sure what to make of this.
Oh, back to the red carpet. Lachie Neale, not giving a shit at all. Which is fair since his wife is three weeks away from her due date. Why is he even there? He has the perfect excuse.
Sally Mundy looks super cute. She's the front runner so far. Her dress is gorgeous and she looks so put together. Not Met Gala worthy (there are no weird props and I think an actual hairdresser did her hair) but I love it anyway.
Rebecca Demlakian looks like she is from an 80s prom movie. I wish she'd really leaned into it. She should have embraced it and teased her hair to the sky.  Hoop earrings and maybe some fishnet gloves. C'mon people, you are so close to fashion glory.
Speaking of hair, Clayton Oliver and Christian Petracca are doing their thing on screen. Oh, Clayton. LISTEN TO YOUR MUM/SISTERS/AUNT about your hair. Sometimes it looks good and I think I understand what he's going for, and other times I am totally bemused. Like most young folk, he needs a little bit of a nudge to get it totally right. You should see some photos of HB from his youth. Lol.
Clayton gets a pass though, since he was the winner of the fashion stakes last year with his satin mask. Petracca looks great in a very snappy grey suit. Can't fault it. Oh, wait. HB just showed me a pic of his shoes. I am both impressed and appalled.
Hamish looks like he's contemplating his place in the world. He doesn't look unhappy about it all, just bewildered. His big brother Gil is dying his hair a bit too obviously. Black is a hard colour to get right Gil, seek out a better hairdresser. Also, STOP GOING OUT IN THE SUN ALL THE TIME, it's very bad for your skin. Wear sunscreen.
Jack Steele is a handsome fellow. That is all. I told HB he should quit football and go into acting.
The backstories are happening.
The mums are the cutest – I really wish more players would just bring their mums.
Me: "who's he?'
HB: "Zach Merrett"
Me: "He looks sketchy."
HE DOES. That facial hair is a disaster. His comparison at the Met Gala is Kimmy K, who perhaps had her own hair issue and took care of it like a boss.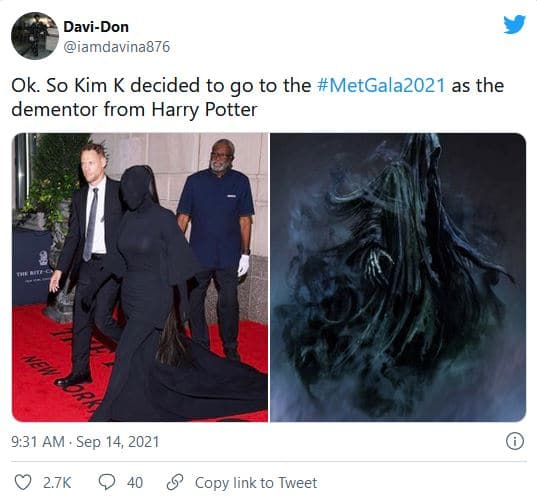 I'd be so delighted to see a WAG turn up as a dementor.
Max Gawn is getting some camera time. What can I say? I love him a bit. If My Fair Lady was remade, I can imagine him being Ezra Dolittle, being dressed up ready for his formal presentation.
Tom Liberatore has rocked up in sneakers. This always makes me smile. Did any of the women go nuts and wear flats? Probably not. Though I'm keeping an eye out.
Petracca is stating that he hopes Oliver wins. That is the cutest thing ever. He's saying some lovely things about culture. Pretty sure at my workplace someone would shank me for a half-eaten Mars Bar.
Interlude where there are constant shots of the poor ladies twirling around awkwardly. You can tell the people who are 'influencers'.
Abbey Holmes is presenting with Nat Fyfe. WHAT HAS SHE DONE TO HER HAIR? It's windswept, it's slicked back, it's all kind of bad. Honestly, 0 out 10. Very child beauty pageant. Dress is great, but white is the most dangerous colour – even worse than yellow. Everyone looks great in white, but you always run the risk of being sat next to some feral like me. I see white and it gets mucky. You can't hide sauce or wine on a white dress Abbey. So extra points for being bold.
I'm bored. HB told me about something that happens in the WWE, that I think would really be a stand out addition to the Brownlow… A Tuxedo Match. Wrestling in suits. I'd love to see a bit of staged violence here, a few fold up chairs being thrown, a couple of shirts being ripped. Just a suggestion.
Oh no. Abbey Holmes is interviewing Jaeger and Tory Packer. Tory and Abbey are both wearing Colgate white dresses and kind of look like they are at a bridal convention. It looks bad. Really bad. Put them side by side and their dresses are the most boring things on the planet.
A little bit of nifty work from Lauren O'Shannassy (Matthew Pavlich's partner). Wild print, massive bow. If someone described it to me I'd be repulsed but she pulls it off amazingly well.
Nice to see the broadcast is 50% gambling ads. Thanks folks, we know how to gamble. Nathan Brown makes me cringe. Does he go home and wonder where he went wrong? Or does he look at his bank account and chuckle? I look at mine and chuckle but it's got a hysterical lilt to it.
Things I'm not seeing. There's no fashion flair. So disappointed. There's no velvet going on – I want some of the fellas to turn up in a gorgeous velvet suit. With satin trim.
I want to say that my highlight of the Met Gala was Lupita Nyong'o denim magic. How does anyone pull off denim at as formal wear? It's a mystery to me but she did it. None of the women at the Brownlow have come anywhere close to her flair and amazing look. Can I blame this on the lock-down? WA has designers, are they gnashing their teeth? Mortified that they offered some waggy influencers the chance of wearing a 'denim dream' and got knocked back?
The men… when sneakers are the most shocking thing around, we've all been let down. Take a look at the below. I want an outfit to make me choke on my tea. I want to say "wtf, go back go back!" I want HB to get so confused he just gets up and leaves. Gimme a velvet cape and a bodysuit fellas. Give me some leggings and a jaunty hat. DO SOMETHING to make this painful shit worth watching.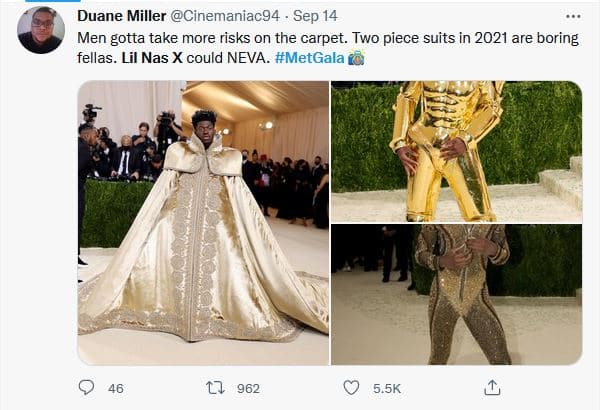 Sally Mundy. Just lovely.
Lauren O'Shannassy
Danielle Orlando. The nerve of her to go with yellow, I'm impressed.
None of the guys make the list, they did a totally shit job.
That's it for me. At least this dull rubbish will make tomorrow's work day look positively electric in comparison. Peace out, Mongrels.