Did you see this coming?
Be honest – did you? I sure as hell didn't. And while we're being honest here, I genuinely hoped the Dees would get up in this game – I wanted to see them win and make the Grand Final, but I'm not an eternal optimist, and I am often painfully aware that what I want and the eventual outcome are usually very, very different.
Playing at the ground where it all went so horribly wrong in 2018, this Melbourne team looked loose in the warm up. They were all smiles, enjoying the moment as though they were clued into some knowledge nobody else was aware of.
And now, everyone knows.
This is not the team that capitulated so meekly in 2018 and broke the hearts of so many Demon supporters that put their faith in that team. Those were boys.
These are men.
The Dees were harder at the footy, with an almost insane amount of pressure applied when the Cats did win the ball driving their game to new heights. They prevented Geelong from getting any clean chain of possession and crashed into every contest. What this did was instil the feeling of perceived pressure on a shellshocked Geelong unit, who resorted to throwing the ball on the boot and surrendering control too easily.
It was a masterful performance from the Dees after some early-game concerns with both Jake Lever and Steven May hobbling around, but in the end… or even by halfway through the third quarter, we saw that this team is for real, and whoever emerges victorious from the Dogs v Port game is going to have to bring their A-Game to combat them.
Let's jump into your old favourite… The Mongrel's Good, Bad and Ugly.
THE GOOD
AND YOU CANNOT HANDLE… PRESSURE!
Thanks Billy Joel…
There are two types of pressure.
There is the genuine pressure you exert, or feel when an opponent is having a red hot go, and there is perceived pressure that is created by the application of the first sort.
In this game, Melbourne had both types working for them. One begat the other.
All you have to do is go back and watch how many times a Geelong player dropped the sort of mark they'd usually eat for breakfast. Lachie Henderson has made a habit out of dropping marks this finals series after just about being Geelong's best player during their 2020 campaign. Jack Henry grassed a couple, Gryan Miers, Max Holmes… the pressure that Melbourne applied early in the contest made these Cats start to expect more of it, to the point where when it didn't come, they dropped the marks thinking about it.
The Dees lit the fire early, with Petracca, Oliver and Harmes looking like men on a mission (as in blokes with destruction on their mind… not the fat dudes who made a WWF tag team in the early 90s… they were no good).
The Cats were not permitted any clean footy and found themselves kicking hurriedly around the corner (Menegola, Dangerfield, Selwood) to simply remove the ball from their immediate area. Teams that operate in such a reactionary manner rarely win finals games.
What was really impressive was how the Dees managed to maintain the rage, with their pressure causing mistake after mistake from the Cats, who were taken completely out of their game. There was no owning the footy, no kick-mark football and transfers of play were virtually non-existent. It was a disciplined, workmanlike, yet utterly spectacular effort from a team built to win.
THE TONE SETTERS
There are two that slot into this section.
What a story Ben Brown is turning out to be. After the former Kangaroo was jettisoned from the eventual wooden-spooner, many questioned how he'd fit with the Demons. An elongated absence from the team certainly didn't help with speculation through the middle of the season. However, looking at Brown in this game… he looked like Ben 'Freaking' Brown!
Now that may sound dumb, and believe me, I have a heap more dumb stuff up my sleeve, but the Ben Brown we saw earlier in the season looked like the 2020 version. Slow, lacking confidence, not timing the footy at all. This version… this is the bloke that kicked 60+ goals three seasons in a row! This is who the Dees recruited him to be, and he is turning up at the right time of the year.
Brown didn't just hang out off the back of the pack looking for an easy avenue to goal – his contested marking, and overall attack on the ball in flight was first class, and was a huge factor in the Dees establishing an early lead. Throw in the fact that he was demanding the full and undivided attention of Mark Blicavs, preventing him from venturing up the ground, and the Dees had a win on two fronts there.
The other tone-setter was Kysaiah Pickett.
Now, I am not one of those blokes who need to change their pants every time he goes near the footy (a big hello to Luke Darcy), but the way Pickett started this contest proved that he doesn't just have the makings of one of the best small forwards in the competition – he is not that far away from already being considered as such.
Saying that Pickett had five touches in the first quarter does him no justice. He was everywhere, creating havoc, creating for teammates, and creating a massive headache for Chris Scott. Whilst his scoreboard impact would begin in the second quarter, the elusiveness and footy IQ of this bloke made him a menace the Cats struggled to contend with.
And whilst I am on Pickett, I have to say that I love the fact he is the bloke that stands the mark whenever the team misses a shot at goal. It immediately eliminates the player taking the kick running twenty metres and blasting the footy 70+ metres away from goal. If you get five or six steps in before Pickett starts to bear down on you, consider yourself lucky. That, my friends, is gooooood coaching.
RIPPING IT AWAY
There was a moment in the first quarter that acted as a metaphor for this game, and it came via the raging bull of the Demons' midfield.
Cristian Petracca does something that not many footballers attempt – that's a bit of a sweeping statement and I am sure it could be attributed to many aspects of his game, but in this particular instance, it applies to him simply reaching in and ripping the ball away from the opposition player in a tackle. So many players are content with wrapping the opposition up in a tackle and dragging them to ground, or holding them up for the stoppage.
Not Petracca.
When Esava Ratugolea took possession of the footy in the defensive fifty in the first quarter, it appeared it would be another of those moments where he was caught in a tackle without prior opportunity, causing a stoppage.
Nope. That's not the way Christian Petracca plays footy.
He simply wrenched the footy out of Ratugolea's grasp, put the foot on the pedal and ran in to boot a goal.
He was a stone cold killer in this one, notching four goal assists amongst his ten score involvements, whilst adding eight clearances, but it wasn't just the numbers that were impressive – it was the use of the footy. Max Gawn's booming goal from 55 metres out? That was on the hands from Petracca. The kick to Bayley Fritsch to start the third quarter avalanche? Guess who… yep, it was 'Trac again.
The bloke just makes things happen!
He was a thorn in the side of the Cats throughout the entire game, but whilst many will look at what Gawn was able to do in the third quarter, and rightly so, check out the work of Christian Petracca, too. He was every bit the star of the show, as well
THE BRICK WALL
What is this Demon defence made of?
With Steven May pulling up sore in the hamstring early in the game, and Jake Lever looking like he might have been in trouble with a slight hyper-extension of the knee, things looked as though they were ready to crumble. I heard someone state a few weeks back that the Dees had built their team around the defensive pillars of May and Lever, and here we were in the first quarter with those pillars starting to crumble!
But all that did was give a few others the chance to shine as they stepped up their game and took the Geelong forwards to school.
Harrison Petty drifted back to man-up on Tom Hawkins and though we can probably give the Demon mids a heap of credit, and give the Geelong mids very little as a result, the delivery to Hawkins greatly aided Petty in shutting down the Cats champ.
Hawkins finished with just one goal to his name as the normally reliable well of goals suddenly ran dry. Petty made some fantastic spoils and smothers for the team as he lifted in a big way to ease the pressure on May.
And then there was Michael Hibberd. How about having the luxury to have this guy waiting in the wings for an opportunity! He did not let it slip. Oscillating between Gary Rohan (oh, we'll get to him) and Jeremy Cameron, Hibberd won close to every contest he engaged in, rendering first Rohan, then Cameron as borderline useless.
Cameron got a goal out the back early, and then a set of steak knives once the deal was signed, sealed and delivered in the last quarter, but at no stage did I think that Hibberd even began to lower his colours. Irrespective of how Joel Smith comes up, can you drop Hibberd based on this outing? You'd have think he is going to be in the Grand Final team, right?
Finally, there is Christian Salem.
Guess who was Gary Rohan's direct match up at the start of the game and after centre bounces? He switched off Rohan often, handing over to Hibberd, which allowed him to roam around the field doing as he pleased, collecting nine of his 29 touches in the first quarter. 23 of his disposals were kicks, and he had seven inside 50 disposals to go along with his seven rebound fifties.
Geelong opted to allow him freedom. Geelong got burnt.
I also loved the game of Jake Bowey, who completely negated Gryan Miers. Miers looked out of his depth in this one and even a goal in the second quarter didn't make up for his poor ball handling and errant disposals.
GAWN
So you get this far down the list and here's a bloke that's had 30+ hitouts, had 19 touches and kicked the lazy five goals…
Huh?
Max Gawn snagging five goals? "What in the world is going on?"
Do you know where that quote is from? Jump in The Mongrel Time Machine (patent pending) and journey with me back to 1992, as Michael Jordan and his Bulls took on Clyde Drexler's Portland Trailblazers. Great name, by the way… Clyde Drexler!
Anyway, if there was ever a perceived weakness in Michael Jordan's game, it was his inability to shoot threes. Part of it was due to the period in which he played – post games, lots of mid-range shooting and plenty of one-on-one play. But there is no denying that coming into this game was a non-factor. Much like Max Gawn kicking goals.
And then, suddenly, Jordan rained threes on the Blazers, knocking down six in the first half as his team put the game beyond doubt.
Whilst I don't think we're going to be mistaking Max for Jordan anytime soon, goal kicking has not been Gawn's strong suit at points in his career, but what a time to start putting it all together! Gawn bagged a career-high five goals and could have had six if not for a wild shot in the fourth quarter that sprayed out of bounds on the full. All that was missing was a look to the crowd with his hands out, combined with a shrug of the shoulders.
Nonetheless, against a team that has long been criticised for their lack of ruck stocks for several years, Gawn feasted and his running goal on the hands from Christian Petracca in the third quarter was an epic moment in a season that has renewed the faith of long-term Melbourne people.
I love Preliminary Final week, perhaps more than Grand Final week, itself. And it is due to performances like this from Max Gawn that I do.
THE FORGOTTEN MAN
Watching the Dees at points this season, there has been so much attention on the efforts of Christian Petracca and Clayton Oliver in the middle, that the presence of Jack Viney has not been deemed as important as it once was.
Maybe tonight flipped that script a little?
Known primarily for his relentless bash-and-crash style of footy, Viney's ability to set up his teammates in this game was key to the Dees getting off to a quick start. A couple of his handballs (after winning the hard footy, of course) were perfectly timed to release his runners, and set the Melbourne midfield alight.
With 27 of his game-high 34 touches when there was heat in the game (we're not really counting what happened in the last quarter it was junk time, right?), Viney's work in close was of an impeccable standard, notching nine clearances and taking some of the heat off Clayton Oliver in the process.
On that, there have been times over the last year or so where, when watching the Dees play, it has appeared as though Oliver and Viney got in each other's way at points – there was none of that evident in this game, and with the Dees so dominant, these two worked like a hand in a glove…
… though I am not sure who is the hand and who is the glove. Petracca is more like the whole damn arm!
RECORD IN HIS SIGHTS
Do you know who the record-holder is for the most contested touches in a season?
It's Patrick Dangerfield, and he had 430 several years ago.
Do you know who should really be the new record holder in two weeks' time?
Yep, it's Clarry!
Clayton Oliver now sits on 422 contested touches for the season, and let's be honest – by halftime of the Grand Final, should be the all-time leader for contested touches in a season. It is the second time Oliver has hit the 400+ contested possessions in a year – only two others have been able to do it; Dangerfield and Josh Kennedy.
Guys, we are looking at an all-time great in the making, and when all is said and done, I reckon we'll be looking at the best contested footy player the game has seen – statistically, at least. Enjoy what you're seeing in Clayton Oliver – he is a star of the game.
THE BAD
THE INVISIBLE MAN VERSION ONE
How hard do we go here?
How much do we look at what people offered and compare it with what was promised?
What do we make of the game of Jeremy Cameron?
Four disposals in a game where the Cats desperately needed someone to stand up not just inside 50, but as a lead up target along the half forward/wing area is unacceptable. For a man of his talents, that type of return is absolute garbage and whilst he has time left to make things good, this Geelong run at the top of the table will not last forever, and chances like this will not come along very often.
Gary Rohan is up next, but before we get to him, let's have a look at Cameron's finals record, shall we?
Cameron's career-high in a finals game is four goals, and he notched that back in 2016. Since then, he has kicked 15 goals from ten finals games, including his two ineffectual goals in this one. 1.5 goals per game in his last ten finals appearances –
What is more concerning is that he did not attack the footy at all. No marks in this game means that over the course of the three finals, Cameron took just eight marks. One of them was a contested mark.
Tom Hawkins has the runs on the board – he has stood up in big moments over the years. Jeremy Cameron has not, so when there is a cutthroat final and they both fail to perform, Hawkins gets a pass. Cameron… he is now in the gun and looking at being saddled with the reputation of not being able to get it done when the heat is on.
PLAN B
And why wasn't Jeremy Cameron deployed a little further up the field? When it became apparent that he was not getting a touch, was there ever the thought to move him to get him into the game?
Many people have whacked Chris Scott over the years for not being a brilliant gameday coach – look, I am not in the box with him and, as such, I don't see or hear what is said and what his concerns are, but judging by the distinct lack of… anything in this encounter, you have to wonder whether those critics are right?
How were the Cats unable to capitalise on a hobbling Steven May when he was being used as the deepest defender AND playing around the half forward line when the Dees had their press going? How was that not exploited at all? Show me any instance where May was tested out on his tight hamstring!
Where was a defensive forward on Christian Salem or Jake Lever?
Menegola in at centre stoppages?
This is now how many Prelim losses in the last six years?
THE UGLY
THE INVISIBLE MAN VERSION TWO
Oh man… I almost don't want to go too hard, here, as I believe this is the type of thing that can probably go too far.
Gary Rohan failed again in a big game. Not just failed, but failed spectacularly and then got injured trying his guts out to make a spoil. I almost felt for him.
Almost…
You see, it is bloody hard to get a kick in the forward line when your teammates are moving the ball like a bunch of under twelves. With little direction, little structure and little composure, the Geelong midfielders hung their forwards out to dry, as evidenced by a combined total of five touches between Rohan and the man above, Jeremy Cameron.
Even Hawkins struggled to get involved, and involving himself in the play has never been an issue for the big fella.
The trio that had so many Geelong fans thinking this combination would see them break through and win the flag contributed just three goals. Rohan had none of them. As a matter of fact, he had just one disposal for the game – a turnover.
I know I made an excuse for him by blaming the mids, but at some stage, you simply have to win your own footy, and Rohan has made a terrible habit out of doing the exact opposite in big finals for far too long. He is now out of contract – do you re-up with him and hope he can turn it around, or do you use history as your guide and come to the conclusion that he is not going to be an important part of a premiership?
Rohan has played in eight finals for the Cats. He has delivered six goals in those games.
Jimmy Bartel, Paul Chapman, Steve Johnson… some players are made for finals. And some are not. The question is – do you persist with those who are not or start sourcing another who could be?
The window at Geelong is closing – I'd be seeing what else is about.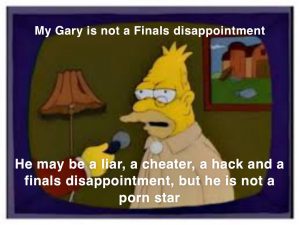 SOME QUESTIONS
IS THIS THE END OF THE GEELONG RUN?
If not the end, it's the beginning of it. A lot has been made of the age profile and I am not sure the 2022 version of this team is any better than the 2021 version. They play a style that gets them to September, and it was so close to working last season.
This season… that was as big a belting as I remember a good team getting.
Selwood looked frustrated in this one – I'd say he has a year left. I love the bloke, but he got sucked in at one point and it cost his team. Danger is a year older – watch his clearances as compared with Petracca – they are night and day. Henderson is done, Higgins is done, plenty of players are 30+ years old and the ones pushing for a spot (Constable, Clark) might be more pushing for a spot elsewhere.
So yes… not over with just yet, but we're edging very close.
IS THIS THE BEST THING ABOUT LUKE JACKSON?
What am I talking about? Is "what" the best thing?
I'll tell you – the decision-making. He does not take the first option to hand off, as so many rucks are instructed to do. No, no… he takes the BEST option to hand off, trusting himself to extract the footy and control it to deliver to the player who can inflict the most damage.
I saw him ignore Clayton Oliver in this one, only to go inboard to a player running through the middle. I saw him delay a handball to allow a second runner to enter the picture and force the defender to make a choice – it was a choice he then capitalised on with another excellent inboard handball.
He was pretty quiet in the second half, but watching his work through the first two quarters, I really enjoyed his patience and decision-making.
IS ANDREW BRAYSHAW THE MOST UNDERRATED WINGMAN IN THE GAME?
I know, I know… his name is Angus – I just like to screw with you here or there.
But yes, he is, and do you know why? He forces the opposition wingmen to be accountable. He holds his distance and opens the ground up, so if you opt to be sucked to the contest and the Dees win the footy, guess who is out in the open, ready to receive?
One of his little 30 metre 45-kicks was brilliant in this game. Just showed such composure and skill to screw it around his body to a good option after selling some candy to buy space. With Ed Langdon a huge problem on the other wing, Brayshaw's discipline is the perfect way to counter-balance things.
DO YOU KNOW YOU'RE IN TROUBLE WHEN ZACH GUTHRIE IS IN YOUR TOP HANDFUL?
With the talent you have, I reckon you know you're not firing on all cylinders.
Zuthrie was pretty damn solid in this game. In a defence that was absolutely pantsed, he managed to remain very solid for the Cats most of the game. A bit of a whipping boy at times, there were at least a dozen players worse than him in this one.
WHAT DO WE MAKE OF DANGER'S GAME?
Just.
Just okay.
Rushed his disposal, and though I would never doubt his endeavour at all, he lacked impact with his disposals. Will need a massive 2022 to keep this team in contention.
DID WE SEE SOME POOR LEADERSHIP FROM SELWOOD?
Yeah, we did.
Whether Ed Langdon went to ground a little easily or not, the fact that the Geelong captain gave away a fifty-metre penalty at a point where the Cats were not all that far behind was a stupid error.
"He f'n dived," you can hear Selwood telling the umpire. Yeah, he might've, but so did Danger at one point to earn a free kick, and as much as I like Joel – he may be my favourite player of the last ten or so years – his little hissy fit after being shepherded (albeit questionably) by Langdon was the kind of shit I expect from James Sicily or Dayne Zorko.
DOES STEVEN MAY PLAY IN THE BIG ONE?
Based on the fact he returned to the game, you'd have to say he is a good chance.
He didn't exactly set the world on fire when he re-entered the fray, but the Dees would have ruled him out if they'd believed he had any damage, right? That's what a sane person with a medical degree would do!
I'd love to see the big fella out there taking on either Naughton or Dixon (the Dixon matchup would be fantastic!).
And that might just about do me, beautiful people. Just one more game to go and then the Grand Final hype begins. Great win by the Dees – a complete team effort in dismantling a team many thought would win it all this season.
As for the Cats, this off-season will be telling.
Massive thanks to our members – you guys rock, and I appreciate your support – HB.