There is no love lost between the Bombers and the Dogs.
Whilst we are quite used to seeing teams very friendly, chatting during the game and looking like they're ready to organise a joint party for their kids, there is always a bit of feeling when Essendon and the Western Bulldogs cross paths. Just ask their supporters.
This game wrote another chapter into their rivalry, with the Bombers, desperate for a win to keep their finals aspirations alive, getting a lift from their forward line recruit to the tune of seven big goals. They fought back hard in the second quarter to snatch the lead and taught the top of the table, Western Bulldogs, that on any given day, Essendon's best is as good as anyone in the league.
Peter Wright was the spearhead the Bombers envisioned when they recruited him, but it was the work of their midfield duo, Zach Merrett and Darcy Parish, and the injection of Jake Stringer into the guts late in the game that gave the Dons the lift they needed to get them over the top of the inaccurate and sometimes wasteful Dogs.
There is a heap to get through in this one, some questions that need to be asked about both clubs, and players in particular.
Let's jump into The Mongrel's good, bad and ugly.
THE GOOD
THE TWO-METRE DOG BEATER
A fourth-round pick.
That is what the services of Peter Wright cost the Bombers at the conclusion of the 2020 season as the Gold Coast Suns looked to offload their prized number eight pick from 2014. With Ben King emerging as their go-to forward option, Wright became expendable with the Suns, and sat out a lot of 2020 as a result.
His recruitment to the Bombers was viewed as a risk by some, but for a fourth round pick, not much could really go wrong.
However, plenty could go right.
In Round 21, Peter Wright rewarded the faith of Ben Rutten and Adrian Dodoro as he skewered the Dogs' defence, clunking marks and kicking booming goals en route to seven huge goals. As a non-Essendon fan, I sat back and smiled at the exploits of Wright, as he was just too big and strong for the Dogs defence. Zaine Cordy and Josh Schache tried… and both failed as Wright's arms stretched up like two big testicles… errr, tentacles (we still remember you, Jack Dyer) to pluck seven marks (three contested) and five marks inside 50.
He kicked seven goals straight (and a couple that didn't score at all) as he looked every bit the key forward the Bombers have lacked.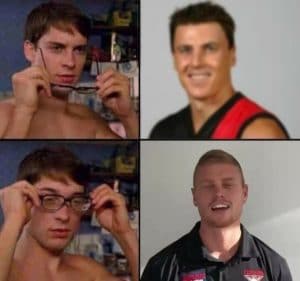 So, was this a flash in the pan, or can Essendon start to expect more from Wright on a consistent basis?
That remains to be seen, but what we can do is measure what Wright has been able to do, with what was expected of him. Whilst Essendon fans would have hoped he would make an impact like this, the realistic ones probably thought he would be in and out of the side, struggling to keep his place, showing flashes of brilliance mixed with large doses of average football. How close am I?
I say that because, given exposed form at Gold Coast, that was my expectation. I've never been happier to be wrong.
Wright has kicked 25 goals for the season and if he gets to 30, I would say that would top the numbers expected by even the most optimistic Bomber supporters. Early in the game, as Aaron Francis attacked the contest with purpose, I actually mentioned to our AFL previewer, and Essendon die-hard, Jimmy Ayres that it would be great if Peter Wright attacked the contest the same way Francis was. Lo and behold, less than two hours later we are lauding the efforts of the former Sun.
Wright has a chance to build a career at Essendon. He is 24 years old with improvement left in him. He will have weeks where he is down – every player does – but there will be weeks when he is up and about, as well. And when he is, this is what he is capable of. The bar has been set now, and it is time for Wright to start reaching this level more often.
THE MIDFIELD BATTLE
When I was growing up, you had some great tag teams in the wrestling world. The Road Warriors, The Hart Foundation, The Steiner Brothers… and matches between two of the teams were like a dream match for a young fella that got quite used to seeing each of those teams destroy other, no-name teams on a weekly basis.
Seeing the Roadies v The Steiners was a dream match. The Steiners v the Harts… same thing. The Roadies v the Harts remains a dream that will never be achieved. However, we saw a dream tag team clash in the middle of the ground this week, as Marcus Bontempelli and Jack Macrae took on Zach Merrett and Darcy Parish.
Four All-Australian contenders went head-to-head in an attempt to gain midfield supremacy, and whilst statistically, the Dogs' team of Bont and Macrae may have the edge, the result of the game, and the influence of the Bombers pair in the last quarter probably made the clash close to even.
Bont had 34 touches and a vital goal, Macrae picked up 38 and ten clearances, whilst Merrett had 30 touches at 87% efficiency, and Parish had 28, nine score involvements, and nine clearances.
The quartet was ably backed up by the efforts of Tom Liberatore (22 touches) and Jake Stringer (just 13 touches, but his impact was huge in the last quarter).
So, which tag team won? Who would walk out as champs?
Those familiar with The Mongrel's work would know of our Midfield Championship Belt column, which currently has Sydney's Luke Parker as the reigning champ. You'd also know that that you can only win the title as part of a winning team, so if Bont and Macrae were facing Parish and Merrett in this one, with a vacant title up for grabs, right now you'd be seeing pics all over the net of Merrett and Macrae with their Mongrel Punt tag team titles. Nice work, fellas.
THE DIFFERENCE MAKER
Need a clearance? Throw Jake Stringer into the guts!
He was by no means dominant in this game – the AFL app does not even have him listed as part of their best players for the Bombers, but in the wash up, how important was he when the game was there to be won?
With Essendon looking for a win in the guts, Stringer was called on to crack into the contest and that is exactly what he did. He cannot do if for the whole game, but when you require a spark in the contest, is there anyone better in the game when it comes to providing it than Stringer?
He had four last-quarter clearances as he powered the Bombers forward, and added three inside fifty disposals and a goal assist to his tally. Matched up against Tom Liberatore, once again, Jake Stringer was just TOO… DAMN… STRONG!
I made the mistake of wondering why players were unable to hold onto tackles against Stringer about five or six weeks back – they were dropping off him, or being swatted away like other people's annoying children at a family BBQ by the bull in the middle. And he has been doing it every week since.
After a couple seasons riddled with injury (and questionable fitness levels), it seems as though we are now seeing the player Jake Stringer can be, and he makes those around him walk taller. His efforts in the last quarter should not be discounted when analysing this contest – so many Bombers will get a lot of the plaudits, but save a few for Stringer. He was once again, in my eyes at least, the man who made the big difference right when the Bombers needed it.
THE RUCK BATTLE
So, here's a question – can Tim English be a good AFL ruckman, or should the Dogs start looking at playing him as a marking option up forward on a permanent basis?
Right now, I am starting to get the feeling that Dogs fans have been waiting for the man with the brain on the outside of his head (that's what his hairstyle looks like) to take the ruck over, and it is just not happening. Maybe it just won't happen?
Whilst English is a finesse player, his is susceptible when playing against a brute.We have seen it with Brodie Grundy in the past and in this one, Sam Draper was all over him in the first half.
English didn't get a touch in the first quarter, notching four hit outs, whilst Draper added four disposals and 14 hit outs. He lifted in the second, but Draper added a goal in that quarter to continue his impressive outing. English lifted in the third, but by the time the fourth rolled around, it was Draper controlling the ruck again, and he was responsible for a few perfect ruck taps to set up Essendon clearances.
The Dogs have been down the tail end of the hit out ladder for years now, and whilst the excuse that English is young will be trotted out, it just will not fly here. Draper is younger. He is also stronger and wants the footy more. The Dogs can persevere with English and I am sure he will have moments where his blend of ruck/forward plays sees him get out and cause some damage.
But at what cost?
Draper was one of the important Bombers as they mounted their second quarter comeback, and sadly for Dogs' fans, English basically watched on.
A COUPLE OF BAILEYS
I loved the run off half back the two Baileys provided for the Dogs.
Bailey Williams has kind of slotted in as a spare parts player in the Bulldogs' defence, with the ascension of Bailey Dale to the role of one of the best rebounders in the game, but he was back to teh type of form that made him such a potent weapon in 2020.
His partner in crime, Bailey Dale looked as though he was impossible to tackle at points in this game, standing in, and spinning out of tackles like he was a step ahead of the game. Dale must have incredible core strength, as the tackles just fell off him a little too often for my liking.
Between the two they combined for 12 intercept possessions, and 700+ metres gained, even if Dale did tend to run himself into trouble at times
THE BAD
WHAT IF…
I know a lot of people hate "what ifs" but once in a while, they're worth pondering.
What if Dylan Shiel was a good kick of the footy? How dangerous would this bloke be if he could just not butcher the footy whenever he headed inside footy or got close to goal? Is he running too fast? Does he have a bad ball drop? Is he just… you know, shit at it?
Some of his pack busting runs were scintillating, and then he drops the ball onto his boot and it all goes to crap. He's like a teenager on a date when he gets the green light in a lot of ways. Quick, quick, quick… oh… you messed it all up.
Slow down, Dyl… it's not sex!
THE LAST TEN SECONDS
The game was done and the siren was about to sound as Josh Bruce contested the footy in the forward pocket. That should have been it. The Dogs were about to lose and they should have been ready to lick their wounds and prepare for another round of footy next week.
However, word out of the kennel this evening is that the final play of the game may have some significant impact for the remainder of the Dogs' season. There is some speculation that Bruce may have injured his ACL in the dying stages of the game, which is a nightmare for the Dogs, and something that no footy supporter would take any joy from.
Bruce has compiled a ripper season as the tag team partner of Aaron Naughton. The two had the chance to make a massive impact in this game, but their shots at goal left a bit to be desired at times, and wasted opportunities allowed the Bombers to hang about.
That all pales into insignificance when we look at the possibility that Bruce could miss all of 2022 should the news be confirmed soon.
What a shocking way to end the game – from everyone at The Mongrel, we have our fingers crossed for Josh.
THE UGLY
THE PASSENGER
Can we all agree that Anthony McDonald-Tipungwuti was horrible in this game? Is anyone going to defend him? I am interested to hear your arguments.
If he is injured, or too sore to be effective, the Bombers need to rest him, as he is too good a player to be trotting out a string of performances where he has been more of a liability than an asset to his team.
For the fourth-straight game, AMT hit five disposals. That's it. That's what he has brought to the table for Essendon over the past month. Sure, he slotted a goal in this one – that has to count for something, right?
Well, yes, but only if you balance it up with the ridiculous 50 metre penalty he gave to his direct opponent, Taylor Duryea, which cost a goal and started to give the Dogs a sniff in the last quarter.
But he adds pressure around the footy, right? And that is reflected by his tackling numbers, and his tackles inside fifty, so let's have a gander at them.
Over this four week span, Walla has managed four tackles. Again… that's it. Four tackles in a month. As for tackles inside 50, three of his four tackles have come in that area. That could be viewed as a positive, or you could look at it as though he hasn't managed to drag his backside outside 50 often enough to have an impact elsewhere.
At the halfway point of the season, Walla would have been the favourite to take out the AA small forward position. As we hit Round 22, he will be lucky to make the best 22 at his own club. Essendon fans, I know you're a loyal bunch, and I know that McDonald-Tipungwuti is a favourite, but at the moment, he is a player devoid of confidence, and worse, effort. Young players who perform like this are quickly relegated to the seconds, and it is about time AMT is treated like those players and given a rest, whether he likes it or not.
The standard you walk past is the standard you accept, and the inability of Tippa to impact the contest in any meaningful way over the past month means that he has made life more difficult for his teammates. They have been covering his backside for a month. It's time the match committee covered theirs.
SOME QUESTIONS
DOES JOSH SCHACHE GET HIS CHANCE AS A FORWARD NOW?
It seems a bit morbid to be making plans for the future of the Dogs without Josh Bruce without knowing what the injury is, but right now, they do have some options.
Josh Schache was recruited as a forward, but out of necessity, has been deployed to defence to plug holes. Sef Martin is still a couple of weeks off, which means Tim English will have to ruck, but he is the other options, assuming Martin can get back to shoulder the ruck load by finals.
So, right now it looks as though a Naughton/Schache forward line will have to work, assuming the Dogs think that Ugle-Hagan continues in the clear third forward role. Unless, of course, Mitch Wallis gets another crack? He is a vice-captain of this side, after all.
WAS THIS TOM CUTLER'S BEST GAME AS A BOMBER?
I answer having not seen all of Cutler's 18 games in red and black, but of the ones I have seen, this one was by far his best output.
With 22 touches, six rebound fifties and 636 metres gained, Cutler gave the Bombers some powerful run and carry from defence and was good early in the piece, running off half back to bomb Essendon inside 50.
WHO WON THE RIDLEY V NAUGHTON CLASH?
I was licking my lips when I saw these two young stars of the game matched up on each other, and as rare as it is to get a one v one clash in modern footy, I was hopeful we'd see them go head-to-head for most of the game.
Naughton should have won this encounter, but was let down by his poor kicking – it happens a bit to him. Finishing with a couple of contested grabs and 1.3 to his name, reverse that scoreline and you would see Naughton claim a clear win. But footy doesn't work that way, and whilst many will look at the fact Ridley "held him to one goal", Naughton should have done more.
To his credit, Ridley was able to contribute 17 touches and eight intercepts to the Bombers' cause and was a strong presence in defence. I'd call this one a draw – dunno about you guys.
CAN THE BOMBERS PLAY FINALS?
Oh, hell yes they can.
They need a lot to go right, and really, we should get a really good picture of things by Friday night, when the Tigers and Giants clash, but this Essendon side, with things clicking, could provide some real issues in September.
As a neutral, whose team is not in any way looking at finals for the next couple of years, I know an up-and-about Essendon is good for footy. I'd love to see them hit September hard.
AND CAN THE DOGS WIN THE FLAG?
Yeah, they can. Their position atop the ladder didn't happen by accident, and their best is possibly THE best in the league.
However, September footy is a whole new ball game and really, none of us know what is going to happen. On their best day, I reckon the Dogs play a brand of footy that is irresistible, but sometimes the irresistible force comes up against the immovable object. And then… things can go awry.
OTHER BITS
Things are getting interesting, are they not?
The Bombers encounter the Suns next week, and what would have been considered a walk in the park just a couple of months ago looms as a possible danger game for them. They're sitting half a game out of the eight at the moment, but Bomber fans will be well aware that the Suns have two distinct personas they take on. Essendon will be hoping they get to play the Round 20 version that were trounced by the Dees, and not the Round 21 version that finished the Blues' season.
Meanwhile, the Dogs take on a Hawks team with very little to lose and rising a recent record of two wins, a draw and a loss. Again, this would have shaped as an automatic win six weeks ago. Now… things get a little tighter. You'd back the Dogs in, here, but they're going to need a few quiet players to start making some noise.
And that'll finish me up for this instalment of the good, bad and ugly. Massive thanks to all out members – as people jump off their teams at this point of the season, your continued support of our work means the world. Sincerely… thank you – HB.