When you look at this game at face value, you could be fooled into thinking it went to plan.
I mean, Port Adelaide faced off against a Collingwood team that had well and truly ruined their finals chances earlier in the season, and the Power registered close to a five-goal win. However, this game went anything but "to plan." That would be because the plans changed, and changed again during the week, which could have been unsettling for a less professional unit. They had one of their favourite sons, Travis Boak, trotting out to play game number 300 in a home game around 730 kilometres away from where their home games are played.
Were they playing the Pies, or the Crows?
Yes, there was nothing going to plan in the lead up to this game, and for Port to hit the road and notch their league-leading seventh interstate win for the season demonstrates just how committed to the cause they are this season.
You could argue that they were only playing Collingwood, or that they haven't beaten the good teams, and really, if you're looking for a reason to discredit this bunch, I have no doubt you'll find it, but when you dive into this win, after being challenged on a couple of occasions by a feisty Pies team, you have to respect what Port were able to do.
And if you don't I reckon that's more a reflection on you than them.
Here are The Mongrel's Big Questions.
HOW FAR HAS WILLEM DREW COME?
It's hard to believe that this bloke was not part of their 2020 campaign, yet has come into the 2021 season, made a name for himself, and in this game, equalled his career-high for disposals, with 32.
Drew is an inside warrior, fine with playing a negating role, but also highly capable of winning his own footy in the clinches. Not only does he win the footy for himself, but close watchers would see the way he did little things to set up his teammates to win a clearance. Whether it was laying a block on an opponent to allow clear passage for one of Boak or Wines, or the brilliant little move he pulled where, despite looking as though he was going to overrun the footy with the rest of the pack, he reached down, stopped the rolling footy and used his body to create a passage for Ollie Wines to run onto the now dead ball.
As you can tell, I have a soft spot for young Mr Willem, and I was a bit of a fan back in 2019 when he emerged alongside the trio of Rozee, Duursma and Butters. Despite going a year earlier in the draft, Drew played the role of D'Artagnan to the other three musketeers, as he did the dirty work in the guts while they got all the headlines. But you could see there was a lot to this bloke, even back then.
He was excellent in this one, picking up game-highs in disposals (32), contested touches (17) and clearances (8) to sneak under the guard of the Pies, who had their focus on the Boak/Wines duo… and for good reason.
Drew found himself matched up on Collingwood bull, Jordan de Goey at stoppages, and easily outpointed him for the game.
If you've read my stuff before, you know what's coming next, right? In this game, the Magpies were forced to…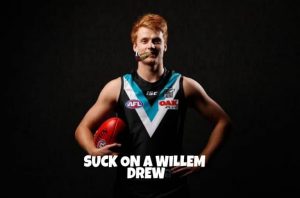 It's because his name sounds like a cigar brand… What were you thinking? Dirty minds…
WHERE DID BRODIE GRUNDY GO?
Interesting…
He was giving the old Scooter Lycett a bit of a touch up around the ground through the first three quarters, and given his renowned tank, I expected that would continue in the last.
Nup… didn't happen.
And do you know when things changed? It was right around the time when an umpire had to tell Lycett to "be careful" as he gave away a free kick to Grundy in a marking contest where he may have been a little too eager to make contact with… something.
I'm not sure whether Collingwood supporters are aware, but there is a bit of a feeling I've picked up from supporters of other clubs that Grundy may have a bit of a dislike for the rough stuff.
Sorry ladies… he could be one of those gentle, caring men.
What I mean is that he would be the sort of player thirty years ago that an opposition ruck would belt and he'd go to water. Somehow, in the sanitised AFL, it amazes me that Grundy has still managed to have that label attached to him, and I bring that up because after Lycett gave him a bit of biffo to the back of the head, Grundy was barely sighted for the rest of the game.
At three-quarter time, he had 23 touches, three marks and six clearances. In the last quarter, he added four disposals, no marks and one clearance. Only one of those four touches was effective.
Now, for all I know, Grundy may have put the cue in the rack and started thinking about his September holidays, but having signed a huge deal to stay at the Pies, I expected a bit more out of the big man in a close game.
On Lycett, I am a firm believer that he plays his best footy when he plays on the edge. It can be a dangerous game, and whilst he sat out for four weeks following a "dangerous" tackle on Ned McHenry (a bit of a wank if you ask me), he may be on his best behaviour for a little while longer. However, if he unleashes a little more of that Lycett mongrel in the finals, it might be the difference between Port getting over the good sides or falling by the wayside.
WHO LEARNT THE LARGEST LESSON IN THIS GAME?
There are a few who will play out moments in this game over and over as they lay in bed. And they're mostly the Magpie kids. It's not a knock on them – they will be better for the run, but it is worthwhile highlighting just what playing the kids can do to the make up of a team and how it forces others to carry a bigger load.
For large parts of the game, the direct opponent of first-gamer, Jack Ginnivan, was Dan Houston.
Now, if that sentence is not enough for you to see where this is going, I don't know that you were watching the same game as I was. Whilst Ginnivan was the half-forward, and his job was to stay dangerous to ensure Houston was accountable, it was equally important was that he followed the deadly half back up the ground when the ball was in the hands of the Power.
In the current landscape of the game, I know that switching defences and team defences make that a little difficult, but Dan Houston ran around like he simply did not have an opponent in the first half, and it was not just this wild, carefree run and damn the consequences type of dash from half back – it was calculated, and it was executed perfectly.
Houston timed his runs through the middle perfectly, to get on the end of a handball and deliver the footy inside 50.
The result?
Three direct goal assists for Houston from half back.
Looking at Houston's heatmap, he had just four of his 24 touches behind the half back line, meaning that he knew he was going to be permitted to run forward unimpeded, and he did so to great effect.
Another bloke who learnt a valuable lesson was another first-gamer. Not whacking the bloke at all, but again, it is pertinent to point out how it impacted the team and the result. Anton Tohill looked all at sea in the first quarter of this one as the speed of the game and the pressure that accompanies it seemed to catch him by surprise. He was afforded no space to move and his errors were punished. Or at least they should have been – Connor Rozee really let him off the hook after a misguided half-kick from deep in defence.
Tohill settled after that, but the learning curve was a really steep one, and for the first 30 minutes of footy, he looked like a player thinking "what have I got myself into?"
Fear not, young fella – it is not what you get yourself into, but how you weasel your way out of things that matter. It's what separates us from animals…
… except the weasel.
Lastly, Rob Harvey learnt a valuable lesson about playing a switching defence with kids in the roles.
Have a look at the Pies' backline at points. You had the Tohill, Trey Ruscoe and Nathan Murphy all down there at times, and you had blokes like Houston, Darcy Byrne-Jones and Ryan Burton pulling the old switcheroo and taking off down the field. It left the kids looking left, right, and wondering who was responsible for who.
Yeah, it is something they will have to learn, but it looked at times as though they didn't know whether they were coming or going. Do you put that down to selfless coaching from Harvey? Inasmuch as he is preparing these kids for a life in the AFL and damn those who care about the scoreboard? Or do instances like this, where you are more or less coaching for the role, cast a negative light on your ability to see a problem and rectify it?
IS THERE SOMETHING UP WITH DBJ?
Look, I am not really sure about him this season. The words "cruise control" leap to mind when I watch him play at the moment. There is a definite lack of urgency in his game, a lack of polish, a lack of composure and a huge drop off in an area you all know I am big on – MONGREL!
Darcy Byrne-Jones made the All-Australian team last season in one of the more competitive spots on the side – the half back flank, but he is not playing to the same level as we saw in the reduced season.
He had the 20 touches in this one, but a couple of his disposals were just a little lazy, waiting for too long before starting the wind up for his kick and they ended up smothered. Whilst I am sure there is a trade off when you're getting run from behind the ball from Houston, Bonner and Burton, I'd love to see DBJ work into some open space and drop the hammer now and again. He is at his best when he is creative and taking the game on, and in truth, I have not seen enough of that side of his game this season.
WHAT CHANGED WITH THE PORT GAME STYLE IN JUST ONE WEEK?
They were willing to run and willing to take risks.
Last week against the Saints, and without the three amigos from the 2018 Draft, Port looked stagnant, and whilst many laid that at the feel of Ken Hinkley, Brett Ratten and his Saints were just as responsible.
With their ideal set-up of Duursma on one wing and Amon on the other, the Power were able to generate meaningful ball movement both down the sides and through the guts of the ground. There was pressure all around the footy, but the spread was always there. Drag up any stoppage around the ground and you'll see the release players like Houston, Amon and Duursma ready to take that first or second disposal from a stoppage and run with the footy.
The desire to bite off the inboard kick was obviously a directive from Hinkley in this one as well. Port still defended the corridor well, but they really capitalised on the Pies' insistence of defending the wings and leaving the guts wide open.
And Port were happy to make them pay when they made that mistake.
WAS CHARLIE DIXON LUCKY, JORDAN ROUGHEAD UNLUCKY… OR BOTH?
I felt for Jordan Roughead. There were probably three clashes that could have gone either way, and on all three occasions, they fell Dixon's way. Roughead was pinged for a hand around Dixon's waist and was pinged for not asking permission first as he made the spoil – I reckon that one was a play on call.
He was then pushed out, with two hands directly in the back, allowing Dixon to control the mark in the second quarter. That one should have been a free kick to Roughead.
And then later in the game, he was able to get rid of Roughead again and mark inside 50. Really, I had no issue with that one at all, the nudge he gave him was borderline in the back, but nowhere near as blatant as his second-quarter effort.
Dixon finished with four, capping off his night with a booming goal from outside 50, and when you factor in his very gettable misses, he could have had five or six to his name. Given that, I reckon four is a fair result.
Roughead did a good job, was a little mistreated by the umps, but in the end, Dixon missed a couple he should have kicked, bringing his performance down a little in the process.
HOW DID THE RETURN OF THE THREE MUSKETEERS GO?
Sorry, D'Artagnan Drew… you already had a section.
The re-insertion of Zak Butters, Connor Rozee and Xavier Duursma into this team seemed to give the Power a bit of a lift, not only in the leg speed stakes, but in terms of the pressure they applied.
Butters started slowly, but worked his way into the game well, demonstrating his clean hands on a few occasions to get the ball moving quickly. Rozee looked zippy at points and was able to step his way out of trouble a couple of times. He was not the star of the show, but he did make a nice little cameo.
And Duursma was probably the best of the three. He looked solid on his wing and used the ball well, registering no turnovers from his 18 touches. Overall, a good first hit out for the three of them.
DOES WINES REGISTER ANY VOTES IN THIS ONE?
It'll be touch and go. I really thought he elevated his game in the third quarter, and really started cracking into contests to win the footy. One of his extractions was absolutely unbelievable – seriously, Houdini would have had trouble breaking out of the vice-like tackle he was caught in, but Wines kept fight, muscling his way through it and managed to get the handball out.
Seriously, there would be 95% of AFL players who would just accept that the tackle was going to pin the ball to him and leave it up to the umpire to make a decision. Not Ollie Wines – whether it is pride, or just the confidence that you are stronger than just about any other onballer in the league, he refuses to be wrapped up in a tackle and just sit there waiting for the umpire's whistle.
He is the outright leader in our Mongrel of the Year voting by a whopping 14 votes in a 5-4-3-2-1 voting system. Zach Merrett is next, but given I have allocated some of those votes to him over the course of the season, he is the best and most consistent contributor to any team this year, and if he walks away with the Brownlow Medal this season, I will be absolutely rapt for him.
Wines has come so far after the troubles he experienced a few years ago. He is now the player that Ken Hinkley and the Port Adelaide Football Club envisioned when they appointed him captain. He may not have been ready then, but I reckon he is ready now.
HOW GOOD WERE THE OTHER PIES KIDS?
I know I could have come across as negative in the section above that highlighted the play of the two first gamers, but there were bits to like from them at points as well. Not a heap… just bits.
The same cannot be said for Ollie Henry, who looked quite good as a floating forward option. He kicked a couple of snags, missed three of them, and generally demonstrated a knack for getting to where the footy is going to be. He worked off his opponent well at points to find space where there appeared to be very little, and if there is one really positive takeaway from the Pies from this game, it would be his growth.
The other was Trey Ruscoe, who is now adjusting to life as a defender. Look, I know he is going to get some good press this week, and as the game wore on, he looked better and better, but I am going to put on my realist glasses for a moment… there we go (they're the same as my normal glasses – I just put them down and picked them back up again. I'm fun like that).
I can see Trey Ruscoe being an 80/20 player. 80% of the time he will do the right thing coming out of defence and the Pies will be off and running, but the other 20% he will fall into that category of… of cocking things up. We saw a bit of it early in this game, with some poor decision making hurting the Pies, but the longer the game went, the more comfortable he looked.
I guess it comes down to two things. Can he get those errors down to make himself more a 90/10 split in terms of reliability/risk, or are Pies fans happy to live with the 80/20 split, thinking it's a pretty good ratio anyway? He will get more support back there next season when Jeremy Howe and Darcy Moore return to the fold, so maybe a little too much is being asked of him just yet. I'm willing to watch this experiment play out.
HAS PENDLES FRACTURES HIS LEG?
It didn't look bad, but reports at the time of writing are quoting the man himself as stating he may have a fracture in his lower leg.
By the time you read this, it may all have been pushed aside and he might be okay – I am hoping that's the case, but the game is poorer without Pendles running around. I wish him a speedy recovery.
AND WHAT ABOUT THE MILESTONE MAN?
Well, he's Trav Boak, what do you expect from him?
I expect him to be in the top handful of players in the game – he was.
I expect him to be running as hard at the end of the contest as he was at the start – he was.
And I expect him to remain the heart and soul of this footy club for the next two years – he will.
Boak is a warrior, and though 300 games is becoming a little more common these days, Boak seems destined to go down as one of Port's greatest ever players. There is one thing that is missing on his CV.
And maybe… just maybe, he will go about rectifying that in a couple of months.
AND WHERE IS THE FUTURE OF THIS PORT FORWARD LINE?
Is it with Todd Marshall?
Is it with Mitch Georgiades?
Maybe it is with Peter Ladhams as the second option?
In many ways, this is a great problem to have, but in one way… it's not. Going into a finals series, you want to have your structure bedded down. You want players secure in their roles and focused more on what needs to be done, as opposed to their spot in the team and whether it is under threat.
Port have Charlie Dixon as their focal point. He is not going anywhere. Then, there are the three mentioned above – can Port play them all in finals and win? And if not, who misses out?
It's apparent Hinkley sees a lot of potential in Todd Marshall. Everyone sees the potential in Georgiades, and Ladhams… well, he is a more than capable ruck. There may come a time, particularly with Orazio Fantasia and Robbie Gray coming back into this team, that someone has to give way.
But who is it?
Who would you choose? And what will the fallout be?
FORGETTING SOMEONE, MONGREL?
Before I finish up, it would be remiss of me to neglect the efforts of Jack Crisp in defence for the Pies. He has been resolute this season, and after losing a couple of pillars of their defence this season, Crisp has been a shining light for the Pies. His 30 touches and ten intercepts probably kept the dam wall from breaking at points in the game, and allowed his team to turn defence into attack.
I suppose the only difference between his and Dan Houston's game was that Crisp was not permitted the same time and space to run far and wide. The Port forwards opted to employ a defensive effort that the young Pies in attack couldn't match. As a result, he had the four score involvements and in stark contrast to Houston, had only nine of his 30 touches forward of centre half back, and three on the offensive side of the centre (and even they were by a few metres).
Still, you'd be a brave man to state that Crisp was not one of the best players on the park in this one.
That may just do me – make no mistake., the fact that Port continue to notch wins on the road is not lost on me at all. As I said earlier, others will find something wrong if they look hard enough, but road wins in the AFL are gold, and as of right now, Port are the best road team in the game.
September beckons.
Massive thanks to those who support us. It means a heap – HB