I'd been saying it for weeks – this loomed as THE game the Power had to win.
Despite many forecasting Sydney as the team looking most vulnerable in the make up of the top eight, they remain a potent force, and they would have been eyeing this game on the road, with Port appearing to have vulnerabilities of their own against good teams, as a major chance to re-establish themselves as a contender.
For Port, it was time to make a statement that they can beat another top eight team and stand up under pressure.
And there was plenty of pressure.
It was a game highlighted by individual brilliance and hot, contested footy. Young stars stood out, and old heads stepped up in crucial moments as Port found themselves falling behind the charging Swans late in the game, only to rally and earn a scintillating ten-point victory.
This is not the Good, Bad and Ugly, as per usual, but let's get stuck into the review of the game of the round… so far.
YOU CAN'T KEEP A GOOD MAN DOWN
The story of the first half was the lockdown job from George Hewett on Port's ageless superstar, Travis Boak.
Hewett, who is without a contract for 2022, is an established tagger, underrated by most in the league for his ability to apply the clamps in the midfield. There was a period when I thought he may be the heir apparent to the midfield clearance king, Josh Kennedy, but injuries in 2020 and a different role in 2021 has changed that perception.
Now, it is more of a concern as to whether he will remain with Sydney past this season.
He owned the first half, restricting Boak to just seven touches, including a complete blanket job in the second quarter where Boak found himself simply unable to access the footy. He recorded one touch for the quarter as Hewett tightened the clamps and picked up seven touches of his own.
Something needed to change, and it did.
The second half of Travis Boak was a timely reminder that each contest provides a new opportunity to prove yourself. He knuckled down, worked harder and continued that amazing gut-running that has seen him re-establish himself as one of the premier mids in the game over the past few years. He finished with 29 for the game, which, for those mathemagicians out there, means he picked up 22 second half touches.
Almost as important, he picked up six of his eight tackles in the second half as well. That, my friends, is how you increase your workrate. There were lessons aplenty in this game, but this was a harsh one to learn for Hewett. It takes a four-quarter effort to hold Trav Boak, and doing that for two quarters is just not good enough. To you young players, Boak's fightback was a lesson in continuing to fight even when the chips are down. There are a few Port players that will have tagging company over the next few years as they develop, and seeing what Boak was able to do afte rbeing so well-held in the first half would be something they should hold onto.
It is never about the last contest – it is always about the next one.
THE SWANS FORWARD MATCHUPS
This was enthralling in the first quarter, as Buddy Franklin, Will Hayward, Aliir Aliir and Trent McKenzie engaged in a game of "who's taking who?" inside 50 that really, in the end, was always going to end with one answer – you take whichever player you end up on.
It seemed as though the ideal matchup for Port would have been Aliir working on Hayward and coming across to help on Franklin, but the effectiveness of Hayward early in the game meant that Aliir had to pay him the attention he deserved.
This left McKenzie to deal with Franklin, and to his credit, he did a rather excellent job of curtailing the champ.
And then he and Hayward had a clash in the last quarter and McKenzie's game was over, subbed out of the game with a shoulder injury.
It is no coincidence that Franklin's burst of spectacular form came right about the time McKenzie was off the ground being assessed. He kicked three last-quarter goals to light up the Adelaide Oval and made the Swans believe they could pinch the game. His rundown tackle on Tom Jonas (off an incredible toe-poke from Errol Gulden) was vintage Buddy, and he looked as though he was going to win the game for the Swans.
Alas, Port hit back, and Buddy's heroics will be relegated to being gallant, as opposed to being match-winning.
YOUNG TALENT TIME
There are a few to talk about in the context of this game.
Errol Gulden started the game brilliantly, and it became apparent just how much the Swans have missed him. Don't get all excited and overreact when I state this Port supporters, but there is a real touch of Zak Butters about Gulden. He sees the game unfolding a step or two ahead of others, and in his first game back from injury, he was able to hit the scoreboard and set up teammates early.
It took a wonderful effort from Marty Frederick in defence to compose himself and start to claw his way into the contest, but once he did, he was able to control the rest of the game against his dynamic opponent. Frederick displayed maturity beyond his years as he corralled and restricted the movement of Gulden, holding him to four touches after half time.
Miles Bergman had moments where he started to make good on his promise. One on one wins against Ollie Florent and Justin McInerney as he played on the wing emphasised just how good he can be, but going forward, he was able to use his superior reach to mark over a seemingly bewildered Josh Kennedy at one stage as well.
Bergman's 17 touches and a goal were important to the Power through the middle of the game as he gave them plenty of drive from half back and through the wing.
Justin McInerney was the pick of the young bunch. Providing excellent run and carry, and getting back deep in defence to aid his back six, McInerney demonstrated a huge work ethic and looks to have bedded down his position on the wing opposite Ollie Florent.
Despite not being one of the best, the debut of Dylan Williams had a couple of moments that are worth mentioning. His tackling was excellent, including one that allowed Dan Houston to goal as a result of his efforts.
He looked a bit blown up at one stage, and I reckon he will be a lot better for the run.
NOT RUN OF THE MILLS
Callum Mills transformation from defender to midfielder in 2021 is now complete. With another game that saw him register ten clearances, his combination with Luke Parker was the primary reason for the Swans remaining competitive for so long.
Whilst Parker finished the game brilliantly, with 12 touches and three clearances in the last, it was Mills' work in the first quarter (eight touches and five clearances) that got the ball going the Swans' way early. Unassuming, Mills is the quintessential Sydney midfielder – all steak without the sizzle.
SUCK ON A WILLEM DREW
I'm telling you again – he needs to start a cigar brand and market himself. Imagine all the takers on that offer?
In another tough contest at the coalface, Drew had eight clearances and added eight tackles to his 22 touches for the game, and had a couple of moments in the last quarter where his physical pressure was immense.
Looking at the "pressure acts" gauge, Drew was right up in the red zone, with 42 for the game – it is not often you see a player hit those kinds of triggers. He is as hard at it as any young player in the game and relished the contested footy. It took a while for the league to catch on, but I reckon they're all starting to come around…
Time to start sucking on a Willem Drew.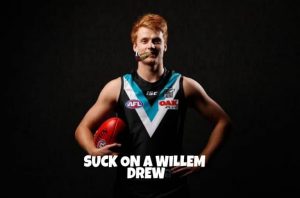 AND THEN A HERO COMES ALONG…
Put your Mariah Carey voice on and sing loudly!
When the game was there to be sealed, who else would you rather the ball in the hands of than Scott Lycett?
I'll wait while you list basically seven-eighths of the Port Adelaide team.
However, cometh the moment, cometh the man, and when Steven Motlop dished the ball to the big man (after a dubious-looking handball from the falling Todd Marshall), Lycett casually lined up the big sticks and slotted it through. It was a great reward for Lycett, who is only recently back from an incredibly harsh four-week suspension for a tackle… which kind of makes me sick that we're seeing such lengthy suspensions for footy acts. His battle with Tom Hickey ebbed and flowed all day, but as Hickey missed his chances (finishing with 0.3 for the game) it was Lycett making the most of his when it counted.
A great moment for the big man!
OTHER BITS
The strength of Sam Powell-Pepper early in the game was really important. His ability to stand in tackles, wiggle those hips like Joe Ganino in a Club-X theatre and buy some time for his team as the tackles dropped off him (also like Joe Ganino) was vital to Port getting the game on their terms.
Whether he is a permanent fixture in the midfield eventually, or whether he is a forward that sneaks in for five minute periods, he has the type of game built for impact.
Charlie Dixon had a great run with the umps, but much of this was the panicky Sydney defenders (Tim McCartin and Kaiden Brand) not wanting him to get a clean run at the footy. His goal kicking looked great as well, which was a nice change.
19 touches and a couple of goals is an excellent return for the big lumberjack, particularly when you consider it was not ideal conditions for a power forward. Most big blokes would rift right out of the game in this scenario, but Dixon's work at ground level was first class.
THE FRANKLIN REPORT?
Throw it out – nothing in it.
I get that it may have looked clumsy, but it appeared to me that Franklin actually attempted to avoid the head. Let's forget it all happened and get the bloke further on the way to 1000 goals. I have a feeling it'll be next year we see that, sadly.
MISSING PERSON REPORTS?
Another quiet game from Ollie Florent. Guys, there are way too many of these 10-17 disposal games from him for him to be considered an elite wingman. It looked as though he was going to make the big step this season, but he has well and truly hit a wall.
Joel Amartey. Not great conditions for the big fella, but if other bigs are getting it done, what's your excuse?
Steven Motlop. Just well-beaten on the day. No shame in it, he just has to win contests.
WHERE TO NEXT?
As stated initially, this was a huge win for the Power. Some may attempt to talk it down, but the Swans are a quality outfit, and with a week's rest, came out firing. The fact Port was able to weather that last quarter Franklin storm speaks volumes about their belief.
Port get the Hawks next week in a red hot chance to pick up a Victorian win. Really, they should use this one as a percentage booster.
Meanwhile, the Swans will get the Eagles.. and my AFL app is stating the game will be played at Kardinia Park. I don't know how accurate that is, but really, I'd rather play on a paddock than that shitty joint. West Coast did play the worst game I have ever seen them play there earlier in the year, so the Swans, on the form from this game, would be considering themselves a big chance to roll them and re-establish themselves in the process.
Apologies for not pumping out a Good, Bad and Ugly for this game – it deserved it. Time constraints and review schedule mix ups meant I simply didn't have time. I've got six of the nine reviews this week, myself, so I don't know what's gone wrong. Cheers – HB